Sanaullah Zehri is the former 15th Chief Minister of Baluchistan. He is a member of the Zarakzai family and Nawab of the Zehri tribe. He is associated with Pakistan Muslim League Nawaz. Zehri has also served as a member of the senate and Provincial Assembly in the past. This article has all the information about Zehri, including Sanaullah Zehri Biography.
| Title | Description |
| --- | --- |
| Personal | |
| Name: | Sanaullah Zehri |
| In Urdu: | ثنااللہ زہری |
| Famous As: | Politician |
| Nationality: | Pakistani |
| Residence: | Balochistan |
| Education: | Bachelors |
| Alma Mater: | University of Baluchistan |
| Religion: | Islam |
| Profession: | Politician |
| Website: | https://www.facebook.com/profile.php?id=100004776765797 |
| Born | |
| Date: | 4th August 1961 |
| Place: | Khuzdar, Balochistan |
| Family | |
| Spouse: | Married |
| Children: | Mir Sikandar, Hamza Khan Zehri, Ayesha Sanaullah Zehri and Sikander Khan Zehri |
| Parents: | Sardar Doda Khan Zehri |
| Siblings : | Mir Meharullah Zehri |
| Career | |
| Political Party: | Pakistan Muslim League N |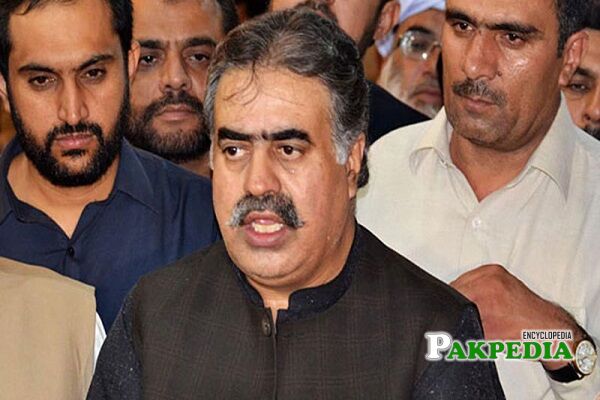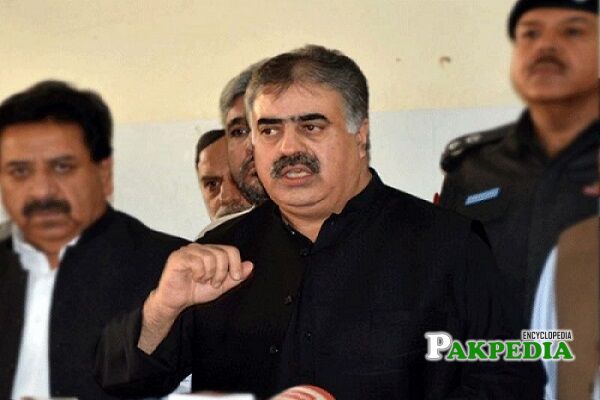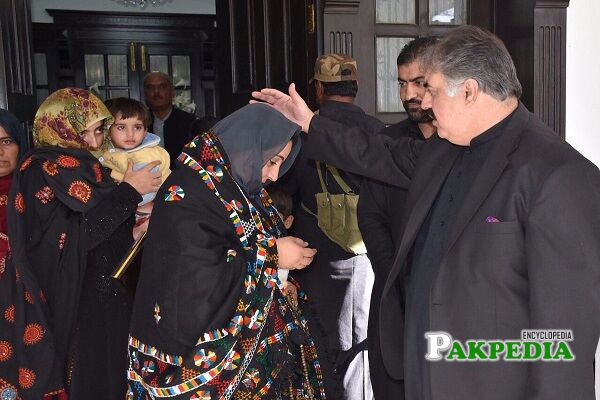 Sanaullah Zehri Biography
Zehri is in politics since 1990. He has not been out of the political structure at the National or provincial level since his entry into politics. In the last government of PMLN, he served as Special Assistant to Nawaz Sharif. He has been elected 7 times for the Provincial Assembly from Khuzdar. On 24 December, he succeeded Abdul Malik Baloch to become the 14th Chief Minister of Baluchistan. He resigned from his seat in 2018.
Zehri date of Birth
He was born on 4 August 1961 in Khuzdar, Baluchistan.
Sanaullah Zehri Family
He belongs to the Zehri family of Gujjars. He was born to Sardar Doba Khan Zehri, who was a tribal leader. His family is famous in Baluchistan due to their interest in the creation of Pakistan. They gathered people and tribal leaders for the cause of Pakistan. His daughter is Aisha Zehri, while his sons are Sikandar Khan Zehri, Hamza Khan Zehri. His brother is Mir Zafar Ullah Khan Zehri and Meharullah Zehri. One of his sons, Sikandar and brother Mehrullah were killed in 2013 in a bomb blast by Baluchistan Liberation Army.
Education of Zehri
Zehri has received a BA degree in political science from the University of Baluchistan.  
Political career
Initial Career
After pursuing a degree in political science, Zehri entered into practical life and started his political career in 1988 from the platform of PMLN. He secured his seat on PB-30 Khuzdar. It was his first tenure and remained as a member of the Provincial Assembly for two years. In 1990 and 1993 general election, he won from the same constituency PB-30. Each term lasted for three years and ended prematurely. 
As a Senator
1997 was the first time when he contested the election of the senate and became a senator. He represented Baluchistan in the senate until 1999. In 2002, he contested from PB-33 against molvi Abdul Karim and won the election comfortably. He got 11549 votes while his opponent got 5906 votes. In this term, he also served as the Provincial Minister of Prison and Tribal Affairs.
As a Leader
In the 2008 election, he had a difference with the party and could not continue his political journey. He formed his party named as National party Parliamentarians. Previously he was associated with Baluchistan National Party. He contested the election and was re-elected from P-33 Khuzdar. At this stage, he had emerged as a leader at the provincial level. After the death of Akbar Bugti, he was invited to the Grand Jirga called Mir Sulaiman Dawood.
For a secure political future, he joined PMLN in 2010 and soon he was appointed Assistant General Secretary of PMLN for Baluchistan. This time, his major rival was Mir Younus Aziz Zehri who was associated with JUI-F. He successfully contested the election and defended his seat against him by receiving 9431 votes while his opponent received 7652 votes. As he was an important and senior politician, he was one of the candidates for the Chief Ministership. Later, Abdul Malik was appointed as Chief Minister while he was made the Senior Minister.
As a Chief Minister
Zehri became the Chief Minister of Baluchistan on 24 December 2015. The previous Chief Minister resigned following the Murree Accord. It stated that the power will be shared after two and a half years. Zehri was elected unopposed as no other candidate contested the election. The election was held for the seat of Chief Minister and Speaker of the Assembly. Along with him, Raheela Durrani was elected as the Speaker of the assembly. She is the first woman to serve on that post.
Resignation
In 2018, Zehri faced severe pressure from the opposition as they demanded the resignation of Zehri.  It was a coalition led government and the federal government desperately wanted to save it. After back door negotiation, the political turmoil did not end. Prime Minister Khaqan Abbasi also visited Quetta to meet the opposition but they refused to meet him. As there were the chances of a vote of no confidence, he was asked by the party to step down and resign. Soon a meeting was arranged with the Governor of Baluchistan on 9 January 2018. During the meeting, Zehri submitted his resignation
Murder Case
In 2019, Zehri along with his brother Naimat Ullah and brother-in-law was acquitted in a murder of Mengal Nawab Aman Ullah by the Court. He was associated with BNP. Aman was also a tribal leader and a main member of BNP. Aman was killed after he attended a dinner in Khuzdar. Zehri and his relatives were acquitted by the Judge of Session Court Jan Muhammad Gohar.
Social Media Accounts
His social media accounts include