Salman Iqbal is a Pakistani media mogul. He is founder ARY Digital Network, as well as its chief executive. In addition, Iqbal is the owner of the ARY Group, that was started by his Uncle Abdul Razzak Yaqoob. Salman Iqbal first married to sabeen iqbal who lives in Dubai . Sabeen and Salman had 4 children . She lives in Dubai and Dubai is like second home for Salman Iqbal.
| Title | Description |
| --- | --- |
| Personal | |
| Name: | Salman Iqbal |
| Famous As: | سلمان اقبال |
| Nick Name: | Salman |
| Nationality: | Pakistani |
| Residence: | Dubai, United Arab Emirates |
| Religion: | Islam |
| Profession: | Businessman |
| Occupation: | CEO at ARY Digital Network, Owner of the Karachi Kings |
| Facebook Account: | https://www.facebook.com/salmaniqbal |
| Twitter Account: | https://twitter.com/salman_ary |
| Instgram Account: | https://www.instagram.com/salman |
| Born | |
| Date: | 1974 |
| Place: | Karachi, Pakistan |
| Family | |
| Spouse: | Sabeen Salman (m. 1999), Sonya Khan |
| Parents: | Haji Mohammad Iqbal |
| Siblings : | Yaqoob Iqbal |
| Relatives: | Abdul Razzak Yaqoob |
| Cousins: | Huma Abdul Razzak, Shabana Abdul Razzak, Farhana Abdul Razzak, Sarwat Abdul Razzak, Amina Abdul Razzak |
| Career | |
| Company Name: | ARY Group |
| Years Active: | (2014 _ Present) In ARY Group |
| Owner : | PSL team Karachi Kings |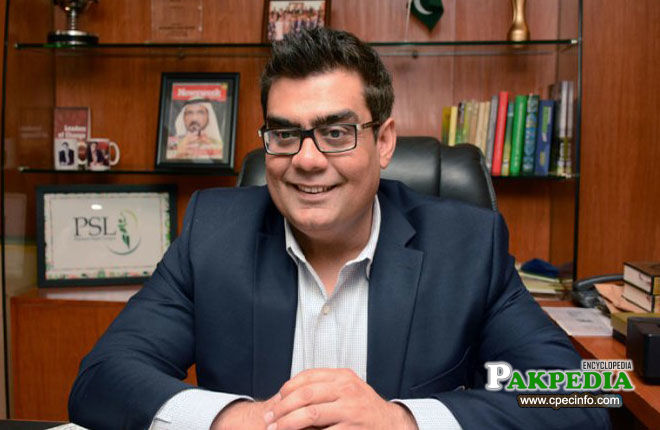 Details
Mini Bio
Salman Iqbal is one of the Pakistan's most successful entrepreneur, he founded a media group ARY Digital under the name of his uncle's most successful business empire ARY Group. Salman Iqbal is the owner of Karachi Kings in Pakistan Super League with ARY Media Group as the main sponsor of Karachi Kings for the 2017 season of PSL.[1] Mini Bio –  Mini Bio 
About Family
Second Wife of Salman Iqbal Sonya Khan Model & Actress got fame after appearing in Ali Haidar's Tera naam liya to video song. Sonya was popular model actress but at early stage of her showbiz career she choose salman iqbal as life partner. Sonya lives in Karachi .Salman and Sonya have a daughter. They both are living happy married life.[2] About Family –  About Family 
As a Businessman
As a businessman, he is known as the founder of 24-hour news cycle network in Pakistan, ARY Digital Network, which he founded in 2000 during President Pervez Musharraf's government period. He is also its chief executive officer. In addition, Iqbal is the CEO of the ARY Group, that was started by his late uncle Abdul Razzak Yaqoob who died in 2014, and publisher of the Newsweek Middle East magazine. In Pakistan, Salman Iqbal is recognized as a voice of independent media and as one of the most influential media personalities.[3] As a businessman 
Career
Salman Iqbal is one of the most wealthiest and influential persons in Pakistan related to the media industry, he is basically a film producer, CEO of ARY Films, Salman's team produced three movies Lahore Se Aagey, 3 Bahadur, and Dobara Phir Se in 2016.  Salman Iqbal net worth tenfold since 2000 when he started his ARY Digital Media Group in London for the first time. Despite the on ARY Digital Network of biasing and inclining towards PTI, ARY News, and other entertainment channels are among top 3 in Pakistan.
Karachi Kings
Salman Iqbal owns a PSL Team, Karachi Kings. ARY Group bought Karachi Kings as a result of auctions in 2015 for $26 million and 10 years of contract, Kings were the most expensive franchise of the inaugural PSL in 2016. The net worth of Salman Iqbal is increasing at a whopping $90 Million per year as of 2016-2017.
Films Produced for ARY Films
Lahore Se Aagey (2016)
Dobara Phir Se (2016)
3 Bahadur: The Revenge of Baba Balaam (2016)
Launch A Newsweek Magazine
A media company in Dubai plans to launch a regional version of Newsweek magazine in English and Arabic this year. Newsweek Middle East, to be launched in June, will be available in the UAE, Saudi Arabia, Kuwait, Oman, Qatar and Bahrain. ARY Digital Network, a Pakistani television company, announced this week that it acquired the rights and that they will bring the weekly magazine to the region. ARY chief executive Salman Iqbal said that up to half of the magazine would be localised.It will be produced by two separate editorial teams for English and Arabic versions, which will share translated and original content.The main editing staff will be based in Dubai, with offices in the other Arabian Gulf countries, and teams of reporters, editors and photographers.The website is to be launched in June, followed by an English-language print edition in July and an Arabic edition three to four months later, Mr Iqbal said.[4] Launch Newsweek Magazine