Saleem Elahi is a former Pakistani cricketer who served as a batsman and rarely kept behind the wicket for his national team. He batted at different numbers, but he batted as opener almost most games. He was a quick runner between the wickets who did very well as a limited-overs player, but a fixing scandal led an and to his international career soon after he gained a reputation in the side. This article has all the information about Saleem, including Saleem Elahi Biography.
| Title | Description |
| --- | --- |
| Personal | |
| Name: | Saleem Elahi |
| In Urdu: | سلیم الہی |
| Famous As: | Cricketer |
| Nationality: | Pakistani |
| Residence: | Sahiwal |
| Education: | Bachelors |
| Religion: | Islam |
| Profession: | Cricketer |
| Born | |
| Date: | 21st November 1976 |
| Place: | Sahiwal |
| Family | |
| Parents: | Chaudhry Pervez Illahi |
| Siblings : | Manzoor Elahi (brother), Zahoor Elahi (brother), |
| Relatives: | Babar Manzoor (nephew) |
| Career | |
| National Side: | Pakistan |
| Team Role: | Batsman, occ. wicket-keeper |
| Bowling Style: | Right-arm off-break |
| Batting Style: | Right-handed |
| Matches: | 13 in Tests & 48 in ODIs |
| Batting Average: | 18.95 in Tests & 36.72 in ODIs |
| Balls Bowled: | n/a in Tests & 6 in ODIs |
| Runs Scored: | 436 in Tests & 1,579 in ODIs |
| Test Debut: | 9 November 1995 v Australia |
| Test Last: | 2 January 2003 v South Africa |
| ODI Debut: | 29 September 1995 v Sri Lanka |
| ODI Last: | 14 January 2004 v New Zealand |
| First-Class Debut: | 1995/96 |
| First-Class Last : | Dec 25-27, 2010 |
| Domestic team: | Habib Bank Limited, Lahore, United Bank Limited |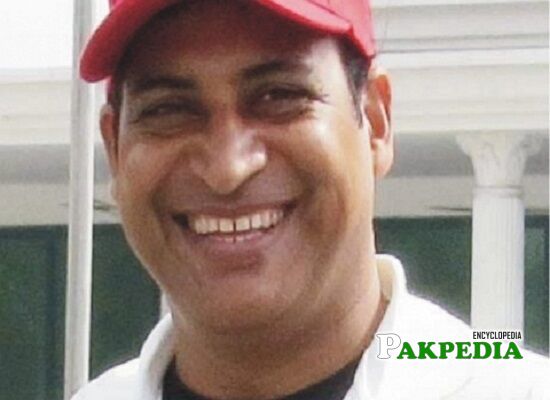 Saleem Elahi Biography
Saleem was selected in ODI cricket based on his performance in List-A matches. He contributed in 48 games and made 1579-runs in 47 innings in ODI career with a batting average of 36.72. He scored four centuries and nine fifties with the highest score of 135-runs and took ten catches in ODI format. Saleem was also added in test format, but he remained unsuccessful in test career. He played 13 matches in which he made 436-runs in 24 innings with an average of 18.95. including a fifty in his test career.
Saleem date of Birth
He was born on 21 November 1976 at Sahiwal, Punjab.
Education of Saleem
After his early education, he completed his graduation from Govt. Postgraduate College Sahiwal in Bachelor of Arts.
Saleem Elahi Family
Saleem belongs to an ordinary family. His two brothers Manzoor Elahi and Zahoor Elahi, have also played in national cricket for Pakistan in the past. While his nephew Babar Manzoor has also been a professional cricketer.
Cricket Career
Initial Career
Saleem commenced his career from List-A cricket and then got selected for international cricket in ODI format. After that, he started playing in first-class cricket and soon debuted in test format.
Domestic Career
Saleem Ellahi registered himself in List-A cricket in 1994; he played 141 matches. He scored a massive total of 6277-runs in 138 innings with a batting average of 52.30. He stroked 18 centuries and 37 fifties in his career with the best innings score of 172-runs. In 1995, he debuted in first-class cricket, and in 185 innings, he scored 5508-runs. He had a batting average of 32.02 in his overall 111 matches. 
He made eight centuries and 26 fifties with the highest score of 229-runs in the first-class career. He also took one stumping in his wicket-keeping career. Besides playing for Pakistan, Saleem played for different teams, including Lahore, United Bank Limited, HBL Bank limited, and the rest.
International Career and Achievements
One Day International Career
Saleem debuted ODI cricket on 29 September 1995 against Sri Lanka in the home series at Gujranwala. At the age of 19, he stroked a remarkable hundred in his first One Day International match. Still, he is holding a record of the first batsman who scored debut hundred in ODI format from Pakistan side; he made 102-runs not out. Saleem awarded the man of the match in his debut match, and his team got the victory. In the same series, he made 77-runs additionally in two games, and Saleem got 179-runs in that series.
After his great beginning, he got added to Champions Trophy at Sharjah. He did not play well there, and after that, he was dropped by his average performances. He got a recall in series against Zimbabwe at the end of 2002, where he made consecutively two centuries with a score of 107 and 108 runs. He made three tons in just four matches.
In Pakistan's tour to South Africa, Saleem smashed his last ODI century with a score of 135. He accompanied Abdul Razzaq at the second wicket and successfully made a partnership of 257 to help his team arrive 335-runs. He also became part of world cup 2003 in which he made 102 runs in four matches with a fifty.
Test Cricket Career
Meanwhile, his continuous performances added him to test format on 9 November 1995 against Australia, and he scored 43-runs in his first two test matches with an average of 10.75. Saleem never appeared a regular batsman in test cricket for his national team. He participated in 13 games and got out a duck six times in his career, including two consecutive duck. His best test form came against England as he batted with an average of 44.40 against them in the year 2000.
After the World Cup 2003, Saleem was soon dropped from all international formats and never played for the national team..