Azhar Mahmood is a former Pakistani cricketer who lives in the United Kingdom and is a British citizen after he married a British Pakistani in 2003. He has represented Pakistan in both Tests and ODIs and has also been part of Pakistan's coaching staff. He worked as a bowling coach of the national team till the year 2019 for a few years. Azhar was a useful all-rounder, and he could bat in the middle order, and also he could move the ball with pace. This article has all the information about Azhar, including Azhar Mahmood Biography.
| Title | Description |
| --- | --- |
| Personal | |
| Name: | Azhar Mahmood |
| In Urdu: | اظہرمحمود |
| Famous As: | Cricketer |
| Nationality: | Pakistani and British |
| Residence: | Rawalpindi, UK |
| Education: | FG 1 High School, Islamabad |
| Religion: | Islam |
| Profession: | Cricketer |
| Website: | https://twitter.com/AzharMahmood11 |
| Born | |
| Date: | 28th February 1975 |
| Place: | Rawalpindi |
| Family | |
| Spouse: | Ebba Mahmood |
| Children: | 3 Children |
| Parents: | Not Known |
| Career | |
| National Side: | England |
| Team Role: | All-rounder |
| Bowling Style: | Right arm fast-medium |
| Batting Style: | Right-handed |
| Test Debut: | 6 October 1997 v South Africa |
| Test Last: | 31 May 2001 v England |
| ODI Debut: | 16 September 1996 v India |
| ODI Last: | 17 March 2007 v Ireland |
| T20 Debut : | Surrey v Middlesex at The Oval, Jun 13, 2003 |
| T20 Last: | Surrey v Kent at The Oval, Jul 29, 2016 |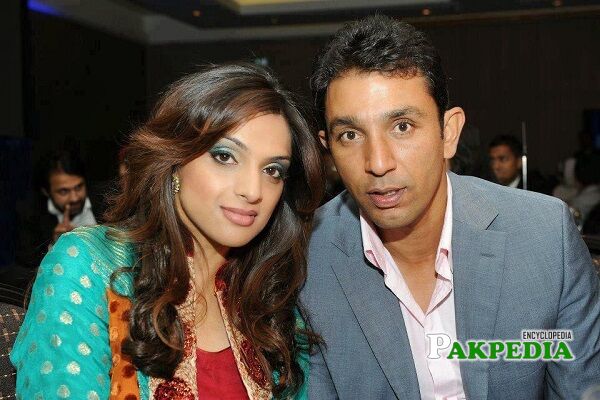 Azhar Mahmood Biography
Azhar started his journey as a professional cricketer from the 1993-94 first-class season. He played first-class and List-A cricket for a couple of years until he was given a call in international cricket in 1996. He was part of 21 Test matches in the national team and scored 900 runs in 34 Test innings, with a batting average of 30. He also registered three centuries and a half-century in this format.
As an all-rounder, Azhar also bowled in 35 Test innings and took 39 wickets. He did not claim a five-wicket haul in tests but bowled with a decent bowling average of 35.94. He had two four-wickets hauls in the longer format. Azhar had a long and regular career in One Day Internationals who appeared in 143 ODI matches and made 1521 runs with an average of 18.10. He only managed to clinch three ODI fifties. He was more of a bowling all-rounder in limited-overs cricket, claiming 123 wickets with a bowling average of just above 39.
Azhar date of Birth
He was born on 28 Feb 1975 at Rawalpindi, Punjab. Currently, Azhar is living in the UK with his family.
Education of Azhar
He studied at FG 1 High School, Islamabad.
Azhar Mahmood Family
He got married in 2003 to a British Pakistani Ebba Qureshi. He lives with his wife and three children in the UK these days and became a British citizen in the year 2011.
Cricket Career
Initial Career
Azhar started playing first-class cricket from the 1993-94 season. In the same year, he also played in List-A. He worked hard and practiced regularly to come out as an international cricketer. It is said that he opposed by his father to play cricket, but later, his high interest and passion in the game made his family accept his profession.
Domestic Career
Azhar has had a long domestic career, which started in 1996 and continued till 2016. He played a total of 176 first-class matches and made a total of 7703 runs with a batting average of 31.83. He had a brilliant track record in domestic cricket. He also registered nine first-class centuries as well as 42 half-centuries. As an all-rounder, Azhar was equally good with the ball, who claimed a total of 611 wickets in his first-class career.
He also achieved three ten-wickets haul and 27 fifties. Azhar's bowling average in this format is 25.1, which is phenomenal. He appeared in 319 List-A games and scored 4555 runs averaging 22. He was able to strike two hundred and 19 fifties while his bowling average was just over 31.
T20 Cricket
Azhar had a very close bond with T20 cricket, especially in league cricket. When T20 leagues started in the world, he rarely missed any of them. The all-rounder played for various teams, including Barbados Tridents, Kolkata Night Riders, Kings XI Punjab, Lahore Badshahs, MCC, Auckland, Kent, Surrey, PIA, UBL, Rawalpindi and the rest. His skills suited the shorter format. Thus he had a chance to play many-where around the world.
With a competitive average of 25.56 and 23.81 with bat & ball, it made Azhar a classic T20 all-rounder. He is among very few players to have 250+ T20 wickets and more than four thousand runs.
International Career and Achievements
Azhar made a mark in international cricket when he scored an outstanding hundred against the South African team. This made him inspiring youngster from the very start as the South African bowling was one of the best in the world when he made that century. He was part of the national team from 1996 to 2007.
Test Debut
Azhar made his first Test appearance for Pakistan when Pakistan took on South Africa in his hometown Rawalpindi. The match started on 06 October 1997. In their first innings, Pakistani top order batted well, and Ali Naqvi made a superb hundred, but then the middle order collapsed. Azhar came at the crease on number eight in the match and made the bowlers just ordinary ones as he kept on finding the fences. With eleven fours and a six, he made an unbeaten 128 runs innings. And in bowling, he took two wickets.
Not very surprisingly, he scored 50 unbeaten in the second innings. Azhar rewarded player of the match due to his all-round performance. He was unbelievably well against the South African team as he registered two more 100s against them soon. However, he couldn't keep his success for the long term, and he just hit three test hundreds and a fifty overall. Azhar's 132 in a Test against South Africa in 1997-98 named among Wisden-2001 list of best innings of all-time.
One Day International Record
Azhar played many ODIs for Pakistan. He started his international career in ODIs against India on 16 September 1996 in Toronto. He could impress in the match neither with bat nor ball. He was a regular part of playing eleven in the world cup 1999. He also played in proceeding world cups of 2003 and 2007. He left out of the team and made a comeback in 2007 but could not cash the opportunity and left out of the team.
After International Cricket
Azhar played in the T20 leagues and County cricket from his last years in the national team. He played in the ICL and then in IPL but soon left for England and played regular cricket there. He tied the knot with a British Pakistani and registered as a British Citizen in 2011. Azhar played in the County for Kent and Surrey team. He made the Pakistan team's bowling coach in 2016 and served at the post till 2019. Azhar is full of skills and experience, and considering this, he has a bright future ahead of him.
Social Media Handles
His social media accounts include