Asad Umar is a committed Pakistani Politician and a member of the National assembly since 2013. He is associated with Pakistan Tahreek-e- Insaaf (PTI). Asad is considered as one of the right hands of Imran Khan. Currently, he is a Federal Minister for Reforms and special initiatives and planning and development. Before starting a political career, he served as CEO of Engro Corporations for 8 years. his article has all the information about Asad, incorporating Asad Umar Biography.
| Title | Description |
| --- | --- |
| Personal | |
| Name: | Asad Umar |
| In Urdu: | اسد عمر |
| Famous As: | Politician |
| Nationality: | Pakistan |
| Residence: | Rawalpindi |
| Education: | Business Administration |
| Alma Mater : | Institute of Business Administration, Karachi |
| Religion: | Islam |
| Profession: | Ex Businessman and Politician |
| Website: | https://twitter.com/Asad_Umar |
| Awards : | Sitara-i-Imtiaz |
| Born | |
| Date: | 8th September 1961 |
| Place: | Rawalpindi |
| Family | |
| Spouse: | Sofia Asad |
| Children: | Zain Umar and Asif Umar |
| Parents: | Late Mohammad Umar (father) |
| Siblings : | Zubair Umar (Brother) |
| Career | |
| Political Party: | Pakistan Tehreek-e-Insaf (PTI) |
| Serve As: | MNA |
| Time Period : | 2018 – present |
| Old Political Affiliations: | Pakistan Tehreek e Insaf |
| Member of the National Assembly | |
| Constituency: | NA-54 (Islamabad-III) |
| Assumed office: | 20th August 2018 |
| Ministry : | Head of cabinet Committee for Energy |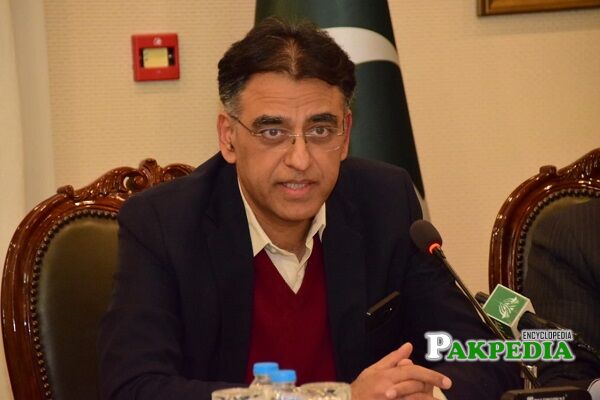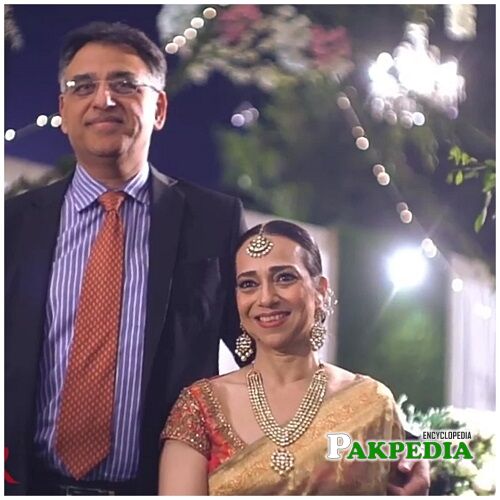 Asad Umar Biography
Asad is a committed Pakistani Politician who is a part of Pakistan Tehreek e Insaf for a long time. His father, Ghulam Umar, served as a major general in the Army. Umar was considered a close aide to General Yahya khan. After his father's retirement, Asad moved back to Karachi with his family and continued his education. Asad is responsible for serving in his Ministry and is exacting to fulfill the vision of PM's Naya Pakistan with zeal and zest.
Asad date of birth
Asad was born on 8th September 1961 in Rawalpindi. Later his family moved to Karachi. Currently, Asad is living in Rawalpindi with his family from where he likewise contests elections.
Education of Asad
Umar received a degree in Commerce from Government college of Commerce (B.com) and Economics. He also studied Business Administration from IBA. According to him, the love for financing was given by Dr. Hashmi who was his teacher at his University. He also contested an election in the University which he lost. Along with his studies, Asad Umar also captained IBA cricket. 
Asad Umar Family
Asad is the youngest brother among six brothers and one sister. One of his brothers, Zubair Umar, belongs to PMLN who served as the 32nd Governor of Sindh. Asad married Sofia Asad, who was his class fellow in IBA University. One of his Son Zain Umar is an associate at Baltoro Partner. He has experience in different corporate sectors like Engro as a Business analyst and commodity analyst while his other son Asif Umar is not in yet in the field.
Professional Career
After the completion of his education, Asad soon entered into professional life. His professional career started with HSBC where he worked for 7 months. A major shift came in his career in 1985 when he joined Exon Chemical Pakistan. It was based in Canada where Asad served as a Business analyst. He was lucky to work in Exon as he was the only person from Pakistan. As a patriotic Pakistan, He decided to come back to Pakistan. He happily left the luxury of a salary worth 10000 Canadian dollars and a 3500cc car and accepted 20000.
Back in Pakistan, in the same year, he joined Engro Polymer and Chemicals. After 12 years of his services in the company, he was made the CEO of the company, and in 2004; he became the president and the CEO of the company. He was one of the highest-paid CEOs of Pakistan. Umar is being ascribed for turnout the company into a significant loss for which he was awarded Sitara e Imtiaz. He took retirement at quite an early age.
Political Career
His decision to join politics resulted from constant engagement with the federal bureaucracy. He considered this to be one of the root causes of holding the economy of the country back. In 2012, he joined Pakistan Tahreek-e-Insaf. Due to his experience and leadership qualities, he was made the vice president of the Party. In 2013, he was elected as a member of the National Assembly after he defeated a candidate of the Pakistan Muslim League (N). The party could not win the election and remained an opposition only. 
In the 2018 election, Asad re-elected as a member of the National Assembly from Constituency NA-54 (Islamabad-III). As his party made the government, Asad was appointed federal Minister for Finance, Revenue and Economic Affairs on 18 September, 2018. After dissatisfaction was expressed by the Prime minister over his performance, he was asked to step down from the Ministry of Finance. Keeping his importance in the view, he was made the Chairman of Standing Committee of National Assembly for Finance, Revenue and Economic affairs. This seat is considered more important than the Ministry of Finance.
After the news circulated about the reshuffling of the Ministries in the Cabinet, it was speculated that Asad will join the Federal Cabinet again. On 19 November, 2019, he joined the Cabinet and became the Minister of Planning and Special Initiatives. On 26 March, 2020, he replaced Hafeez Shiekh and became the head of the Cabinet Committee for Energy.
Social Media Handles
His social media accounts include