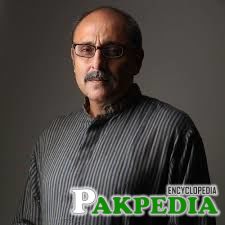 Sajid Hasan
With the Cast of Mumkin
With Yasir Mazher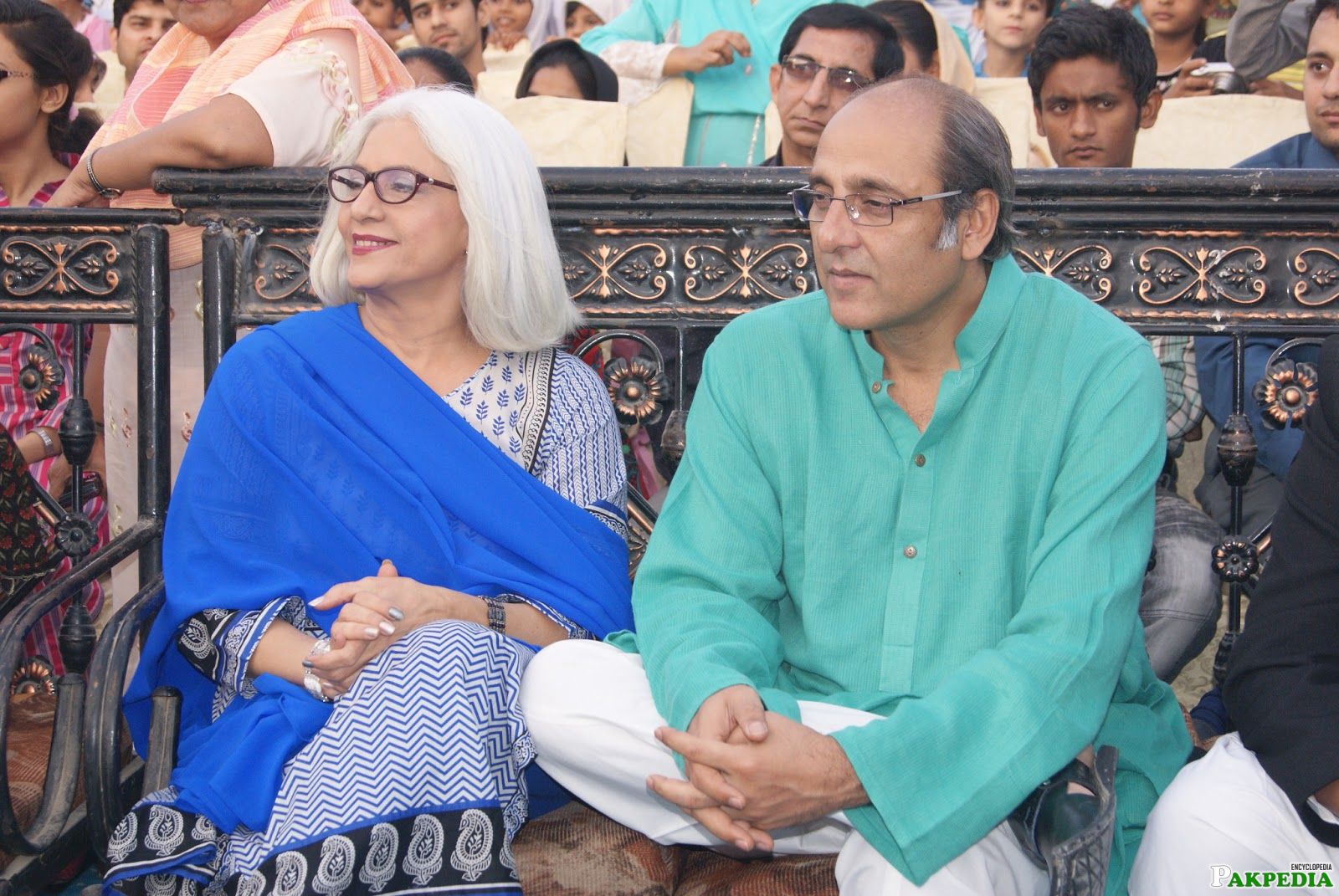 As Chief guest in an Event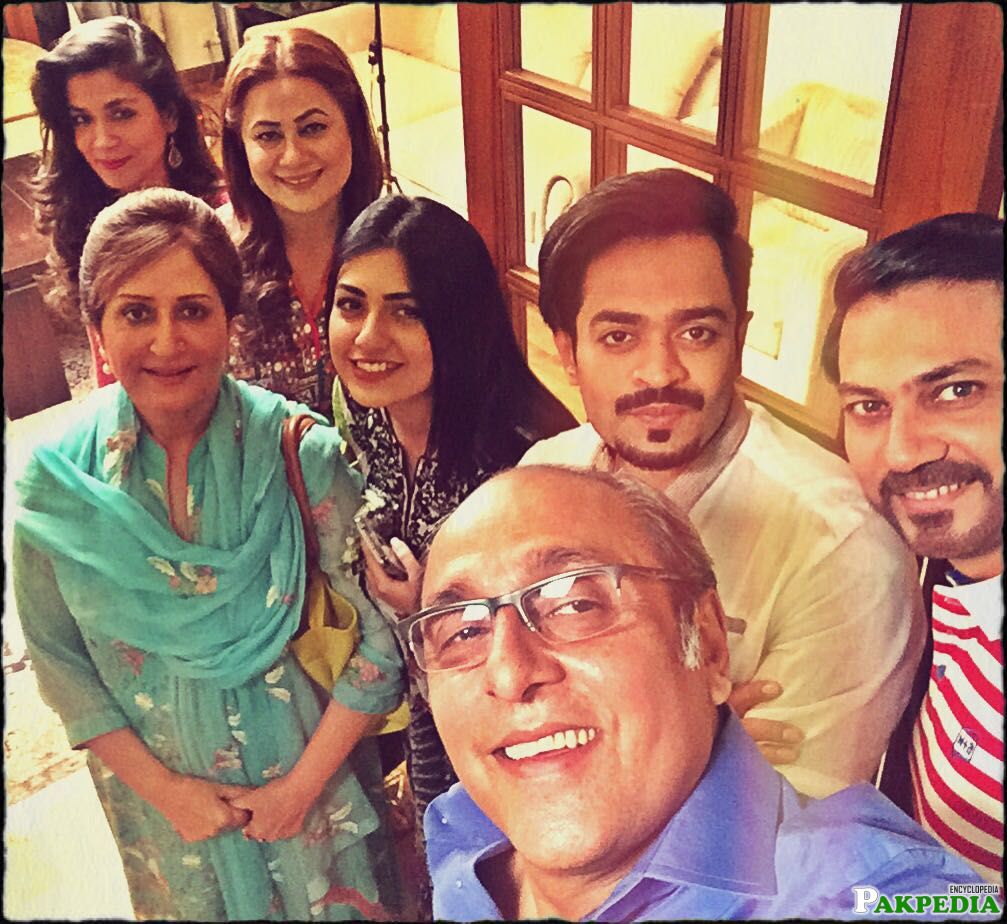 With the Cast
Biography
Sajid Hasan is a well-known actor from Pakistan. Hasan has two sisters.He lives in 
Karachi
. He is married and has one son. He is also a writer, and has written several different plays such as Kuchwa aur Khargosh and Gum.He started off as a theater personality and then moved to television. Sajid Hasan's first major drama series was Khalij. He became more recognized from his involvement in the play Dhoop Kinare in which he played a comedic role. He has written many plays which include Kuchwa Aur Khargosh and Gum. He is also the first Pakistani actor to work in an Indian television series Tanha in 1997 on Star Plus.
Notable Movies
Hasan made his film debut in 2004 with the movie Salakhain in which he played the antagonist. He then also acted in Pehla Pehla Pyar. He also had a role in the
Angelina Jolie
film
A Mighty Heart
. 
Hollywood Movie A Mighty Heart
Hasan Sajid worked hollywood movie A Mighty Heart with famous actress Angelina Jolie as Mariane Pearl and Sajid Hasan as
Zubair
name characters.
Bollywood Movie Azaan
 Aazaan bollywood movie is a 2011 action spy film directed by Prashant Chadha starring Sachiin J Joshi and South African model Candice Boucher.Sajid Hasan play a role of
doctor
.Hasan is ex-CIA and into biological warfare and is determined to carry out the absolute annihilation of India. 
Injured in 2009 Bomb Blast
He was injured in 2009 in Karachi on 10th of Muharram's Ashura blast during the public procession, where he lost his elder brother and sister in law. 
[2]
Introduction Introduction
List of TV Dramas
Chaahatain
Dhoop Kinaray
Kachwa aur Khargosh
Sitara Aur Mehrunnissa
Jaaye Kahaan YEH Dil
Thori Si Wafa Chahiye
Nijaat
Masuri
Hum Tum
Daddy
Tan Sen
Agar
Lahasil
Aashti
Khoi Khoi Si
Aa Mere Pyar ki Khusboo
Tanha
Jab Jab Dil Milay
Aakhri Barish
Dhoop Kinarey
Khataa
Jannat Se Nikali Huee Aurat
Unsuni
Paiwand
Choti Si Ghalat Fehmi (Daily Soap)
Koi Nahi Apna
Beqasoor as Shehryar
Mera Naseeb
Anokha Bandhan
Koi aur Hai
Aur Ghanti Baj Gayi
Kaisay Kahoon
Thori Si Wafaa Chahiye
Jab Hatheli Per Chand Likhna 
List of Movies
| | |
| --- | --- |
|  Movie |  Year |
| Salakhain |  2004 |
| Pehla Pehla Pyar |  2006 |
| A Mighty Heart |  2007 |
| Aazaan |  2011 |
| Jalaibee |  2015 |
| Rahm |  2016 |
| Maalik | 2016 |
| Abdullah: The Final Witness | 2015  / 2016 |
| Kaaf Kangana | 2018 |
[4]
Filmography Filmography
Awards and Nominations
Winner: Best Sitcom Drama Writer in The 1st Indus Drama Awards 2005
Nominee: Best Director for Sitcom in The 1st Indus Drama Awards 2005
Hassan Sajids Wife Shakila Chapra
Over the past 20 years or so, yoga and fitness have not only changed her physically, but also the way she perceives and approaches life emotionally, mentally, and spiritually.Silver-haired with warm sparkling eyes, a generous smile and an enviably lithe, toned body, Shakila Chapra is no ordinary 60-year-old — a proud mother of three sons, actor Sajid Hassan's wife and yoga instructor. So who is the real Shakila? "The real Shakila is a warrior. I am a jihadi, I fight my own wars," she said, settling down on a couch right after her morning yoga session was over, clutching a family album (to show me family pictures) and a cup of green tea. I don't go poking my nose in other people's business. Yoga has taught me to discipline myself in many ways and these are the best years of my life. Never felt so happy, so strong — I'm not fighting myself na! Wisdom, tolerance, acceptance, it is here. And when you are happy from within, you emanate that happiness, it is that simple." Her eyes twinkling, she calls herself 'the grandmother of fitness in Karachi' and laughs. "It seems that I was one of the first few people in Pakistan especially of the female gender to think that women were worth being fit and strong. I started when I was way younger and now I am a grandmother in real life." 
[5]
Shakila Chapra
Sajid Hasan Shares Botched Hair Transplant Result
Veteran actor and writer Syed Sajid Hasan has shared a horrifying story of medical negligence on social media, according to a report.In a video message, Hasan begins from the start by narrating how an old acquaintance, a medical doctor, had been pleading him for nine years to get a hair transplant done from him. "So around two months ago, I accepted " said Hasan.
Transplant Process
The actor-writer recalled that prior to his 'surgery', the doctor did not conduct any tests, something he now knows is necessary and normal practice.Hasan stated that a day after the transplant process began, he fell sick and suffered an infection on his head as well as severe fever for 10 days. "However, the doctor kept assuring me that 'all is well' and this is normal procedure," he complained.He added that during this ordeal, he remained passed out for 15 days but even then the doctor did not consider it a big deal and "kept cleaning the wound with saline water".
Wound Inflicted
A dejected Hasan then bows his head and shows the wound inflicted on the top of his head during the surgery, saying "now the scene is this. I am suffering a lot, for his doctor's negligence and not cleaning the wound properly. So is my family. I have been facing extreme problems for the last two months and had to suffer professionally too".
Message to People
The actor-writer concludes the message by saying that by sharing his ordeal, he just wants to spread awareness and warn others seeking hair transplants."Go to the right surgeon and do a lot of research beforehand," he says, and pointing to the wound, says "this is what happens when you go to the wrong guy".
[6]
Botched Hair Transplant Result