Saeed Ajmal is a former Pakistani Off-Spinner known for his doosras and a new variety of spin bowling called Teesra. Ajmal has been a star performer with the ball. He contributed in Pakistan's consecutive Test series won and took Pakistan to the number one Test team in the world for a long time. He has several bowling records to his name. He would be tough to pick during his playing days. His career ended at a low note as he had to change his bowling action, and after that, he could not bowl as well as he used to do before the change. He is retired and is doing coaching and runs his cricket academy. This article has all the information about him, including Saeed Ajmal Biography.
| Title | Description |
| --- | --- |
| Personal | |
| Name: | Saeed Ajmal |
| In Urdu: | سعید اجمل |
| Famous As: | Cricketer |
| Nationality: | Pakistani |
| Residence: | Faisalabad |
| Education: | Not Known |
| Religion: | Islam |
| Profession: | Cricketer |
| Height: | 5 ft 9 in (1.75 m) |
| Born | |
| Date: | 14th October 1977 |
| Place: | Faisalabad |
| Family | |
| Spouse: | Nisha Ajmal |
| Children: | 2 Son and 2 daughter |
| Siblings : | Muhammad Ahsan |
| Career | |
| National Side: | Pakistan |
| Team Role: | Bowler |
| Bowling Style: | Right-arm off break |
| Batting Style: | Right-handed |
| Matches: | 33 in Tests, 110 in ODIs, 132 in FC, 216 in LA |
| Wickets : | 169 in Tests, 182 in ODIs |
| Bowling Average: | 27.46 in Tests, 22.24 in ODIs |
| Batting Average: | 11.26 in Tests, 7.22 in ODIs |
| Balls Bowled: | 10,727 in Tests, 5,861 in ODIs |
| Runs Scored: | 428 in Tests, 318 in ODIs |
| ODI Shirt Number: | 50 |
| Top Score: | 50 in Tests, 33 in ODIs |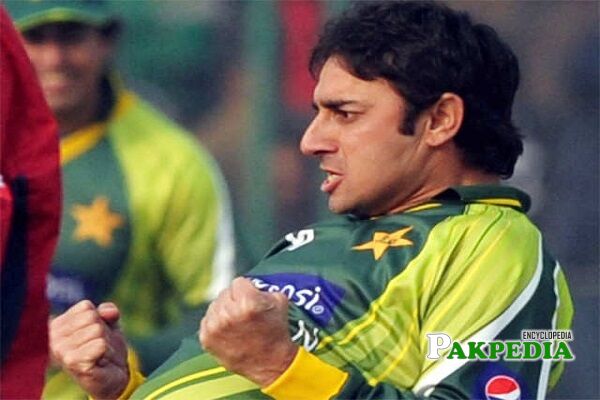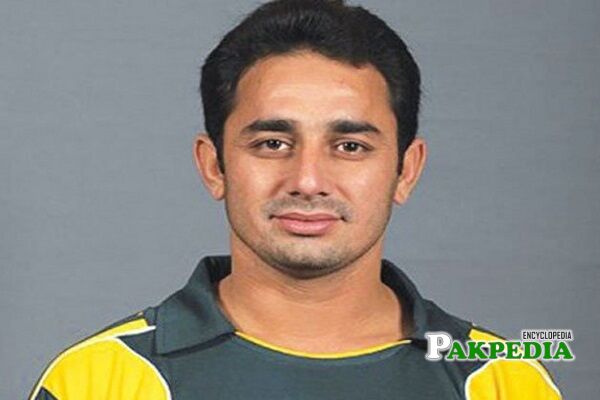 Saeed Ajmal Biography
Saeed has been part of all three formats for Pakistan and has made several highlights with his bowling. He featured in 35 Test matches for Pakistan and took a total of 178 wickets at bowling average and strike-rate of 28.10 and 65.1. He has registered four ten-wickets haul and ten fifers in this short but bright bowling career. His best bowling figures are 7/55. Saeed played a total of 113 One Day International matches in which he claimed a total of 184 wickets.
His bowling average and Strike-rate was 22.72 and 32.6, respectively. He dismissed two times five batsman in an ODI match. His best bowling figures are 5/24. He also took part in 64 T20 Internationals, where he got 85 wickets at an average of 17.83, with the best bowling of 4/19. He had an impressive bowling economy of 6.36 in the T20Is.
Saeed date of Birth
He was born on 14th October 1977 at Faisalabad, Punjab.
Saeed Ajmal Family
He currently lives in his hometown at Faisalabad. He is married to Nisha Ajmal, and they have two daughters and two sons
Cricket Career
Initial Career
Ajmal started his professional cricket career from 1995-96 domestic season. It took him a long time to make debut for Pakistan in international cricket. He got his first international call at the age of 30 but made full use of this opportunity. He came and conquered the hearts with his magnificent bowling.
Domestic Career
Besides representing the national team, Ajmal played for various other teams worldwide and earned a lot of success. He played for different teams, including Faisalabad XI, Faisalabad Wolves, Khan Research Laboratories, Zarai Taraqiati Bank Limited, WAPDA XI, Islamabad United, Islamabad Cricket Association, Worcestershire, Dhaka Gladiators, Antiqua Hawksbills, Adelaide Strikers and the rest.
His domestic records are amazing, in his 148 first-class games, he has claimed a sum of 578 wickets at an average of 26.87. He also got seven ten-wickets to haul and 39 fifers during his first-class cricket career. He has also appeared in 229 List-A matches where he got a total of 349 wickets with a bowling average of 25.29, including three five-wicket haul in his account.
While in 195 T20 games, Ajmal took a sum of 271 wickets at an average of 17.36. His T20 stats also include eight four-wicket hauls.
International Career and Achievements
Saeed Ajmal made his first international appearance for Pakistan in a One Day International match against archrival India on 02nd July 2008. He impressed everyone with his bowling. He became famous after entering into T20 format for the national team. Ajmal played his first T20 against Australia on 07th May 2009 and soon proved his talent right. He represented as a front line spinner alongside Shahid Afridi in T20 World Cup 2009.
He went on to pick 12 wickets in the tournament finishing at 2nd joint highest wicket-taker, His remarkable bowling performances helped Pakistan clinching the World-Cup trophy and coming as glorious. Next year in 2010, T20 World Cup he picked up 4/26 to knock the South African cricket team out of the tournament. Ajmal made his first test appearance against Sri-Lanka on 04th July 2009, and he picked up 14 wickets in three games. In the very next year, he bowled superbly against England in a test game picking up 5/82 and scoring his only international cricket half-century.
The test series against West-Indies became a great won as he took 20 wickets in just two tests, including a ten-wickets haul. His best series went against England, in which Pakistan did 3/0 whitewash, winning all the matches. Ajmal became the man of the moment alongside Left-arm spinner Abdul Rahman. He bowled with an average of 14.70, taking a total of 24 wickets. His bowling level can be known by the fact that he has taken all four ten-wicket hauls away from home and at different venues, including Guyana, Harare, Dubai, and Cap town, a remarkable achievement.
World Cup 2011
Ajmal was part of ICC 50 Overs World-Cup 2011, he played just three games, but bowled very impressively against West-Indies and in the semi-final against India. He had a very successful year with the ball in 2013 as he came among the top ODI bowlers for the year. Then in Asia-Cup 2014, he claimed 14 wickets to lead Pakistan in the to the final.
ICC Suspension
Later in his cricket career, Saeed had to change his bowling action because of the ICC's suspension. In 2014 he banned by ICC because of his illegal bowling action. He came back with a bit of new action but soon left the cricket.
Sitara-e-Imtiaz
Saeed Ajmal awarded 'Sitara e Imtiaz' for his contribution to the cricket field in 2015. The award was presented to him by Mamnoon Hussain, who was the president of Pakistan at that time.
Saeed Ajmal international cricket academy
His academy is located in Faisalabad, where new talents aspiring to become cricketers are trained. The academy came into being in 2014, which covers 22 acres of land and built-in Agriculture University. On its inauguration day, he revealed that the academy consists of trained people who teach the youth. Moreover, it has no registration fee, while the equipment used by the youth is free.
Social Media Handles
His social media accounts include