Mohammad Hafeez is an all-rounder cricketer of Pakistan. He is a right-hand batsman and a right-arm off-break bowler. Hafeez is a very wise cricketer, so people called him with the nickname ''professor''. He has represented the national team in all three formats of the game and has broken many records with his all-round performances. This article has all the information about him, including Mohammad Hafeez Biography.
| Title | Description |
| --- | --- |
| Personal | |
| Name: | Mohammad Hafeez |
| In Urdu: | محمد حفیظ |
| Famous As: | Cricketer |
| Nationality: | Pakistani |
| Residence: | Sargodha |
| Education: | Not Known |
| Religion: | Islam |
| Profession: | Cricketer |
| Born | |
| Date: | 17th October 1980 |
| Place: | Sargodha |
| Family | |
| Spouse: | Nazia Hafeez |
| Children: | Amal Hafeez and Emaan Hafeez |
| Parents: | Not Known |
| Career | |
| National Side: | Pakistan |
| Team Role: | All-rounder |
| Bowling Style: | Right arm off break |
| Batting Style: | Right hand bat |
| Matches: | 50 in Tests, 170 in ODIs, 65 in T20s |
| Wickets : | 52 in Tests, 129 in ODIs, 46 in T20s |
| Bowling Average: | 33.90 in Tests, 34.87 in ODIs, 24.34 in T20s |
| Batting Average: | 39.22 in Tests, 38.22 in ODIs, 23.31 in T20s |
| Balls Bowled: | 3,953 in Tests, 6,578 in ODIs, 1,004 in T20s |
| Runs Scored: | 3,452 in Tests, 5,156 in ODIs, 1,399 in T20s |
| Test Debut: | 20 August 2003 v Bangladesh |
| Test Last: | 3-7 July 2016 v England |
| ODI Debut: | 3 April 2003 v Zimbabwe |
| ODI Last: | 24 August 2016 v England |
| ODI Shirt Number: | 8 |
| T20 Debut : | 28 August 2006 v England |
| T20 Last: | 30 November 2015 v England |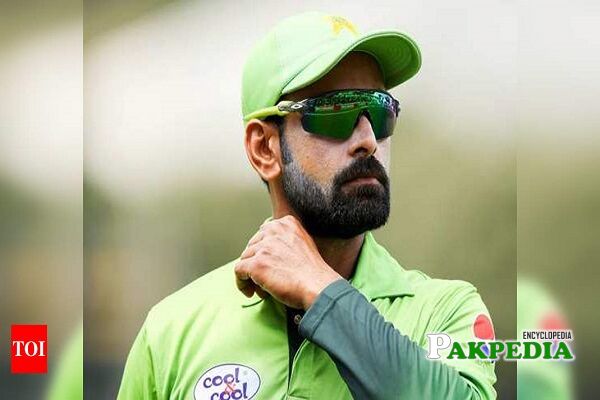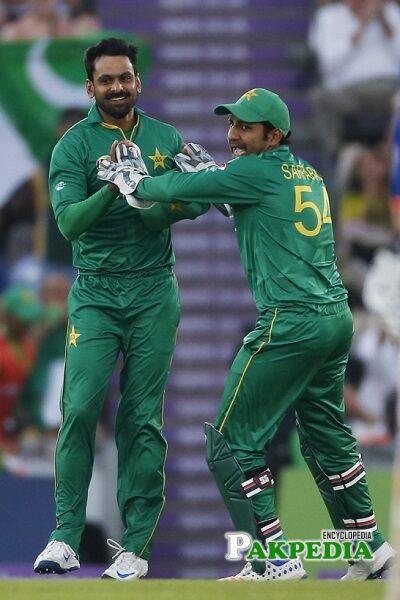 Mohammad Hafeez Biography
Hafeez was first time added in the national team for the 2003 world cup squad, where he played in the tournament but could not deliver his best as Pakistan got eliminated in the first round. He has participated in 55 test matches in which he scored 3652-runs with an average of 37.64. Hafeez has the highest score innings of 224. He has registered ten centuries and 12 fifties. He bowled in 77 innings of test matches in his career and has taken 52 wickets with best bowling figures of 4/16. He has an average of 34.11 with the ball.
He contributed in ODI cricket 218 matches and made 6614-runs with an average of 32.90 in batting. He stroked 11 centuries and 38 fifties with the best score of 140 in an innings of ODI. He also bowled in ODI format in 177 innings with 139 wickets and an average of 38.84 in bowling. He took his best bowling innings of 4/41. Hafeez also played T20 format in which he played 91 matches and smashed 1992-runs with an average of 25.21 in batting. He registered 11 fifties in the T20 format with the highest score of 86-runs. He took 54 wickets in 67 innings with best bowling innings of 4/11.
Hafeez date of Birth
He was born in Sargodha on 17th   October 1980.
Mohammad Hafeez Family
Hafeez married to Nazia and has two daughters named Amal and Emaan. Currently, he lives in his hometown at Sargodha, Punjab.
Cricket Career
Initial Career
Hafeez initiated his career from domestic cricket in 1998. Later he was selected for world cup 2003 squad.
Domestic Career
He debuted in first-class cricket in 1998, and played 210 matches and has listed 12169-runs with an average of 34.76 in batting. He has also scored 26 centuries and 56 fifties with the highest score in an innings of 224-runs. He brilliantly bowled in the first-class career with 253 wickets, and his best bowling figured in an innings is 8/57. Hafeez has a bowling average of 26.73 with seven times five wickets haul in an innings, and two times ten wickets haul in a match. He also started List-A cricket in the same year 1998 and featured in 340 matches and achieved 11402-runs with an average of 35.96. He has also hit 17 hundreds and 76 fifties.
With the ball, Hafeez has 256 wickets with his best innings bowling of 4/23. He has collected four times four wickets haul in a List-A match. He has also played 287 domestic T20 matches and has scored 6054-runs with an average of 24.71. while he also has claimed 177 wickets.
List of Teams
Domestically he has played in various tournaments for many teams, including Wayamba, Baluchistan Bears, Sui Northern Gas Pipelines Limited, Baluchistan Warriors, Sui Gas Corporation of Pakistan, Dhaka Dynamites, St Kitts and Nevis Patriots, Duronto Rajshahi, Southern Punjab, Edmonton Royals, Faisalabad, Sargodha, Faisalabad Region, Rawalpindi, Rest of Northwest Frontier Province, Faisalabad Wolves, Punjab Badshahs, Punjab Stallions, Guyana Amazon Warriors, FATA Region, Punjab XI, Imtiaz Ahmed's XI, Kolkata Knight Riders, Pakistan XI, Peshawar Zalmi, Multan, Nangarhar Leopards, Pakistan A, Lahore Eagles, Pakistan Cricket Board Reds, Pakistan Greens, Lahore Lions, Lahore Region Whites, Lahore Qalandars, Melbourne Stars, Middlesex and the rest.
Pakistan Super League PSL
Hafeez was drafted in Peshawar Zalmi from 2016 to 2018. In 2019 he was added to Lahore Qalandar and became captain of the team. Currently, he is playing for Lahore Qalandars in the season 2020.
International Career and Achievements
ODI and Test Performance
He debuted in the national team on 3rd April 2003 against Zimbabwe in the world cup, he took two wickets in his debut match in ODI and made a half-century in his second ODI match. Hafeez also debuted in test format on 20th August 2003 against Bangladesh and made his first century. His inconsistent performance dropped from the national team. He returned in 2004 in test and ODI in 2005. He has not batted well, but his bowling was excellent in ODI. In 2006, Hafeez added in series against Australia and performed well. He again returned to test against England and scored 95 in the test.
He also debuted in T20 format on 28th August 2006 against England, where he batted and scored 46-runs in 40 balls. Hafeez played a test against West Indies at home series and made a defensive second hundred in Karachi
In 2010, he returned in the T20 world cup, and performed very poorly with 39-runs and two wickets in 6 matches. Despite his performance, he added in the squad for England tour, and appeared a second highest scorer from the Pakistani side in this series and stood along with Kamran Akmal.
He has chosen to play with South Africa, where he was given a chance to play as an opener in the test, he appeared with 32.50 average. At the end of 2010, Mohammad Hafeez became a regular batsman for Pakistan. In 2011 he made his first ODI hundred against New Zealand. He got five international centuries in 2011, including test and ODI. His 2011 performances named him in world XI. He named in Asia cup in 2012, where he brilliantly made 105-runs in 113 balls against Bangladesh. He also got 196-runs in the same year against Sri Lanka in a test match at Colombo in June.
In series against India, he made 61 and 51-runs in two matches of T20 and also made 76-runs in ODI along with Nasir Jamshed. Hafeez also bowled brilliantly in this series. In December, he played successfully against Sri Lanka and scored three-century in four matches and became second Pakistani batsman after Zaheer Abbas, who scored three hundred in an ODI series. His excellent performances in T20 formats also named in T20 world XI.
Captaincy
Hafeez was given charge of captaincy in T20 international during world cup 2012, while under his captaincy, Pakistan played semi-final and lost in Sri Lanka. After that, a controversy emerged with Abdul Razzaq, a Pakistani all-rounder, and was blamed not selecting Razzaq. So he was called by Pakistan cricket board and decided to shift captaincy to another player after India and South Africa tour. During his captaincy, he became leading-scorer from Pakistan, and through his captaincy, he reached Pakistani team ranked second internationally. Hafeez decided to play as an all-rounder and left captaincy after the controversy. He was criticized by Imran Khan after leaving captaincy. Under his leadership out 29 matches, Pakistan won 17 matches.
2019 world cup
In 2019 he named in the world cup where he awarded man of the match in his second match against England, and made 84-runs and took the wicket of England captain Eoin Morgan. He remained an average performer in an overall tournament and became an expensive spinner from the Pakistani side. Recently in June 2020, he named in Pakistani squad for the tour to England. Meanwhile, he got a positive test for Covid-19 among seven players. Later on 23rd June, Hafeez test negative after a day when he took a second time from private laboratory along with his family.
Mohammad Hafeez Retirement
Hafeez took retirement from test format in December 2018 after completing 55 test matches.
Bowling Action
He was reported for his critical action in bowling during 2015 and got banned. He renewed his action, and ICC tested his bowling action again, and he successfully passed. He proved his bowling skills by returning against Sri Lanka with four wickets and getting awarded the match's man. In December, he again got banned from domestic cricket of England due to his critical bowling action, and he has again been allowed to bowl. Hafeez has the role of a senior player in the current Pakistani team. He wants to play the next T20 World-Cup and then retire from cricket.
Social Media Handles
His social media account include
https://twitter.com/MHafeez22