Sarfraz Ahmed is a Pakistani Wicket-Keeper batsman. He has been playing in all three formats for Pakistan and has many successes in his ongoing career as a cricketer as he has won under-19 World-Cup for Pakistan. Moreover, his famous victory came when he won the Pakistan team the champions trophy 2017 captaining a side which no one thought would win the tournament at the start. Still, Sarfaraz made it possible with is outstanding leadership skills. Currently, he is playing on the side as a wicket-keeper batsman. This article has all the information about him, including Sarfraz Ahmed Biography.
| Title | Description |
| --- | --- |
| Personal | |
| Name: | Sarfraz Ahmed |
| In Urdu: | سرفراز احمد |
| Famous As: | Saifi |
| Nationality: | Pakistan |
| Residence: | Karachi |
| Education: | Electric Engineering |
| Religion: | Islam |
| Profession: | Cricketer |
| Height: | 5 ft 8 in (1.73 m) |
| Website: | https://twitter.com/SarfarazA_54 |
| Born | |
| Date: | 22nd May 1987 |
| Place: | Karachi |
| Family | |
| Spouse: | Syeda Khusbaht |
| Children: | Abdullah Sarfraz (Son) |
| Parents: | Shakeel Ahmed Siddiqui |
| Career | |
| National Side: | Pakistan |
| Team Role: | Wicket-keeper/captain of T20/ODI team |
| Batting Style: | Right-handed |
| Matches: | 25 in Tests, 59 in ODIs, 21 in T20s |
| Batting Average: | 43.79 in Tests, 29.16 in ODIs, 29.10 in T20s |
| Catches/Stumpings: | 61/17 in Tests, 54/19 in ODIs, 3/2 in T20s |
| Runs Scored: | 1489 in Tests, 1079 in ODIs, 291 in T20s |
| Test Debut: | 14 January 2010 v Australia |
| Test Last: | 14 July 2016 v England |
| ODI Debut: | 18 November 2007 v India |
| ODI Last: | 4 September 2016 v England |
| ODI Shirt Number: | 54 |
| T20 Debut : | England v Pakistan at Dubai (DSC), Feb 19, 2010 |
| T20 Last: | Pakistan v West Indies at Abu Dhabi, Sep 27, 2016 |
| 100s / 50s: | 3/7 in Tests, 2/3 in ODIs, 0/2 in T20s |
| Top Score: | 112 in Tests, 101* in ODIs, 76* in T20s |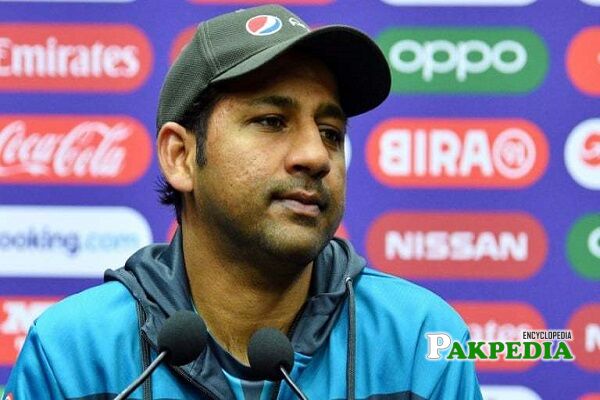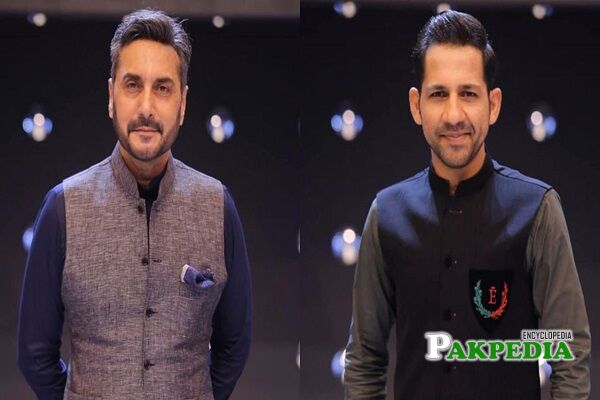 Sarfraz Ahmed Biography
Sarfraz is a Pakistani player and Hafiz e Qur'an who is blessed with a beautiful voice. He came in Pakistan's team first time in ODI format. It took him three years to solidify his place in the national team as he became a regular member of all the game formats after 2010. Sarfaraz has featured in 49 Test matches for the national side, and till now, he has scored a total of 2657 runs averaging 36.39. His keeping has been excellent throughout his career.
He has taken 146 catches and has stumped 21 batsmen in the tests so far. While he also has registered three centuries along with 18 half-centuries in the 86 test innings of his career. Sarfraz is also part of the Pakistan team in One Day Internationals as he has played in 116 matches and has made 2302 runs at an average of 33.85; it includes a couple of 100s as well as 11 fifties. In his ODI career, Sarfaraz has 116 catches behind the stumps and has stumped out 24 batsmen in ODI cricket since his debut.
He also plays a T20 format for the national team and has done very well in the shorter format of the game until now. He has appeared in 58 T20 Internationals for his country and has scored a decent total of 812 runs, while his T20I batting average is 28.00 and has an excellent strike-rate of over 126. He has been equally well with the gloves and has 35 catches and ten stumpings to his name.
Sarfraz date of Birth
He was born on 22nd May 1987 at Karachi, Sindh.
Education of Sarfraz
He holds the degree of electrical engineering from Dawood University of Engineering and Technology, Karachi, Sindh.
Sarfraz Ahmed Family
Sarfaraz born in a family having the business of printing press. His elders migrated to Pakistan from the Indian area of Uttar Pradesh. His father left this world in 2006. Sarfaraz is married to Syeda Khushbakht from 2015, and they have two children. One of his son's name is Abdullah
Cricket Career
Initial Career
Sarfraz became famous in the cricketing world when he captained the Pakistan under-19 team in the 2006 under-19s World-Cup. In the tournament, he led his team from the front throughout and defeated the Indian team in the final, which is another achievement besides winning the cup-winning against India is also itself a significant achievement. He made Pakistani fans very happy and impressed then selectors to represent the national team at the international level. After this achievement, Sarfaraz got into Pakistan's national team as a wicket-keeper first time in 2007.
Domestic Career
His records are very impressive in any form of cricket, whether it is international cricket or domestic. He gives his best in the field every time he is in playing eleven. Like in international cricket, he plays in all three formats of domestic cricket. He has scored 7963 runs in 156 first-class matches at an average of 40.01 with the bat. His first-class stats also include eleven centuries as well as 56 half-centuries while he has been brilliant behind the stumps with 496 catches and 50 stumpings into his account so far.
While in his List-A career, he has featured in 196 matches in which he has scored 3805 runs with a batting average of 32.52. Sarfraz also has three hundred and 19 fifties in this form of cricket since his first List-A appearance. Along with that, his wicket-keeping stats include 218 catches as well as 47 stumps with the gloves. He has been a fantastic find in all formats, including the T20s. In his 198 Twenty-Twenty games, he has 2910 runs with the bat at an average and strike -rate of 27.45 and 127.85, respectively.
He has also hit ten half-centuries in T20s till today and has stumped a total of 43 batsmen while he has claimed 101 catches behind the wickets in the 20-overs career with gloves. Sarfaraz has been part of many teams. Besides the national side he has represented Hanif Muhammad's XI, Bangla Tigers, Karachi Blues, Karachi Dolphins, Karachi Whites, Pakistan A, Pakistan Blues, Khulna Tigers, Pakistan All-Stars Xi, PCB XI, PCB Greens, PIA, Quetta Gladiators, Sindh Dolphins, Sindh XI, Yorkshire, Pakistan Under-19s and the rest.
Pakistan Super League
Sarfaraz Ahmad has been part of the Pakistan Super League in all seasons. He has represented the Quetta Gladiators team whenever he has played in the tournament. He plays as the captain of the Quetta team and has been very successful in almost all the seasons of the competition. His superior quality is his leadership skills as he raises every member of the team in the team with confidence, and he keeps them very active and focused.
Sarfraz has the highest win percentage in the history of HBL PSL. He has captained Quetta Gladiators from the very first edition of the PSL season. So far, he has led Quetta in 47 matches and has won in 29 games. His team has been runner-up in the first two seasons of the PSL and has been the Champions in PSL-2019.
International Career and Achievements
Sarfraz has been a unique find for Pakistan, especially with his leadership skills. He has also done reasonably well as a behind the wickets as well as with bat for the national team. He got into the national team when Kamran Akmal then wicket-keeper batsman could not perform well behind the stumps, so selectors decided to give young Sarfraz a chance to represent Pakistan at the international level. During his initial days, he could not deliver his best with the bat, but he remained in the team, and gradually he improved his game a lot.
He has been a decent test batsman and has performed fine till today in the longer format. His first series came against the Aussies in Australia, which is a tough tour for any Asian batsman, so it did not go well for him as well, and he just made five runs in a test match he played. After this, another complicated series took place against South Africa in South Africa, which also could not go very well for Sarfaraz as he only made 83 runs in the three-match series.
Then he played against Sri-Lanka, scored some runs, and registered a hundred and four half-centuries in the two consecutive series. It boosted his confidence, and he improved his stats as a batsman in the next two series against Australia and New-Zealand in UAE he made a total of 143 and 201 runs respectively against both the teams. Not only this, but he also hit a hundred against each of them.
After that, he has made few half-centuries against Bangladesh, Sri-Lanka, West-Indies, Australia, and South Africa. His performances with both bat and gloves have always been vital for the Pakistan team. He has captained the national team in 13 Test games, where he has four wins and eight defeats in the format to his name. Recently, he has been sacked from the captaincy of all formats after an unimpressive performance of the Pakistan team in World Cup 2019. He is still playing in tests and recently is focused on getting better with the bat.
One Day International Career
Sarfraz Ahmed is famous in the cricket world for his performance with the white ball. He has led Pakistan in 32 One Day Internationals and has won 20 matches. He has captained the Pakistan team in the Champions Trophy 2017 and took the trophy. His captaincy records are very impressive in 50-Overs. With the bat, he has been little off in ODIs because his focus in leading the side has led his performance down.
In his tenth ODI series, he hit his first fifty scorings 65 runs in a match against Australia at UAE. Early in his career, he scored a match-winning unbeaten 46 runs innings in the final of Asia Cup 2012; in the end, Pakistan won the final by just two runs. Sarfaraz made a mark with bat in the ICC World-Cup 2015, where he scored his first ODI century that two at the biggest cricket event. He scored another hundred, and it came against England in the year 2016.
ICC Champions Trophy 2017
His best moment in ODI cricket is his leadership at the champions trophy 2017. Before the start of the tournament, Pakistan was at a low rank in the ICC ODI rankings, so cricket experts did not consider Pakistan to do well in the competition as they were not expecting a big performance by a young and low ranked side. But Ramiz Raja said that Pakistan could win this cup, which was a surprising claim at the start of the proceedings.
The tournament started for Pakistan as they took on India. The archrivals and Pakistani side got blown away in all three departments of fielding, bowling, and batting, as they lost the match very poorly. After this match, the team got together discussed their game flaws rebounded and united to go well in the next matches, and then it is all history for Pakistan. After the first defeat, the Pakistan team came back very strongly and determined. They won the games against South-Africa then against Sri-Lanka and reached in the knock-out stage of the event.
In the semi-finals, the Pakistan team knocked the host team England out of the tournament and surprised everyone. They reached in the final to clash with India in the all-important final and take revenge for their first meeting at the start. In the finals, it was all very different from the previous game against India. Pakistan batted first and posted a massive total of 337 on the board. Chasing a target of 338 Indian batsmen got blown away by Pakistani fast bowlers, especially by Muhammad Amir.
Pakistan crushed the Indian team by 180 runs as India got all-out on just 158 terms. Pakistan made the history in the leadership of Sarfaraz and crowned as Champions.
2019 World Cup
In 2019 World-Cup Sarfraz led Pakistan. It started very bad for the Pakistan team as in the first match of the tournament, Pakistan was outplayed by West-Indies so that they could not recover from the loss until they got out of the tournament. Pakistan could not reach the knock-out stages, but surprisingly they defeated both the finalist teams of England and New-Zealand in the group match. England won the cup at the end after a nail-biting contest between them against New-Zealand. Sarfraz lost captaincy soon after the tournament, and he even lost his place in the team for some time but has regained it recently.
T20 Internationals
He has been one of the best T20 captains. As his stats suggest, he has led in 33 T20 Internationals to the nationals team and has won 29 matches, which is incredible while he has also been doing well with the bat in this format. Sarfraz has scored three T20I half-centuries each against Scotland, New-Zealand, and Bangladesh. Besides this, he has played some match-winning knocks in this form of the game.
Social Media Handles
His social media accounts include