It's not wrong to call Rukhsana Zuberi a role model for so many people. She did and achieve lot during her career and is still achieving more and more with her hardwork and patient. As far as her political career is concern that she recently got nominated as a Pakistan people's party senator for upcoming 2018 Senate Elections.
| Title | Description |
| --- | --- |
| Personal | |
| Name: | Rukhsana Zuberi |
| In Urdu: | رخسانہ زبیری |
| Famous As: | Politician |
| Nationality: | Pakistani |
| Education: | She did Engineering |
| Religion: | Islam |
| Profession: | Engineer |
| Founder: | Senator Zuberi is the founder of Women In Energy and champion for initiatives. |
| Occupation: | Politician |
| Career | |
| Political Party: | Pakistan Peoples Party |
| Serve As: | As an Advisor |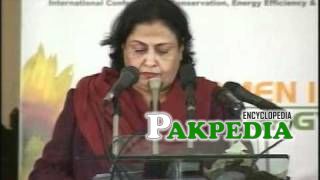 Biography
Rukhsana Zuberi  is leading Pakistan Engineering Council as Chairperson since August 2008. Senator Zuberi is the founder of Women In Energy and champion for initiatives like; energy conservation, energy efficiency and renewable energy specifically solar energy in Pakistan and the South Asia Region. She served Pakistan as Senator, Member Provincial Assembly Sindh and is currently Member President's Steering Committee on Alternative Energy Options for Pakistan. She is also Board Member of NUST, Engineering Development Board and Hydrocarbon Development Institute of Pakistan. [1] Biography Biography
Rukhsana Pipe
Rukhsana Zuberi was very hardworking and loved reading from childhood. Father passed away when Rukhsana was studying in class 9. Her uncle was an engineer who believed that engineering is too hard a profession for girls. Rukhsana took this as a challenge and studied engineering. She joined the first woman-owned engineering factory in Pakistan but had to resign later due to family commitments. While working there she invented a pipe which was then named after her as "Rukhsana Pipe".
Career
She is President of TEC Education Foundation and is associated with Microsoft, Pearson Vue, New Horizons and Certiport which are global training and testing organizations. She enabled participation of Pakistani youth in Microsoft World Championship, California in 2014 offering great opportunities for country's youth to showcase their IT skills on the global forum. She is Pakistan's first lady mechanical engineer and in addition to being the Chairperson of Pakistan Engineering Council, Pakistan Institute of Costs & Contracts, Women In Energy, she is also a Fellow member of Institute of Engineers Pakistan. She held various prestigious positions during her political and professional career including membership of Senate of Pakistan, Provincial Assembly Sindh, Karachi University Syndicate, Board of Governors of NUST, Engineering Development Board, President's Task Force on Alternate Energy Options for Pakistan and Finance House Committee of Senate. She is Chairperson of the Audit Committee. [2] Career Career
Political Career
Rukhsana joined Peoples' Party at an early age though no one from her family ever entered politics. She worked alongside Mr Bhutto as young advisor. She counselled Mr Bhutto to open Polytechnics in Pakistan to advance technical in the country. She advised government on petroleum issues while in senate. Later she supported & guided young Benazir also. As Benazir got surrounded by group of greedy people she quietly moved aside.=. [3] Political career
Her Revolutionary Ideas
Rukhsana had many revolutionary ideas in relation to energy crisis in Pakistan. Below are few of such ideas. Some of these are already in implementation:
While in engineering Council she arranged a children's nursery, doctor and a canteen to facilitate workers and save valuable money.
Instead of using a hotel and wasting public money, she rented a full house, used one part & sub-rented the other, net cost to Engineering council = Zero Rs.
Rukhsana is introducing an online records system for Pakistan Engineering Council.
She is advocating on all forums that we must make good use of Solar, Wind and Coal energy to create electricity. People are ill advised about these. Pakistan has abundance of wind, sun and coal. 
Introduced solar energy panels at council building as well as many other public buildings like Mizar-e-Quaid, Islamic University and Part of President's Office.
Achievements
Initiated Skills Development and Vocational Training for women
International recognition of Pakistan's Engineering Qualifications
Initiated Pakistan's first on Grid solar power system
Introduced and facilitated online testing and certification programs in Pakistan, enabling Country's youth to get international qualifications and career opportunities
Nominated As a Senator
The Pakistan People's Party has finalised the names of its candidates for the award of tickets to contest elections on 12 seats of the Senate of Pakistan belonging to the Sindh province. The names of candidates of PPP who have been awarded tickets to contest the elections on seven general seats of Senate belonging to Sindh are: Raza Rabbani, Maula Bux Chandio, Murtaza Wahab, Ali Jamote, Mustafa Nawaz Khokhar, Imamdin Shokeen and Ayaz Mehr. The candidates awarded tickets against two seats of technocrats are Dr Sikandar Mandhro and Rukhsana Zuberi.  [4] Nominated as a senator
Senate Election Results 2018
The  PPP clinched 10 seats including five general seats, two reserved seats for technocrats and women each and one for non-Muslims to take its total strength to 20 against the expectation of 17. Successful PPP candidates on general seats from Sindh include sitting chairman of Senate  Raza Rabbani,  Maula Bux Chandio, Mohammad Ali Shah Jamote,  Mustafa Nawaz Khokhar and Dr Sikander Menghro. Rukhsana Zuberi and  Dr Sikandar Mandhro won the technocrat seats while  Anwar Lal Dean won the seat for minorities.  Quratulain Marri and  Krishna Kohli won the election for the reserved seat for women. PML- F candidate Muzzafar Hussain Shah's contacts with two  MQM factions and the  Pak Sarzameen Party also worked to save his party's elimination from the upper house as he bagged one seat.[5]  Senate Election Results 2018