Rehman Malik Smiling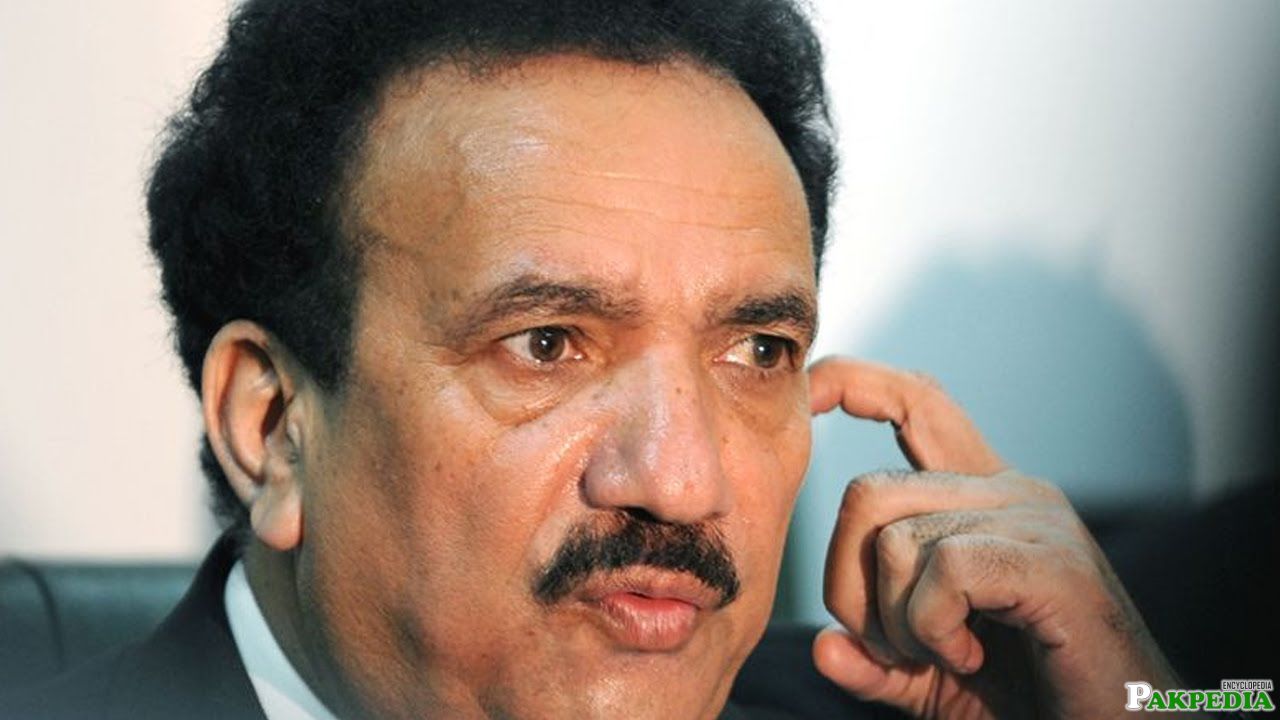 Rehman Malik Pakistani Politician and Retired Bureaucrat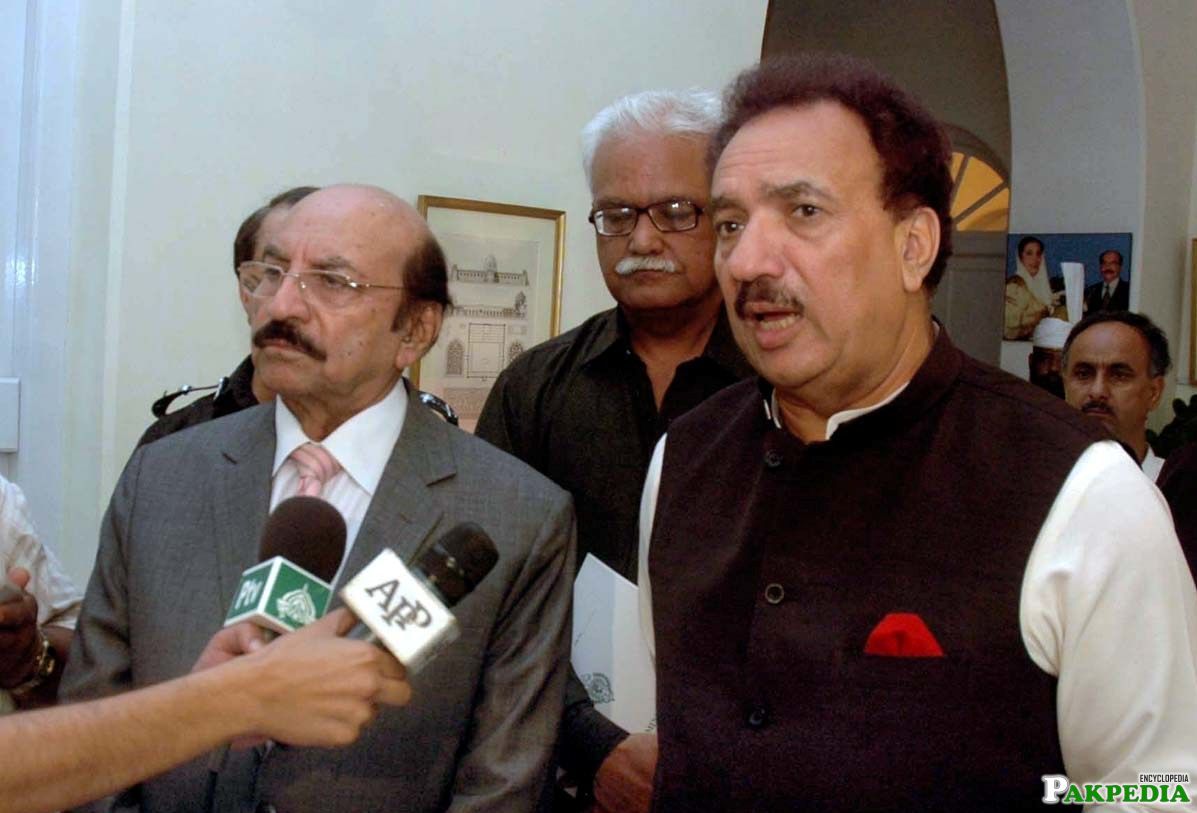 Rehman Malik with Qaim Ali Shah And Infront of Media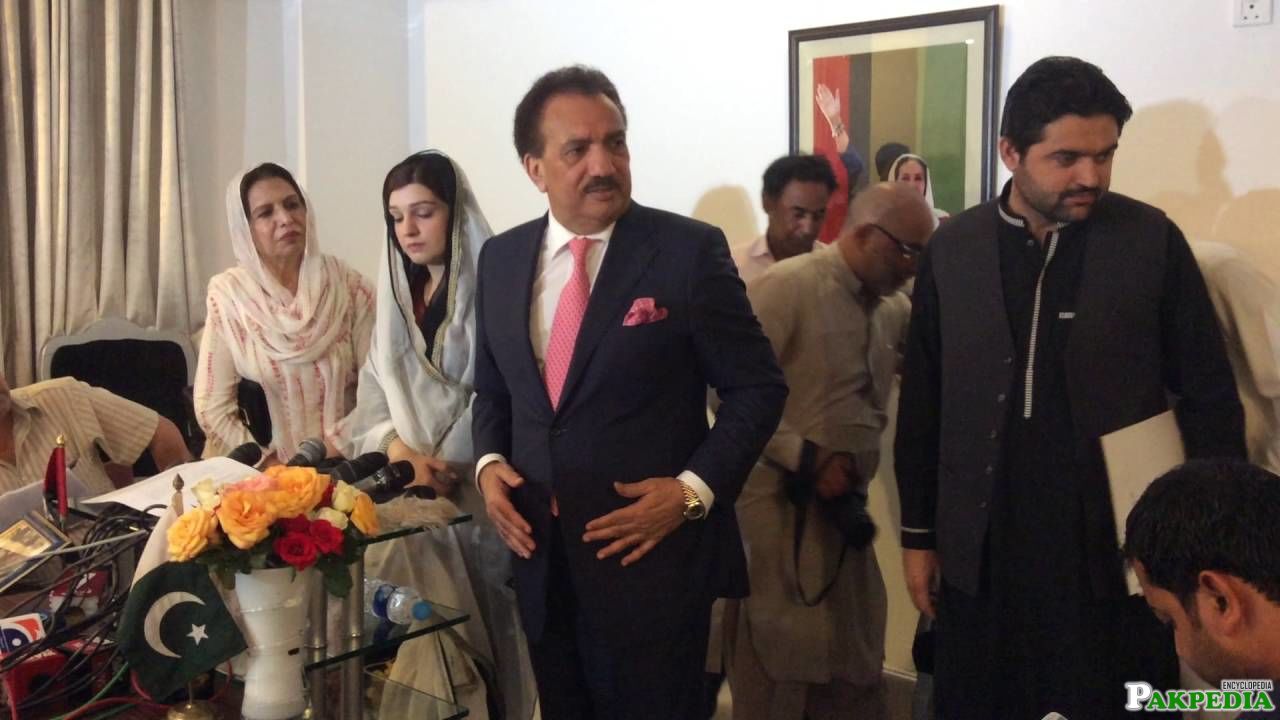 Rehman Malik and Mushaal Hussain Malik Joint Press Conference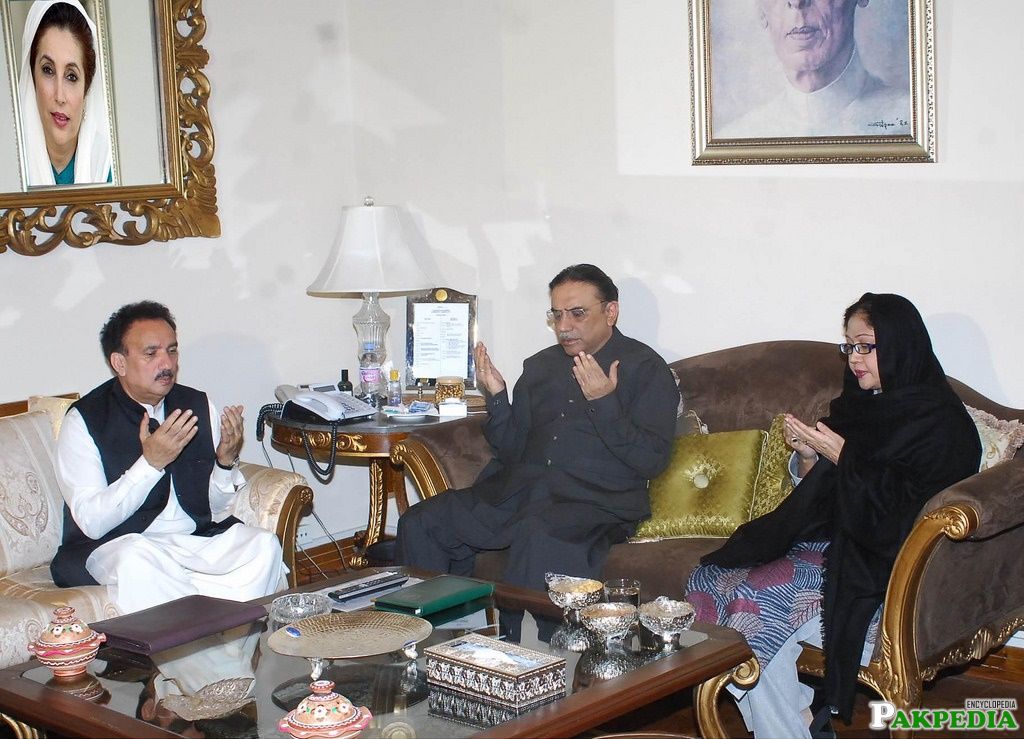 Rehman Malik, Former President Asif Ali Zardari and MNA Faryal Talpur Together While Prayer
Biography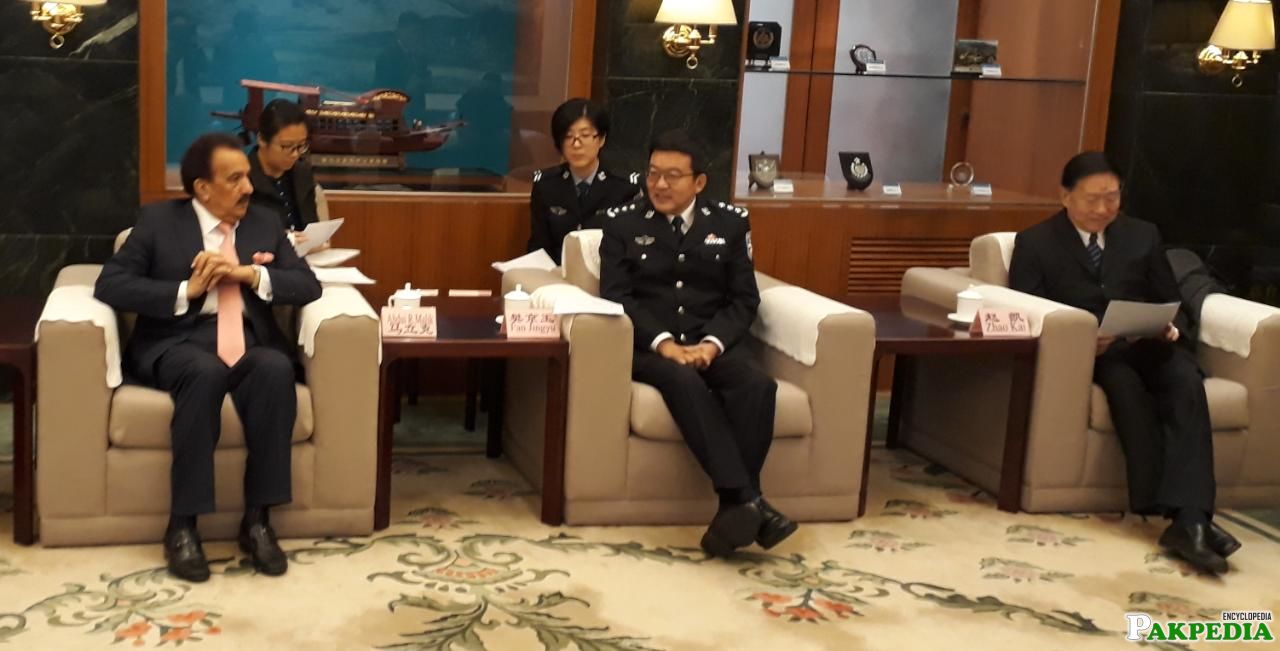 Rehman Malik born 12 December 1951 he is a Pakistani politician and Intelligence officer, former member of the Senate of Pakistan, and the former Interior Minister of Pakistan under the Prime Minister
Yousuf Raza Gilani
administration.
[1]
Pakistani Politician
Rehman Malik affiliated with the progressive Pakistan Peoples Party, this diplomat and government administrator served as Interior Minister of Pakistan from 2008-2013. Earlier in his career, he had held the position of Director of the Pakistani Federal Investigation Agency.
[2]
B iography
Education
Ph.D. (Honorary), University of Karachi (2012)
M.Sc. (Statistics), With Distinction, University of Karachi (1973)
Fellowship - International Migration, University of Philippines
Early Career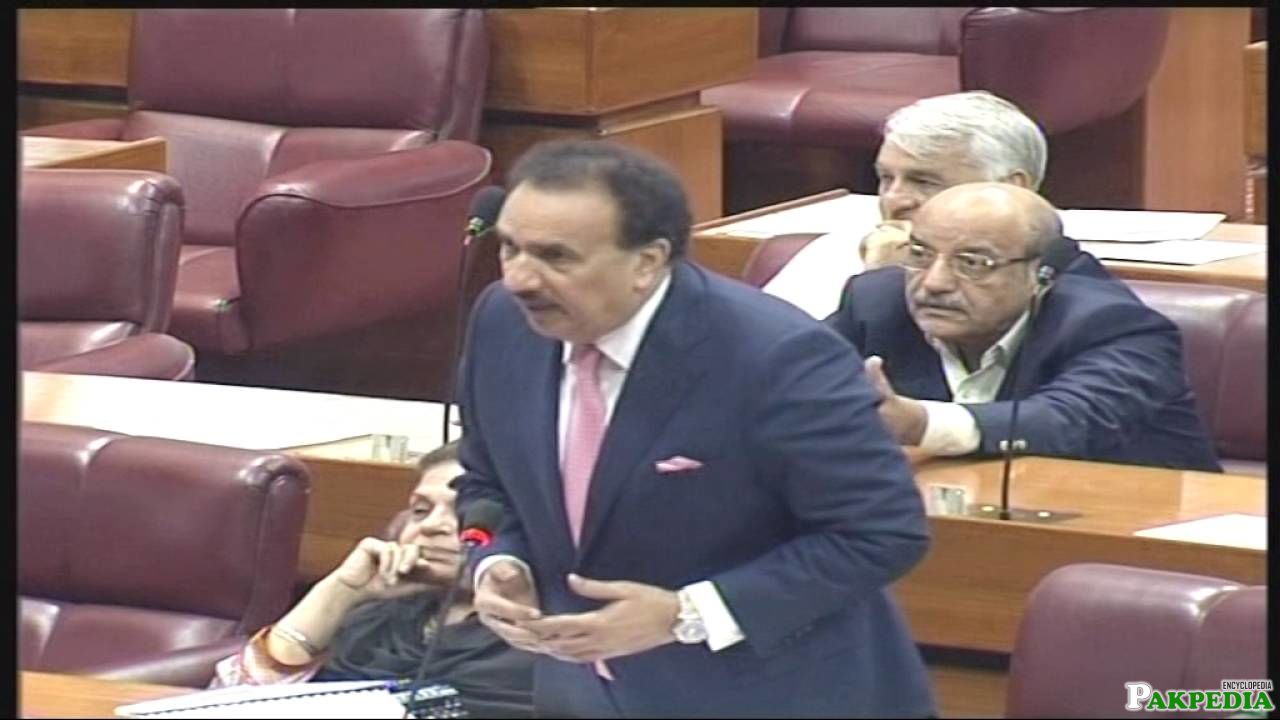 Following his 1973 Statistics Department graduation from Karachi University, he worked for a time for the Pakistani National Alien Registration Authority before becoming a special agent with the FIA (Federal Investigation Agency).
[3]
Early Career
Federal Investigation Agency Career FIA
Rehman Malik began his career as an immigration officer and became the top-man in the
Federal Investigation Agency (FIA)
in the mid 90's.During 26 years of active service as an officer of the FIA, he has held the post of Additional Director General of the FIA besides heading various regional offices of the department such as Crime Zone Peshawar, Immigration, Interpol and National Security Cell. He has been associated with anti-terrorism and anti-money launching operations of the FIA which have earned him recognition by the international law enforcement community. He was bestowed with the Sitara-e-Shujaat in 1995.
[4]
FIA
Director General of the FIA
Benazir Bhutto appointed Rehman Malik as the additional director-general of the FIA which then launched a secret war against the Islamist elements in Pakistan, which amounted to a direct attack on the
Inter-Services Intelligence (ISI)
.
[5]
Director General FIA
Political Career
He is a senior member of the Central Executive Committee of PPP and had worked for decades with Shaheed Mohtarma
Benazir Bhutto
and assisted her as political advisor besides assisting her in various political meetings both abroad and at home. He attended all political parties of SAARC meeting in Bangkok, Thailand in 2004 which was chaired by Shaheed Mohtarma Benazir Bhutto as PPP chairperson.
All Political Parties
He attended all political parties of SAARC meeting in Bangkok, Thailand in 2004 which was chaired by Shaheed Mohtrama Benazir Bhutto as
PPP
chairperson.He represented PPP on behalf of Shaheed Mohtrama Benazir Bhutto in various political seminars and head of states world wide.
[6]
All Political Parties
Command Structure
Served as the longest serving Federal Minister for Interior in the history of Pakistan. As Minister for Interior, supervised Interior Division and Narcotics Control Division, including:
Pakistan Rangers, Punjab
Frontier Corps, Balochistan.
Anti-Narcotics Force. (ANF)
National Police Academy.
National Police Foundation.
National Counter Terrorism Authority (NACTA)
Directorate General of Civil Defence
National Response Centre for Cyber Crimes (NRC)
Pakistan Rangers, Sindh.
Northern Light Infantry, Gilgit-Baltistan.
Pakistan Coast Guard.
Islamabad Capital Territory Police.
National Aliens Registration Authority (NARA).
National Forensic Science Agency (NFSA)
National Police Bureau (NPB)
Pakistan Immigration Control -Frontier Corps, KPK
Federal Investigation Agency (FIA)
FIA Academy of Pakistan
Islamabad Capital Territory Administration.
Directorate General of Immigration & Passports.
National Academy for Prisons Administration.
National Crisis Management Cell (NCMC) [7]  Command Structure 
Chairman SAARC
Member of the NCA concerned with Civil and Public Affairs
Contributions As Interior Minister
Leader of Pak delegation to SAARC for five consecutive Annual Sessions.
Leader of Pak delegation to India on bilateral issues.
Also functioned as Special Envoy of the President of Pakistan, to Iran, Saudi Arabia and Middle East, met various head of states and distinguished leaders, for conveying messages from President of Pakistan to strengthen cooperation and bonds of friendly relations. Played an active role in countering terrorism in Middle East and Iran.
Key Note speaker for Interpol General Assembly Annual Sessions held at Singapore.
Observer for The Election of Secretary General of ICPO/Interpol.
Leader of Pak delegation on Security, to USA, UK, Italy, and Singapore
Keynote Speaker at International Institute for Strategic Studies (IISS), UK.
Keynote Speaker PAF Command and Staff College, Karachi.
Keynote Speaker at International Conference on Inter-Faith Harmony, Islamabad.
Keynote Speaker in National Defence University (NDU) Pakistan on subjects of Terrorism and national Security.[8]  Contributions As Interior Minister 
Civil Service Career
Federal Investigation Agency (FIA) Pakistan - 1996.
Addl. Director General (FIA, HQs, Islamabad)
Director (Immigration & Anti-Smuggling)
Director (Crimes, FIA Peshawar Region)
Director (FIA Headquarters, Islamabad)
Ministry of Interior Islamabad Pakistan 1989
Deputy Secretary / Chairman (National Security / Pakistan Sensitive Installations)
Emigration Bureau Islamabd 1988
Director (Operations) &Director (Co-Ordination/Administration)
National Center Bureau, FIA/Interpol, Pakistan - 1987
Deputy Director, (Crime) & In-charge of NCB/Interpol.
Deputy Director, Assistant Director and Protector of Emigrants, Bureau of Emigration - 1975 - 1986
JUNIOR LECTURER, Department of Statistics, University of Karachi. - 1974 [9] Civil Service Career
Awards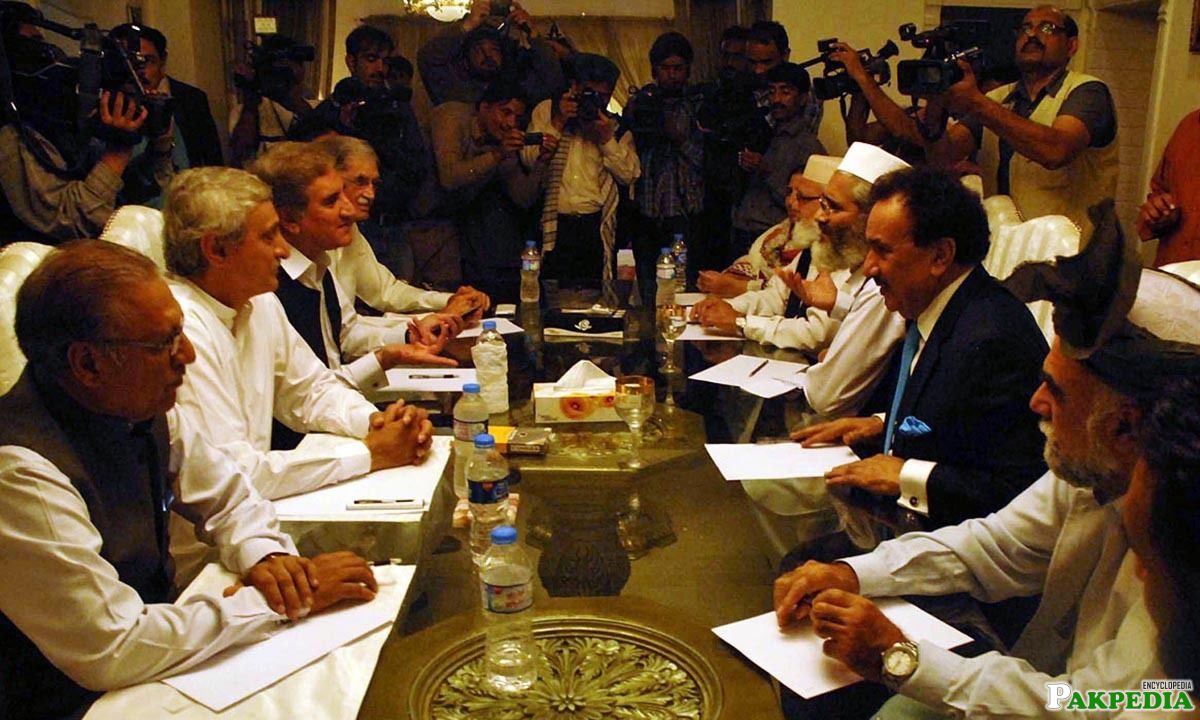 Recipient of Sitara-i-Shujaat for his brave performances in FIA. Recipient of highest civil award, Nishan-e-Imtiaz medal from the President of Pakistan - 2012.
Contact Info
Mobile Number: +92 332 5559393, +92 335 5090334 
E-mail: rehman.malik@senate.gov.pk 
Local Address: Islamabad. 
Permanent Address: Clifton, Karachi.