Rana Sanaullah Khan is a noted Pakistani politician who is serving as a member of the National Assembly after securing big in the 2018 Pakistan General Elections. He is affixed with Pakistan Muslim League N since the day he entered politics. His cousin Iftikhar Muhammad Chaudhry served as Pakistan's Chief Minister.
Moreover, Rana Sanaullah hails from Faisalabad, is PMLN's president, who was given this post in 2019. He was charged with a drug case in 2019, but he was released on bail after a few months. This article has every detail about him, including Rana Sanaullah Khan Biography.
| Title | Description |
| --- | --- |
| Personal | |
| Name: | Rana Sanaullah khan |
| Famous As: | Politician |
| Nationality: | Pakistan |
| Residence: | Faisalabad |
| Education: | LLB from Punjab University |
| Religion: | Islam |
| Profession: | Politician, Lawyer |
| Height: | 5 ft 7 in (1.7 m) |
| Website: | http://pakistani.pk/rana-sanaullah-khan/ |
| | |
| Born | |
| Date: | 1st January 1955 |
| Place: | Faisalabad |
| Family | |
| Children: | One child |
| Relatives: | Iftikhar Muhammad Chaudhry (cousin) |
| Career | |
| Political Party: | Pakistan Muslim League (N) |
| Serve As: | MNA |
| Time Period: | 2018-present |
| Old Political Affiliations: | PMLN |

Rana Sanaullah Khan Biography
Rana Sanaullah is a well-known Pakistani politician from Faisalabad who has served as a Provincial Assembly member for many tenures. He took a start with Pakistan Peoples Party, and after a few years, he joined Pakistan Muslim League N and still associated with it. Besides a politician, he is also a lawyer and has an LLB degree.
He is known for being the most outspoken politician who doesn't spare any opposition leader. He has previously served on many important Ministries, including Parliamentary Affairs and Law Minister, Punjab's Public Prosecution Minister, etc. In 2019 he was sent to jail in a drug case; however, he was set free on bail after a few months.
Rana Sanaullah Khan Age
He was born on 1st January 1950 in Faisalabad. Currently, he is still associated with the same city.
Education of Sanaullah
He completed his bachelor's in Commerce from Faislabad Government college. Later he went to Lahore Government Law college from where he did LLB.
Rana Sanaullah khan Family
One of his cousins, Chaudhry Iftikhar Ahmad, is a Jurist who operated as Pakistan's 20th Chief Justice. He has a daughter who is married and away from any political activity. His son in law also got arrested by the NAB when he was in jail in a drug case.
Political Career
1990 General Elections
He ran for the seat of the Provincial Assembly for the first time in the 1990 General Elections while being associated with Pakistan Peoples Party and fortunately won the elections. During the tenure, he served as Punjab's Deputy Leader till 1993. After completing the tenure, he left the party and joined Pakistan Muslim League N.
1997 General Elections
He once again elected as a member of the Provincial Assembly on the party ticket of PMLN in the 1997 Pakistan General Elections.
2002 General Elections
He was again elected to serve Provincial Assembly seat in 2002 General elections for the next 5 years. He contested the elections from PP-70 Faisalabad Constituency from the same political party.
Rana Sanaullah Khan once again became Punjab's, Deputy Leader. In 2003 he was badly injured by ISL because of talking against Military Regime. He was quickly rushed to the hospital, and luckily he survived.
2008 General Elections
He again became a member of the provincial Assembly in the 2008 General elections from the same Constituency and party. He was made the Parliamentary Affairs and Law Minister of Punjab.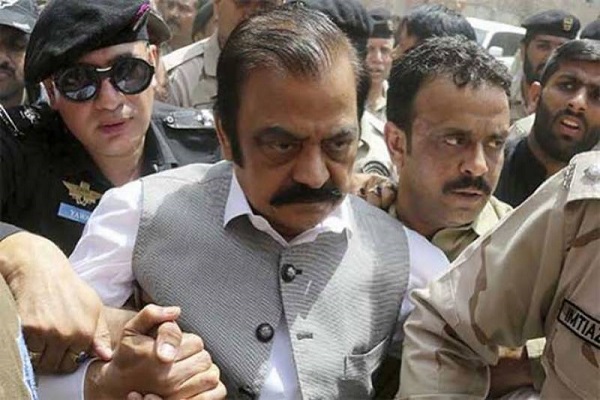 Besides this, he also served as Community Development and Local Government Minister of Punjab. Additionally he was given the portfolio of Public Prosecution Minsiter.
2013 General Elections
2013 Election results again came in his favor, and he once again served on the post of Provincial Assembly. He was again appointed as a Minister of Parliamentary Affairs and Law.
2018 General Elections
In the 2018 Elections, he ran for the seat of the National Assembly from NA-106 Faisalabad Consitutuency and once again faced victory. In 2019 he was made the party's president.
Controversy
Because of his outspoken nature, he often put himself in danger by speaking against notable personalities. In 2011 he spoke against an American contractor, Warren Weinstein, and called him an American spy despite the fact that he has spent many years in Pakistan already. After a few months, news circulated about his kidnapping.
In 2015 he was killed on the border of Pakistan Afghanistan in a drone attack. This news was broke by Barack Obama in the White House.
Arrestment
In 2019 he was arrested by the NAB in a drug case. He remained there for a few months. During his arrest, his son-in-law was also taken to jail by the NAB. Rana Sanaullah's wife said a lot about opposition in a press conference. However, on 24th December 2019, he was set free.
Social Media Handles
His social media account include
https://twitter.com/ranasanaullah70