Rana Naved ul Hasan is a former Pakistani cricketer who contributed in all format of cricket as a right-arm medium-fast bowler for Pakistan. He was a right-handed batsman and good at hitting made him an all-rounder. He bowled with enormous skills such as reverse swing Yorkers and late swing with his fast bowling.
Currently, he is also working on his cricket academy as a bowling coach. This article contains all the information about him, including Rana Naved ul Hasan Biography.
| Title | Description |
| --- | --- |
| Personal | |
| Name: | Rana Naved ul Hasan |
| In Urdu: | رانا نوید الحسن |
| Famous As: | Cricketer |
| Nationality: | Pakistani |
| Religion: | Islam |
| Profession: | Cricketer |
| Height: | 6 Ft 1 Inch |
| Batting: | Right Handed |
| Bowling: | Right arm Fast medium |
| Role: | All rounder |
| Awards : | Man of the match Award |
| Born | |
| Date: | 28th February 1978 |
| Place: | Sheikhupura, Punjab |
| Family | |
| Ethnicity: | Rana |

Rana Naved ul Hasan Biography
Naveed successfully made his place in the era of competitive bowlers such as Shoaib Akhtar, Abdul Razzaq, and Azhar Mahmood and he played 74 ODI matches for the national team as an all-rounder. He took 110 wickets in 72 innings with an average of 29.28 in bowling.
He has the best bowling figure of 6/27 and claimed a five-wicket haul and six four-wicket hauls with his economy rate of 5.57. Naveed made 524-runs in 51 innings with an average of 15.87 in batting and has the highest score of 33-runs and smashed 16 sixes and 38 fours with 16 catches in ODI career.
He has a short career in test format for the national team and played nine matches with 18 wickets in 16 innings at 58.00 in bowling. Moreover, he has the best bowling figures of 3/30 in an innings and 5/93 in a match. He also batted with an average of 19.91 and scored 239-runs in 15 innings with the highest batting figure of 42-runs.
Naved was good at short overs, but unfortunately, he performed only in 4 matches of T20 format for the national team and took five wickets with 20.20 in bowling. He got his best bowling figure of 3/19 in a match and has an economy rate of 7.12. He also smashed two sixes in T20 career.
Naved Date of Birth
He was born in Sheikhupura, Punjab, on 28 February 1978.
Education of Naved
He got his early education from Government High School in Sheikhupura.
Rana Naved ul Hasan Family
He belongs to a Punjabi family and has a daughter named Sehrish Naveed.
Cricket Career
Switch from Hockey
At the age of 16, Naveed was a hockey player but unfortunately he got a severe knee injury. Doctors advised him to bed rest, but instead of he started playing street cricket as a wicket-keeper and batsman that encouraged him to play as international cricket.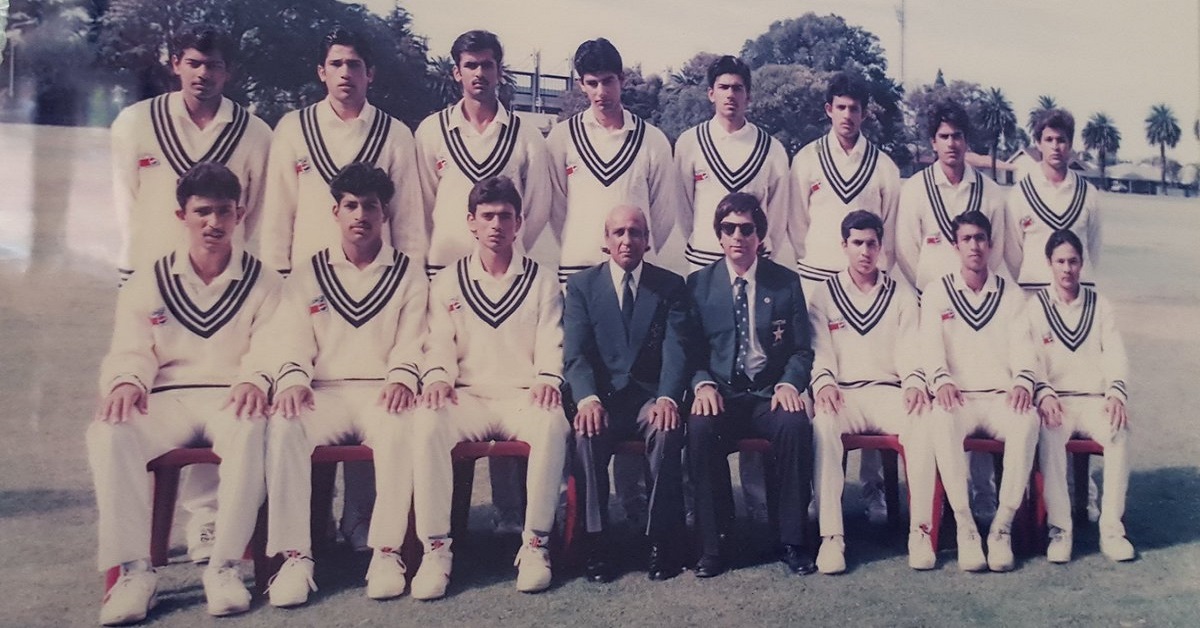 Initial Career
He was a hockey player who switched to cricket at the age of 16, and initially, he was a street player and also used to play at Government High School in Sheikhupura. After that, he was selected for the Lahore division and also debuted in first-class cricket.
Later, he was added to Pakistan's A-Team for the New Zealand tour in 1995. Due to his family problems, he left playing until 1999 and returned with an impressive performance in domestic cricket with the most wicket-taking bowler in 2003 and selected for international cricket for the Pakistani team.
Domestic Career
Rana Naved made his debut in domestic cricket in 1995 by joining first-class cricket and has a long domestic play journey. He played 156 matches in which he took 655 wickets with an impressive average of 24.24 in bowling. He has the best bowling figure of 7/49 in an innings, and claimed 34 five-wicket hauls and 7 ten-wicket hauls in a match.
Naved has excellent batting records in the first-class career, who made 4431-runs in 224 innings with an average of 21.93 in batting. He stroked five centuries and 12 fifties with his highest score of 139-runs in his first-class cricket batting career.
After he returned in domestic cricket in 1999, he made his debut List A cricket and participated in 197 matches. He dismissed 287 batsmen with an average of 28.15 in bowling. Moreover, he took three five-wicket hauls, and ten four-wicket hauls with an economy rate of 5.27 in his List A career.
He batted in 148 innings and made 2481-runs with an average of 22.97 in batting. Naved smashed a century and ten fifties with a highest score of 100-runs in List-A career. On 26 April 2006, he made his debut in domestic T20 cricket by representing Sialkot Stallions, and played 126 matches in T20.
He took 153 wickets with an average of 20.00 in bowling. He has the best bowling figure of 5/17, with an economy rate of 7.16. Naved claimed a five-wicket haul and two four-wicket hauls. He also batted with an average of 19.56 and got 1037-runs in 83 innings with the highest score of 95 and smashed 48 sixes in domestic T20 career.
Indian Cricket League (2007-09)
He represented Lahore Badshahs in Indian Cricket League during 2007-09, he played a vital role for his team in 2008 and he awarded player of series title with his excellent performances as an all-rounder. Naved dismissed 22 batsmen with an average of 12.77, with an economy rate of 6.66.
He batted with an impressive strike rate of 144.27 in batting and scored 189-runs with 27. Naved participated in 26 matches for ICL and got 40 wickets with an average of 17.68. He made 367-runs while batted for Lahore Badshahs.
KFC Big Bash League
He played for Hobart Hurricanes in KFC T20 Big Bash 2009 in Australia and topped for his team by getting 15 wickets in 8 matches and became tournament-leading wicket-taker. He became a cult hero in the state and earned the nickname "The People's Mullet."
Bangladesh Premier League
After a brilliant performance in Big Bash League, he was named in Bangladesh Premier League and drafted in Dhaka Gladiator for $100,000.
County cricket
Rana Naved ul Hasan joined Sussex for county cricket in June 2005 and played for his team for six years. He has a memorable performance in county cricket with unbeaten batting innings of 139-runs his career-best score during the partnership with Mushtaq Ahmed.
International Career and Achievements
He made his debut in ODI cricket on 6 April 2003 against Sri Lanka in Cherry Blossom Cup. In the 2003 world cup, the national team was knocked out in the first round due to many players' poor performance, including Rana Naved. In the session of 2004, he took the best figures of 4/25 and 3/73 against India.
At the start of 2005, he took four wickets against West Indies and six wickets against India, his best bowling innings in ODI cricket. He played regularly till 2007 and was dropped in the 2008 session. Later he made his debut in test format on 28 January 2004 against South Africa, and took two wickets in his debut match.
He took seven wickets against Australia in 2 matches. He also debuted in T20 format on 28 August 2006 against England.
2005 session
In the 2005 year, he was probably the best bowler in the world. He got 45 wickets in 22 ODI matches and was named in ICC World XI.
Come back
Naved was recalled on 22 July 2009 and given C category contract for the Sri Lanka series and ICC champion trophy.
Banned and dropped
He was banned for one year and also fined along with his teammates due to disciplinary problems. He ended his career ODI career. Naved appeared in the last match for the national team in T20 format on 7 September 2010 against England.
Naved ul Hasan Cricket Academy
He initiated a cricket institute to produce bowlers from a new generation after he retired from cricket formats with his companions Khan and Numan Inam.
Social Media Handles
His social media accounts include
https://twitter.com/rana24naveed