Rana Mashood Ahmad Khan is a politician, a law degree holder, working as a Provincial Assembly-member. He has previously served on the same post for consecutive tenures while being affixed with Pakistan Muslim League N for a long time.
Mashood belongs to a family that is known for fighting for their cause and rights. His father was a well-known lawyer who remained an active member for the revival of democracy throughout the dictatorship. This article carries every detail regarding him, including Rana Mashood Ahmad Khan Biography.
| Title | Description |
| --- | --- |
| Personal | |
| Name: | Rana Mashood Ahmad Khan |
| Local Language Name: | رانا مسعود احمد خان |
| Famous As: | Politician |
| Nationality: | Pakistan |
| Residence: | Lahore, Punjab, Pakistan |
| Education: | LLB from Punjab Law College |
| Religion: | Islam |
| Profession: | Advocate and Politician |
| Website: | [email protected] |
| Permanent Contact : | 199 Lane 10, Askari Housing Complex Walton, Gulberg-III, Lahore |
| Born | |
| Date: | 26th August 1966 |
| Place: | Lahore, Punjab, Pakistan |
| Family | |
| Ethnicity: | Rajput |
| Marital Status : | Married |
| Parents: | Rana Abdul Rahim |
| Relatives: | Rana Inayat Khan |
| Career | |
| Political Party: | Pakistan Muslim League (Nawaz) |
| Previous Official Positions : | Minister for Law & Parliamentary Affairs and Deputy Speaker |
| Member of the National Assembly | |
| Ministry : | School Education |

Rana Mashood Ahmad Khan Biography
Rana Mashood Khan is an active politician, and sincere member of the Pakistan Muslim League N belongs to a Rajpoot family. He opened his eyes to a notable family of lawyers and democratic who always spoke for their causes. Rana held many Ministries throughout his political tenures.
In 2002 he was made the president of his party PMLN while he served on that post till 2008. In 2012 he survived an attack from unknown shooters. Ahmad Khan had been a Chairman for different Committees, including Chairman Legal Aid and ARD's Legal Committee.
Rana Mashood Age
He was born on 26th August 1966 in Lahore.
Education of Mashood
He is a qualified Pakistani politician who completed his bachelor's in law from Punjab Law College and later did a Bachelor of Arts from the University of Punjab.
Rana Mashood Ahmad Khan Family
He belongs to a well-known family. His grandfather Rana Inayat Khan served as a politician who was a candidate for the legislative assembly. His father, Abdul Rehman, was a lawyer and an active member of the revival of democracy throughout the dictatorship.
Political Career
2002 General Elections
He ran for the seat of the Provincial Assembly in the 2002 General Elections on PMLN's party ticket from PP-149 Lahore and luckily scored the highest votes. From 2000 to 2008, he served as the party's president. During his tenure, he was also made the Assembly's speaker and Lahore's District Nazim.
2008 General Elections
In the next elections, he was again made a member of the Provincial Assembly from the same party and the same Constituency. On 11th April 2008, he was again elected as Assembly's Deputy speaker. Till 2013, he served on that seat.
2013 General Elections
The 2013 election results again came in his favor, and he was again appointed as a member of the provincial Assembly. In Shehbaz Sharif's cabinet, he was made the School education's Minister. Moreover, he was given a few other Ministries, including Youth Affairs, Higher education, Archaeology, Sports, and Tourism.
In June 2014, he was appointed as a Minister of Parliamentary Affairs and Law, but he served for a few months. In 2016 on the cabinet's reshufflings, he was again made the school education's Minister.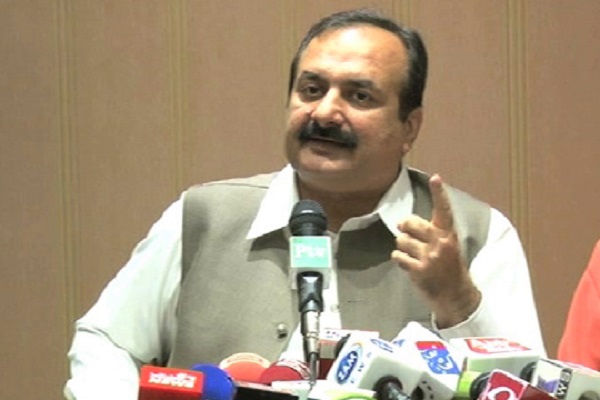 2018 General Elections
He ran for the provincial Assembly seat in the 2018 General Elections on the party ticket of PMLN and once again faced victory.
Social Media Handles
His social media account include
https://www.facebook.com/ranamashhoodahmadkhan/