Born with the name Muhammad Raheem, Raheem Shah soon became an eminent pop singer. His songs are top-rated among the younger generation. He gained fame with his song 'Pehle Tu Kabhi Kabhi Gham Tha,' After that, he sang many super hit songs. He is multi-lingual and fluently speaks  Urdu, Punjabi, and Pashto. This article has all the information about Rahim, including Raheem Shah Biography and Raheem Shah Songs.
| Title | Description |
| --- | --- |
| Personal | |
| Name: | Rahim Shah |
| In Urdu : | رحیم شاہ |
| Birth Name: | Mohammad Khan |
| Famous As: | Singer |
| Nationality: | Pakistani |
| Residence: | Karachi |
| Education: | Not Known |
| Religion: | Islam |
| Profession: | Pop Singer |
| Years Active: | 1999-present |
| Height: | 5'7 |
| Website: | https://twitter.com/rahimshahonline |
| Awards : | Lux Style Award |
| Born | |
| Date: | 12 December 1975 |
| Place: | Karachi, Pakistan |
| Family | |
| Ethnicity: | Pukhtun |
| Spouse: | Married |
| Children: | 1 Daughter |
| Parents: | Not Known |
| Siblings : | 5 Brothers and 2 sisters |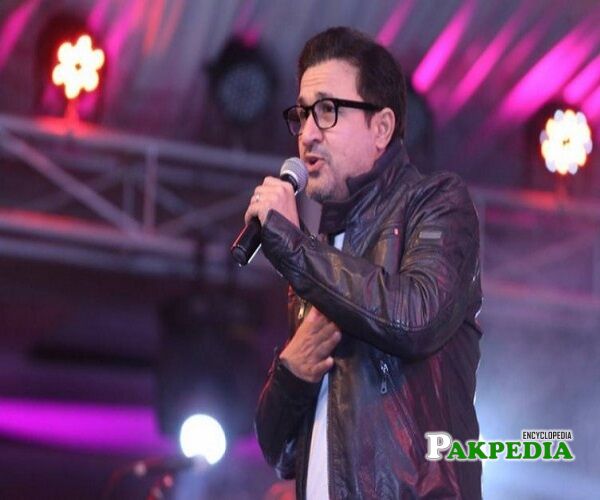 Raheem Shah Biography
He is another name of struggle, devotion, and passion. Despite having a scarcity of resources, he tried his best to pursue his dreams and passion for music. He attracted music fans not only in Pakistan but from India also. He believes that a singer is known by his voice and talent, not by appearance, so he focuses on his voice and singing. Although he has reached heights of fame, humbleness from his nature has not vanished. Having great affection for his mother, he penned down and sang a song for his mother, which made everyone burst into tears. He got a lot of love due to his distinctive voice, calm and sweet tone, and sense of humor.
Raheem date of Birth
He is from Khyber Pakhtunkhwa, but his father is from Swat, and he was born on 12th December 1975 in Karachi.
Raheem Shah Family
He came from a very low-income family, where his father used to sell vegetables and then moved to Saudi Arabia to earn a living. In a small tan house with five brothers and two sisters, the father's earnings were eighty rupees a day and sometimes no earnings. He got married in 2006 and is a father to a daughter.
Music Career
Passion for Music
When he sang for the first time, he was beaten so badly in the house that he left the house and stayed in a temple. When he returned a month later, the passion was still there. He sang his first song, 'Pehle Tu Kabhi Kabhi Gham Tha' not on the failure of any love, but his poverty.
Initial Career
Singer Salman Alvi would often take him to his functions and give him a chance to sing. People helped him; Waqar Ali gave the keyboard, others gave guitar, tabla, and studio because everyone was impressed by his voice. And so when the song was made, the sound master announced to do the whole album and overnight Shah became a star.
Solo Career
His solo music career started in the 1990s, and his song 'Gham' broke the records. The anonymous singer originally sang 'Gham'; it is tappa or Afghani folk number. Renowned Pashto singer Haroon Bacha also sang 'Gham,' but Shah made this song a mega-hit by translating 'tappa' into the Urdu language.
Efforts for Musical Career
He had only 12,000 for the first video, and when it came to giving the model 2,500, he was empty-handed. At that time, he thought that it would be better to sell his blood and earn some money than to seek help from anyone and so he paid for the model.
Albums and Songs
He worked hard on his Pashto compilation 'Peeraa' that turned out to be a hit. Tracks 'Payal' and 'Tap Tap' from the album 'Sabu Rey' made the album a hit. He left singing for sometime after releasing  Pashto album 'Medda Medda.' In 2003 he re-entered the music industry with a hit song 'Channa.' He worked on music videos 'Rang Laye Mehndi,' 'Priyaa,' and 'Teray Ishq Ney' under Sohail Javed and Sarwar. He has a great affection for his mother and thus penned down and sang the song 'Jhoola' for her mother. With the assistance of Fire Records, he produced another album in a year.
Raheem Shah Songs
List of Album
Gham
Sadmma Bewafaa Kaa
Saba Ru
Lailaa
O Peeraaa
Jhoolaa
Channaa
Payar Nahein Miltaa
Yaraana
Cherchaa
Maa'ma Dey
Hello Hum Lallan Bol Rahe Hein
Gul Janaa
Bad Times
List of Songs
Tappaay
Tap Tap
Pehle Tu Kbhi Kbhi Gham Tha
Tor Orbal Raa Khor Kaa
Gham
Jhoola
Yaar Paa Orbal Daa Gulaab Gul
Shaaba Tabaahi Oka
Channa
O Peeraa O Peeraa
Kbhi Kbhi
Allah Mola
Yaa Qurbaan
Goram
Pare Daa Paristaan Daa
Eman
Te Lal Pari
Naseeb
Ro Ro Raza
Jenaai Sanam Pataasa Ye
Ishq
Lailaa
Ghum Tapay
Payal
Ma Heraa Walaa Nasha
Ansoo
Ghanam Rangii
Mama Dey
Social Media Handles
His social media accounts include