Rahat Fateh Ali Khan is a big name in the Music Industry. He is a renowned Pakistani Artist who has earned a massive acknowledgment across the globe too. Rahat remained a part of various Indian Bollywood songs also and people can't stop themselves praising him. Rahat is a nephew of Legendary Nusrat Fateh Ali Khan. This article has all the information about Rahat, including Rahat Fateh Ali Khan Biography and Rahat Fateh Ali Khan Songs.
| Title | Description |
| --- | --- |
| Personal | |
| Name: | Rahat Fateh Ali Khan |
| In Urdu: | راحت فتح علی خان |
| Famous As: | Singer |
| Nationality: | Pakistani |
| Education: | Not Known |
| Religion: | Islam |
| Profession: | Musician, Recording Artist |
| Years Active: | 1985-present |
| Website: | https://twitter.com/RFAKWorld |
| Awards : | He Bagged Various Awards |
| Born | |
| Date: | 9th December 1974 |
| Place: | Faisalabad Pakistan |
| Family | |
| Ethnicity: | Asian |
| Spouse: | Nida Rahat |
| Children: | Filza Khan, Maheen Khan, Shazmaan Khan |
| Parents: | Farrukh Fateh Ali Khan |
| Relatives: | Fateh Ali Khan (Grandfather), Nusrat Fateh Ali Khan (Uncle) |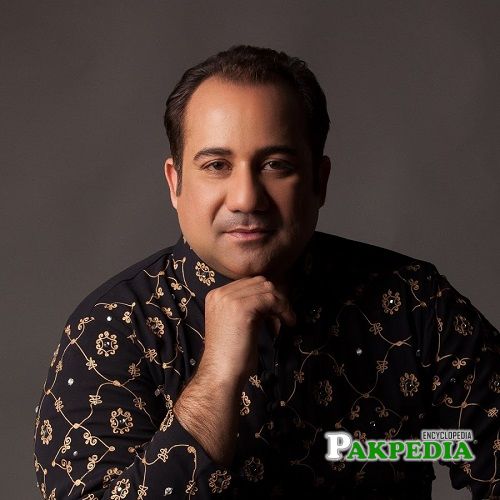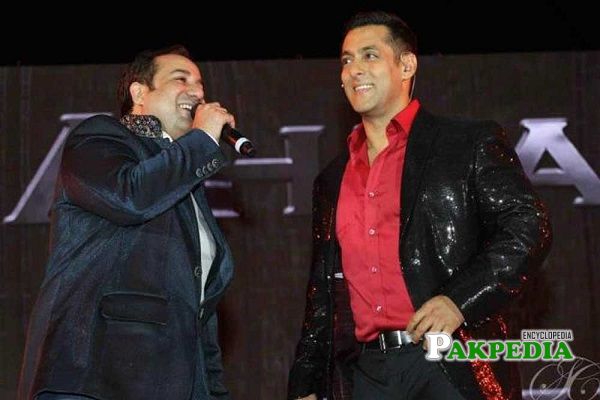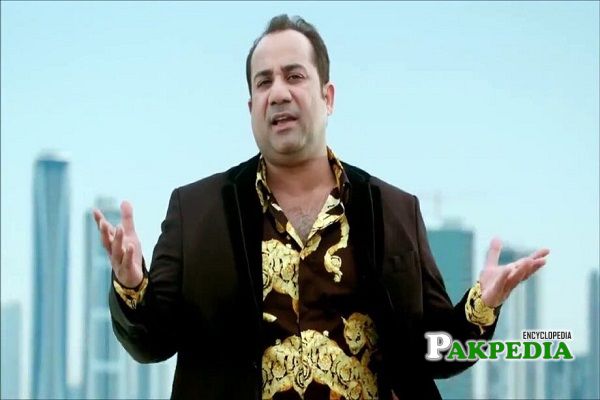 Rahat Fateh Ali Khan Biography
This Pakistani music star made his mark not only in Pakistani but also in the Indian music industry. As a singer, he became part of many Indian film Songs. World's renowned educational institute 'Oxford University' awarded him a Doctorate degree' doctor of music' in recognition of his prestigious work. In 2018 his uncle's daughter accused him of using the music rights of her father, 'Nusrat Fateh.' Rahat responded to being an adopted successor of his uncle 'Nusrat'; he can sing his songs without anyone's permission. In 2019 Enforcement directorate of Indian Government summoned him on charges of foreign currency smuggling.
Rahat date of birth
He was born on 9th December 1974 in Faisalabad.
Rahat Family
He belongs to a Punjabi fraternity of classical singers and Qawaals in Faisalabad. Fateh Ali Khan is his grandfather, while Legendary Qawal Singer Nusrat Fateh Ali was his uncle. Despite several years of his (Nusrat) death, his voice can still mesmerize any soul. His father, Farrukh Fateh Ali Khan, was a harmonium player. Rahat is married and blessed with three daughters Filza Khan, Maheen Khan, and Shazmaan Khan.
Music Career
Being from a family of the Qawals, Rahat became interested in music at a very young age. At the age of three, he started singing with his uncle and father. By the time he was seven, his uncle, Nusrat Fateh had trained him in Qawali. At his grandfather's death anniversary, he gave his first public performance. He was only nine at that time. In 1985 he visited the UK with his uncle Nusrat Fateh as an integral part of his Qawali group. In addition to performing in the Qawali group he gave solo performances at different musical shows. In 2003 he gave a debut performance as a playback singer in the song 'Man Ke Lagan' in Bollywood film 'Paap'. 
In April of 2012 he performed at Manchester Arena and Wembley Arena in the UK. Twenty thousand people were gathered to enjoy his performance. It was a record of the maximum sale of tickets.  His song Zrori Tha released in 2014 was watched '100 million' times after two years of release and views raised to '200 million' after three years. This song was 1st Indian non-movie song to get such a large number of views. He judged an Indian singing show 'Chotay Ustad'. 
In 2008 he judged another singing show 'Junoon' broadcasted on NDTV imagine. He performed in 4 seasons of Coke Studio. His song 'Afreen Afreen' which he sang in coke studio with a young talent Momina Mustehsan crossed '220 million' views on the YouTube. It became the 1st Pakistani song which was viewed for more than '220 million' times. It's an honour for Rahat that Legendary Qawwal Amjad Sabri gave his life's last performance 'Aaj Rang Hai' in collaboration with Rahat.
Rahat Fateh Ali Khan Songs
Mein Nay Usay Dekha Hai
Tasvir
Bulbul Koo Phool
Jina Day Mahi Door Wasday
Maa aur Dhee
Taar Mere Bheri
Aankh Say Aankh Milao
Kabe Wali Galli Which Yaar Da Makan
Pila Day Saqiya
Ali Mola Ali
Sufiyana Kalam
Rabba Mera Yaar Morh Day
Mere Toba Kro Qabool
Saher Qarib Hai
Shair E Khuda
Jashan E Eid Milaad Al Nabi
Best Of Khan
Pardesiya Two
Mighty King
Cry For You
Voices From Above
Mein Nay Bottle Say Karni Hai Shadi
Maah jandaa Hoyaa
Akhaan Hijar Tere Ne Laliyaan
Ishq Ankhyon Cho Nindran
Shah Sawar E Karbala
Jaan Nasheen
Sanuu Rog Laan Waliyaa
Rut Sawan Ke
Pardesiyaa
Rahat
Ankh Se Ankh Milaoo
Charkhaa
Nazrana E Aqeedat
Koi Umeed
Remembering
Bina Mahii
Khol Ankhyan
Chandi Garh Da Chaskaa
Back To Love
Ramadan
Rahat
Forever
Bhanwar
Pakistani Osts
Ishq Bh Hai Chubhan
Khuda Zamin Se Gaya Nahe
Bwafa
Ishq Janoon Deewangi
Meri Zat
Phr Kb Milo Gay
Chain Aye Na
Ijaazat
Tm Se Hai Taluq
Baat Kar Le
Mein Sitara Subha e Umeed Ka
Koi Diya
Aik Yad Hai
Chand Mah
Mere Charagar
Thori Se Wafa Chahye
Zindagi Dhoop
Emaan
Nidamat
Noor-e-Khuda
Bas Aik Tera Intezar
Yeh Hai Geo Kahani
Ishq-e-Mamnoon
Sadqay Tmhare
Mere Mehrban
Ahistaa Ahistaa
Neemi Neemi Aag
Khata
Zindagi Say Milain
Kisay Da Yaar Na Vichde
Preet Na Karyo Koi
Karb
Ye Ishq
Sang-e-Mar Mar
Sham Dhalay
Mera Yaar Mila Day
Zara Yad Kr
Tmhe Dil Lagi
Tm Kon Piya
Teray Bina Jeena
Muhabat Tm Se Nafrat Hai
Pinjra
Dil Dil Ramzan
Barkat e Ramzan
Laal ishq
Khaani
Cho Tareki Ka Rasta
Koi Chaand Rakh
Khasara
Raba Way
Subhan Hai Wo Khaliq
Kese Ye Agan
Dil Mra Choti Si Kuyiya
Dharti
Zindgi Ishq Hai
Mere Pas Tm ho
Bhar Day Jholi
Man Bawra Lagay Na Kahein
Lollywood Songs
Ksi Roz Milo Hmain Shaam Dhalay
Teri Yaad
Pal Dp Pal Hai Payar Ke
Ishq Me Jeena
Khamosh Raho
Tere Honto Ko Salam
Gunahgar
Hal Da Mehram
Akhyan Kr Ke Payar
Raba Kere Gal De Saza
Mjhe Dil Say Na Bhulanaa
Juda Juda
Akele Na Janaa
Payar Yaar da
Malaal
Ab Lagan Lage
Sajna Aa Sajaa Day
Tere Naal
Mola Mola
Yaa Raheem
Koii Dil Mein
Saroor Day
Tere Bin Jeenaa
Rab Kisi De Na Toray
Hathan Dia Lakeeran
Man Mora
Nazriya
Mola
Khush Amdeed
Rab Deyan Rab Janay
Khudaya
Dil Faqer
Rand Day Chunnar
Murshad Je
Sanwaar Day Khudaya
Saajan Bin Raina
Zehal E Maskeen
Patriotic Songs
Ham Pakistan
Aman Kii Ashaa
Quaid-e-Zee Waqar
Chlo Chlo Imran Kay Sath
Hm Dekhain Gay
Shukriyaa Pakistan
Sun Sakhiyee
Pakistan Se Rishta
Sher Dil Shaheen
Tm Zinda Hoo
Paniyo Pay Chalain
Pakistan Jiyaa Hai
Khaak Jo Khoon Main
Pakistan Zindabaad
Maa Ke Qadmon Se
Mera Ghar Hai Yad Rkho
Hm Sbka Pakistan
Allah Shukr Hai
Vichora
Dum Mast Qalandar
Uth Watan Kay No Jawan
Balay Pay Nishan
Ae Watan
Bollywood Songs
Laal (Alaap)
Mann Ke Lagan
Mainny Usey Dekha Ha
Kisi Roz Milo Humein Sham Dhaly
Jiyaa Dhadak Dhadak
Nainaa
Bol Naw Halky Halky
Jag Suna Suna Lagy
Mein Jahan Rahun
O Rey Piyaa
Terii Ore
Haal Ey Dil
Koi Chaala Ja Rahaa Hai
Zindagi Yee
Maan Bawraa
Jaon Kahan
Rabba
Aj Din Charhya
Ankhon Mein Q Sapnay Bhae Hain
Jag Jeondeyaan Dey Meley
Khawab Jo
Rishtay Naatay
Aankhon Mein Neendain
Tm Jo Aye
Ishq Ke Gali
Bahara
Main Tenu Samjhawaan
Faqeera
O Rey Bnday
Phir Se
Dil Tu Bachaa Hai Jee
Sureeli Ankhyon Walay
Teray Teray Mast Mast Do Naain
Mann Ke Maat
Aas Pas Khuda
Khushnumaa Sa Yeh Roshan Ho
Charhda De Rang
Teri Lorii Yaad Hai
Aina Dekha
Mere Adaa Bh
Ishq Risk
Tere Mere
Raba Mein Tu Mar Gaya Oye
Afreen
Nazar Say Nazar Milay
Kia Jeena, Doori hai
Mjh Ko Tere Zrorat Hai
Soniyaa
Teray Bina
Chahat
Akhiyaan
Tera Dedar Hwa
Nainaa
Tu He Rab
Allah Janay
Saiyaan
Bichdan
Ye Jo Halki Halki Khumariyan
Raba
Dagha Baaz Re
Raba
Saiyan Na Ja Re
Sapna Mra Toota
Dil Ko Aya Sakoon
Maulaa
Saawan Bairi
Hun Nae Jeena
Agar Mangon Tm Ye Dil
Mere Bina Tuu
Zuban Jalay Hai
Dil Ka Mizaaj Ishqiya
Tera Meraa Sath Hoo
Rog Pyar De Dilan Nuu
Shamain
Sajna Vee
Tak Dhoom
Aise Mulaqat
Meray Naina Kaafir Ho Gae
Tu Itne Khoobsorat Hai
Dheray Dheray Kam Ho Ge Udasi
Naina
Piya Piya
Deed Tere
Dhum Ghut'ta Hai
Naina Tujh Se Lagay
Zindagi
Yadan Teriyaan
Aye Khudaa
Bikul Soch Naa
Meri Ankhon Say Niklay Ansoo
Rola Paye Gaya
Jag Ghomyaa
Azadiyan
Rog Janay
Zindgi Aye Zindgi
Tinkaa Tinkaa Dil Mera
Meray Rashe Qamar
Lag Jaa Galay
Saahiba Rus Gayiya
Ishtehar
Sanua Ik Pal Chaain
Nit Khair Mangaa
Tb Bh Tu
Raba Ve
Dekhtay Dekhtay
Tu Mere Main Teraa
Adhuraa Lafaz
Tanha Hwa
Tere Bin
Fiker
Shaama Payiaan
Garaj Barass
Dildara
Ballaman
Chaap Tlakk Sab Cheeni
Ae Rah E Haq Ke Shaheedon
Afren Afren
Sadaa
Aj Rang Hai
Qoumi Tarana
Sayoni
Rangraiz
Social Media Handles
Rahat social media accounts include