Rahat Fateh Ali Khan with Wife in Award Ceremony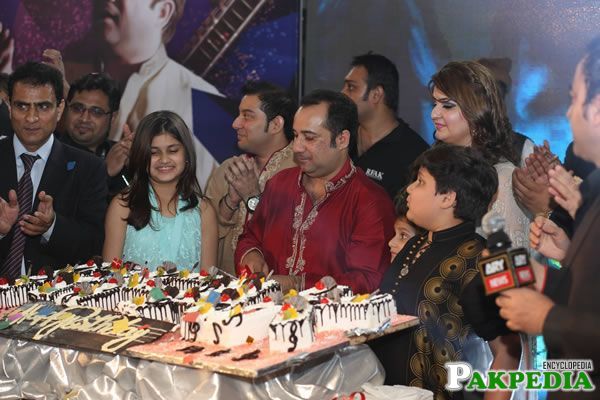 Rahat Fateh Ali Khan Celebrate Party with Family and Friends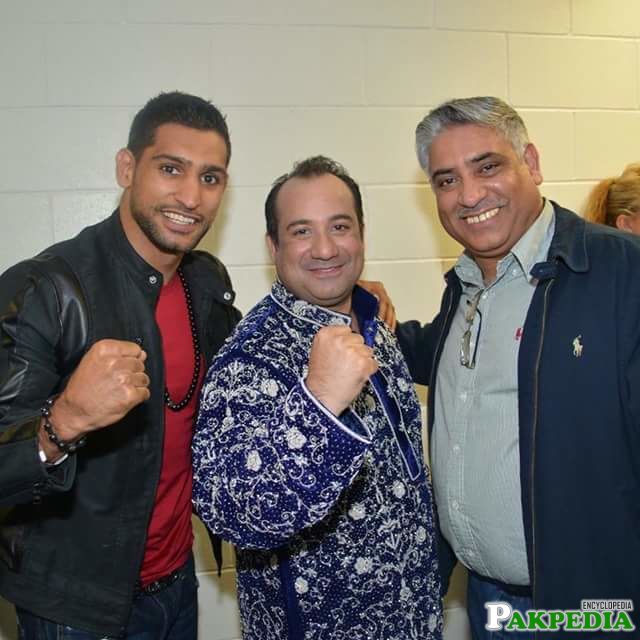 Rahat Fateh Ali Khan With Boxer Amir Khan & His Father
Rahat Fateh Ali Khan Uncle Nusrat Fateh Ali Khan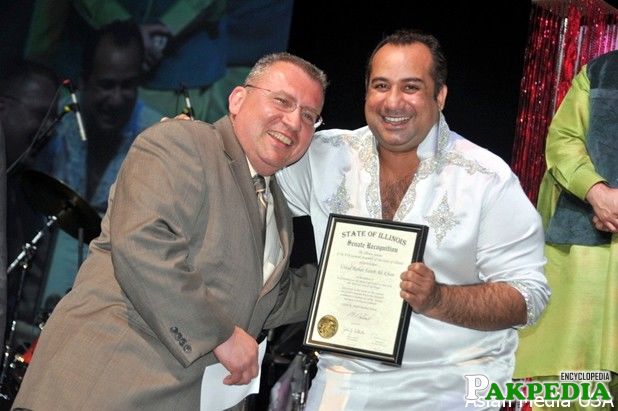 Rahat Fateh Ali Khan in Happy Mood to Receive Award
bEarly Lifeb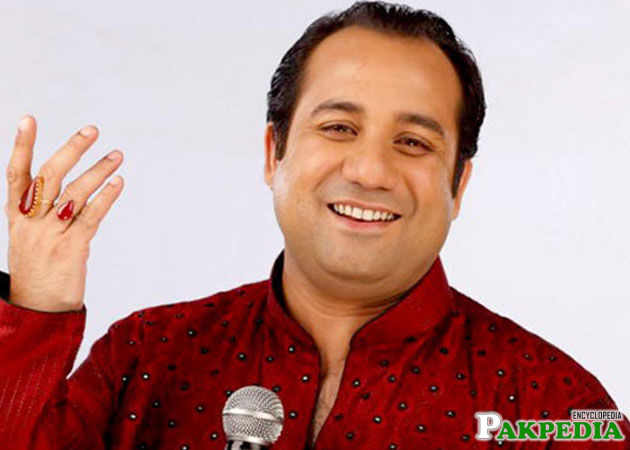 Rahat spent his early childhood in
Faisalabad
. He was chosen Nusrat Fateh Ali Khan. His Uncle thinks that he is the right person to carry the legacy of their family. He has started Rahat's training at the age of 3.He has performed in public gathering for first time in 1981.He was only 9 at that time. It was Chehlum of his grandfather. After basic training done, he has started touring with his Uncle. He has first toured United Kingdom at the age of 15.After that he has never looked back and still going on.
[1]
Early Life
bEducationb
As he was born to famous Qawals, their family is called as "King of Qawal" family. He has done his basic schooling at Faisalabad but later due to his interest in music has made his career in Music.
bRahat Fateh Ali Khan Familyb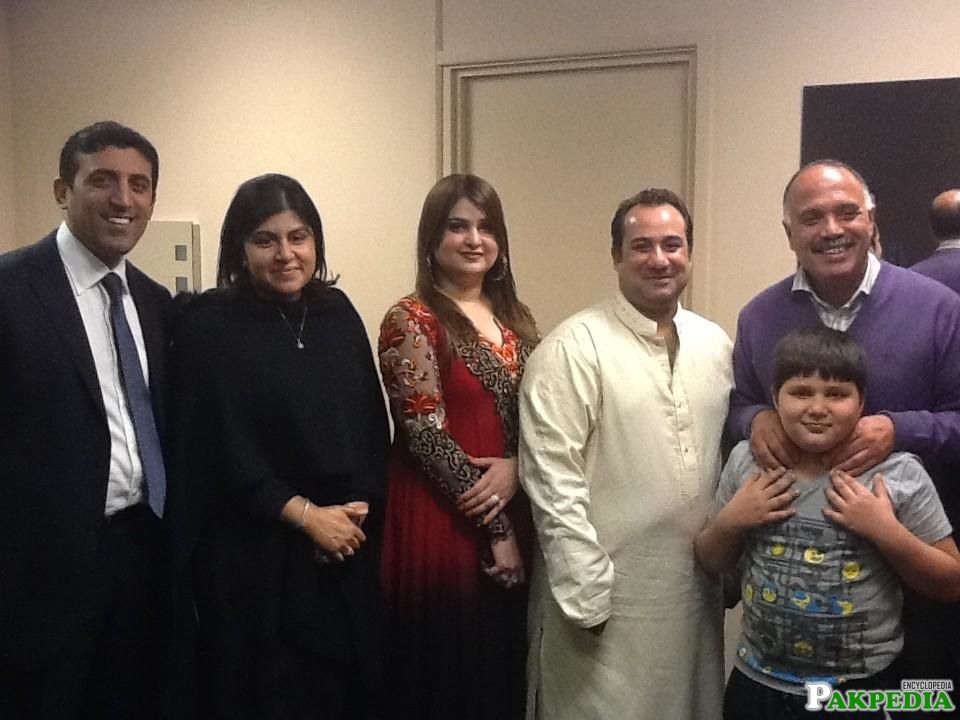 Rahat was born in 1974 in Faisalabad,
Punjab
into a family of traditional musicians. The son of Farrukh Fateh Ali Khan, he was trained by his uncle Nusrat Fateh Ali Khan in the art of classical music and Qawwali.
[2]
Born and Family
bMarriage Lifeb
Rahat Fateh Ali Khan was married to his cousin Nida Khan back in 2001.They both are leading a very happy and blissful life. Once Rahat has revealed in an interview that Nida has always supported me through every thick and thin. She has always been the first person to stand behind me.
bChildrenb
Rahat Fateh Ali Khan is blessed with 2 daughters and one son. He loves his children very much.
[3]
Children
His son wants to be a singer in future but Rahat has asked him to complete his studies first. Names of Rahat's children are:
Maheen Khan
Filzan Khan
Shhazman Khan
bRahat First Time Publical Performanceb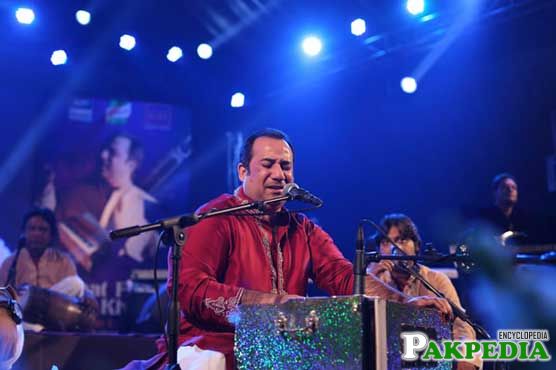 Rahat's first public performance was at the age of ten or eleven, when he toured the U.K. with his uncle in 1985, and performed solo songs in addition to singing with the Qawwali party. At a concert in Birmingham on July 27, 1985, he performed the solo ghazal, Mukh Tera Sohneya Sharab Nalon Changa Ae. At a concert at the Harrow Leisure Centre in 1985, he performed the solo song, Gin Gin Taare Lang Gaiyaan Rattaan.
[4]
Rahat First Time Publical Performance
bCareer in Musicb
As Rahat has started singing at the age of 9 and he used to perform with his uncle and father. He remained in his uncle Nusrat's Qawal Part since his death back in 1997.
[5]
Career in Music
After his death he has started playback singing as well. He first sang for Bollywood Song and sang "Kisi Roz Milo Hamain Shaam Dhalay". After this performance he got his personal fame which was overshadowed due to his Uncle's giant personality. He has sung number of songs. His album names are as follow:
Bulbul Ko Phool
Maa aur Dhee
Teri Meri Beri
Ankh say Ankh Milao
Pila De Saqia
Ali Maula Ali
Sufiana Kalam
Shaher Qareeb Hai
Sher e Khuda
Pardesia 2
Mighty King
Cry For You
Voices From Above
Maan Janda Hoya
Shahsawar –e-Karabala
Rahat Fateh Ali Khan Hits
Rut Swan Ki
Saanu Rog Laan Valea
Rahat
Ankh say Ankh Milao
Pardesia
Charkha
Koi Umeed
Bina Mahi
Khooni Akhiyan
Chandigarh Ka Chaska
Back 2 Loves
Ramadan
bLollywood Songsb
His entry into Lollywood(Pakistan Music Industry based out of Lahore) came with songs like Kisi Roz Milo Hamein Shaam Dhaley for the film Mard Jeenay Nahi Detay in 1997. His other Lollywood film tracks include Tere Yaad Verdaya Paindey Hain for the 1998 film Harjaal, Haal Da Mehram from the 2011 film Love Mein Ghum, Gunaghar from the 2011 movie Bhai Log, among others. His moment of glory came in Lollywood when he won the 14th London Asian Film Festival for The Best Music Talent 2012 for the song Koi Dil Mein in the film Tamanna.
[6]
Lolywood Songs
bIndian Movie Hit Songsb
Paap (2004), featuring the hit song, Mann Ki Lagan, marked his debut as a Bollywood playback singer. He has become popular in India because of his Bollywood film songs.
[7]
  Indian Movie Hit Songs 
bShows of Rahat Fateh Ali Khanb
Rahat judged the show, Chhote Ustaad 2 alongside Sonu Nigam.He was also one of the judges on the singing reality show Junoon - Kuchh Kar Dikhaane Ka, premièred on NDTV Imagine in 2008.
[8]
Shows of Rahat Fateh Ali Khan
bCoke Studiob
Rahat has appeared for multiple times in the popular musical show Coke Studio.
[9]
Rahat Fateh Ali khan in Coke Studio
Rahat appeared for the first time in season 1, where he collaborated with singer Ali Azmat for the track "Garaj Baras". He then appeared in season 6, this time with
Abida Parveen
. Rahat was also a part of season 9, where he generated the hit song "Afreen Afreen" along with Momina Mustehsan, then also he sang "Rang" along with Amjad Sabri. This was one of the last performances of Sabri, who was assassinated in Karachi on 22 June 2016.
[10]
Rahet Fateh Ali Khan with Amjad Sabri in Coke Studio
bNational Songsb
Dharti Dharti
Hum Pakistan
Aman Ki Asha
bAlbumsb
Tasveer - Vol. 11
Bulbul Ko Phool
Jinan De Mahi Door Vasde
Maa Aur Dhee - Vol.13
Taar Meri Berhi - Vol.5
Aankh Se Aankh Milao - Vol.9
Kabbe Wali Gali Vich Yaar Da Mukaan - Vol.7
Pilade Saqia - Vol.2
Ali Maula Ali - Vol.3
Sufiana Qalaam - Vol. 14
bCompilationsb
2010 Rahat - The Very Best of Rahat Fateh Ali Khan (Sony, India)
2010 Forever - Rahat Fateh Ali Khan (T-Series, India)
2010 Bhanwar - Rahat Fateh Ali Khan & Others (T-Series, India)
bList ofbbPakistani Drama Soundtracksb
Thori Si Wafaa Chahiye Thori Si Wafaa Chahiye,
Khuda Zameen Se Gaya Nahin 
Meri Zaat Zara-e-Benishan Meri Zaat,
Bharday Jholy Bharday Jholy,
Anokha Bandan Bewafa,
Kaisa Yeh Junoon Kaisa Yeh Junoon,
Jhumka Jaan Zindagi Ishq Hai,
Chuban Ishq Bhi Hai Chuban,
Noor Bano Baat Kar Le,
Talluq Tumse Hai Talluk,
Chein Aye Na Chein Aye Na
Omer Dadi aur Ghar wale
Phir Kab Milao Gay
Zindagy Dhoop Ghana Saya
Kuch Payar Ka Pagalpan
Jal Pari
Shaam Dhalley
Nadamat
Emaan
Wilco
Bahu Rani
Sadqay Tumharay
Ishq e Mamnoon
Karb
Tum Kon Piya
bBollywood Songs Listb
Rahat has the privilege to work as a playback singer in Bollywood as well. Some of his famous songs are:
Jiya Dhadak Dhadak from Movie Kalyug
Naina from Movie Omkara
Bol Na Halke Halke from Movoie Jhoom Barabar Jhoom
O re Oiya from Movie Aja Nachle
Sajda from Movie My Name is Khan
Fakeera from Movie Badmash Company
Sajna Ve from Movie Life is Beautiful
bList ofbbBollywood film soundtracksb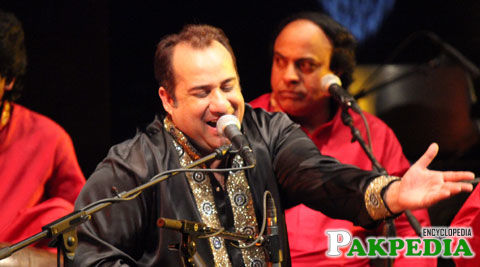 Ishq Qayamat Maine Use Dekha Hai,
Kisi Roz Milo,
Paap Laal (Alaap),
Mann Ki Lagan ,
Kalyug Jiya Dhadak Dhadak ,
Omkara Naina ,
Jhoom Barabar Jhoom Bol Na Halke Halke ,
Om Shanti Om Jag Soona Soona Lage ,
Namaste London Main Jahaan Rahoon, 
Aaja Nachle O Re Piya Also used in Malaysian movie,
Haal-E-Dil Haal-E-Dil
bNobel Peace Prize Concertb
Rahat became the first Pakistani to be invited at 2014 Nobel Peace Prize, to perform at its concert.
[11]
Rahat Fateh Ali Khan to Perform in Nobel Peace Prize Award Ceremony
He performed Nusrat Fateh Ali Khan's most memorable qawwali "Tumhe Dillagi..." and "Mast Qalandar...", he also sang "Aao Parhao Jo Seekha hai woh sab ko seekhao" (Come Teach  Teach all that you have learnt)
[12]
Rahat to Sing Ao Parhoa
bAward Winning Spreeb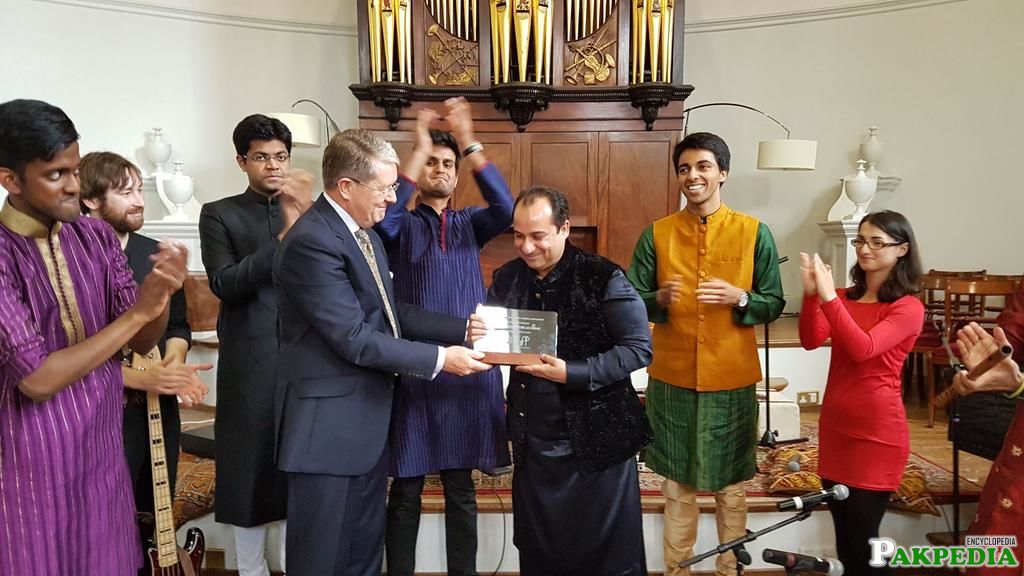 His winning spree continued when he won the Mirchi Music Awards for the Best song in Sufi Tradition for Sajda in My Name is Khan (2010), which also won a Filmfare award nomination. In the same year, his song Dil To Bachcha Hai Ji from the film Isqiya won both a Filmfare and Star Screen and Filmfare award for best Male Playback Singing. Soon, Rahat received a host of awards for the song Tere Mast Mast Do Nain in the 2010 film Dabangg, including BIG Star Entertainment Awards Best Singer (2010), Mirchi Music Awards Best Male Vocalist (2011), IIFA Awards Best Male Vocalist (2011), and Apsara Award for Best Male Playback Singer (2011). The year 2010 was very eventful for Rahat as he also won the Best International Act at the UK Asian Music Awards. Next up, his song Teri Meri from the 2011 film Bodyguard was nominated for the Filmfare Award. His Punjabi song Akhiyan from the 2012 film Mirza the Untold Story, won the PTC Punjabi Film Awards for Best Playback Singer.
[13]
Other Award
bAwards Listb
Best Singer Male for Zinda Bhaag at the 1st ARY Film Awards (2012)
Award for Best Singer Male at the 4th Pakistan Media Awards (2013)
International Artist of the Decade from UK Asian Music Awards (2012)
Best Selling Download at the UK Asian Music Awards for the song Teri Meri for the film Bodyguard (2012)
International Artist of the Decade at the UK Asian Music Awards (2012)
Award for Best Male Playback Singer at the Filmfare Awards (2011)
Award for Best Male Playback at the Screen Awards (2011, 2010)
Best Sound Track (OST) Award for Bharday Jholi on The Musik Award (2008)