Parveen Shakir was a Pakistan-based poet, a civil servant of the Pakistani Government, and a teacher. She is recognized mostly for her poetry that brought a feminine voice to Urdu literature. The woman portrayed in her poetic work has a strong presence that couldn't be dismissed or ignored; the female of her poetry is not a body only but is a beauty with a brain.
Since her demise, the 'Parveen Shakir Urdu Literature Festival' is organized annually in Islamabad, Pakistan, in her memory. The article contains all the information about her, including Parveen Shakir Biography.
| Title | Description |
| --- | --- |
| Personal | |
| Name: | Parveen Shakir |
| Famous As: | Poetess of Fragrance |
| Nationality: | Pakistani |
| Residence: | Karachi Sindh, Pakistan |
| Education: | Ph.D. and MA Degree |
| Religion: | Islam |
| Profession: | Poet |
| Website: | Parveenshakir.com |
| Awards : | Pride of Performance Award (1976) |
| Notable work:: | Khushbu (1976) |
| Born | |
| Date: | 24th November 1952 |
| Place: | Karachi Sindh, Pakistan |
| Family | |
| Spouse: | Syed Naseer Ali |
| Children: | Syed Murad Ali |
| Parents: | Shakir Zaidi |
| Siblings : | Nasreen |
| Died | |
| Date: | 26th December 1994 |
| Rest Place: | Islamabad, Pakistan |
Parveen Shakir Biography
She was a renowned and unmatched poet; whose poetry is eternal. She has left her mark in the world of poetry; she brilliantly portrayed all complexities of human life via her most in-depth insight. Her poetry reflects feelings of pain, love, happiness, and anger.
She introduced an extensive romance concept using beautiful stylistic devices such as simile and metaphors; she added a unique dimension to love's traditional theme by expressing her emotions in a pellucid and straightforward style. Parveen used diverse wording to convey her thoughts with different intensities. She holds the honor to give beautiful and exceptional female touch and influence to Urdu poetry.
Her death caused a considerable loss to Urdu poetry, and her poetic work would be in her followers' hearts forever. Her 1st book 'Khushbu' received Adam Jee Award. She is the recipient of the Pride of Performance Award.
Parveen Date of Birth
She opened her eyes on 24th Nov 1952 in Karachi, Pakistan.
Education of Parveen
She was highly educated and secured undergraduate degrees in Linguistics and English literature. She completed her master's in these same subjects from Karachi University. Parveen also did Masters's in Bank Administration and owned a doctorate too.
In 1982 she cleared CSS (Central Superior Services) Examination. She took admission at Harvard University and, in 1991, completed Masters in Public Administration.
Parveen Shakir Family
She tied the knot with a Pakistan-based doctor Naseer Ali and had a son Murad Ali, but their marriage didn't work and ended in the divorce.

Career
She began writing poetry at a young age, wrote both poetry and prose, and wrote columns for Urdu newspapers and English newspaper articles. Beena was her pen name. She adopted the teaching profession and continued this profession for 9-years; she joined Pakistan's bureaucracy she worked in the customs department. Shakir was designated 2nd Secretary of the Federal Board of Revenue (FBR) in Islamabad in 1986.
Poetic Work
She published her 1st volume of the poetry entitled 'Khushbu' in 1976; this volume received immense acclaim. She then published her other poetry collections, including Saad-Barg in 198, Inkaar, and Khud Kalaami in 1990. The compilation of these poetry books is entitled Maah-e-Tamam. She compiled her newspaper columns collection and published it under the name 'Gosha-e-Chasham.'
Poetry Style
Ghazalyat
Her poetry is a mixture of present and past thoughts and primarily focused on sentiment and affection & related subjects like betrayal, unfaithfulness, doubts, spaces, terminations, parting, closeness, and attractiveness. Her ghazalyat depends on analogies and illustrations that are repeated and used provocatively to get lyricism and strength in her poetry.
An example of this can be found in her renowned verses 'Wo Tu Khushbu Hei Hawaon Main Bikhar Jae Ga, Masla Phool Ka Hei, Phool Kidhar Jae Ga.' In these verses, she called 'fragrance' a disloyal lover and 'flower' an individual who has been betrayed. She frequently uses other allegories like Titli for Romeo, barish for liking, Andhi for worries and complications, and Badal for affection.
Some verses and ghazaliyat have achieved a superior position in Urdu literature. Her sonnet 'Jugno Ko Din Ke Waqat Pakarnay Ke Zid Krain, Bachay Hmare Ehad Ke Cahalak Ho Gae' is mentioned to comment on the wakefulness and familiarity of the twenty-first-century child.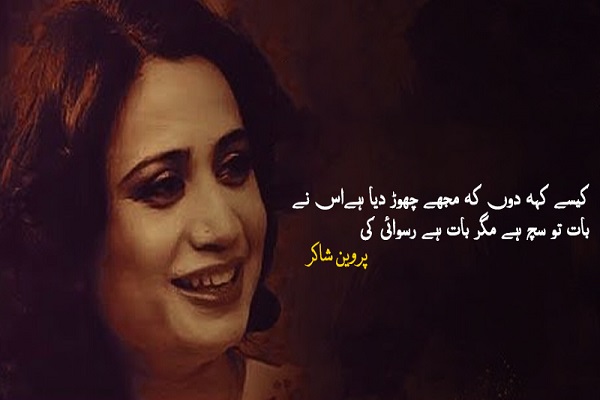 Free Verse
As compared to ghazaliyaat, her free verse is more fearless and highlights societal prohibitions and matters, including human thoughts, prostitution, nationalism, parting, and hypocrisy. She is known for using popular orientations & English expressions and words.
Parveen Shakir Death
On 26th Dec 1994, when Parveen traveled to Islamabad for work, her car got hit by a bus leading to her death. Her death caused a massive loss to Urdu poetry. The road on which she died was named 'Parveen Shakir Road.'
Honorary Postage Stamp
The post office of Pakistan issued an honorary stamp of Rs. 10 denomination in Shakir's honor on her nineteenth death anniversary.
Tribute by Google
On 24th Nov 2019, Google celebrated Parveen's 67th via Google Doodle.
Parveen Shakir Poems
Shugun
Taqayya
Zud-Pasheeman
Fabe-aye Aalaaye Rabbikuma Tukaz-Ziban
Masala
Jizya
Nahe Mera Anchal Maila Hai
Taj Mahal
Naye Saal Ke Pehli Nazam
Aik Manzar
Khus Sey Milnay Ki Fursat Kisay Th
Gae Janam Ke Sada
Bulawa
Wohe Naram Lehja
Pazirae
Duty
Wahima
Othello
Mashwara
Mjhe Mat Btana
Judae Ke Pehle Raat
Aina
Sirf Aik Ladki
Khawab
Aik Dost Ke Naam
Chand Raat
Zid
Nick Name
Ecstasy
Itna Maloom hai
Aitraf
Lekin Bari Dair Ho Chuki Th

Parveen Shakir Books
Khud Kalami
Inkar
Khushbu
Mah-e-Tamam
Sad Barg
Parveen Shakir Ghazal
Kuch Tu Hawwa Bh Sard Th
Ku Ba Ku Phail Gae Baat Shanasae Ki
Chalnay Ka Hosla Nahein Ruka
Wo Tu Khushboo Hai
Akas-e-Khushbu Hun
Ab Bhala Chor k Ghar Kia Krte
Kamal-e-Zabat Ko Khud Bh Tu Azmaon Ge
Bohat Roya Wo Hmko Yaad Kar Ke
Pura Dukh Aur Adha Chand
Apne Ruswae Teray Naam
Gae Mosam Mein Jo Khilay Thay
Badbaan Khulnay Se Pehle Ka Ishara Dekhna
Ab Itne Sadgi Layein Kahan Se
Apni Tanhae Mere Naam Pe Abaad Kre
Tooti Hai Mere Neend Magar Tmko Ic S Kia
Bakht Sey Koi Shikayat Hei
Aik Hunar Tha Kamal Tha
Hm Nain He Lotnay Ka Irada Nahein Kia
Dasnay Lage Hain Khawab
Shab Wohi Lekin Sitara Aur Hai
Gulab Hath Mein Ho Ankh Mein Sitara Ho
Kia Kre Mere Masehae Bh Krne Wala
Apne He Sada Sunon Kahan Tk
Prose
Gosha-e-Chashm
Parveen Shakir Trust
After her death, her close friend Parveen Qadir Agha founded a trust in her name, 'Parveen Shakir Trust.' This trust gives the 'Aks-e-Khushbu' grant every year.