Mohsin Naqvi was a famous Pakistani poet who usually wrote Ghazals. His poetry was not limited to love life; in fact, he penned his voice for rulers that how they ignore the government. He never hesitated to share his political and Islamic opinions through his poetry, which became one of the significant reasons for his murder.
He was recognizable among the Shia community because he often recited Poetry regarding Karbala, which was well appreciated. One of his songs that he wrote for a Pakistani film received an Award. This article has all the information about him, including Mohsin Naqvi Biography.
| Title | Description |
| --- | --- |
| Personal | |
| Name: | Mohsin Naqvi |
| Famous As: | Poet of Ahl e Bait |
| Nationality: | Pakistani |
| Residence: | Dera Ghazi Khan, Punjab, British India |
| Education: | Masters |
| Religion: | Islam |
| Profession: | Poet |
| Genre: | Ghazal |
| Awards : | Best Film Award |
| Born | |
| Date: | 5th May 1947 |
| Place: | Dera Ghazi Khan, Punjab, British India |
| Family | |
| Parents: | Syed Chirag Hussain Shah |
| Siblings : | 6 |
| Died | |
| Date: | 15 January 1996 |
| Rest Place: | Karbala Shareef Dera Ghazi Khan. |

Mohsin Naqvi Biography
Mohsin was a notable Pakistani poet who received a huge appreciation and acknowledgment throughout his career by writing meaningful poetry on every niche. He was born as Ghulam Abbas, but he changed it to Ghulam Abbas Mohsin Naqvi after starting his career as a poet.
Who knew that a man born to saddlemaker would earn huge fame through his poetry. He was given the title of 'Poet of Ahl e Bait' as he did a lot of poetry for Karbala, for which he was being recognized among the Shia Community. He was murdered on 15th January 1956. His death was indeed a big loss in the poetry community.
Mohsin Date of Birth
He was born on 5th May 1947 in Dera Ghazi Khan, British India, Later his family came to Pakistan and started living here.
Education of Mohsin
He completed his graduation from Multan Government college. Later he went to the University of Punjab from where he completed his Masters.
Mohsin Naqvi Family
He belonged to an ordinary and low-income family. His father worked as a saddle maker in the start, and later, he became a food vendor. He had 6 siblings who were away from poetry.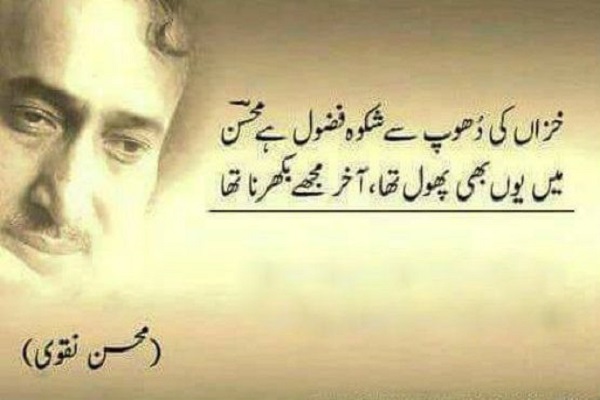 Career
Mohsin received a huge appreciation through his poetry that often revolved around Karbala Incidents that made him famous worldwide. He was a fierce poet who often talked about politics and religion in his poetry and never afraid to discuss the ruler's poor performance.
During his tenure he released many poetry books and earned the title of 'Iqbal e Shani' from the public. One of the main reasons for his popularity was to show diversity in his poetry rather than sticking to love affairs. He also wrote a song for a Pakistani movie, 'Lehron Ki Tarhan Tujh Ko Bikharnai Nahi Dai Dai,' which received an award.
Mohsin Naqvi Death
On 15th January 1996 in Lahore, he was assassinated. An FIR was issued against the culprit. He has buried in his hometown Dera Ghazi khan. His dead body is buried in Karbala Sharif, Dera Ghazi Khan. Indeed he was one of the striking poets this world don't produce in every generation.
Last Words
Before his murder, his last words were:
le Zindagi Ka Khums  A.s Kai Ghulam Sai
Aye Maut Aa Zaroor Magar Ehtamam Sai
Aashiq Hon Agar Zara Bhi Aziaat hui Mujhe
Shikwa Karon Ga Mein Tera Apnai Imam Sai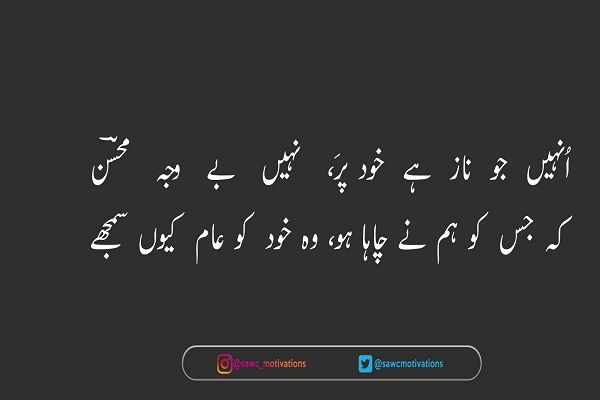 Mohsin Naqvi Publications
Mauj e Idraak
Azab e Deed
Band e Kabaa
Khaim e Jaan
Reza e Harf
Haq e Aeliya
Rakht e Shab
Tulu e Askh
Rida e Khaab