Karachi is Pakistan's biggest city and has a lot of cinemas. On 28th Aug 2013, Nueplex cinema was established and became good news for movie lovers. This cinema would make an excellent reputation and image of Pakistani cinemas as world reputed acoustic engineers, interior designers.
The cinema architects have designed it according to international standards by using modern and advanced technology. There is a very entertaining and pleasing atmosphere for watching movies.
| Title | Description |
| --- | --- |
| Details | |
| Type: | Media |
| Traded As: | Cinema |
| Industry: | Film Industry |
| Founded: | 30 August, 2013, |
| Headquarter: | Karachi |
| Address: | The Place Khayaban-e-Shaheen DHA Phase 8, Karachi 75500 |
| Phone: | (021) 111 683 683 |
| Product: | Display newly released films |
| Moto: | To change the face of Pakistani cinema business |
| Designed By: | World renowned cinema Architects Mesbur & Smith of Canada, |
| Information | |
| Name: | Nueplex Cinema |
| In Urdu: | نیوپلیکس سینیما |

Excellent Architecture
The cinema is built on the 2nd-floor of the building and is 1st of its style, built higher from ground level and is designed by well-reputed cinema architects 'The Cutting-Edge,' 'Mesbur and Smith of Canada,' 'Nueplex Cinemas,' and 'The State-of-Art Cinema Complex.'
Sitting Capacity
The cinema consists of Five theaters and a total of eleven-hundred seats. It is home to the three biggest silver-screens in the country.
Impact of Nueplex Cinema on the Film Industry
The Nueplex cinema would promote business and benefit the Pakistani casting and film industry and promote media business. Focusing on the cinema's strategies and techniques, aural and visual presentation standards would be judged. This cinema is a challenging, ambitious, and volition idea for movie actors and an excellent motivation for actors to perform well.
The cinema operators and owners aim to run it according to cinema standards. The film industry would automatically move towards good films and excellent work. Custom designs of seats are a better change and would bring improvements to the Pakistani film industry. It's the 1st real multiplex-experience in Pakistan.
Revolutionary Steps
This cinema is all set to transform the face of the cinema business in Pakistan forever. Leading cinema company 'Eugenetek Corporation' has outfitted 4K Digital-projection system. This cinema is ahead of other cinemas due to its custom-designed sound-system and advanced 3D technology, and complete theater control.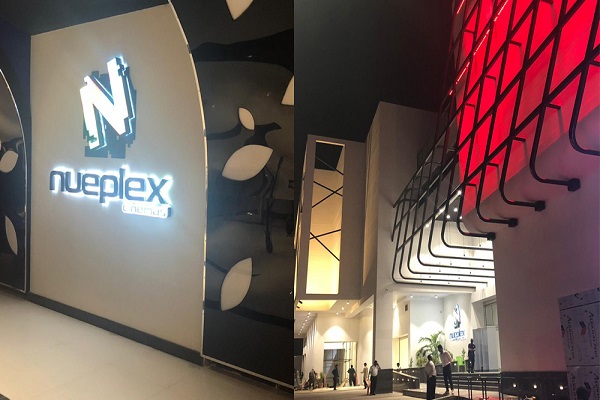 The cinema would bring a revolutionary change in film watching and make a digital 2D & 3D experience accompanied by ten-thousand-watt audio systems and automated display systems designed and created by top American and European manufacturers.
The comfortable design of seats has significantly been focused, and gold-class consists of a waiting lounge.
Tickets Prices
2D Movie Ticket Rate
Cinema 1,3 and 4-Rupees Five-Hundred
Cinema 2-Rupees Six-Hundred
Royal Cinema-Rupees Thousand
3D Movie Ticket Rate
Cinema 1,3 and 4-Rupees Six-Hundred
Cinema 2-Rupees Seven-Hundred
Royal Cinema-Rupees One-Thousand Two-Hundred and Fifty
3D Glasses Standards
Standard Rupees Two-Hundred and Fifty
Deluxe Rupees Four-Hundred
Clip-on Rupees Five-Hundred
Children Rupees Two-Hundred and Fifty
Terms & Conditions
Cinema tickets are Non-Transferable, Non-Exchangeable, and Non-Refundable.
Management of the cinema won't take responsibility for any refund or compensation if anyone misses the show mentioned on his/her ticket.
Smoking is not allowed.
Video recordings aren't allowed.
Mobile usage is strongly prohibited in auditoriums.
Children and infants are not allowed in the cinema.
Children aged more than three-years would be charged the full ticket.
Outside beverages or eatables aren't allowed inside the cinema.
Movie viewer should keep his/her ticket in possession for the complete duration.
Contact Information
Address: Khayaban-e-Shaheen DHA Phase 8, Karachi
Phone: (021) 111-683-683