Noshi Gillani is a globally acclaimed Urdu poet and an alumnus of Bahawalpur University, Pakistan. She is one of Pakistan's prominent Urdu poets and has competently published five poetry collections. In 2008 her poems were translated into Urdu and were recited in the U.K. This article has all the information about her, including Noshi Gillani Biography.
| Title | Description |
| --- | --- |
| Personal | |
| Name: | Noshi Gillani |
| In Urdu: | نوشی گیلانی |
| Famous As: | Poetess |
| Nationality: | Pakistani |
| Education: | Islamia University |
| Religion: | Islam |
| Profession: | Poetry |
| Born | |
| Date: | 14 March 1964 |
| Place: | Bahawalpur |
| Family | |
| Ethnicity: | Gilani |
| Spouse: | Saeed Khan |
| Career | |

Noshi Gillani Biography
The frankness and openness of her exceptionally-charged poetry are rare for a female writer in Urdu. She has earned a broad international fan base, frequently performing at big poetry gatherings in the United States, Canada, Australia, and Pakistan. Unfamiliar outside of Pakistani society, the translations introduced her to an 'English-speaking' community.
Her life experience in the USA has a considerable influence on her substantial number of literary works. Living in the Diaspora has expanded the depth of her poetry, enhanced her sense of feminine identity, and brought about a new movement against the constraint of artistic writers in Pakistani culture.
Noshi Date of Birth
She was born in 1964 in Pakistan.
Education of Noshi
She is an alumnus of Bahawalpur's Islamia University.
Noshi Gillani Family
She moved to San Francisco in 1995. After her getting married to Saeed Khan, an Australian-born Urdu poet, she settled in Australia in 2008.  The couple is residing in Sydney.
Literary Career
In 2008, her poetry was translated in 'English.' And her poetry was recited in the United Kingdom with a tour of World Poets to poetry translation centre. She is also honoured for co-translating Les Murray, a famous Australian poet into Urdu dialect and these writings were featured in the December 2011edition of 'Tasteer Literary Magazine' of Islamabad.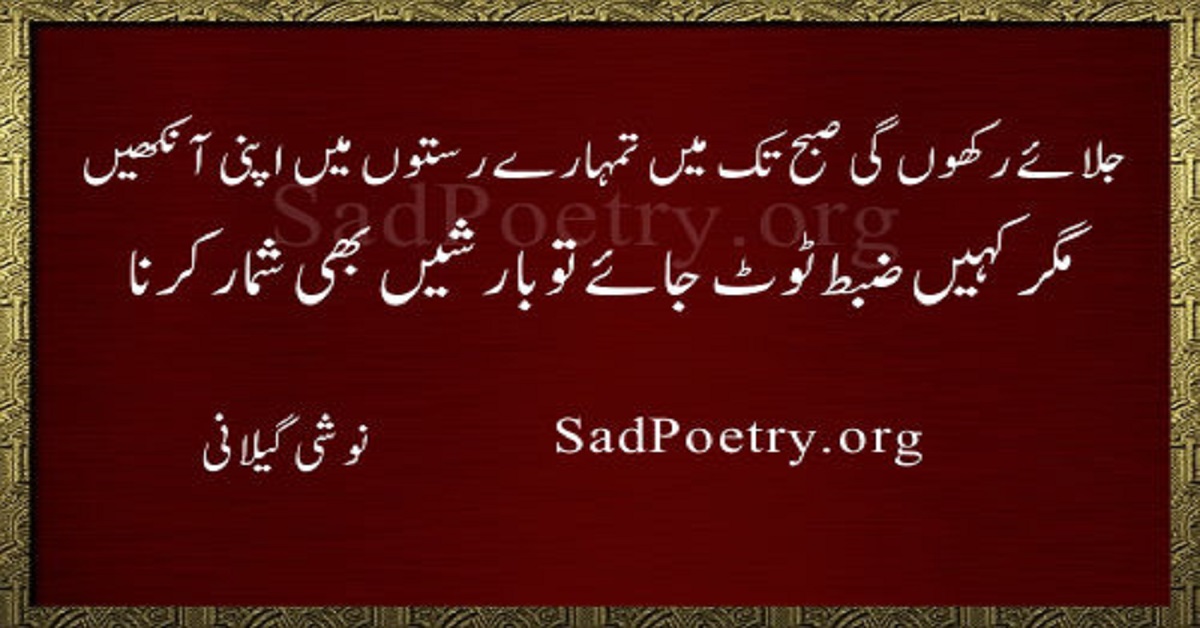 She also did hosting of a tribute to Pathanay Khan, a folk singer. This tribute was sponsored by PNCA (Pakistan National Arts Council).
Co-Founder of Australian Urdu Academy
She is co-founder of the Australian Urdu Academy (Sydney). This Academy arranges monthly meetings in Sydney to foster Urdu literature and poetry.
Hawaa Chupkey Sey Kehte Hei -A Huge Success
Her new poetry book 'Hawaa Chupkey Sey Kehte Hei'  was published in Lahore, in June 2011. This book got a lot of positive feedback, and its 1st edition was sold out in just two hours of its release in Urdu Bazar. This poetry book has generated a lot of interest and excitement among Urdu readers and literati since her last poetry compilation was released in 2003.
Noshi Gillani Books
Muhabatain Jub Shumar Krna
Udaas Honey Key Din Nahein
Pehla Lafaz Muhabat Likha
Selected poems like Ay Mery Sharek-E-Risaal-E-Jan
Ham Tera Intezar Kartey Rahe
Hawaa Chupkay Sey Kehti Hey
Noshi Gillani poems
Social Media Handles
Her social media account include
https://www.facebook.com/Noshi.Gilani/