With His Mother
White House
Nawaz Sharif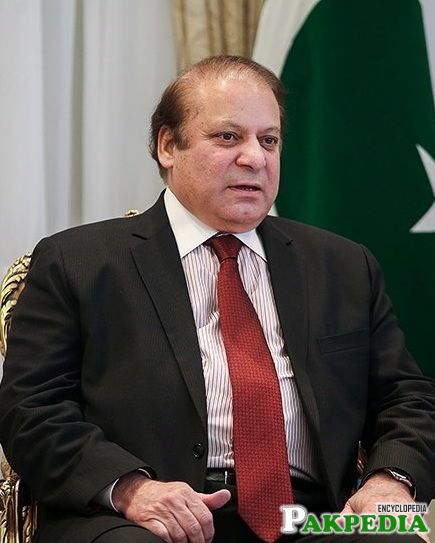 Nawaz Sharif in Iron
MMNS Rally
Biography
Mian Muhammad Nawaz Sharif is the current Prime Minster of Pakistan; he is in office since 2013. A veteran politician, he has previously served as the Prime Minister on two other occasions as well—from 1990 to 1993 and from 1997 to 1999. Born into a well-to-do family in Lahore, he entered his family business upon his graduation. His father founded the Ittefaq Group of Industries which is today a large conglomerate dealing in steel, sugar, paper, and textiles. Already a successful industrial by the time he entered politics, he put his astute administrative sense to good use in his political career as well. He forayed into politics when the then Prime Minister
Zulfikar Ali Bhutto
started implementing nationalization policies which threatened Sharif's thriving family business. Initially his focus was only on saving his business but eventually he developed a deep interest in the country's politics and decided to pursue a political career. He continued working on rebuilding his business along with his involvement in politics. When he first became the Prime Minister in 1990 he attempted to create an economy based on privatization and economic liberalization in order to pave the way for Pakistan's rapid industrial development. In 1999, he was deposed from the office in a coup by the then Army Chief Pervez Musharraf and sent to exile in Saudi Arabia. However, Nawaz Sharif came nack to Pakistan in 2007 and eventually regained power in 2013. 
[2]
Biography Biography
Political Background
Nawaz Sharif began his political vocation amid the time of nationalization arrangements presented by previous Prime pastor Zulfikar Ali Bhutto.  In 1976 Nawaz Sharif amalgamated the Pakistan Muslim League. He at first centered around recovering control of his steel plants from the government. In May 1980 Ghulam Jilani Khan, the as of late delegated Governor of the Punjab Province and a previous Director-General of the
Inter-Services Intelligence (ISI)
, started a hunt down new urban pioneers; Sharif was one of the men he found , rapidly making him Finance Minister of the Punjab. In 1981, Sharif linked with the Punjab Advisory Board under General Zia-ul-Haq and mainly rose to open and political conspicuousness as a staunch defender of the military legislature of General Muhammad Zia-ul-Haq amid the 1980s. Nawaz Sharif kept up a collusion with General Rahimuddin Khan, who was Chairman of the Joint Chiefs of Staff Committee.  Nawaz Sharif was delegated by the military government as the Minister of Finance for the territory of Punjab in the year 1981. He was chosen as the Chief Minister of Punjab, after the end of military law in 1988, he was chosen again as the Chief Minister of Punjab, as a candidate of the middle right Pakistan Muslim League. Nawaz Sharif was first elected Pakistan's prime minister in October 1990 and assumed office on 1 November 1990. He again contested in the 1997 parliamentary elections and won a landslide victory over the incumbent Prime Minister
Benazir Bhutto
. In 2013 Sharif made a spectacular political comeback and won a third term as the prime minister, and was sworn in on 7 June 2013. 
[3]
Political background
Personal Life
Nawaz Sharif is from Punjab originated in Kashmir. His father, was an upper-middle-class business person. His mother's family is originated from Pulwama Kulsoom Butt is the wife of Nawaz Sharif. His daughter, Maryam Nawaz, who is at present the executive for the head administrator's youth activity and is married to Muhammad Safdar Awan. His other daughter Asma Nawaz is married to Ali Dar who is the son of present Finance Minister. His sibling Shahbaz Sharif is the officeholder Chief Minister of Punjab region, whereas his nephew Hamza Shahbaz Sharif is an individual from the
National Assembly
and in addition the Senior Chief Minister of Punjab. His child, Hussain Nawaz Sharif, at present dwells in the Jeddah house. 
[4]
Personal Life
Achievements of Nawaz Sharif
CPEC
Many believe the China-Pakistan Economic Corridor (CPEC) can change Pakistan's destiny.  Even the Indians are concerned & envious about it and are trying to wreck its plans & its working.
Rising Economy
Pakistan predicted to be world's fastest-growing Muslim economy in 2017.
Metro Bus Service
The Metro bus projects in
Islamabad
, Lahore & now other cities like Multan  are the only unique service of its kind where a VVIP has become a common man and all car drivers stop at every red signal and an ordinary person is granted with a VIP & Wifi protocol through air conditioned travel from one part of the city to the other.
Orange Train
The Orange Line Train is said to be the common man's ride that will move through places where people with low income and living standards are spending lives.
Pakistan Railway
Marred by three decades of deterioration, bad governance and corruption, the
Pakistan Railway
s (PR) though steadily but is coming back on track.
Coordination with Army Zarb e Azb
Operation Zarb-i-Azb has been a phenomenal success.  The backbone of the terrorists has been broken and their main infrastructure has been dismantled.
Less Terrorism related Incidents
After years of terrorist attacks, military coups and political upheaval,
Pakistan
for now has settled into a period of relative calm.
Rangers Achievements in Karachi
Government fully supports and is firmly behind Rangers to ensure peace in Karachi.
Decreased and Scheduled Load shedding
Pursuing its commitment made to the nation before General Elections 2013, to wipe out darkness from Pakistan, the Pakistan Muslim League-N government is vigorously working over its plans to provide uninterrupted electricity to every nook and corner of the country.
Foreign Policy Improved
Government of Pakistan has a satisfactory & much improved foreign policy. It has become less dependent on USA & its F-16 air jets. 
[5]
Achievements Achievements
2013 Elections
As the decisions moved close, Nawaz Sharif held many energizes crosswise over Pakistan. Sharif guaranteed, if chose to power, that he will end load-shedding, develop more motorways furthermore start development of fast rail which will convey Shinkansen-style slug trains which will extend from Peshawar to Karachi. He likewise guaranteed to develop a third port in Keti Bandar on the southern cost of
Thatta
Region. Just preceding his race triumph, Sharif affirmed he had a long telephone discussion with Indian executive Manmohan Singh, in an allude to a yearning to enhance relations among the two states. 
[6]
2013 Elections
Health Concerns
Nawaz Sharif experienced heart surgery second time in May 2016 in London. His worsening health and eventually an open heart operation just three days earlier the presentation of nation's yearly spending plan.Numerous restriction pioneers and the lawful brotherhood, including previous Chief Justice
Iftikhar Muhammad Chaudhry
have brought up imperative issues approaching sacred emergency in the republic. Chaudhry called for choosing another break Prime Minister to maintain a strategic distance from the catastrophe. 
[7]
Health Concern
Disqualified as PML-N President
A three-member bench of the Supreme Court of Pakistan headed by Chief Justice Saqib Nisar that a disqualified individual cannot head a political party.Elections Act 2017 was pushed through the upper and lower houses of the parliament earlier and had paved the way for Nawaz to resume his position as party president after being disqualified in the Panama Papers case. The apex court elaborated that a person disqualified under Article 62, 63 of the Constitution can not head the party. Furthermore, as a result of the verdict, all decisions taken by Nawaz as PML-N's president stand null and void.
[8]
Disqualified as PML-N President
Imprisonment
On 6th of July 2018, the  Accountability court announced its decision about the Avenfield reference where Sharif family including Nawaz Sharif , Maryam Nawaz and Retired Captain Safdar got imprisonment with fine of many millions. Nawaz Sharif got imprisonment of 10 years along with 80 lakh pounds. On 13th July Maryam Nawaz and Nawaz Sharif returned from London and shifted to Adiala Jail. The Edenfield property in Landon will also be snatched from them.