Nasir Kazmi also famous as Syed Nasir Raza Kazmi, the most famous Urdu poet of the past century.He is Pakistani Poet.He was known for his unique  simplistic style where he placed a deep emphasize on the use of metaphors ista'aaray and meter chhotee beher, magically breathing life into his work.
| Title | Description |
| --- | --- |
| Personal | |
| Name: | Nasir Kazmi |
| In Urdu: | ناصِر كاظمی |
| Full Name: | Syed Nasir Raza Kazmi |
| Famous As: | Poet |
| Nationality: | Pakistani |
| Education: | Islamia College, Lahore, Pakistan |
| Religion: | Islam |
| Profession: | Urdu Poet, Journalist, Staff Editor at Radio Pakistan, Writer |
| Genre : | Ghazal |
| Pen Name : | Nasir |
| Born | |
| Date: | 8 December 1925 |
| Place: | Ambala, Punjab, British India |
| Family | |
| Children: | Two Sons, Basir Sultan Kazmi & Hassan Sultan Kazmi |
| Died | |
| Date: | 2 March 1972 |
| Rest Place: | Lahore, Punjab, Pakistan |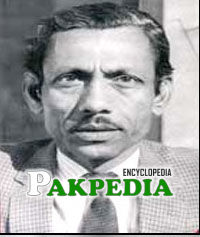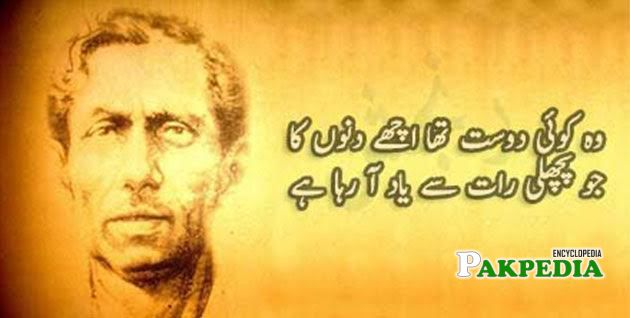 Biography
Nasir Kazmi was born in Ambala Punjab which was still part of the British India at the time, he moved to Lahore to pursue his higher education at Islamia College before coming back to his hometown where he stayed briefly. After partition ,he chose to migrate to Pakistan.He was famous to use basic Urdu words in his poetry that other poets lacked. He wrote simplest poetry by using words like 'Yaad', 'Raat', 'Baarish', 'Tanhai' etc. Nasir Kazmi poetry is read in Pakistan and India still after decades of his death. Publications of Nasir Kazmi ghazals are still published and can be availed at Urdu book shops in Pakistan and India.[1] Biography
Education
Kazmi got his early education at Ambala and later he went to Lahore where he continued his studies at Islamia College. In 1945, he returned to Ambala and looked after land of his ancestors.In 1947, when Pakistan was founded, he migrated to Lahore where he started his career in journalism. He started working as an editor at Auraq e Nau and later in 1952, he became editor-in-chief of an Urdu magazine 'Humayun'. In the years by and by, he worked as staff editor at Radio Pakistan Lahore and at several other literary organizations.
Poetic Career
Kazmi, inspired by style of Akhtar Sherani, started writing romantic poems in 1940. Onward, he started writing Urdu ghazals with the help of his mentor Hafeez Hosyarpuri. Kaazmi was also inspired by legendary poet of the region Mir Taqi Mir as the melancholy Mir used in his literature is also reflected in Nasir Kazmi shayari. He learned saying poetic verses by his mentor Hafeez Hoshyarpuri who was also known to use symbols from the nature in his poems. Nasir also hummed his couplets which always fascinated his poetry listeners.[2] Career
Famous List of Books
Barg-e-Nae (1952)[3] List of Books
Deewaan (1972) 
Pehli Baarish (1975) 
Nishat-e-Khwab (Collection of nazms, 1977) 
Sur Ki Chhaya (Manzoom Drama, Katha 1981) 
Khushk Chashme ke Kinare (Prose, 1982 edited by Basir Sultan Kazmi & Hassan Sultan Kazmi, New Edition 1990, essays, radio features, dialogues, editorials, last interview etc.) 
Nasir Kazmi Ki Dairy (Chand Pareshan Kaghaz) (Autobiography, 1995 compiled by Hassan Sultan Kazmi) 
Intekhab-e-Meer (poetry 1989) 
Intekhab-e-Nazeer (poetry 1990) 
Intekhab-e-Wali Dakni (poetry 1991) 
Intekhab-e-Insha (poetry 1991) 
'Intekhabs' of other poets 
List of Gazals
aaj to be-sabab udas hai ji[4] List of Ghazals
aaraish-e-KHayal bhi ho dil-kusha bhi ho
apni dhun mein rahta hun
awwalin chand ne kya baat sujhai mujhko
dafatan dil mein kisi yaad ne li angDai
daur-e-falak jab dohraata hai mausam-e-gul ki raaton ko 
dayar-e-dil ki raat mein charagh sa jala gaya 
dhup nikli din suhane ho gae 
dhup thi aur baadal chhaya tha 
dil dhaDakne ka sabab yaad aaya 
dil mein aur to kya rakkha hai 
dil mein ek lahr si uThi hai abhi 
din Dhala raat phir aa gai so raho so raho 
din ka phul abhi jaga tha
dukh ki lahar ne chheDa hoga 
fikr-e-tamir-e-ashiyan bhi hai 
gae dinon ka suragh le kar kidhar se aaya kidhar gaya wo 
gali gali aabaad thi jin se kahan gae wo log 
gali gali meri yaad bichhi hai pyare rasta dekh ke chal 
gham hai ya KHushi hai tu 
gham-fursati-e-KHwab-e-tarab yaad rahegi 
girafta-dil hain bahut aaj tere diwane 
hasil-e-ishq tera husn-e-pashiman hi sahi 
hoti hai tere nam se wahshat kabhi kabhi 
in sahme hue shahron ki faza kuchh kahti hai 
is se pahle ki bichhaD jaen hum Added in last 30 days.. 
jab raat gae teri yaad aai sau tarah se ji ko bahlaya Added in last 30 days.. 
jab zara tez hawa hoti hai 
jurm-e-ummid ki saza hi de 
kam-fursati-e-KHwab-e-tarab yaad rahegi 
kaun us rah se guzarta hai 
KHamoshi ungliyan chaTKHa rahi hai 
KHwab mein raat humne kya dekha 
kisi kali ne bhi dekha na aankh bhar ke mujhe 
kuchh to ehsas-e-ziyan tha pahle 
kuchh yaadgar-e-shahr-e-sitamgar hi le chalen 
kunj kunj naghma-zan basant aa gai 
main hun raat ka ek baja hai 
main jab tere ghar pahuncha tha Added in last 30 days.. 
maine jab likhna sikha tha
Death
Unfortunately, his time on earth was short. He passed at the age of 46 after battling stomach cancer. His legacy is survived by his son, who himself would later became a famous poet and dramatist.He died on March 02, 1972 due to stomach cancer in Lahore. 
Interview
Days before his death, he gave a remarkable interview in a television program. He said:"Horse riding, hunting, wandering in a village, walking along the river side, visiting mountains etc. were my favorite pastimes and probably this was the time when my mind got nourishment for loving nature and getting close to the expression of poetry. All my hobbies are related with fine arts, like singing, poetry, hunting, chess, love of birds, love of trees… I started poetry because I used to reflect that all the beautiful things, those I see and those in nature, are not in my hands, and they go away from me. Few moments, that time which dies, cannot be made alive. I think can be alive in poetry, that is why I (Nasir) started poetry!".