Nasir Aslam Zahid is a Pakistani jurist who served as Sindh High Court's Chief Justice and Judge of FSC (Federal Shariat Court) of Pakistan and Pakistan Supreme Court. His decision of resigning from Pakistan Supreme Court instead of taking oath according to PCO (Provisional Constitutional Order) of Pervaiz Musharraf.
After his judicial career, he started working as a social activist and started working for his country fellows. He is contributing his services to Legal Aid Society as its chairperson. This article carries every detail about him, including Nasir Aslam Zahid Biography.
| Title | Description |
| --- | --- |
| Personal | |
| Name: | Nasir Aslam Zahid |
| In Urdu: | ناصر اسلم زاہد |
| Famous As: | Chief Justice of the Sindh High Court |
| Nationality: | Pakistani |
| Residence: | Karachi |
| Education: | Bachelors |
| Alma Mater: | Government College University, Lahore Fitzwilliam College, Cambridge Inns of Court School of Law |
| Religion: | Islam |
| Profession: | Judge |
| Awards : | He received many Awards |
| Born | |
| Date: | 3rd February 1934 |
| Zodiac: | Aquarius |
| Place: | Mussoorie, British Raj (now India) |
| Family | |
| Ethnicity: | Sindhi |
| Parents: | Sir Zahid Hussain |

Nasir Aslam Zahid Biography
If justice has a heart and a face, it will look similar to Justice Nasir. He has been a strong defender of rights of people and stands among most reputed names of the superior judiciary of the country. He served at principal positions during his professional career including Sindh High Court's Chief Justice, additional judge, and Judge in Federal Shariat Court.
Justice Nasir is a daring man and is most recognized for his courageous and accurate decision of not taking oath under the Provisional Constitutional Order. He is a patriotic and disciplined personality. Besides his judicial career, he struggles a lot for his people and is fighting for women and prisoners' rights. He is also working as chairperson of Legal Aid Society.
Nasir Date of Birth
He was born on 3rd Feb 1934 in Mussoorie, British India. 
Education of Nasir
He completed matriculation from Karachi's Saint Patrick's High School, and secured his graduation degree from Govt College Lahore and later attended Cambridge University to the judiciary and secured Bachelor's degree. He was asked to come to Bar from 'Middle Temple.'
Nasir Aslam Zahid Family
His father Zahid Hussein served as chancellor of AMU (Aligarh Muslim University). Professionally he was finance-officer, and after the establishment of Pakistan, he was designated as 1st governor of Pakistan State Bank.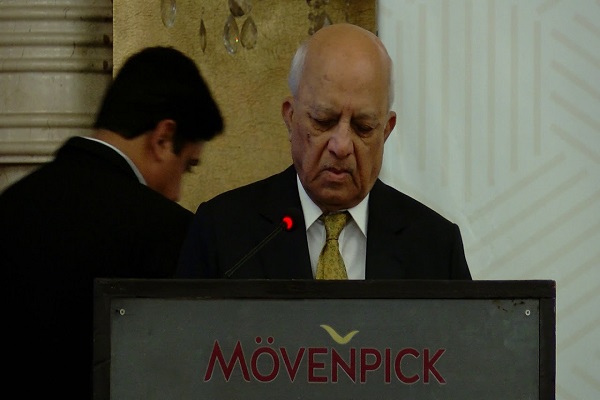 Career
Joined Sindh High Court
He enrolled at Sindh High Court as its advocate in 1957 and of Pakistan Supreme Court in 1962. In 1980 he was elevated to Sindh High Court Bench as its Additional Judge and in 1983 got appointed as Sindh High Court's permanent judge. 
Removal by PPP
The government of Pakistan Peoples Party (PPP) removed him temporarily from the bench in 1988. He served as post of Federal Law-Secretary until June 1990 and returned to High Court of Sindh. 
Served as ad hoc Judge
From Jan 1991 to April he served as an improvised judge of Supreme Court. He served as Sindh High Court's acting CJ during the absence of its sitting Chief Justice and in 1992 held the post of permanent chief justice.
Transfer to Federal Shariat Court
By 1994 his independence couldn't be tolerated by rigid law implementation agencies, supported by the government's executive wing. He didn't grant any favour to government prosecuting agencies or authorities. On 16th April 1994, he was shifted to FSC (Federal Shariat Court), without his permission for two years.
Later he got promoted to the rank of Pakistan Supreme Court's permanent judge. He continued providing justice to Pakistani people until 2000 and then refused to take oath on PCO and resigned from Pakistan Supreme Court. 
Social Activities
He is a social activist and is engaged in judicial education and issues of human rights. Since retirement, he is spending time on legal concerns of women, Since Oct 2000 he has been working as Dean of Faculty of Legal Studies and as Head of the 'Hamdard School of Law' at Hamdard University of Karachi.
Collaboration with Sindh Government 
He collaborated with Sindh Govt for the foundation of a Committee for Women Prisoners' Welfare at Special Jail for females at Karachi. In 2009 this work was expanded to include male and juvenile prisoners of twenty-two prisons of province Sindh. In Nov 2006 he and Nasreen Jaleel the Naib Nazim announced his plan to provide legal support to female domestic violence victims. 
Collaboration with Governor State Bank
In Nov 2001 Ishrat Hussein, the Governor of Pakistan State Bank and Zahid, announced his plan to begin an annual award in Zahid Hussain's memory. The award would be awarded to State Bank employees and deserving students based on merit. The State Bank and Zahid's family would give funds for this award. 
Nominee for Different Posts 
In 2013 opposition nominated him for the post of interim PM, other two nominees were Rasool Bux Palijo and Justice (R) Shakirullah Jan. In 2014 PTI nominated him for the position of Chief Election Commissioner.
Chairperson of LAS (Legal Aid Society)
The LAS is a non-profit organization established to link disempowered and vulnerable seekers of justice with practical and useful justice delivery services. The LAS begins by hearing voices of disempowered and vulnerable within the judicial structure and merges their necessities with fairness and equity. Zahid is serving as chairperson of this organization.