Born in the royal family that ruled the princely state of Lasbela until its accession to Pakistan in 1955, Jam Yousuf remained a Muslim Leaguer for life. He served as chief minister of Balochistan during Musharraf era and was currently inducted as privatization minister. He had previously served as the federal minister for water and power in 1993 under the Nawaz Sharif government.
| Title | Description |
| --- | --- |
| Personal | |
| Name: | Jam Mohammad Yousaf |
| In Urdu: | جام محمد یوسف |
| Full Name: | Jam Mir Mohammad Yousaf Aliani |
| Famous As: | 12th Jam of Lasbela |
| Nationality: | Pakistani |
| Residence: | Jam Pelace Lasbela, Balochistan |
| Education: | Master of Arts,L.L.B. |
| Religion: | Islam |
| Profession: | Jam of Lasbela, Politician, Tumandar of Lasi Tribe |
| Positions As: | MNA and MPA in the National and Balochistan Provincial Assembly |
| 12th Jam of Lasbela: | Preceded by Jam Ghulam Qadir Khan |
| Born | |
| Date: | 14 February 1954 |
| Place: | Lasbela Balochistan |
| Died | |
| Date: | 3 February 2013 |
| Rest Place: | Islamabad Pakistan |
| Career | |
| Political Party: | Pakistan Muslim League (Q) |
| In Office: | March 2002 – December 2007 |
| Serve As: | Chief Minister of Balochistan |
| Proceeded by: | Jan Mohammad Jamali |
| Succeeded by: | Aslam Raisani |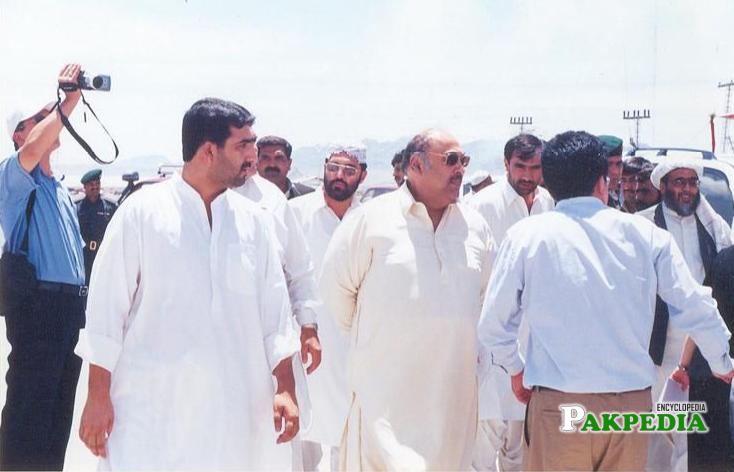 Biography
He has held positions as MNA and MPA in the National and Balochistan Provincial Assembly. He is the Provincial President of PML (Q) since 2002. He has been elected as MPA from PB-44 Lasbella-I in General Elections 2002.[1] Biography
Family Background and Education
The State of Lasbela was discoverd in 1742 by Jam Ali Khan I of the Aliani family of the Jamot tribe to which the present Jam of Lasbela belongs. His descendants ruled Las Bela until 1955 when the state became part of Pakistan. The hereditary rulers of Las Bela are styled as Jam Sahib.Mir Jam Mohammad Yousaf was born in Lasbela, Balochistan. He belonged to the famous Jam faimily of Lasbela.He did an MA,Master of Arts and LLB in 1979.[2] Family and Education
Political Career
Chief Minister of Balochistan province from 2002 to 2007
Minister for Water and Power, Railways
Minister in Balochistan assembly
MNA and MPA in the National and Balochistan Provincial Assembly
Provincial President of PML (Q) from 2002
Visited Countires
USA
Saudi Arabia
UK
Japan
Dubai, France
Singapore
China
Malaysia
Hong Kong
Germany
Italy
Morocco
Tunisia
Libya
Lebanon
Brazil 
Chili
Interview
Q: As chief minister of the five-party coalition government, what priorities have you set in Balochistan?
A: I will put the law and order situation in Balochistan on top of the list. Without it, everything is meaningless. It is the basic responsibility of the government to protect the life and property of the people. On the very first day, I strictly directed the administration to take measures to make the highways safe.We will continue to implement police reforms and introduce reforms in the levy (rural police) to make them a professional law enforcing agency. The government set up a directorate general, levies, in the provincial capital, with six zonal directorates in the rural areas. New vehicles, weapons and other equipment were purchased and are being provided to the police and levy force. A centre has already been established in Quetta to impart training to the levy personnel, besides setting up intelligence and interrogation wings.
Q: What are the priorities for the development sector?
A: The provision of basic amenities to the people has been given top priority. Being the senior minister in the planning and development department, I will focus on the provision of basic amenities. Schemes will be planned to build new health centres and schools, while the old ones will be provided medicines, staff, teachers and extra rooms. New schemes will be approved to provide clean drinking water. The recommendations of both treasury and opposition benches will be taken into consideration while preparing development schemes, so that everyone participates in the process of development. Efforts are also being made to provide natural gas to Kalat, Ziarat and other towns and to electrify more and more villages in the coming year.
Q: How far will your coalition partner, the MMA, influence policy in Balochistan?
A: The PML(Q) and MMA entered into a 12-point agreement for the formation of the government in Balochistan and we are bound to abide by it. Most points such as the removal of the checkposts of federal agencies, the Gwader deep sea port etc. are related to the federal government but implementation has already started on the points related to provincial subjects. A ban on liquor and gambling, which every religion disapproves of, has been imposed, and the law enforcing agencies have been asked to strictly enforce it.
Q: Does your government also intend to impose a ban on kite flying, fire-crackers and music in passenger buses as demanded by the MMA?
A: The MMA has not demanded any such ban so far. Maulana Hafiz Hussain Sharoodi, who is also the information minister, has already declared that the MMA does not advocate a ban on cable channels in the province.
Q: There is an impression that the power-sharing favoured the MMA and caused differences in the PML(Q) and GNA ranks.
A: The distribution of portfolios between PML(Q) and MMA was made in accordance with the agreement reached upon before government formation. However, minor differences on such occasions could not be ruled out and we will talk to MMA leaders to withdraw some portfolios before the expansion of the cabinet, so that more MPAs from the PML(Q) can be brought in.
Q: There has been conflict between Balochistan and the centre over development funds and gas revenues. How do you plan to deal with this issue?
A: Mir Zafarullah Khan Jamali, who twice served as chief minister Balochistan, is well aware of the province's needs and problems. The federal government has already increased the rate of royalty and excise duty on natural gas from 9 rupees to 26 rupees per million cubic feet and has assured Balochistan that it will enhance the rate of development cess on gas from 26 to 126 rupees per MCFt in the next National Finance Commission award. This will increase provincial revenues manifold and that will help Balochistan come at par with other parts of the country. A number of mega development projects have been initiated in Balochistan recently and the government, led by Mir Zaffarullah Jamali, will hopefully initiate more. Unemployed youth will be accommodated in these projects, while the federal government will be asked to strictly implement the job quota of the province.[3] Interview
Death
Former chief minister of Balochistan and provincial president of Pakistan Muslim League-Q Mir Jam Mohammad Yousuf was laid to rest at his hometown graveyard in Lasbela next to his father Mir Jam Ghulam Qadir' s tomb.
Funeral
A large number of people from all walks of life, including tribal elders, members of the political and religious parties attended the funeral.The Central Secretary General of PML-Q Mushahid Hussain Syed, Senator Ismail Buledi, former speaker of Balochistan Assembly Aslam Bhootani and prominent political figures of the province including Haji Lashkari Raisani, Asim Kurd Gillu, Ismail Gajjar, Akbar Lasi, Pir Abdul Qadir Gilani and Mir Naseer Mengal were present at the funeral.