Choudhry Rahmat Ali was one of the earliest advocates of the creation of the state of Pakistan. Rahmat Ali a Pakistani Muslim nationalist is generally recognized as the creator of the name "Pakistan" for a separate Muslim, homeland in South Asia and is known as the founder of the Pakistan National Movement. Ali was born in November 1895 into a Gujjar Muslim family in a District of Indian Punjab.
| Title | Description |
| --- | --- |
| Personal | |
| Name: | Choudhry Rahmat Ali |
| In Urdu: | چودھری رحمت علی |
| Full Name: | Chaudhry Rehmat Ali Khan |
| Famous As: | Naqash-e-Pakistan, Creator "Pakistan" word |
| Education: | MA,LLB |
| Religion: | Islam |
| Profession: | Politician |
| Returned to Pakistan: | April 1948 |
| Founder of: | Pakistan Movement and for its Creation |
| NNotable Work(s) : | Now or Never |
| Movement : | Pakistan Movement, Pakistan National Movement |
| Born | |
| Date: | 16 November 1893 |
| Place: | Balachaur, Hoshiarpur District Punjab, British India |
| Died | |
| Date: | 3 February 1951 |
| Rest Place: | Cambridge England United Kingdom |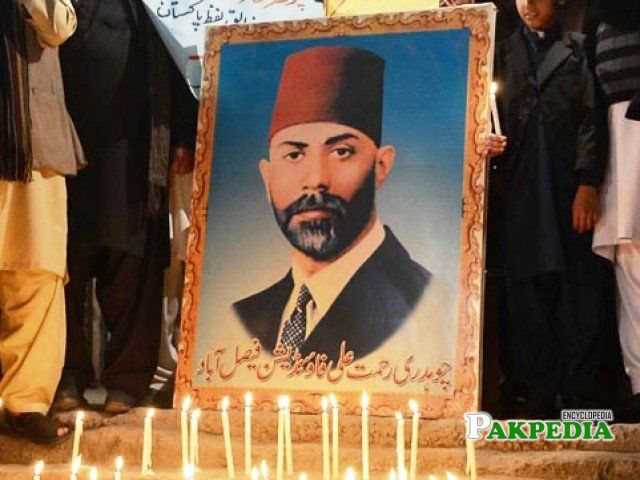 Biography

He is credited with creating the name "Pakistan" for a separate Muslim homeland in South Asia. He propagated the Scheme of Pakistan with a missionary zeal since its inception in 1933. He also founded Pakistan National Movement to propagate his ideas. Being as a political thinker and an idealist, he condemned Muhammad Ali Jinnah for accepting a smaller Pakistan in 1947. He wanted to save every Indian Muslim from Hindu domination. In 1933, he wrote his ideas in the famous pamphlet entitled "Now or Never; Are We to Live or Perish Forever" also known as Pakistan Declaration.[1]  Biography 
FamilyEducation and Career
Chaudhry Rehmat Ali was born into a Muslim Gujjar family in the town of Balachaur in Hoshiarpur District of Punjab in India. After graduating from Islamia Madrassa Lahore in 1918' he taught at Aitchison College Lahore before joining Punjab University to study law.[2]  Family and Education In 1930 he moved to England to join Emmanuel College' Cambridge in 1931. In 1933' he published a pamphlet' Now or Never' coining the word Pakistan for the first time. In 1933' he founded Pakistan National Movement in England.Subsequently' he obtained a BA degree in 1933 and MA in 1940 from the University of Cambridge. In 1943' he was called to the Bar' Middle Temple Inn' London. Until 1947' he continued publishing various booklets about his vision for South Asia.
Convinced the Indian Muslims

From his early years Chaudhry Ali was convinced that the destiny of the Indian Muslims lay in carving out a separate independent homeland of their own in North-Western India and he relentlessly pursued this goal throughout his life.[3] Convinced the Indian Muslims It is the ever-shining contribution of Rahmat Ali that he coined the name of the Muslim state. He said that being nation, the Indian Muslims deserved a separate homeland. He gave the future lines to the Muslims considering Islamic thoughts universal and true in comparison with the contemporary isms. When the Lahore Resolution was passed, it was instantly described as Pakistan Resolution. It, the division of India, was the solution of Hindu-Muslim question but Rahmat Ali proposed this long before the Lahore Resolution.[4] Contribution
Philosophy
Rahmat Ali believed that the Muslims of India had to reform politically in order to become a doable/possible, independent community. He was given great ideas from Islamic history, especially the example of the Prophet Muhammad's success in combining (into one) different Arab tribes during the founding of Islam. He believed that Indian Muslims should (in almost the same way) unite to survive in what he perceived to be a more and more hateful India. So, Ali's writings, in addition to those of Muhammad Iqbal and others were major helping forces for the (creation and construction/ group of objects) of Pakistan. He offered the name "Bangistan" for a Muslim homeland in the Bengal, and "Osmanistan" for a Muslim homeland in the Deccan. He also suggested Dinia as a name for a South Asia of different religions. Ali is known for his unstoppable dedication to the idea of Pakistan. After its original creation in 1947, he argued on its behalf at the United Nations over the issue of Kashmir, and the rights of Muslim minority of India.[5]  Philosophy 
Conception of Pakistan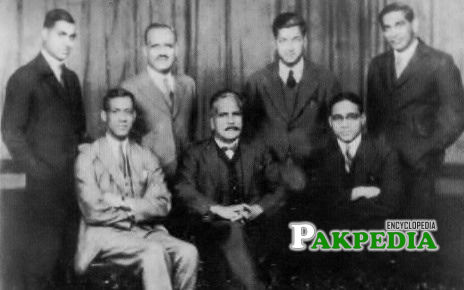 In 1932, Ali moved to a now famous house in Cambridge, on 3 Humbe rstone Road. It was in one of the rooms of this house that he is said to have written the word 'Pakistan' for the first time. There are several accounts of the creation of the name. According to a friend, Abdul Kareem Jabbar, the name came up when Ali was walking along the banks of the Thames in 1932 with his friends Pir Ahsan-ud-din and Khwaja Abdul Rahim. According to Ali's secretary Miss Frost, he came up with the idea while riding on the top of a London bus.
Now or Never
On 28 January 1933, Ali voiced the idea in a pamphlet titled "Now or Never; Are We to Live or Perish Forever?". The word 'Pakistan' referred to "the five Northern units of India, viz.Punjab, North-West Frontier Province (Afghan Province), Kashmir, Sindh and Baluchistan. By the end of 1933, 'Pakistan' had become common vocabulary and an i was added to ease pronunciation (as in Afghan-i-stan).In a subsequent book, Ali discussed the etymology in further detail.Pakistan is both a Persian and an Urdu word. It is composed of letters taken from the names of all our South Asia homelands that is Punjab Afghania, Kashmir, Sindh and Balochistan. It means the land of the Paks – the spiritually pure and clean.
Creator of Word Pakistan
Rahmat Ali alone drafted this declaration  (in which the word Pakistan was used for the first time), but in order to make it "representative" he began to look around for people who would sign it along with him. This search did not prove easy, "for so firm was the grip of 'Muslim Indian Nationalism' on our young intellectuals at English universities that it took me (Rahmat Ali) more than a month to find three young men in London who offered to support and sign it ."  Later on, his political opponents used the name of these signatories and other friends of Ali, as creator of word 'Pakistan'.
Met Muhammad Ali Jinnah
In 1934, Choudhry Rahmat Ali and his friends met Muhammad Ali Jinnah and appealed for his support of the Pakistan idea. He replied, "My dear boys, don't be in a hurry, let the waters flow and they will find their own level."
After the Creation of Pakistan

While Choudhry Rahmat Ali was a leading figure for the conception of Pakistan, he lived most of his adult life in England. He had been voicing his dissatisfaction with the creation of Pakistan ever since his arrival in Lahore on 6 April 1948. He was unhappy over a Smaller Pakistan than the one he had conceived in his 1933 pamphlet Now Or Never.
Issue of Kashmir
Ali is known for his steadfast dedication to the idea of Pakistan. After its formation in 1947, he argued on its behalf at the United Nation over the issue of Kashmir. and the rights of Muslim minority of India.[6]  Issue of Kashmir 
Returned to Pakistan
After the creation of Pakistan he returned to Pakistan in April 1948, planning to stay in this country, but he was ordered by the then Prime Minister Liaqat Ali Khan to leave the country. His belongings were confiscated, and he left empty-handed for England in October 1948.
Death
He died in February 1951 and was buried on 20 February at New market Road Cemetery, Cambridge, UK.
Works Contribution
Now or Never; Are We to Live or Perish Forever?, also known as the Pakistan Declaration, (1933)
What Does the Pakistan National Movement Stand For? (Cambridge: Pakistan National Movement, 1933)
Letters to the Members of the British Parliament (Cambridge, 8 July 1935)
Islamic Fatherland and the Indian Federation: The Fight Will Go On for Pakistan (Cambridge: Pakistan National Movement, 1935)
Letter to The Times, 8 December 1938
The Millat of Islam and the Menace of Indianism (Cambridge: Pakistan National Movement, 1942)
The Millat and the Mission: Seven Commandments of Destiny for the 'Seventh' Continent of Dinia (Cambridge: Pakistan National Movement, 1942)
The Millat and her Minorities: Foundation of Faruqistan for the Muslims of Bihar and Orissa (Cambridge: The Faruqistan National Movement, 1943)
The Millat and her Minorities: Foundation of Haideristan for Muslims of Hindoostan (Cambridge: The Haideristan National Movement, 1943)
The Millat and her Minorities: Foundation of Maplistan for Muslims of South India (Cambridge: The Maplistan National Movement, 1943)
The Millat and her Minorities: Foundation of Muinistan for Muslims of Rajistan (Cambridge: The Muinistan National Movement, 1943)
The Millat and her Minorities: Foundation of Siddiqistan for Muslims of Central India (Cambridge: The Siddiqistan National Movement, 1943)
The Millat and her Minorities: Foundation of Safiistan for Muslims of Western Ceylon (Cambridge: The Safiistan National Movement, 1943)
The Millat and her Minorities: Foundation of Nasaristan for Muslims of Eastern Ceylon (Cambridge: The Nasaristan National Movement, 1943)
The Millat and her Ten Nations: Foundation of the All-Dinia Milli Movement (Cambridge: The All-Dinia Milli Movement, 1944)
Dinia: The Seventh Continent of the World (Cambridge: Dinia Continental Movement, 1946)
India: The Continent of Dinia, or the Country of Doom (Cambridge: Dinia Continental Movement, 1946)
The Pakistan National Movement and the British Verdict on India (Cambridge: Pakistan National Movement, 1946)
Pakasia: The Historic Orbit of the Pak Culture (Cambridge: The Pakasia Cultural Movement, 1946)
Osmanistan: The Fatherland of the Osman Nation (Cambridge: The Osmanistan National Movement, 1946)
The Greatest Betrayal: How to Redeem the Millat? (Cambridge: Pakistan National Movement, 1947)
Pakistan: The Fatherland of the Pak Nation, (Cambridge: Pakistan National Liberation Movement, 1947)
The Muslim Minority in India and the Saving Duty of the U.N.O. (Cambridge: The All-Dinia Milli Liberation Movement, 1948)
The Muslim Minority in India and the Dinian Mission to the U.N.O. (Cambridge: The All-Dinia Milli Liberation Movement, 1949)
Pakistan or Pastan? Destiny or Disintegration? (Cambridge: The Pakistan National Liberation Movement, 1950)[7]  Works Contribution 
Complete Works of Rahmat Ali, ed. Khursheed Kamal Aziz (Islamabad: National Commission on Historical and Cultural Research, 1978)