Choudhry Rahmat Ali was a Pakistani-nationalist who was among the earliest supporters of the creation of Pakistan. Whenever the word 'Pakistan' is mentioned, his name comes to mind as he suggested the name for God-given kingdom Pakistan.
He suggested the name in his famous booklet Now or Never, published on January 28, 1933, at Humber Stone Road, Cambridge. Apart from Chaudhry Rehmat, the booklet was signed by Muhammad Aslam Khan Khattak (President, Khyber Union), Sheikh Muhammad Sadiq (Sahibzada), and Inayat Ali Khan (of Charsadda) (Secretary, Khyber Union). This article contains all the information, including Choudhry Rahmat Ali Biography.
| Title | Description |
| --- | --- |
| Personal | |
| Name: | Choudhry Rahmat Ali |
| In Urdu: | چودھری رحمت علی |
| Full Name: | Chaudhry Rehmat Ali Khan |
| Famous As: | Naqash-e-Pakistan, Creator "Pakistan" word |
| Education: | MA, LLB |
| Religion: | Islam |
| Profession: | Politician |
| Returned to Pakistan: | April 1948 |
| Founder of: | Pakistan Movement and for its Creation |
| Notable Work(s) : | Now or Never |
| Movement : | Pakistan Movement, Pakistan National Movement |
| Born | |
| Date: | 16 November 1893 |
| Place: | Balachaur, Hoshiarpur District Punjab, British India |
| Died | |
| Date: | 3 February 1951 |
| Rest Place: | Cambridge England United Kingdom |

Choudhry Rahmat Ali Biography
Rahmat Ali was the first Muslim to present a bi-national ideology unquestionably and demand a fully independent Muslim state. He struggled wholeheartedly to achieve this goal. At the age of only eighteen, he said at Bazm-e-Shibli at Islamia College Railway Road that Muslims in India have to live with a separate identity.
They have to live separately, and they have to stay apart; otherwise, even their mosques would not survive. Regarding Kashmir, he said that the watercourses of rivers should be within Pakistan. Regarding Bangladesh, he said that it should be an independent country and suggested its name separately. Similarly, he gave the name Farooqistan to the state of Hyderabad.
He wanted to create a Pakistan that would be geographically strong. His vision was the attainment of a free country. He was an idealist in every way and was accustomed to look at everything in the mirror of idealism. He avoided worldliness demands, especially compromise, and expediency, and could not make room in the All India Muslim League's feudal setup.
Rahmat Date of Birth
He was born on November 16, 1897, in Balachaur in Hoshiarpur District of Punjab. 
Initial Education 
Shah Mohammad started taking Ali to the mosque with him when he was three years old and, from the very beginning, put him on the path of an organized, practical, and Islamic life. At the age of six, he was taught the Holy Qur'an by a woman named Abida, and then his education continued under the supervision of Syed Hussain Sahib.
He received his primary education in a nearby village, Balachur. He went to the nearby town of Rahon for education up to the eighth grade, where he obtained an Anglo-Vernacular Middle School certificate from the Municipal Board Middle School. 
Higher Studies
He passed the matriculation examination from Sandals Anglo Sanskrit School (Jalandhar), administered by Punjab University. In 1912 he studied Urdu, Persian, English, mathematics, history, and geography; in the same year, he entered Islamia College, a well-known educational institution in Lahore.
He passed the Intermediate Examination with English, History, Persian, and Mathematics subjects in the second grade in 1915. Choudhry Rahmat Ali passed the BA examination from the same college in 1918, showed remarkable talent in English, Persian, and Economics, excelled in several class activities, and won awards.
He studied law at the Punjab University Law College for two years but fell ill before the final exam and could not obtain a degree.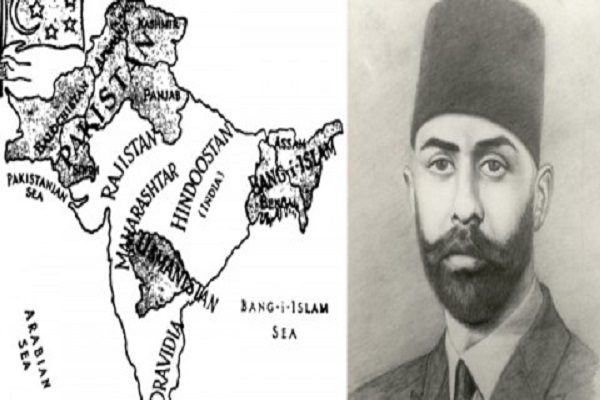 Extracurricular Activities 
He also had the honor of serving as Secretary of the College Debating Union, Secretary and Vice President of his Tutorial Group, and Secretary of Punjab University Recruitment Committee for the Double Company, Our Day Fund Committee, Lahore Inter-Collegiate Association. He was also the editor of the college magazine 'Crescent.' 
Choudhry Rahmat Ali Family
His father, Haji Shah Muhammad, owned thirty-five acres of land, and this Gujjar family had lived in Balachaur for at least three generations. Haji Shah, at the request of his first wife, remarried to have a son, as he had two daughters from his first wife. From his 2nd wife, two sons Rehmat Ali and Muhammad Ali, were born to him.
He also had a daughter in his family, but immediately after the girl's birth, the second wife died, and this girl also died in infancy. Rehmat and his brother Muhammad Ali were brought up by their stepmother very kindly, and they even treated their stepmother and stepsisters like real sons and brothers. The relationship between them was ideal. 
Life Events of Rehmat Ali
Founded Bazm-e-Shibli
In 1915, he, along with a few of his colleagues, paid homage to Allama Shibli Nomani's services, founded Bazm Shibli and demanded India's independence, and established a separate, independent sovereign Muslim state at its founding meeting. Addressing the founding meeting as the founding president, he said, 'The north of India is a Muslim region, and we will keep it Muslim.
We will make it a Muslim country, but we can only do so only when our (northern) relationship with India is severed. Since this is the first condition, the sooner we take off the shackles of 'Indianness' (i.e., considering Hindu-Muslim and other nations a single nation), the better it would be for all Muslims.
As a Journalist
As a college student, he joined the popular newspaper, 'Paisa Akhbar' as a part-time essayist. Still, even a job of 25 to 30 rupees a month was not enough for his educational expenses. He later joined the popular newspaper 'Kashmir' of Munshi Mohammad Din Fuqua Kashmiri as Deputy Editor and wrote various Indian history and politics articles.
He put forward the view that since the northern and north-western part of India has a Muslim majority. Therefore, it should be given the right of an independent Muslim state, considering it their right. 
As a Mentor
He had to lose his job writing a rebellious article entitled 'The blind imitation of the West.' On the recommendation of Henry Martin, Principal, Islamia College, Lahore, he was appointed by the Principal of Aitchison College, after a regular examination, as the Prince of Bahawalpur's mentor.
This service continued for a year; then, after the Prince of Nawab Bahawalpur's departure to England in 1919, he was entrusted with educating the Nawab Zada of Rojhan (Dera Ghazi Khan).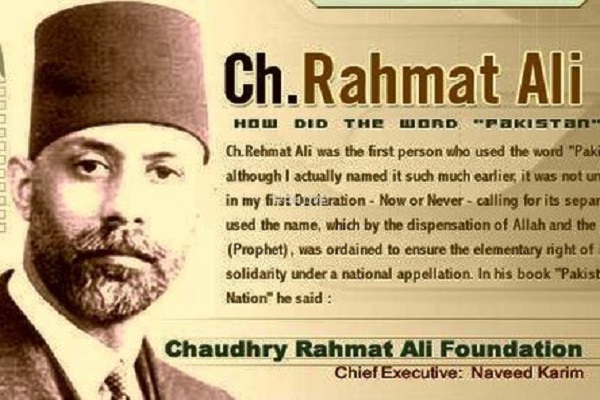 Proposed Name for Separate Homeland
During his stay in Rohan, he had coined the unique name for his proposed, independent Muslim country, 'Pakistan,' which was later unveiled through his famous pamphlet 'Now or Never.' 
As Legal Advisor
He served as the legal adviser to Nawab Mazari of Rohan from 1923 to 1930.
Founder of Pakistan National Movement
In 1933, he founded the Pakistan National Movement. He published his historical pamphlet 'Now or Never' on January 28, 1933, the Urdu translation published in 1938 by Zafar Gondal, the landlord of Kamalia.
In addition to promoting his project throughout India, he traveled worldwide, making contacts and spreading the movement's manifesto in Arabic, French, and German. He was the only Muslim leader in history who also asked Hitler for help in the liberation movement.
Didn't Get any Reward for Efforts
He is one such figure in Pakistani history who was rewarded for his selfless sacrifices in this way that his name is mentioned in only one line in the official textbooks of Pakistan Studies as 'Chaudhry Rehmat Ali suggested Pakistan's name.'
By writing thousands of letters alone and regularly meeting various important political figures, he highlighted Pakistan's idea. When, after the establishment of Pakistan, he came to Pakistan to perform national services and spend the rest of his life here, despite his ill health, he was not allowed to stay here and was sent back to England by saying that he is needed more there.
A Disappointing Visit to Pakistan
He wanted to visit Lahore on March 23, 1940, to attend the 34th Annual Meeting of the All India Muslim League. But a few days ago, due to the firing of unknown people, the then Punjab Chief Minister Sikandar Hayat banned him from entering Punjab.
Finally, on August 14, 1947, the name suggested by him was interpreted. Pakistan came into being, but he was not satisfied with the geographical status of Pakistan. He visited Pakistan in April 1948 but returned to England after the death of Quaid-e-Azam, disappointed with the Muslim League's leadership attitude.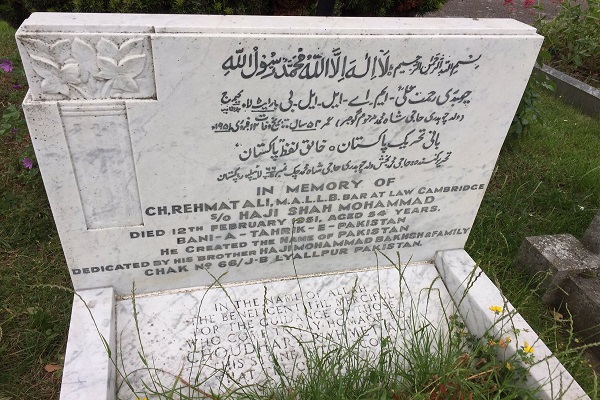 Choudhry Rahmat Ali Death
He contracted pneumonia on January 29, 1951, and died on February 3 at Cambridge hospital.