Muzaffar Warsi was a Pakistan-based Urdu scholar, lyricist, essayist, and poet. Initially, he started his professional career as Deputy-Treasurer in Pakistan State Bank. Later he started his academic career, authored a rich naat collection, and several anthologies of Nazams and ghazals and wrote his autobiography entitled 'Gae Dino Ka Suragh.'
He also wrote Rubai for Nawa-e-Waqat the daily newspaper of Pakistan. Two titles 'Sharaf u Shu'ara' and 'Faseeh-ul-Hind' were awarded to him. This article consists of every information about him, including Muzaffar Warsi Biography.
| Title | Description |
| --- | --- |
| Personal | |
| Name: | Muzaffar Warsi |
| In Urdu: | مظفروارثی |
| Famous As: | Urdu Poet |
| Also Known: | Scholar of Islam, a Doctor and Poet |
| Nationality: | Pakistani |
| Religion: | Islam |
| Profession: | Poet (Hamd and Naat lyricist, film songs lyricist) |
| Worked at : | State Bank of Pakistan |
| Received Two Titles: | Faseeh ul Hind & Sharaf u Shu'ara |
| Year Active: | 1961-2006 |
| Awards : | Pride of Performance Award in 1988 |
| Born | |
| Date: | 23rd December 1933 |
| Place: | Meerut, Uttar Pradesh, British India |
| Family | |
| Children: | Grandson Amsal Qureshi |
| Siblings : | Dr M. S. Zafar Warsi |
| Relatives: | Nephew (Usman Warsi) |
| Died | |
| Date: | 28th January 2011 |
| Rest Place: | Lahore Punjab Pakistan |

Muzaffar Warsi Biography
Warsi was a noted poet and Naat Khawan who won recognition and fame for lending his soothing, melodic, and soulful voice to Naats and many of his Naats have been used as mobile ringtones. His work never failed to surprise his fans as he was never afraid of experimenting with new styles.
His naats are true contentment for the human soul, and his poetic collection gives the spirit to begin a new life. He also gave lyrics for many Lollywood films, and some of his songs were sung by renowned Pakistani and Indian singers such as Masood Rana and Latta. He is the recipient of Pride of Performance Award. 
Warsi Date of Birth
He opened his eyes as Mohammad Muzaffar-ud-Din Siddique on 23rd Dec 1933 in Meerut, British India. 
Muzaffar Warsi Family
He was the son of Alhaj Mohammad Sharf-ud-Deen Ahmed commonly recognized as 'Sufi Warsi.' It was a landlord family of Meerut (Presently Uttar Pradesh in India). Sufi was an Islamic Scholar, poet, and doctor. Two titles 'Sharaf u Shu'ara' and 'Faseeh-ul-Hind' were awarded to him.
He was a friend of Akbar Warsi, Hasrat Mohani, Azeem Warsi, Allama Iqbal, Mahindar Singh, Abdul Kalam, Ahsan Danish, and Josh Malihabadi. Muzaffar has one son and three daughters. His nephew Usman Warsi is a poet, music composer, singer, and grandson Amsal Quraishi is also a poet, songwriter, composer, guitarist, and singer.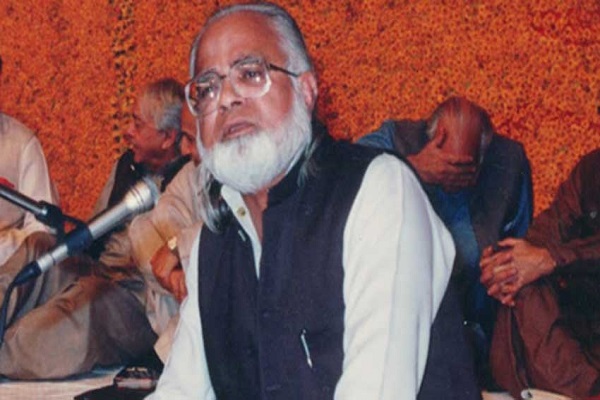 Career
He worked as deputy-treasurer at Pakistan State Bank. He began his poetic career by writing lyrics of songs for Lollywood films but slowly shifted direction and started writing poetry in praise of Allah and Holy Prophet (P.B.U.H). Later, he began writing Naats and Hamad. He also regularly wrote a Stanza on current-affairs in Nawa-e-Waqat and kept writing until his death. 
Academic Work
Lashareek-Hamdiyya Kalam

Tajdaar-e-Harram-Natiya Kalam

Alhamd-Hamdiyya Kalam

Wo He Khuda Hei-Hamdiyya Kalam

Baba-e-Harram-Nattiya Kalaam

Kaba-e-Ishq-Nattiya Kalaam

Mere Ache Rasool-Nattiya Kalam

Kaba-e-Ishq-Nattiya Kalam

Sahib-ut-Taaj-Nattiya Kalam

Dil Se Dar-e-Nabi Tk-Nattiya Kalam

Ummi Laqabbi-Nattiya Kalam

Baraf Ke Naoo-Ghazaliyaat

Gae Dino Ka Suragh-An Autobiography

Lehjja-Ghazaliyat

Khulay Darechay Band Hawwa-Ghazaliyat

Rakh Ke Dhair Mein Phool-Ghazaliyat

Sitaron Ke Aabju

Lahoo Ke Haryyali

Hisar-Ghazaliyat

Tanha Tanha Guzri Hei-Ghazaliyat

Zulam Na Sehna

Dekha Jo Teer Khaa Ke-Ghazaliyat

Koi Tu Hei Jo Nizaam-e-Hasti Chalaa Raha Hei

Pukara Hei mada Ko

Tu Kuja Man Kuja
Popular Poems/Songs
Kiya Bhala Mjh Ko Parakhnay Ka Nateeja Nikla

Mere Tasvir Mein Rang Aur Kisi Ka Tu nahein

Karam Ke Aik Nazar Ham Par Ya Rasool Allah

Kya Kahun Ae Dunya Walon Kya Hun Mein

Naqsha Tere Judae Ka Ab Tk Nazar Me Hei

Ho Gae Zindagi Mjhe Payari

Qadam Qadam Pe Naye Dukh

Mjhe Chor Kr Akela Kahin Door Jane Walay

Yad Krta Hei Zamana Unhe Insaano Ko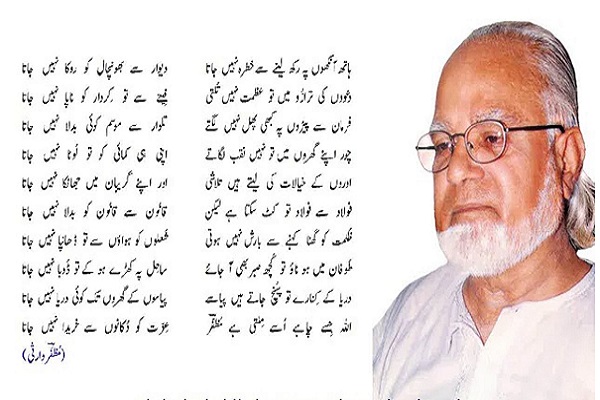 Naat-Albums
Shaheed-e-Azam

Al-Hamd

Azmat-E-Bashar

Ameer-e-Haram

 Awaz Ke Tasvir
Muzaffar Warsi Books
Hisaar

Lahu Ke Haryaali

Zulam Na Sehna

Bhooli Basti Batein

Jaari Hei

Kalam Qatale

Quran-o-Sukhan

Lahu Ka Raqs

Zameen Key Chaand

Kamand

Parbat Ka Paani

Subho Ka Taara

Sitaron Ke Abju

Gae Dino Ka Suraagh
Muzaffar Warsi Death
He passed away on 28th Jan 2011 in Lahore and embedded in Lahore at Johar Town Graveyard.