Aseefa Bhutto Zardari is a Pakistani health activist who is currently serving as the UN Ambassador for polio eradication. She is known to be the youngest daughter of Benazir Bhutto, the former Prime Minister of Pakistan and Asif Ali Zardari, former president of Pakistan.
In 2018, news circulated on the social media about her entry in the politics but it proved to be wrong as she never contests any elections nor participated in political rallies. However, she for the first time addressed to the nation in 2009. This article has all the information about her, including Aseefa Bhutto Zardari Biography.
| Title | Description |
| --- | --- |
| Personal | |
| Name: | Aseefa Bhutto Zardari |
| In Urdu: | آصفہ بھٹو زرداری |
| Famous As: | Daughter of Benazir Bhutto |
| Nationality: | Pakistani |
| Residence: | Karachi |
| Education: | Masters Degree in Global Health |
| Alma Mater: | University College London |
| Religion: | Islam |
| Profession: | Health activist, Rotary Ambassador and UN Ambassador for Polio Eradication. |
| Website: | http://aseefabz.com/ |
| Born | |
| Date: | 3rd February 1993 |
| Place: | London, England, United Kingdom |
| Family | |
| Ethnicity: | Zardari |
| Parents: | Benazir Bhutto and Asif Ali zardari |
| Siblings : | Bakhtawar bhutto zardari and Bilawal Bhutto Zardari |
| Relatives: | Murtaza, Shahnawaz, Hakim Ali zardari |

Aseefa Bhutto Zardari Biography
Assefa Bhutto is a younger daughter of Benazir Bhutto who is functioning as a social activist and has previously served as a UN Polio Ambassador. She is the first baby in Pakistan who got polio vaccine after her mother in 1994 originated a significant immunisation drive.
She is likewise a Rotary Ambassador who isn't associated with politics yet keeps giving her views through her social media accounts. In 2018, she indulged into controversy when Wikipedia deleted her page because of not holding any prominent position. Her elder brother Bilawal Bhutto Zardari is currently the Chairman of Pakistan Peoples Party.
Aseefa Date of Birth
She was born on 3rd Feb 1993 in London. Currently, she is living in Karachi with her family.
Education of Aseefa
She holds a degree of Masters in Global Health attained from the University College London. Her graduation ceremony held in London was attended by many including her father, sister and Wajid Shamsul Hasan, a former Pakistani High Commissioner to London.
Aseefa Bhutto Zardari Family
She was born in a political family both from her father and mother's side. Her late mother Benazir Bhutto served as the first lady Prime Minister of Pakistan who was murdered when she was only 19 years old. At the same time, her father Asif Ali Zardari worked as the President of Pakistan.
Her grandfather also served in the politics while her elder brother Bilawal Bhutto Zardari is the current Chairman of Pakistan Peoples Party. Her elder sister Bakhtawar Bhutto Zardari is a Pakistani Philanthropist and an educationist.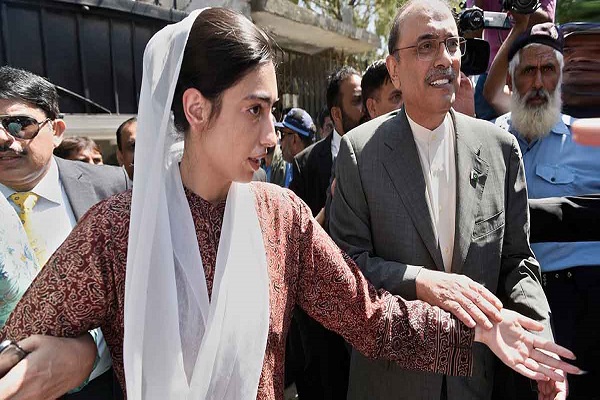 Career
As an Ambassador
Though Aseefa doesn't belong to Politics but she is an active social worker and remained the ambassador for the polio eradication to the UN. She is likewise a Rotary Ambassador and keeps visiting different health centre across Pakistan to look for the health issues. In 2017 she started a campaign on Anti-polio across Pakistan.
Social Media Handles
Her social media account include
https://www.instagram.com/aseefabz/