Mushahid Ullah Khan member of the Pakistan Muslim League (PMLn) is a Pakistani politician.Mushahid is the current Minister for Climate Change, in office since August 2017.Khan has been a member of the Senate of Pakistan and previously served as Minister for Climate Change in the third Sharif ministry in 2015.
| Title | Description |
| --- | --- |
| Personal | |
| Name: | Mushahid Ullah Khan |
| Famous As: | Pakistani Politician |
| Nationality: | Pakistani |
| Education: | L.L.B degree from Urdu Law College, University of Karachi |
| Religion: | Islam |
| Profession: | Politician |
| Fax Number: | +92 51 9214828 |
| Joined Pakistan Muslim League (N): | 1990 |
| Career | |
| Political Party: | Pakistan Muslim League (N) |
| Serve As: | Senate of Pakistan |
| In Office | |
| Dates: | 5 January 2015 – 15 August 2015 |
| President: | Mamnoon Hussain |
| Prime Minister: | Nawaz Sharif |
| Succeeded By: | Zahid Hamid |
| In Office 2 | |
| Role: | Minister for Climate Change |
| Dates: | 4 August 2017 |
| President: | Mamnoon Hussain |
| Prime Minister: | Shahid Khaqan Abbasi |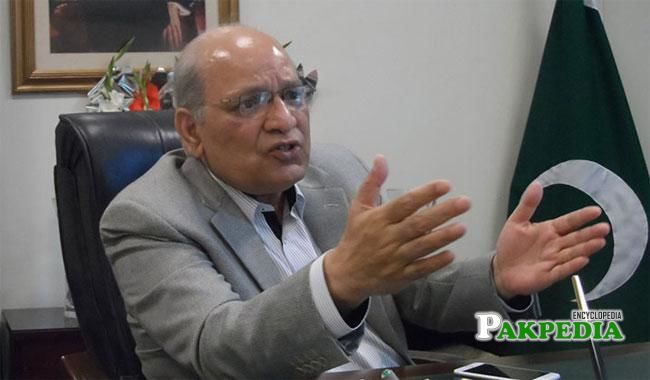 Biography

A man of principles who believes that in matters of principle one must stand like a rock but in matters of taste one should swim like the current. He finds 'guiding light' in Hazrat Umar (R.A) and Tipu Sultan. Born in Rawalpindi, way back in 1953,he has spent much time in the twin cities of Islamabad – Rawalpindi. His political affiliations are with PML (N), for which he feels 'a sense of belonging' and he is proud of it, for sure.Currently residing in one of the posh sectors of Islamabad.[1]  Biography
Family
He has four brothers and two sisters. He is a father of four children who have faired well in life. The elder ones are done with their Masters Level education.
Education

He received his early education from Islamia High School, Rawalpindi where he drew inspiration from his Mathematics Instructor 'Mr. Daulat Hussain', and in so doing he groomed himself quite a bit. After his schooling he joined 'Gordon College' where he found a mentor in Mr C A. Peters. He ended up doing his Law Degree from 'Jamia Karachi'. Throughout his academic career, he held his teachers in high esteem and still regards them as people who helped him transform into a better human being. He regards the contributions of Mrs. Jane and Mr. Daskawi as pivotal and significant, for he mentioned their ProfileNames with great reverence.
Political Career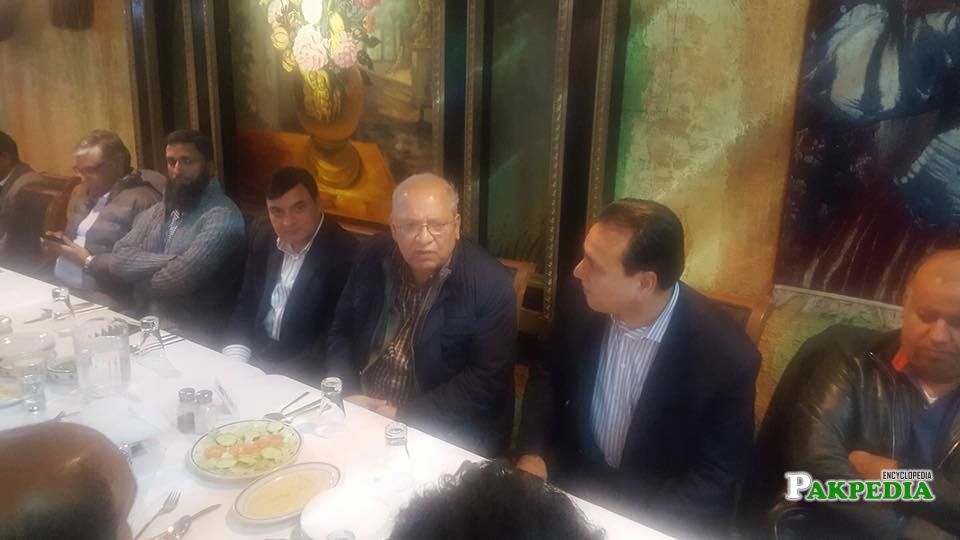 His political career started when he joined IJT – Jamiat's platform and worked with enthusiasm and zeal. He been the President of PIA Trade Union, President of Pyasi Union and Founder & President of Air League. He then joined Pakistan Muslim League (N) and made his mark as a dedicated worker. Currently his portfolio speaks volumes of his contributions to the party. He is the Central Vice President of the party. He remained Information Secretary of PML (N) – a coveted assignment. He is Chief Coordinator of PML (N) Karachi. He is member of Central Working Committee and Secretary General – Labor Wing.
PIA Service as Traffic Supervisor
Advisor Ministry of Labour Manpower & Overseas Pakistani in BPS-22 : (1997-1999)
Administrator Karachi Municipal Corporation: (August 1999-October 1999)
PML N
Served as Secretary General Labour Wing PML(N) from 1994 to 1999)
Chief Coordinator in 2000-2001
Served Information Secretary: (2001-2002)
Central Vice President: (2002-Till Now).
Committee Member
Council of Chairmen
Privatization and Statistics
To Examin over all working of the Sports Federations in Pakistan
The Performance of PIA
Finance, Revenue, Economics Affairs and Narcotics
Information Broadcasting and National Heritage
Inter-Provincial Coordination
National Food Security and Research
Political Band-Wagon

He joined the political band-wagon in Ayub Khan's last regime and has indeed come a long way. He feels that Army must not interfere in politics and feels a dire need of restoring democracy and democratic values. He regards Maulana Maududi as a man of great intellect and finds a true leader in him. He feels that Mian Nawaz Sharif is a leader who has what it takes to steer this nation through success. Mushahidullah Khan is optimistic and feels that good times will come, provided we work with selflessness and dedication.
Important Area
He feels that Education is the most important area. He believes that syllabus should be revamped in order to produce better citizens. Education needs to be looked into, for he feels that it is high time now. We must set our priorities right.
International Leaders

Among the international leaders, he draws inspiration from Mahatir Muhammad, Hasan Nasrullah and Ahmedinejad. He feels that we need to work for Pakistan, day in and day out. 'Fall of Dhaka' really left a major impact on him and he loves Pakistan, for sure.
Leisure Time

He normally enjoys his leisure time with his friends; a light chit-chat makes him feel good apart from watching television, especially 'news' which keeps him abreast of the current scenario. His taste for literature has always helped him to satisfy his intellectual appetite which he has never left wanting in substance. Poetry and literature have helped him be, what he is today. Ahmad Faraz, Ghalib, Habib Jalib, Qudrat-ullah Shahab, Mushtaq Yusfi, Mukhtar Masood, Faiz and Sahir Lodhi are among his favorites. The writings of Ayaz Amir and Irfan Siddiqui are a source of pleasure for him. Moreover, music helps him in times of leisure and recreation. He likes Nusrat Fateh Ali Khan and Amaanat Ali Khan. Apart from classical music he has a special liking for Punjabi Folk as well. He likes animals as they are a reflection of the numerous other beauties which this world possesses, but 'Running Panther' is an animal which he likes the most.
Contact Information
Office Number: +92 51 9214827 
Home Number: +92 21 4513765 
Mobile Number: +92 300 4505771 
Fax Number: +92 51 9214828 
Local Address: Apartment No.3-A, Minister's Enclave, Sector F-5/2, Islamabad. 
Permanent Address: 6/161, Aziz Road, Model Colony, Karachi-27.