Muhammad Shafee Okarvi was an orator and Islamic scholar and was among Gulzar-e-Habib Trust and Jamaat Ahle Sunnat founders. He authored many books on religious issues and delivered more than eighteen-thousand speeches on different spiritual topics. He visited Mecca and Madinah for Umrah, Haj and Zayarat for 16-times.
Shafee participated in constructing more than a hundred mosques and madrassas, the establishment and propagation of Jamaat-e-Ahl-e-Sunnat Pakistan, visited various countries and many institutions. He played a significant role in the country's political and social affairs.
His son Kokab Noorani is continuing his religious work. Pakistani private institutions and government awarded him several honours including Sitara-i-Imtiaz. This article contains all the information about him, including Muhammad Shafee Okarvi Biography.
| Title | Description |
| --- | --- |
| Personal | |
| Name: | Muhammad Shafee Okarvi |
| In Urdu: | محمد شفیع اوکاڑوی |
| Famous As: | Theology |
| Nationality: | Pakistani |
| Education: | Islamic Sciences and Arts |
| Religion: | Islam |
| Profession: | Religious Scholar |
| Delivered : | 18,000 Speeches |
| Founders of: | Jamaa'at-e-Ahle-Sunnat Pakistan and the Gulzaar-e-Habeeb Trust |
| Awards : | Sitaara-e-Imtiaz |
| Born | |
| Date: | 2nd February 1930 |
| Place: | Khem Karan East Punjab India |
| Family | |
| Children: | Five Sons and Six Daughters |
| Parents: | Haaji Shaiekh Karam Ilaahi (Father) |
| Siblings : | Seven |
| Died | |
| Date: | 24th April 1984 |
| Rest Place: | Karachi Pakistan |

Muhammad Shafee Okarvi Biography
Hazrat Allama Maulana Muhammad Shafi Okadarvi's spent his whole life in serving religion and nation. He first memorized the Holy Qur'an, then read all the popular Arabic and Persian books on Islamic knowledge. Okarvi had an excellent command on delivering speeches and delivered over eighteen-thousand lectures which is a great honour.
He had a deep love for religion and nation in his heart and continued to make great sacrifices for the country and the nation in every need. Muhammad Shafee was devoted to his sect and always remained anxious about the violation of the rights of the Ahl-e-Sunnah wa'l-Jama'ah.
He always considered Islamic teachings as his purpose of life and never deviated from the truth for his benefit. In response, he received death threats from his opponents. But he did not pay any heed to any threats and continued to enlighten the hearts with the candle of the love of the Prophet (peace and blessings of Allaah be upon him).
Shafee Date of Birth
He opened his eyes on 2nd Feb 1930 in Khem Karan, India.
Education of Shafee
He started his education by getting knowledge of Quran and memorizing it. He completed middle school.
Muhammad Shafee Okarvi Family
His father Haji-Sheikh Karam Elahi was a local businessperson. Shafee got hitched at a very young age and was father to 11-children, six daughters and five sons. However, in 1952 his two sons fourteen-month-old Tanvir and three-year-old Munir Ahmed died. His elder son Kokab Noorani is continuing religious work of his father.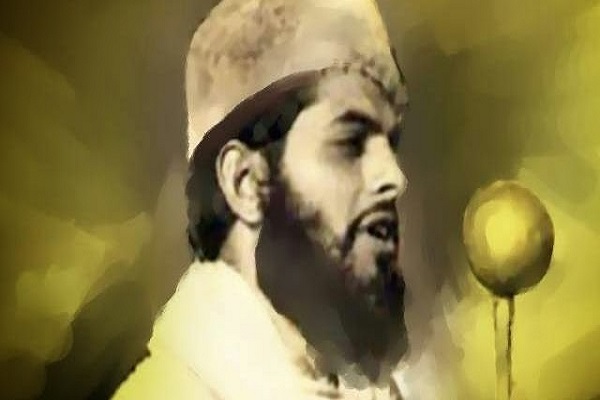 Career
Services at Ghausiyah Mosque
After migration from India in 1947 Shafee and his father constructed a Mosque 'Ghausiyah' in city Okara. In 1950 he started imamate of Friday prayers and also taught congregation at Jamiya Masjid Muhajireen in Sahiwal. 
Services as Head of Department
He took responsibilities of the head of Religion Department at Birla High-School in Okara. Later this school was renamed to Sutlej Cotton-Mills High School.
Services at Jamiaya Hanafiya Ashraf-ul-Madaris
He contributed to 'Tehreek-e-Tahafuz-e-Khatam-e-Naboowat' that is a set-up established to annoy Ahmadi Muslims. He also founded 'Jamiaya Hanafiya Ashraf-ul-Madaris' in 1954 on Badshahi Sarak (also known as Grand Trunk Road) in Okara and served as one of its sponsors and mentors.
As a Lecturer
He visited Karachi city for 1st time in 1955 and delivered a lecture at Jamiya Masjid Aram Baagh on 1st Laila-tul-Qadar. The next year he became Imam and lecturer of Memon Mosque and established Jamat Ahle Sunnat and took its responsibilities as 1st chairperson.
Religious Services at International Level
He did not limit himself to Pakistan only but also served at International level. Before 1980 he visited Middle East, United Arab Emirates, Far East, South-Africa, Palestine, and India for preaching. Video cassettes of Okarvi's speeches are distributed widely at International level.
He travelled to Makkah, Madinah, Jeddah, Beirut, Karbala, Syria, and Baghdad in 1962. He visited the mausoleum of many religious and spiritual scholars and many historical holy sites and notable mosques.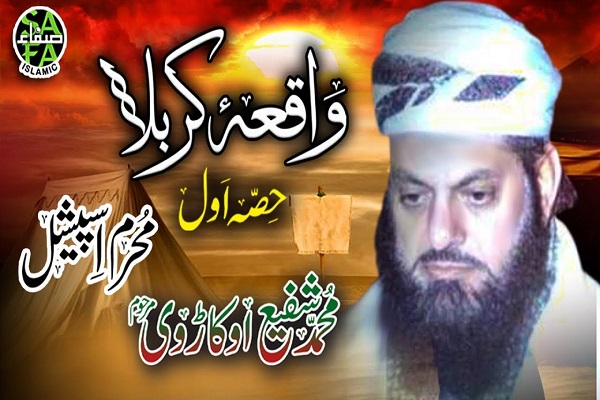 Founder of Religious Organizations
He founded 'Anjumman Ahl-e-Sunnat Wa Jamat' in South-Africa in 1976. In 1974 he established 'Jamat-e-Ahle Sunnat' in South-Africa, Durban that attracted more than ten-thousand members. 
Performed Religious Obligations
He travelled to Mecca for Umrah, Hajj, and Ziyarat sixteen times. 
Muhammad Shafee Okarvi Books
1.    Zikar-e-Jamil
2.    Rah-e-Haq
3.    Zikar-e-Haseen
4.    Sham-e-Karbala
5.    Daras-e-Toheed
6.    Rah-e-Aqeedat
7.    Barkat-e-Mila Sharif
8.    Namaz-e-Mutarjam
9.    Imam-e-Pak Aur Yazeed Paleed
10.     Sawab-ul-Ibadat
11.     Safina-e-Nooh
12.     Anwar-e-Risalat
13.     Musalman Khatoon
14.     Masa'la-e-Talaq-e-Salasah
15.     Naghma-e-Habib
16.     Akhlaq-o-Amaal
17.     Mas'ala-e-Siyah Khizab
18.     Ta'aruf Ulma-e-Deoband
19.     Angothay Choomney Ka Mas'ala
20.     Milad-e-Shafee
21.     Maqalat-e-Okarvi
22.     Jihad-o-Qital
23.     Nujumool Hidayat
24.     Aa'enah-e-Haqiqat
25.     Mas'ala-e-Bees Taraveh
Muhammad Shafee Okarvi Death
He suffered a heart attack in 1974 and in 1975 again suffered cardiac arrest and moved to Karachi to get treatment for 6-weeks. He delivered his life's last speech on 20th April 1984 at the congregation of the Friday prayer at Jamiya Masjid Gulzaar-e-Habib.
That evening he suffered cardiac arrest for the 3rd time and was rushed to NICVD (National Institute of Cardiovascular Disease). He passed away after 3-days on 24th April 1984 at the age of fifty-five.
Legacy
President of Pakistan Zia-ul-Haqq awarded him Sitara-i-Imtiaz in recognition of his religious services.