Mir Hassan Mir is an internationally recognized Pakistani Noha Khuwan and Naat Reciter who started reciting in the 1990s. Today, he is known for his soothing voice that can mesmerize anyone. Besides this, he is also a poet and has written a few Kalmas.
His voice was recognized by his family, who supported and encouraged him to be in this field. After making his place Nationally, he started making international trips in 1999 that enhanced his fan following. He is famous in both Shia and Sunni communities. This article has all the information about him, including Mir Hassan Mir Biography.
| Title | Description |
| --- | --- |
| Personal | |
| Name: | Mir Hassan Mir |
| In Urdu: | میر حسن میر |
| Famous As: | Noha reciter |
| Nationality: | Pakistani |
| Residence: | Karachi |
| Education: | Bachelors in Economics |
| Religion: | Islam |
| Profession: | Noha Khwani |
| Website: | http://www.mirhassanmir.com/ |
| Born | |
| Date: | 10 May |
| Family | |
| Ethnicity: | Syed |
| Children: | 2 sons |
| Relatives: | Mir Sajjad Mir (cousin) |
| Career | |
| Occupation(s): | Noha Khwani |
| Genres: | Manqabat, Qaseeda, Noha, |

Mir Hassan Mir Biography
Mir Hassan is a well-known Pakistani Naat Khuwan and Noha reciter who started his career many years ago. Today, he is known for being the most versatile and striking Noha reciter. He is famous not only in Pakistan in fact worldwide too. His family encouraged and motivated him to use his voice for a good cause.
His first platform from where he started his journey is 'Jhampir.' With time, he started attending Mehfils with his grandfather. He worked day and night to establish his position in the field. He has written many Kalmas, after which he became recognizable among people having good taste in poetry.
Hassan Date of Birth
He was born on 10th May in Karachi.
Education of Hassan
He has a bachelor's degree in Economics that he attained in 1998. Soon after earning his degree, he started reciting Nohas.
Mir Hassan Mir Family
He was born in a family that is famous for being the notable Noha Khuwans. The talent runs in his genes. He is married and blessed with 2 sons. One of his cousins, Mir Sajjad Mir, also belongs to the same field, while one of his relatives Mir Takalum is a poet who has written many Kalamas for Hassan.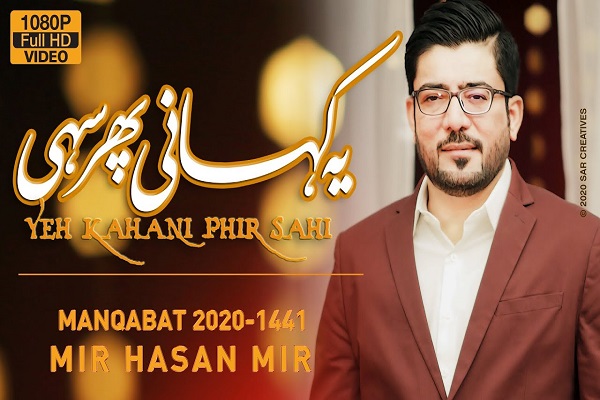 Career
As a Noha Khuwan
He started his career when his family members recognized his soothing voice. They later encouraged Hasan to adopt it as his profession. He gave a start to his career from an institution, 'Jhampir,' where he learned a lot. It is a small village away a few Kilometers from Karachi. Soon he started attending Mehfils and reciting Nohas.
In 1999 he started making international tours. Today he is known as one of the pre-eminent and well-known Noha reciters who has a massive fan following worldwide.
As a Poet
Besides reciting Nohas he is also a poet and writes and composes different Kalmas. A few of his written versus that earned  him huge appreciation and love include:
Khuda Khair Karai
Qalandar Sayein
Abbas A.s tera Haq Hai Zamana Tujhe Roye
Aaj Ka Din Bhi Mola A.s Guzar Gaya
Zakhm e Akbar A.s
He is an inspiration for all upcoming artists who gave a start from scratch, and today he is known among every community.
Mir Hassan Mir Noha
A few of his popular Nohas include:
Aaj Rukhsat Ho Rahi Hai Tum Sai Zehra Ya Ali
Habib A Jao
Karbala Chalo
Aayam e Imam Ali
Ye Gurbat e Ali R.A Hai
Abbas Tera Haq Hai
Nikla Hai Janaza Koi Allah Kai Ghar Sai
Roti Rahi Khari Zehra S.A
Labaik Ya Zainab A.S
YAABA ABDULLAH A.S
ALI U WALI ULLAH A.S
Ya Mehdi Ya Mehdi
Hussain A.S Chup Hain
Abbas A.S Kahan Ho
Ameer Bhi Hai Gahreeb Bhi Hai
Social Media Handles
His social media account include