Muhammad Ishaq Dar is a Pakistani politician who is associated with Pakistan Muslim League N. He has served as a Financial Minister of Pakistan. He is now the senator but did not take charge as he is in England under political asylum status. His son Ali Dar is married to Nawaz Sharif's younger daughter. This article has all the information about Ishaq, including Muhammad Ishaq Dar Biography and Muhammad Ishaq Dar Family.
| Title | Description |
| --- | --- |
| Personal | |
| Name: | Muhammad Ishaq Dar |
| In Urdu: | محمد اسحاق دار |
| Famous As: | Financial Minister |
| Nationality: | Pakistani |
| Residence: | Lahore |
| Education: | Bachelors |
| Alma Mater: | University of Punjab |
| Religion: | Islam |
| Profession: | Politician |
| Website: | https://twitter.com/MIshaqDar50 |
| Awards : | Nishan-e-Imtiaz |
| Born | |
| Date: | 13th May 1950 |
| Place: | Lahore |
| Family | |
| Ethnicity: | Asian |
| Spouse: | Tabbasum Ishaq |
| Children: | Ali Dar |
| Relatives: | Nawaz Sharif |
| Career | |
| Political Party: | Pakistan Muslim League (N) |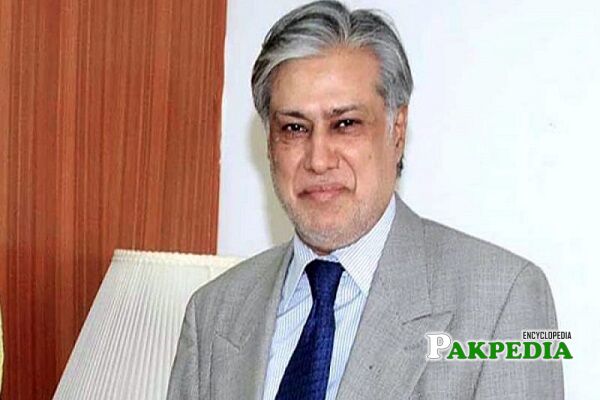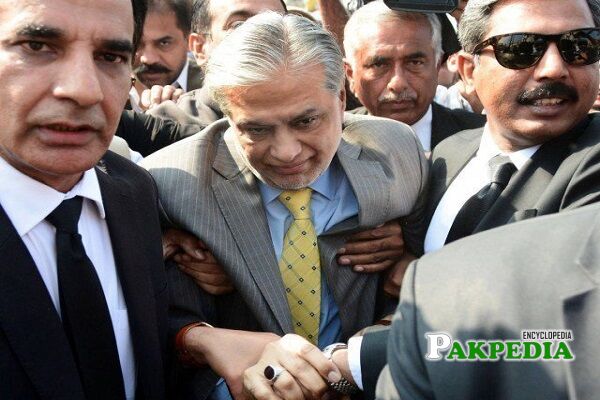 Muhammad Ishaq Dar Biography
Ishaq Dar has done Chartered Accountancy but he is mostly known as a politician who has been serving for the last 20 years. Based on his expertise in economics, he has mostly remained a member of the negotiation team of IMF. He also has experience as a professional of the World Bank, Asian Development Bank, and the Islamic Development Bank. He has three times served as the Finance Minister of Pakistan. Despite the professional career and the political career, Dar also runs his charitable organizations. He is a philanthropist and runs Hajveri Trust and Hajveri Foundation that serves the poor people and provide them food and shelter.
Dar date of Birth
Muhammad Ishaq was born on 13th May 1950 in Lahore Punjab.
Muhammad Ishaq Dar Family
Ishaq Dar is married to Tabbasum Ishaq. His son Ali Dar has married the daughter of Nawaz Sharif.
Education of Ishaq
Dar studied in Government College Lahore and Haily College Haily. At Haily College, he studied Commerce. At university, he was a genius student and got first position in bachelors in Government College Lahore. He was awarded two gold medals and an honorary role. In 1974, he studied Chartered Accountancy in England and Wales where he was a member of the Institute of Chartered accountants. He was the youngest Pakistani to complete the professional qualification in minimum time.
Professional Career
Ishaq has worked in his professional career on key posts internationally. For two years, he worked in a London-based textile company from 1974 to 1976. Later he moved to Libya and worked as a senior auditor in the auditor general office of Libya. His professional experience on the key posts continued when he served as the vice-chairman of the board of governors at the Asian Development Bank. Islamic Development Bank had also hired him as a governor. 
From 2002 to 2008, he settled in the United Arab Emirates and became a financial advisor of the ruling family of the United Arab Emirates. He has also served in Pakistan. In 1980, he was appointed as financial advisor of a multi-national company and in 1993, he was the president of the Lahore Chamber of Commerce.
Political career
Initial Career
The political career of Dar started in 1980 with the Muslim League N. He was soon appointed as a member of the central committee. Due to his expertise in his profession, he has remained close to Nawaz Sharif. He held his first office in 1992 when Nawaz Sharif was appointed as the Prime Minister for the first time. He was appointed as the Chairman of the Pakistan Board of Investment and Minister of State. The posts lasted for one year because the government was prematurely dismissed by Ghulam Ishaq Khan. His post of the Chairman of Board of investment was in honorary capacity which earned him the presidentship of The Lahore Chamber of Commerce. 
Member of National Assembly
His career as a parliamentarian started in 1993 when he was elected as a member of the National Assembly for the first time. He contested on the ticket of PMLN from NA-95 and received 39483 votes. His tenure lasted for three years. Dar was re-elected for the National Assembly in the 1997 general election. He contested from NA-97 and won it by receiving 61556 votes. He was soon inducted into the cabinet of Nawaz Sharif and appointed as Minister of Industries and Investment and then Minister of Commerce. 
As a Finance Minister
His first test was seen after a nuclear test when Pakistan was sanctioned heavily. He was soon given the additional portfolio of the Ministry of Finance. He led the negotiation with the IMF to take Pakistan out of the economic crises resulted after the nuclear test. His ministry lasted until the premature end of the government. Due to his allegiance with Nawaz Sharif, he was jailed in a corruption case for two years. 
As a Senator
Though he confessed to laundering 14 million on behalf of Nawaz Sharif but later changed his statement stated it had been taken under duress. After he was released, he contested the senate election in 2003 and became a senator for the first time. He served as a senator from 2003 to 2012. Within this duration, he was re-elected in 2006 for the second time.
In 2008, he was appointed as Finance Minister with the additional portfolio of Revenue, economic affairs, and Statistics again by Gillani. Dar is also credited for the Idea of Benazir Income Support Program.
In 2012, he was elected as a senator for the third time in his career and assisted the government in various positions. After he was elected as a member of the National assembly in 2013, he resigned from the senate and was appointed as Financial Minister. He became so powerful that he was called de facto Prime Minister. At one time, he served as chairman of more than 40 committees. 
Disqualification
In 2017, he was disqualified by the Supreme Court of Pakistan in the Panama Leaks case and having income beyond his sources. In 2018, he was nominated again for the senate election. His submission of documents was rejected by the Election Commission of Pakistan but later he was permitted by Lahore High Court. He was re-elected but the term ended soon in 2018
NAB Case
In the Panama Case, NAB started an investigation against Dar. He fell ill in Saudi Arab and then left for the United Kingdom for treatment. A non- bailable warrant was issued in 2017 against him for not appearing in court. The Election Commission also suspended his senate membership for not appearing in court. Investigation in further cases also started against him but he did not appear in court and later applied for political asylum in the UK in 2019.
Social Media Account
His social media accounts include