Muhammad Ehteshamuddin is a Pakistani actor, writer, director, and producer. Writing and directing are not his only expertise; he has also proved himself as a brilliant actor on small and big screens. His short films were featured at Karachi Film Festival. Fortunately, he got surrounded by renowned poets, recognized writers, and authors of that time, who used to do rehearsals of their plays at his home. And he learned a lot from those legendary individuals, which helped him in his showbiz career. This article has all the information about him, including Muhammad Ehteshamuddin Biography.
| Title | Description |
| --- | --- |
| Personal | |
| Name: | Muhammad Ehteshamuddin |
| In Urdu: | محمد احتشام الدین |
| Famous As: | Director and Producer |
| Nationality: | Pakistani |
| Residence: | Karachi |
| Education: | Graduated in Commerce |
| Alma Mater: | Karachi University |
| Religion: | Islam |
| Profession: | Director, Producer, Writer and Actor |
| Years Active: | 1990-present |
| Height: | 5 feet 6 inch |
| Website: | https://www.facebook.com/ehteshamuddin |
| Awards : | Lux Style Award For Best TV Director in 2016 |
| Born | |
| Date: | 22nd November 1965 |
| Place: | Karachi |
| Family | |
| Spouse: | Married |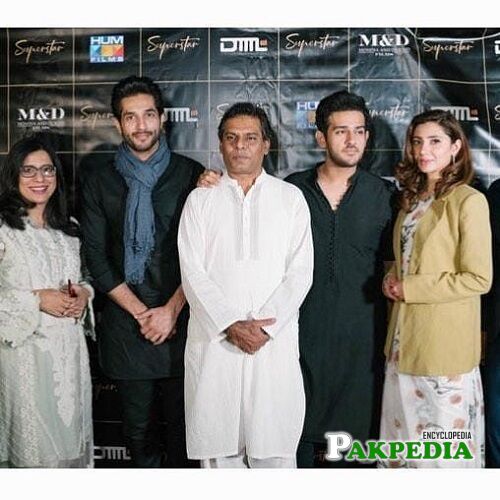 Muhammad Ehteshamuddin Biography
He is the man with multiple talents. Whether its direction, acting, or production, he knows how to bound his viewers. He uses the showbiz platform to highlight important issues of society. It always seems as if he is lost in his thoughts, and when he brings these thoughts on screen in drama and film form, he casts a spell on his audience. Whether it's the topic of child abuse or the feudal system, he knows how to make it understandable to the audience. His services to the showbiz industry earned him many awards.
Ehteshamuddin date of Birth
This matchless and adept showbiz personality was born in Karachi on 22nd November 1965.
Education of Ehteshamuddin
He did graduation in commerce from Karachi University. Besides doing a job in SSGC (Sui Southern Gas Company), he joined several theater associations including, 'Kathaa,' 'Theatre Circle,' and, 'Tehreek E Niswaan.' In 1998 UNDP (United Nations Development Programme) for Pakistan selected him for a program of study in T.V. production at Pakistan Television Training Academy, situated in Islamabad.    
Showbiz Career
Initial Career
He had seen the theater peak in his time. He got an opportunity to watch the rehearsals of actors for theater and developed an interest in it. He, along with his friends, made a remake of the famous drama of Khawaja Mohi-Ud-Deen, drama's original cast came to watch this remake. In 1971 during his training from Pakistan Television Training Academy, he learned a lot about theater.
Films
In 2005 he penned down and directed the film 'Sharukh Khan Ke Mout' and received accolades. The film was featured at Mumbai and South Asia Film Festivals. Following this successful outcome, he made other films but failed to get acceptance and appraise. He also acted in movies 'Chambailli,' 'Actor in Law,' and 'Malik.' After performing in some films, he has shown his direction skills in film 'Superstar' featuring Mahira Khan and Bilal Ashraf. The direction of the movie 'Dum Mastam' is his next project.
Dramas
Before the foundation of Hum T.V., he was working with Sultana Siddiqui. So he decided to try his direction in drama-making and finally directed 'Aseerzaadi,' Sadqay Tmharay,' and 'Angan.' These dramas turned to be blockbusters. Because of his neighbors who migrated from India to Pakistan, he developed his interest in partition topics. This interest led him to direct eight short movies and one drama 'Angan' on the subject of partition.
Angan portrayed the internal and familial struggles of migrants. Angan is a novel on partition written by Khadija Mastoor; when Ehtesham announced the creation of drama on 'Angan' novel, it got sold out on several book shops. Many people consider Angan as 1st feminist novel on the partition topic, which highlighted the hidden sacrifices of sisters, mothers, daughters, and wives at that time. He never feels shy about evil and disgraceful topics. And exposes issues of political frauds, sexual molesting, and religious intensity and its exploitations.
He is expert in turning the storyline from individual to political level. Drama 'Sadqay Tmharay' proved his skill of creating intimating and intense scenes. In drama serial 'Udari,' he touched the sensitive and painful topic of child abuse amazingly and unexpectedly. A drama titled 'Firoun' on domestic violence is under his belt and will be released soon. He also acted in one of the blockbuster drama serials 'Yaqeen Ka Safar' opposite Sajal Ali.
Muhammad Ehteshamuddin Dramas
As a Director and Producer
Daar Sey Bichraay
Shahrukh Khan Ki Maut
Mein Sawa Paanch Bujay Aai Thi
Chandaa
Ye Hindustaan Wo Pakistan
Muktii
Baitullahaam
Perfume Chowk
Zaibu key Pas
Chup kaa Shorr
Aseerzaadi
Zindagi Ab Bh Muskuraati Hey
Sadqay Tumharay
Preet Naa Kariyoo Koii
Udari
Zahra
Thandii Deewaraain
Aangan
As an Actor
Abroo
Kitne Girhaain Baki Hein
Yaqeen Kaa Saffar
Ye Rahaa Dil
List of Movies
Chambailli
Malik
Actor in Law
Superstar
As a Writer
Ye Hindustaan Wo Pakistan
Victoria Kaa Ticket
Shahrukh Khan ke Mout
Mein Sawaa Panch Bajy Aye Th
Duniyaa Gol Hei
Social Media Accounts
His social media accounts include