Maryam Aurangzaib is the major name in Pakistan Muslim League N who always worked with the daughter of former Prime Minister Nawaz Sharif. She belongs to a political family where both her parents were in politics. She herself is a very educated person who did her masters from London college and started her political career in 2013 where she got a ticket on a reserved seat. She remained the Minister of State since 2016 and appointed as official spokesperson of PML-N on 2 June 2018
| Title | Description |
| --- | --- |
| Personal | |
| Name: | Maryam Aurangzeb |
| In Urdu: | مریم اورنگزیب |
| Famous As: | Politician |
| Nationality: | Pakistan |
| Residence: | Lahore, Punjab, Pakistan |
| Education: | M.A in Economics from Quaid-e-Azam university and Masters degree from Kings college London. |
| Religion: | Islam |
| Profession: | Politician |
| Born | |
| Date: | 16 July 1980 |
| Place: | Lahore, Punjab, Pakistan |
| Family | |
| Ethnicity: | Punjabi |
| Spouse: | Aly Ud Din Ahmad Taseer |
| Parents: | Tahira Aurangzeb (Mother) Mushahid Ullah Khan ( Father) |
| Career | |
| Political Party: | Pakistan Muslim League |
| Serve As: | Member of the National Assembly of Pakistan |
| Assumed office: | 1 June 2013 |
| President : | Mamnoon Hussain |
| Prime Minister : | Nawaz Sharif |
| Member of the National Assembly | |
| Constituency: | Reserved Seat for Women |
| Assumed office: | 4 August 2017 |
| Ministry : | Minister of State for Information and Broadcasting, National History and Literary Heritage |
| In Office | |
| Role: | Minister of State for Information and Broadcasting, National History and Literary Heritage |
| Constituency : | Reserved Seat for Women |
| Assumed office : | 4 August 2017 |
| President: | Mamnoon Hussain |
| Prime Minister: | Shahid Khaqan Abbasi |
| Political Party: | Pakistan Muslim League (N) |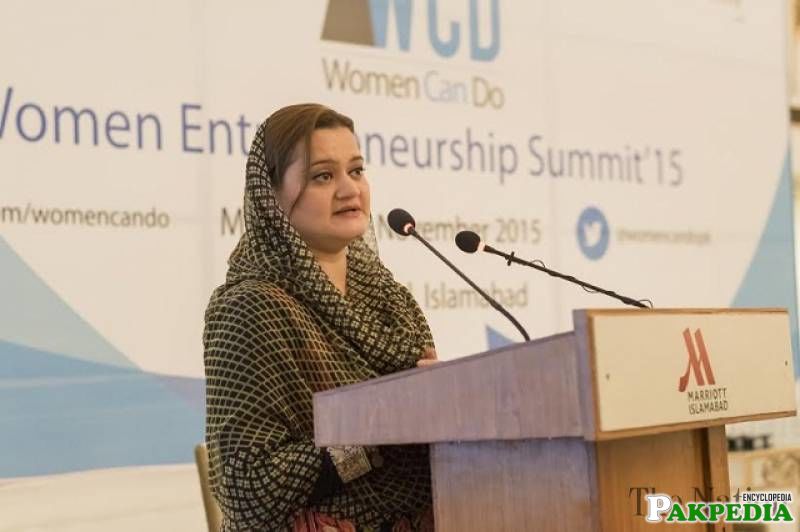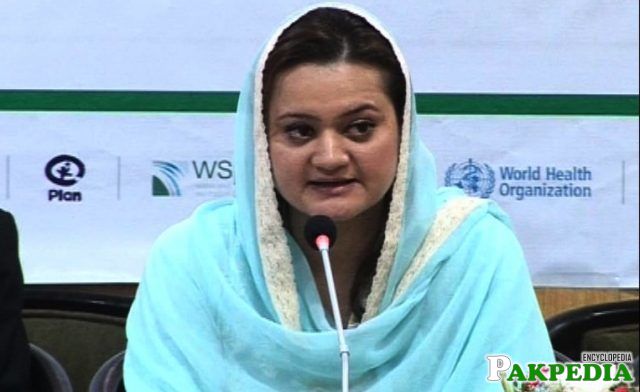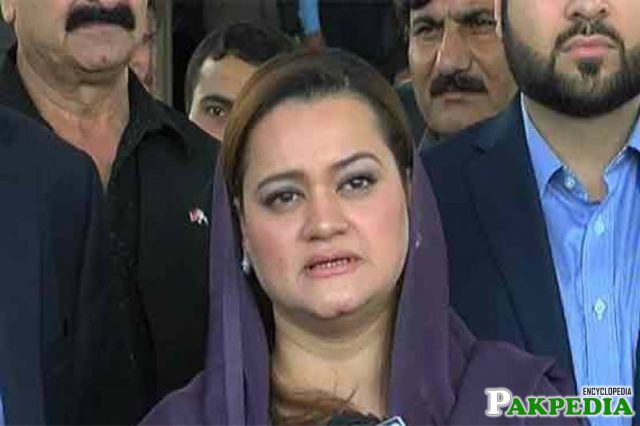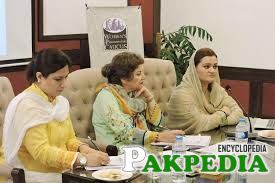 Biography
Maryam Aurangzaib is a prominent figure of Pakistan Muslim league N who marked her name in the field of politics in a very short span. She was born on 16th of July 1980 in Lahore, Punjab and spent her childhood there. Entering into the field of politics was easy for her because of her parents. She is a daughter of Mushaid Ullah Khan who served as the leader of Pakistan Muslim League N for a long period of time and Tahira Aurangzaib who was also the member of Pakistan Muslim League N on a reserved seat. She got married to Aly ud Din Ahmad Taseer and is having a happy married life.
Education
Maryam Aurangzaib belongs to an educated family, not only her parents she herself is an educated person who did her M.A in Economics from Islamabad's best university named as Quaid-e-Azam university and after that, she went to London for further studies. In London, she did Masters from King's college in environmental and development policy.
Political Career
Maryam Aurangzaib was born into a political family where both her parents were in the political field so for Maryam Aurangzaib it wasn't a big deal to enter in the field of Politics. Not only due to the political background, it was her effort too that he got popular and recognized among her party. She actually started her political career in 2013 when she got a ticket on a reserved seat for Pakistan Muslim League. She served in various sectors as a candidate of Pakistan Muslim League. Maryam Aurangzaib has worked along with Maryam Nawaz and always has been an important asset for Pakistan Muslim League N. She has held many important positions which include Parliamentary Secretary for Interior, member of Standing Committee for Climate Change, member of Standing Committee for Information, Broadcasting and National Heritage and Chief Organiser of Youth Women Wing, for Islamabad and Rawalpindi.
As a Minister of State
In October 2016 she was appointed as the Minister of State for Information and broadcasting under the leadership of Nawaz Sharif. After Pervaiz Rashid, she was made the in charge of Ministry of Information but in 2017 when Nawaz Sharif got disqualified because of Panama case Maryam Aurangzaib also no longer remained the Minister of State. In 2017 after Shahid Khaqan Abbasi became the Prime Minister she was appointed again as the Minister of State. In April 2018 she was appointed as the Federal Minister of Information and Broadcasting in the federal cabinet of Shahid Khaqan Abbasi.