Born on February 08, 1945, Prof. Mufti Muneeb-ur-Rehman completed his Masters in Islamic Studies. Besides doing Bachelors in Law and Education, he also received education in Arabic Languages. He holds various positions which mainly include; President – Tanzim ul Madaris Al Arbia Pakistan; President, Darul-Uloom Naeemia, Karachi; Chairman, Central Roet-e-Hilal Committee, Pakistan; Professor, Jinnah University for Women, Karachi.[1] Mufti Muneeb-ur-Rehman completed his Masters in Islamic
| Title | Description |
| --- | --- |
| Personal | |
| Name: | Mufti Muneeb-ur-Rehman |
| In Urdu: | مُفتی منیب الرحمان |
| Full Name: | Mufti Muhammad Muneeb ur Rehman |
| Famous As: | Mufti |
| Nationality: | Pakistan |
| Education: | Bachelors in Law |
| Alma mater : | Darul Uloom Amjadia Karachi University |
| Religion: | Islam |
| Profession: | Professor & Religious Scholar |
| President : | Tanzim ul Madaris Al Arbia & Darul-Uloom Naeemia |
| Chairman: | Central Roet-e-Hilal Committee |
| Memberships: | Member board of studies Federal Government & Faculty of Islamic Learning, and Arabic Department |
| In 2006 : | Member of the Pakistani delegation which visited the UK |
| Denomination : | Sunni |
| Jurisprudence : | Hanafi |
| Main interest(s) : | Shari'a, Hadith, Tafsir |
| Born | |
| Date: | 8 February 1945 |
| Place: | Swat, British India |
| Family | |
| Children: | Zia-ur-Rehman |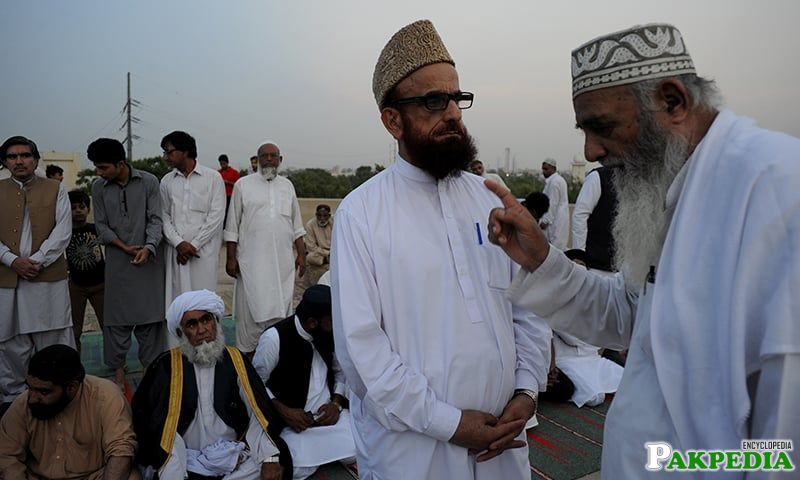 About
Early Life Education
Mufti Muneeb-ur-Rehman was born on 8 February 1945. He completed his master's degree in Islamic Studies from Karachi University (in Islamic studies) and Darul Uloom Amjadia (in Islamic theology and jurisprudence). At the same time as doing Bachelors in Law and Education, he also received education in Arabic Languages. [2] he also received education in Arabic Languages
Career
Prof. Muneeb-ur-Rehman serves as a member board of studies Federal Government Urdu University and Board of Intermediate Education, Karachi. He has also served as a member board of studies, Faculty of Islamic Learning, and Arabic Department at the Karachi University. He also has more than 30 years experience of teaching Tafseer, Hadith, Fiqah, Arabic Literature and other Islamic subjects to graduate and post-graduate levels. Prof. Muneeb-ur-Rehman has also authored a number of books including Tafheem -ul-Masail, Qanoon-e-Shariat, Usool-e-Fiqah Islam, and so many others.[3] Prof. Muneeb-ur-Rehman serves as a member board
Member of the Pakistani Delegation
Prof. Muneeb -ur-Rehman was a member of the Pakistani delegation which visited the UK in February – March 2006 to gain firsthand knowledge as to how Madrassas and Islamic schools operate within a state-regulated system in the UK. He has also attended a number of international conferences in the USA, UK, Norway, Hong Kong, Saudi Arabia, South Africa and so many other countries.[4] He has also attended a number of international conferences
Controversy
When he first became a part of the moon sighting committee in 1997, it was a particularly fractious time. There were reports of rifts between members and then chairman Maulana Athar Naeemi. In December 1999, for instance, Maulana Mohammed Yousuf Qureshi, a member of the committee from Khyber Pakhtunkhwa, accused Muneeb-ur-Rehman and Naeemi of distrusting testimonies from his home province to make a hasty announcement that the new moon had not been sighted anywhere in the country. [5] When he first became a part of the moon sighting
Positions
He holds various positions which mainly include;
Mufti Muneeb-ur-Rehman completed his Masters in Islamic Studies. 
Besides doing Bachelors in Law and Education, he also received education in Arabic Languages. 
President – Tanzim ul Madaris Al Arbia Pakistan; President, Darul-Uloom Naeemia,
Karachi; Chairman, Central Roet-e-Hilal Committee, Pakistan; Professor, Jinnah University for Women, Karachi.
Prof. Muneeb-ur-Rehman serves as a member board of studies Federal Government Urdu University and Board of Intermediate Education, Karachi. 
He has also served as a member board of studies, Faculty of Islamic Learning, and Arabic Department at the Karachi University. He also has more than 30 years experience of teaching Tafseer,
Hadith, Fiqah, Arabic Literature and other Islamic subjects to graduate and post-graduate levels. 
Prof. Muneeb-ur-Rehman has also authored a number of books including Tafheem -ul-Masail, Qanoon-e-Shariat, Usool-e-Fiqah Islam, and so many others.
Prof. Muneeb -ur-Rehman was a member of the Pakistani delegation which visited the UK in February – March 2006 to gain firsthand knowledge as to how Madrassas and Islamic schools operate within a state-regulated system in the UK. 
He has also attended a number of international conferences in the USA, UK, Norway, Hong Kong, Saudi Arabia, South Africa and so many other countries.