Asfandyar Wali Khan is a Pakistani politician and a former president of Awami National Party. The party was founded by his father Abdul Wali in 1980s which runs on the Slogan of Democracy and peace. Wali Khan began his political journey as a student activist in 1965.
In 2008 he escaped death when he was greeting with people after Eid ul Fitr Prayer. Being born in a notable political family, he too followed in his ancestor's footsteps. He also served as a Standing Committee Chairman in the past. This article has all the information about him, including Asfandyar Wali Khan Biography.
| Title | Description |
| --- | --- |
| Personal | |
| Name: | Asfandyar Wali Khan |
| In Urdu: | اسفندیار ولی خان |
| Nationality: | Pakistani |
| Residence: | Walibagh, Charsadda, Khyber-Pakhtunkhwa, Pakistan |
| Education: | BA from Islamia College, Peshawar Pakhtoon Khwa University of Peshawar. |
| Religion: | Islam |
| Profession: | Politician |
| President of: | Awami National Party |
| Grandson of: | Khan Abdul Ghaffar Khan |
| Born | |
| Date: | 19 February 1949 |
| Place: | Charsadda, Khyber-Pakhtunkhwa, Pakistan |
| Career | |
| Political Party: | Awami National Party |
| In-Office | |
| Role: | President Awami National Party |
| Dates: | 1999–2002 |
| Preceded By: | Ajmal Khattak |
| Succeeded By: | Ehsan Wyne |

Asfandyar Wali Khan Biography
Asfandyar Khan is a Pakistani politician who has served as a member of the National and Provincial Assembly. He is operating as an Awami National Party's president operated by his father in 1986. Wali had a political background, so things made easy for him. He is an influential politician who contributed a lot in establishing Afghanistan and Pakistan relation.
He has the power to gather massive public gathering for his political party, ANP. In his early career, he had sentenced in Hyderabad Conspiracy case by Bhutto. He has also served as a Senator in 2003 Senate elections. 2013 General Elections rubbed him out from the National Arena because of massive defeat.
Asfandyar Date of Birth
He was born on 19th February 1949 in Charsadda in a small village.
Education of Asfandyar
He completed his schooling from Aitcheson College, Lahore. Later, he enrolled in Islamia college, Peshawar for his Bachelor's degree. He also studied from the University of Peshawar.
Asfandyar Wali Khan Family
Wali belongs to political family background. His father Abdul Wali Khan founded Awami National Party and became its first president. Asfandyar's grandfather Abdul Ghaffar Khan, famous as Bacha Khan founded Khudai Khidmatgar, a non-violent Pashtun political movement.
His mother Taj Bibi died at an early age after which Asfandyar's father married a politician Nasim Wali Khan. His step-brother Sangeen Wali Khan is also a politician. Wali's son Aimal Wali Khan is also serving as a politician.
Political Career
Pakhtoon Student Federation
Asfandyar started his political journey in the 1960s by forming Pakhtoon Student Federation. He served as a student activist and associated with the opposition to General Ayub Khan.
Imprisonment
In 1974 he was imprisoned in Hyderabad Conspiracy case by Zulfiqar Ali Bhutto. For 4 years he remained in the jail and finally released in 1978.
1990 General Elections
He ran for the provincial Assembly's seat in 1990 General Elections from Khyber Pakhtunkhwa and fortunately won the elections. In 1992 he went to Singapore to attend a conference as a Standing Committee Chairman on Finance. He served till the completion of his tenure in 1993.
1993 General Elections
For the next elections, he ran for the National Assembly seat and once again faced victory. He served as a party's parliamentary leader till the tenure's end. In 1994 he attended Delhi's conference. In 1996 he once again arrested and remained behind bars without any trial.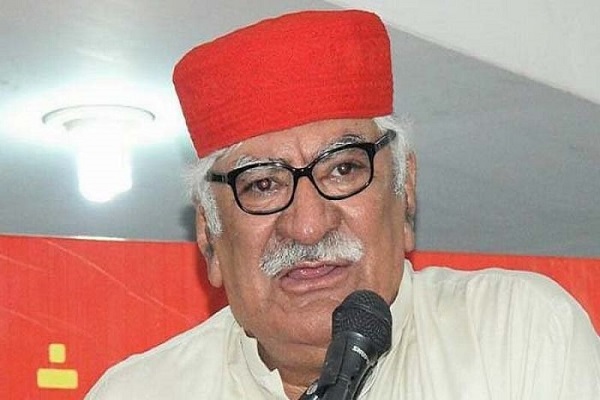 1997 General Elections
He again elected as a National Assembly member in 1997 General Elections. Till October 1999 he remained the party's parliamentary leader. In 1998 he went to Namibia to attend Conference.
As a President
He became the president of the party, Awami National Party for the first time in 1999. He remained as a president till 2002 as he resigned after losing 2002 General Elections.
As a Senator
After losing 2002 General Elections, he ran for the Senate Elections in 2003 and won the seat.  He served as a Senator till 2008.
2008 General Elections
2008 General Elections proved to be lucky for him and his party as he won the elections with the majority votes that gave his party National and Provincial power. In September 2008 he was made Standing Committee Chairman on Foreign Affairs. The same year he escaped a deadly attack by unknown people when he was greeting after Eid ul Fitr prayer.
2013 General Elections
Due to his health issues, he couldn't gather massive support for his party in 2013 General Elections and severely lost the elections. He couldn't run any campaign for the elections.
Social Media Handles
His social media account include
https://twitter.com/asfandyarkwali