Mohammad Wasim is a former Pakistani right-hand batsman who represented the national side from 1996 to  2000. Wasim not only batted for Pakistan but also kept behind the wickets on one or two occasions. He could not remain consistent with his form, which led to his exclusion from Pakistan's team. Interestingly besides representing  Pakistan, he also represented the Netherland's team. This article has all the information about Wasim, including Mohammad Wasim Biography.
| Title | Description |
| --- | --- |
| Personal | |
| Name: | Mohammad Wasim |
| In Urdu: | محمد وسیم |
| Famous As: | Cricketer |
| Nationality: | Pakistani |
| Residence: | Islamabad |
| Education: | Not Known |
| Religion: | Islam |
| Profession: | Cricketer |
| Website: | https://twitter.com/MuhammadWasim77 |
| Born | |
| Date: | 8th August 1977 |
| Place: | Rawalpindi |
| Family | |
| Spouse: | Married |
| Parents: | Not Known |
| Career | |
| National Side: | Pakistan |
| Fielding position : | Occasional wicketkeeper |
| Bowling Style: | Legbreak googly |
| Batting Style: | Right-hand bat |
| Test Debut: | Pakistan v New Zealand at Lahore, Nov 21-24, 1996 |
| Test Last: | Sri Lanka v Pakistan at Galle, Jun 21-24, 2000 |
| ODI Debut: | Pakistan v New Zealand at Karachi, Dec 8, 1996 |
| ODI Last: | Pakistan v Sri Lanka at Dhaka, Jun 5, 2000 |
| T20 Debut : | Karachi Zebras v Rawalpindi Rams at Karachi, Feb 24, 2006 |
| T20 Last: | Lahore Lions v Rawalpindi Rams at Karachi, Dec 23, 2006 |
| First-Class Debut: | 1994/95 |
| First-Class Last : | Nov 12-15, 2011 |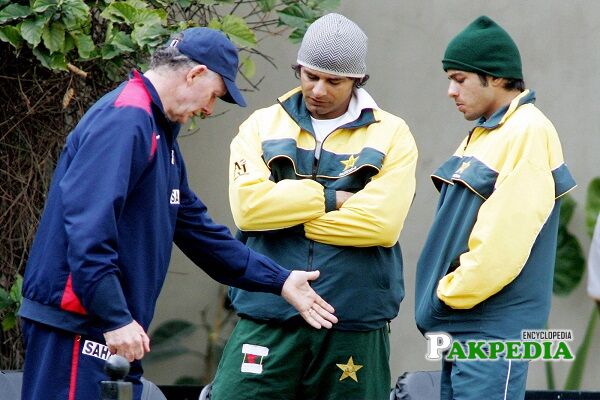 Mohammad Wasim Biography
Wasim started playing for Pakistan from 1996. He featured in Tests for the national team and scored 783 runs. Along with that, he also had a decent Test average of 30.11. His highest test score is 192 runs. He has a couple of centuries and fifties in his test career. Wasim was outstanding in the field and took 22 catches and had two stumpings to his name in his extraordinary keeping career.
He also appeared in One Day Internationals for the national side. In his 25 ODIs, he made a total of 543 runs at an average of 23.60. His ODI stats did not reflect on his batting abilities. He could only register three half-centuries in his entire limited-overs international career. His highest individual score in this format is 76.  
Wasim date of Birth
He was born on 08th August 1977 at Rawalpindi, Punjab.
Mohammad Wasim Family
He is married to a Dutch citizen and currently resides in his hometown at Rawalpindi.
Cricket Career
Initial Career
Wasim started playing professional cricket from 1994. He played in both first-class and List-A in the 1994-95 domestic season. His temperament at the crease and defensive approach made hi a promising test player from his early days in cricket.
Domestic Career
He has been part of the domestic circuit from 1994 to 2011. In his 194 first-class games, Wasim has made a total of 10074 runs at an average of 34.97, with the best score of 192. In 304 first-class innings, he has registered 27 hundreds and 43 fifties. Besides playing first-class, he has been part of many List-A matches. He has featured in 130 List-A games and has achieved 3285 runs, averaging 27.37 with the bat. He managed to score four centuries and 21 half-centuries in this form of cricket.
Wasim played for various teams alongside Pakistan, including Netherlands, Otago, North-Holland Hurricanes, Rawalpindi, Khan Research Laboratories, Agriculture Development Bank of Pakistan, and the rest.
T20 Career
He also played a few domestic T20s. He played in 8 T20s and scored 297 runs. His T20 batting average and strike rate are 42.42 and 133.78, respectively. He also scored a couple of fifties in this format.
International Career and Achievements
Wasim started his international career on 21st November 1996 in a test match against New-Zealand at Lahore. He could not score any runs in the first innings but showed his best in the second innings and made a fighting century. He remained not out at the end, but other batsmen could not resist much, and Pakistan lost that match. After that classical century, he could not continue scoring big runs and kept on falling early in tests. 
Wasim's highest score came against Zimbabwe when he blasted a magnificent 192 runs innings. He played his last test on 21st June 2000 against Sri-Lanka at Galle by scoring 29 runs in that match.
One Day International Career
He made his ODI debut in the same series on 08th December 1996 at Karachi against New-Zealand. He did not impress in that match and just scored eight runs. In January 1997, Wasim scored two consecutive fifties against Australia on 07th Jan while the other one against West-Indies on 10th January. After that, he was out of touch with the bat until, on 29th March 1998, he scored his best ODI score. Like Tests, his ODI best also came against Zimbabwe.
After that, Wasim played in a few matches but never inspired by his batting and excluded from the team. He played his last ODI on 05th January 2000 against Sri-Lanka at Dhaka, scoring 44 runs in his last ODI match. He used to be a very defensive batsman. That is why he somehow managed to do well in Tests, but this kind of batting approach could not help him in ODIs, and thus he never gained the attention of the cricket fans.
Post International Career
After being out of the national side, he went to New-Zealand to play professional cricket. He also played in a game for the Netherlands against Scotland on 02nd July 2014. Wasim has also coached various teams domestically as well as internationally. He coached the Sweden cricket team as well. Mohammad Wasim has also tried his luck as a cricket commentator and analyst, where he has been successful and is continuing it till today. Besides this, he also runs a cricket academy at Rawalpindi to facilitate and furnish the local talent.
Social Media Handles
His social media accounts include