Mohammad Amir is a Pakistani fast bowler who is serving the national team since 2009. He is a left-arm fast bowler and can swing the ball both sides as well as the ability of reverse bowing. Amir contributed in all cricket formats, including all national cricket leagues, being a sharp and high-speed bowler. He is a left-handed batsman. This article has all the information about him, including Mohammad Amir Biography.
| Title | Description |
| --- | --- |
| Personal | |
| Name: | Mohammad Amir |
| Nationality: | Pakistani |
| Residence: | Gujar Khan |
| Religion: | Islam |
| Profession: | Cricketer |
| Height: | 6 ft 1 inch |
| Born | |
| Date: | 13th April 1992 |
| Place: | Gujar Khan |
| Family | |
| Parents: | Nasim Akhtar |
| Career | |
| National Side: | Pakistan |
| Team Role: | Bowler |
| Bowling Style: | Left arm fast |
| Batting Style: | Left hand bat |
| Matches: | 16 in Tests, 17 in ODIs |
| Wickets : | 57 in Tests, 30 in ODIs |
| Bowling Average: | 30.17 in Tests, 22.23 in ODIs |
| Batting Average: | 13.16 in Tests, 16.80 in ODIs |
| 5 wickets in Innings : | 3 in Tests, 0 in ODIs |
| Best Bowling: | 6/84 in Tests, 4/28 in ODIs |
| Catches/Stumpings: | –/– in Tests, 6/0 in ODIs |
| Balls Bowled: | 3322 in Tests, 892 in ODIs |
| Runs Scored: | 329 in Tests, 168 in ODIs |
| Test Debut: | 4 July 2009 v Sri Lanka |
| Test Last: | 22 July 2016 v England |
| ODI Debut: | 30 July 2009 v Sri Lanka |
| ODI Shirt Number: | 5 |
| T20 Debut : | vs England at Kennington Oval, Jun 07, 2009 |
| T20 Last: | vs West Indies at Sheikh Zayed Stadium, Sep 27, 2016 |
| 100s / 50s: | –/– in Tests, 0/2 in ODIs |
| Top Score: | 39* in Tests, 73* in ODIs |
| Domestic team: | Federal Areas, National Bank of Pakistan, Rawalpindi Rams, Chittagong Vikings, Karachi Kings |

Mohammad Amir Biography
Amir was added in international cricket at the age of 17 in 2009 ICC T20 world cup held in England and played 48 matches in the T20 format with an average of 20.74 in bowling. The young man took 59 wickets with 4/13 being his best bowling innings. He took one four-wicket haul. He also batted and has the highest score of 21-runs in an innings.
Muhammad Amir bowled in 61 ODI matches with an average of 29.62 and took 81 wickets with 5/30 his best bowling innings. He took one five-wicket haul and one four-wickets haul. Amir has an economy rate of 4.77. He also performed in few innings in batting has the highest score of 73-runs. He made two fifties with a batting average of 18.15. Amir also stroked six sixes in his career.
Moreover, he participated in test cricket format at his young age, and played 36 matches with 119 wickets in 67 innings. He has an average of 30.47 with four times five wickets haul and six-time four wickets haul. He batted and made 751-runs with the highest score of 48-runs. Amir smashed 94 fours and three sixes in his whole career of the test format.
Amir date of Birth
He was born in Changa Bangial, Gujar Khan, on 13th April 1992.
Mohammad Amir Family
He belongs to the Punjabi family of Gujar Khan, and is the second son of Mohammad Fayaz among seven children. His family also moved to Lahore to facilitate Amir for more cricket exposure. He married a British born Pakistani girl and has one daughter named Mina Amir. His wife supported him while he was in trouble during the spot-fixing case held in England.
Cricket Career
Initial Career
Amir was a street player from an early age. During the age of 11, he joined the Bajwa cricket academy. After that, he was selected by Wasim Akram in a bowling camp at the age of 15. Amir played for Pakistani 2008 under-19 world cup on England tour. He debuted in the international team while in the 2009 ICC T20 world cup.
Domestic Career
He commenced his domestic career from List-A cricket on 20th march 2008 by representing Sui Southern Gas Corporation, he played 84 matches, and took 123 wickets with an average of 26.64. He has the best bowling figure of 5/30, with an economy rate of 4.63.
Amir got two times five wickets haul, and a four wickets haul. He made 413-runs with two fifties and started his first-class cricket career at the end of 2008, he contributed in 67 matches and dismissed 260 batsmen with an average of 22.50. He has the best bowling in an innings of 7/61 and best bowling in a match of 10/72.
Amir got eleven-time four wickets to haul, and thirteen-time five wickets haul. He was also taken twice time ten wickets in a match in first-class cricket. Moreover, he played 164 matches in the T20 domestic side and listed 169 wickets in his account with 6/17 is best innings bowling.
He has five-time four wickets haul and a single five wickets haul. In November, he named for Khulna Tigers in 2019-2020 Bangladesh Premier League.
Amir played for more teams in domestic cricket career including Chittagong Vikings, Sindh, Sui Southern Gas Corporation, Essex, Essex, Federal Areas, Rawalpindi, Rawalpindi Rams, Federal Areas Leopards, Federally Administered Tribal Areas, Pakistan Under-19s, Imtiaz Ahmed's XI, Pakistan Cricket Academy, and others.
Under-19 career
In 2007 tour to England, young cricketer performed nicely and appeared as a leading bowler. In 2008 he got four wickets in series against England and Sri Lanka. Amir emerged again with his sharp swing bowing and dismissed nine batsmen in the tri-nation tournament in Sri Lanka. He was also given a change in the 2008 ICC Under-19 Cricket World Cup held in Malaysia.
Pakistan Super League (PSL)
In 2016, Mohammad Amir was drafted for PSL in Karachi Kings where he played successfully after many years, and his one of the brilliant spell was his hat-trick for Karachi Kings. He continued  all season for Karachi Kings, and played 2019 PSL season in which he got 13 wickets in 9 matches with his best bowling figure of 4/25 against Multan Sultan in his season first match. He also took the best figure of 3/24 against Peshawar Zalmi.
International Career and Achievements 
T20 world cup and debut 
Amir debuted on 7th June 2009 at Oval against England in 2009 ICC T20 world cup where he remarkably bowled in this tournament and impressed Pakistan cricket board, and took six wickets in 7 matches. He proved his bowling by beating his spell and resulted in as low economic bowler.
He delivered his spell with an average speed of 145-kilo meter per hour, and his fastest bowl was 152-kilo meter per hour. Amir dismissed top-order batsman of the tournaments.
In the 2010 world cup, he performed excellently, and one of the memorable spells against Australia was that he got three wickets with a maiden over, including two run out. His five-wicket maiden over became a T20 world record.
ODI career
Amir initiated his ODI career against Sri Lanka on 30th July 2009 where he made 23-runs and brilliantly dismissed three batsmen with a low economy rate of 4.50. He made a record against New Zeeland by scoring 73-runs for 10 number batsman in ODI history later was broken by Ravi Rampaul with 86-runs, and made a partnership of 103-runs with Saeed Ajmal.
Test career
He started his test career after a successful performance in the T20 world cup, and debuted on 4th July against Sri Lanka; he dismissed Sri Lank's top-order batsman in his first test match, including Mahela Jayawardene's and Kumar Sangakkara leading with six wickets.
Amir became the reason for winning in a match against New Zealand by taking three crucial wickets in his second series and taking four wickets in the first match. Pakistan won the test match against Australia after fifteen years in 2010 by the remarkable bowling of him, and demised Australian middle-order batsman with five wickets haul.
In the next series against Australia, he became the leading wicket-taker in that series and awarded man of the match by taking seven wickets in a match. In the middle of 2010, he got five-wicket haul in England, and was the first-ever youngest who did it.
He was given the man of the match. In this series, he took 19 wickets, a third-best performance in international bowler, and the first Pakistani with an average of 18.3. He got a two-time five-wicket haul and completed his 50 wickets in test format at a very young age.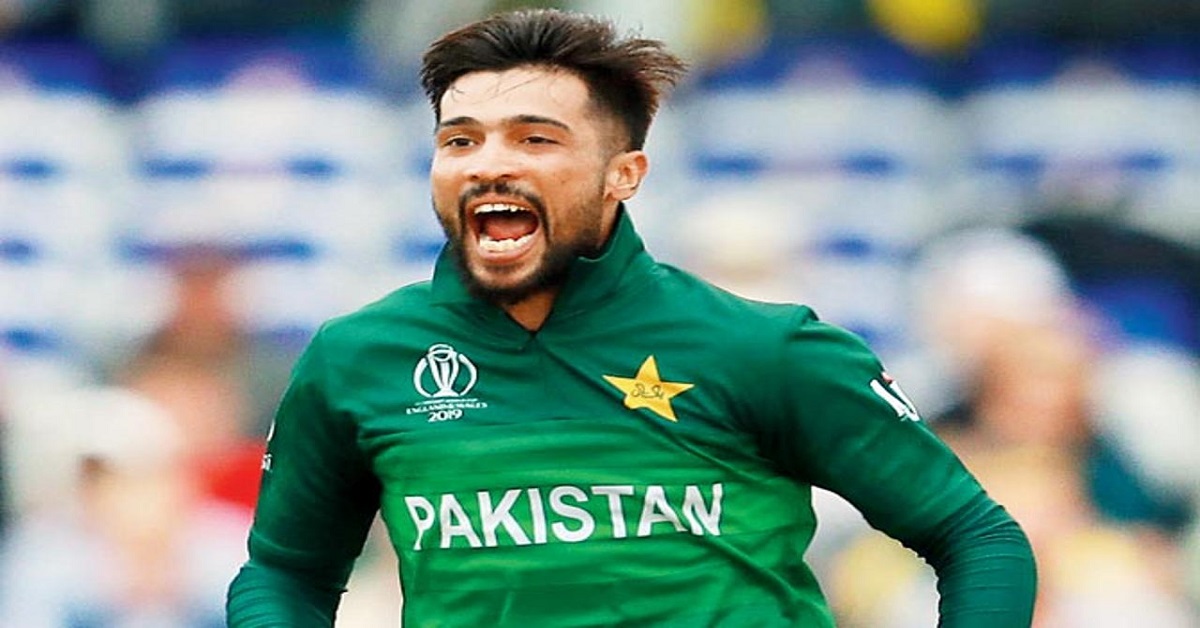 Mohammad Amir Controversies
Spot Fixing
In August series against England, the English newspaper 'New of the World' directed the allegation on Mohammad Amir and Mohammad Asif for spot-fixing during the series against England to bowled no-balls. The newspaper also exposed Mazhar Majeed, the facilitator of this whole scenario.
A video was uploaded by the News of the World in which Majeed was counting the bribe money, which was planned to give players for no-ball. Amir bowled his third bowl of first over, and  did no-ball with an excellent meter gape from the crease.
Asif also did a no-ball in his last delivery of tenth over. This all information provided by undercover reporter Mazher Mahmood. In the evening after posting the video, the Scotland Yard arrested Mazher Majeed for his involvement against spot-fixing with bookmarkers. So all three players, including Salman Butt, are dropped from England tour due to allegation.
Suspension and banned 
On 2nd September 2010, alleged players suspended from all cricket formats by international cricket council, and Amir charged several offenses under ICC anti-corruption code.
ICC given change all three players to file appeals and held their hearings in Qatar. His suspension remained after rejecting his appeal by ICC. Scotland Yard announced an in-depth investigation against spot-fixing and called all players in England.
He reached for trial, and his lawyer appealed not to publish an investigation report and review the evidence again in the tribunal. On 5th February, the ICC tribunal banned him for five years.
Criminal Conviction
Amir accepted his involvement in spot-fixing during his trial in court and prison for six months due to accepting corrupt payment and cheating in sports. He also filed an appeal to shorten his sentence, but he got rejected. He released after completing half of the six-month prison on 1st February 2012.
Come back 
Amir came back in all international cricket formats in 2015 and played against New Zealand in the T20 match. In 2016, he added a tour against England, and scored 58 at last number in batting and made a record to hit fifty in ODI after batted at last number.
2017 Champion Trophy
Amir proved him a dangerous bowler in this tournament and appeared low economic bowler in his first two matches without a single dismissal. He took 2/53 against Sri Lanka, and also scored 28-runs in this match and helped his team chase 237 targets.
He made a partnership of 75-runs along Sarfraz Ahmed and led his team to win the semi-final. While in champion trophy final against India, he played the most delicate role by taking wickets of Indian top batsmen who scored for India in every match.
Amir took Rohit Sharma, Shikhar Dhawan, and Virat Kohli. It was his best spell by defending 338-runs target and got win by 180-runs. Virat Kohli also remarked that Amir is world toughest fast bowler to face
2019 World Cup
In 2019, PCB announced his name in the final fifteen lists for the world cup squad. He bowled remarkable in this tournament and took his first ODI five-wicket haul against Australia in the world cup. He became a leading bowler from Pakistan with 17 wickets.
Retirement from test format
He finished his test career by announcing his retirement in July 2019.
Social Media Handles
His social media accounts include
https://twitter.com/iamamirofficial
https://www.facebook.com/official.mamir/