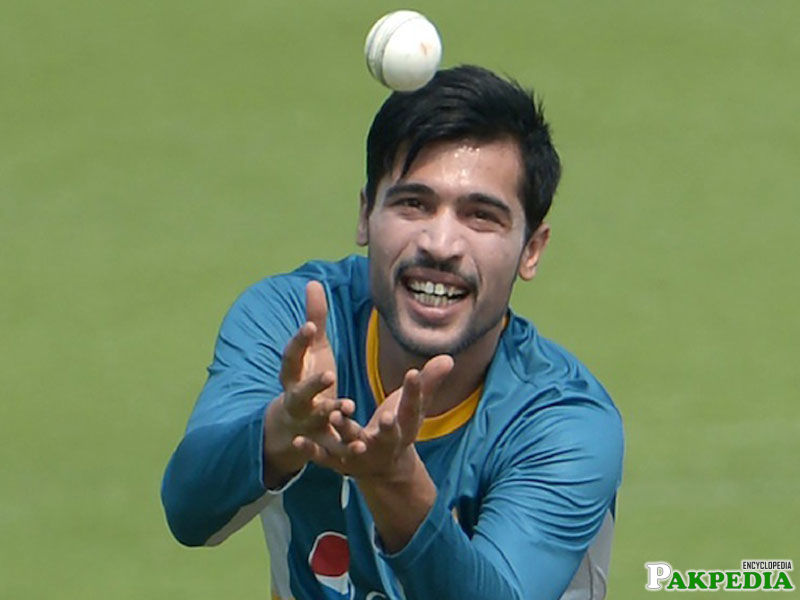 Mohammad Amir Picking a catch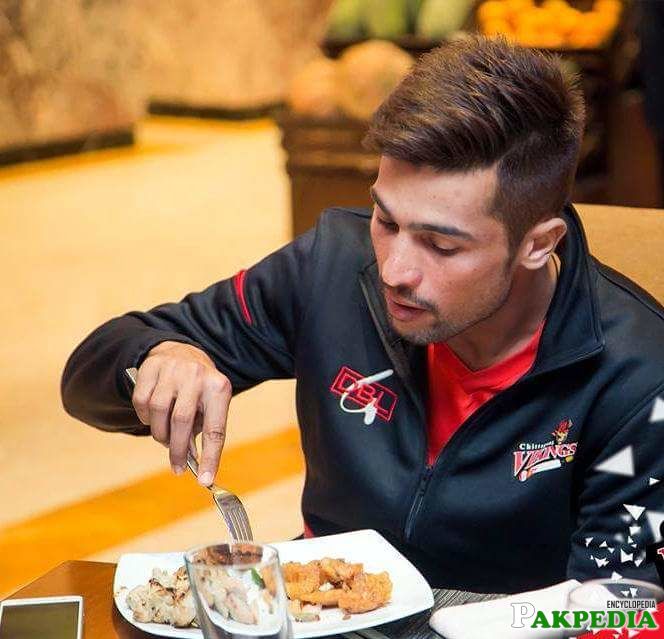 Mohammad Amir Dining at Some where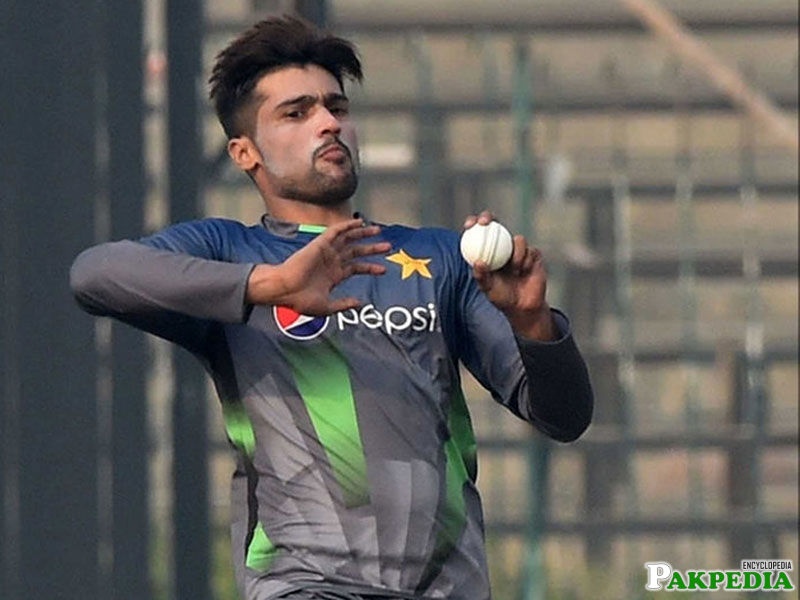 Mohammad Amir is Bowling hard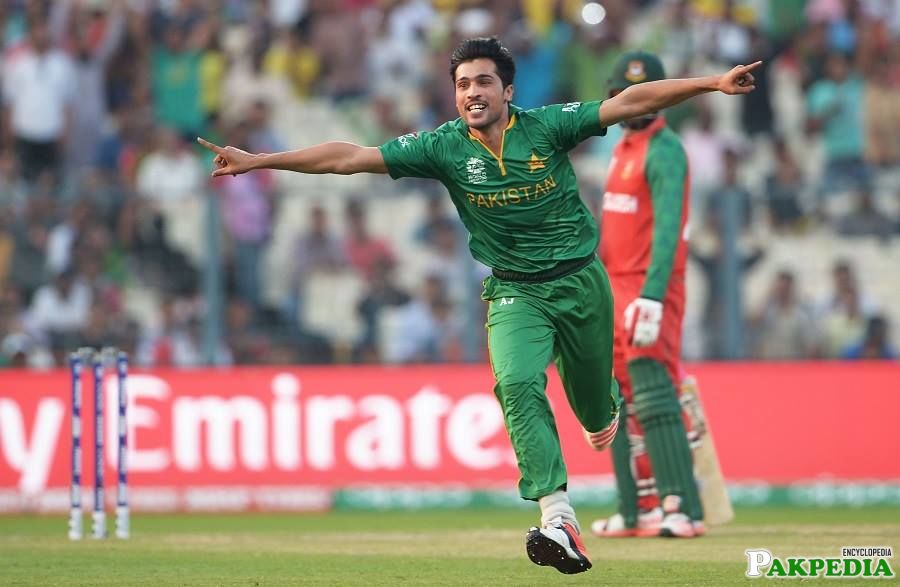 Mohammad Amir Bowling well
Profile
Mohammad Amir (born 13 April 1992) is a Pakistani international cricketer. He is a left-arm fast bowler, who opened the bowling in all formats of the game. He made his first-class debut in 2007, and his first One-Day International and Test appearance in 2009 in Sri Lanka, at the age of 17. He played his first international match during the 2009 ICC World Twenty20, where he played in every game, helping the national side win the tournament. Amir was touted as having the potential to be a leading fast bowler by former Pakistani left arm fast bowler Wasim Akram. who picked him out as a prospect in 2007.On 29 January 2015, it was announced that Amir would be allowed an early return to domestic cricket despite his original ban being due to expire on 2 September 2015. Mohammad Amir signed with Chittagong Vikings to play the BPLT20-2015. He has since returned to play for
Pakistan
 on their tour of New Zealand in 2016.
[1]
"Pakistan win Amir's comeback game 
He has a dubious distinction of playing the most number of test matches before taking his first catch. On 31 October 2016, in his 20th test match, he had taken a spectacular catch to dismiss Darren Bravo. He also holds the distinction of being the only player to have thrown a five wicket maiden over in T20 cricket, doing so against Australia in 2010.
Career
Domestic career
Amir was first selected as a fast bowler by the former Pakistani fast bowler
Wasim Akram
at a fast bowling camp in 2007. Amir, then 15 years old, went on a tour of England with the Pakistan U-19 cricket team and was one of the leading bowlers. He took 8 wickets at an average of 16.37. In 2008 he took 4 wickets in successive matches against Sri Lanka and England. In this tri-nation tournament played in Sri Lanka he again excelled with his speed and swing bowling taking 9 wickets at average of 11.22 in three matches. Due to injury he played only a limited part in the 2008 ICC Under-19 Cricket World Cup held in Malaysia.
[2]
Mohammad Amir- Cricinfo Profile
In March 2008, he made his domestic debut for the Rawalpindi Rams whilst concurrently representing the National Bank of Pakistan. His debut domestic season resulted in him taking 55 first-class wickets for NBP. He took a lot of top order wickets including those of players in the national side. This strong domestic form resulted in him making his international breakthrough in the 2009 Twenty20 World Cup.
International career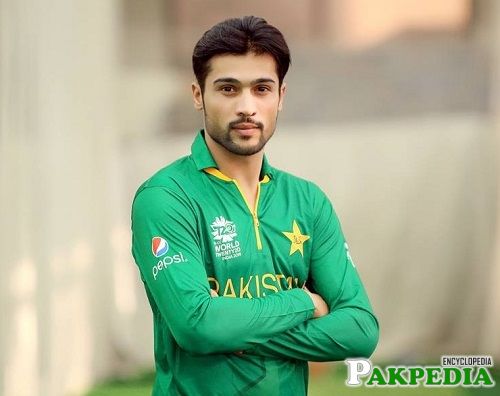 ICC World Twenty20
Amir made his international debut against England in the group stages of the 2009 ICC World Twenty20. He took the wicket of Ravi Bopara with only his second ball, with
Shoaib Malik
taking a fine catch, and conceded only one run in his debut international over.Amir continued to impress as the tournament continued, taking a wicket in his opening spell in 6 of the 7 games he played, including the final. He was particularly effective at using the short ball, with his skiddy bouncers rushing onto the batsmen, often causing them to mishit the ball for a catch. Amir consistently clocked speeds of above 145 kilometers per hour (90 miles per hour) and bowled his quickest delivery in the 2009 ICC World Twenty20 final against Sri Lanka, at 152 kilometers per hour (94.4 miles per hour). His most important moment arguably came in the opening over of the 2009 Twenty20 World Cup final against Sri Lanka.
[3]
S.Lanka v Pakistan- http://uk.reuters.com/
He bowled with speed and with consecutive short deliveries to the tournament's top scorer Tillakaratne Dilshan obtained his wicket on the fifth delivery and managed to end the over with a wicket maiden.
Test career
During the Test match series against Australia in 2010, at the Melbourne Cricket Ground, he took his first five wicket haul, taking the wickets of Australian batsmen Ricky Ponting, Michael Hussey and Michael Clarke. On 24 July 2010 he was influential in helping Pakistan win the 2nd Test match against Australia; the first Test match Pakistan had won against them in 15 years, which also drew the series 1-1. During this match he took 7 wickets overall, and was declared man of the match. Overall, in the second series, he was the leading wicket taker of both teams with his 11 scalps. In the summer of 2010, Amir was awarded the man of the match award for becoming the youngest player to ever take a five-wicket haul in England. He also became the youngest player to take 50 test wickets earning praise from several former international cricketers. In that eventful series against England, he took 19 wickets, the highest of the Pakistanis and third highest overall at an outstanding average of 18.3. He also took 2 five-wicket hauls.
One Day International career
One Day International match debut against Sri Lanka taking 3 wickets at an economy rate of 4.50 and also scoring 23 runs. -On 9 November 2009 he scored 73 runs against New Zealand which is a record for a number 10 batsman. With his batting partner Saeed Ajmal, Amir added 103 runs to Pakistan's chase, only to fall short by 7 runs.Later in 2009, Pakistan toured Sri Lanka and in the first One Day International match, he shared a 62 run partnership with fast bowler Umar Gul for the tenth wicket but Pakistan lost by 36 runs. He also played a game against New Zealand in 2009-2010. During a match in the third One Day International match, when Pakistan were reduced to 8 wickets for 86 runs, he scored 73 runs not out, making the highest score by a number 10 batsman in One Day International cricket and putting on a 103 runs, 10th wicket partnership with
Saeed Ajmal
. He was unable to get his side to their victory target of 212 runs, as Ajmal was declare out in the last over and Pakistan lost by just 7 runs.
[4]
"New Zealand Survive Late Charge To Seal Series
Spot fixing allegations
In the video posted by News of the World, Majeed, counting out the bribe money, promised that Amir would be Pakistan's bowler for the first over, and that the third ball of the over would be a no-ball delivery. Amir did bowl the first over, and on his third delivery from the over, bowled a no-ball delivery. Commentary described the delivery as a "massive overstep", a good half-metre beyond the popping crease. Majeed also predicted that the sixth delivery of the tenth over would be a no-ball, and the ball, delivered by Asif, was also a no-ball delivery.As a result of the allegations and video posted by News of the World, Scotland Yard announced during the evening that they had arrested Majeed on charges of suspicion of conspiracy to defraud bookmakers.
[5]
Arrest over Pakistan- 'betting scam'
The allegations also affected the Mohammad Amir brand as the official Pakistani kit supplier BoomBoom Cricket announced that they had temporarily suspended their ties with Amir until further details on the allegations had emerged. BoomBoom stated that they will "make a complete decision once his fate had been decided by the authorities"The Pakistani selector Yawar Saeed announced that Amir and the two other accused
Salman Butt
and Mohammad Asif had withdrawn from the Pakistani tour of England due to the mental torture suffered by the allegations. Amir also continued to protest his innocence in the allegations.
Suspension tribunal and ban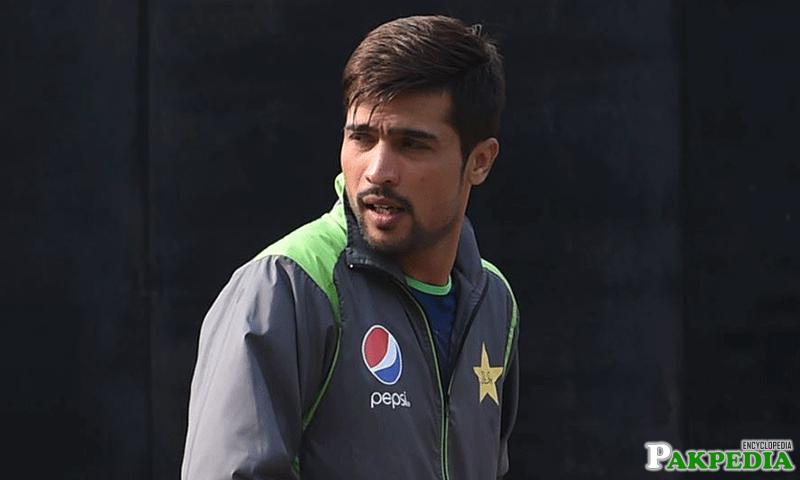 On 2 September 2010, after the warm-up List A game between Pakistan and Somerset, the International Cricket Council announced that they had suspended Amir under the provisions of the ICC's Anti-Corruption Code. The statement from the ICC stated that the three players (
Asif
, Amir and Salman Butt) were charged "under various offences under Article 2 of the ICC Anti-Corruption Code for Players and Player Support Personnel relating to alleged irregular behaviour during, and in relation to, the fourth Test between England and Pakistan at Lord's last month". Amir has got the sympathy of several ex-cricketers, including that of former England captain Michael Atherton. In an article for the News of the World, Atherton asserted that Amir is an asset to the game and must not be given a harsh punishment, considering his immense talent and young age. Atherton, now a journalist and broadcaster, recalled how Nasser Hussain, also an ex-England skipper, had summed up the mood at Lord's the previous Sunday:Nasser Hussain, who I once saw walking around the team hotel in Sri Lanka in the early hours of the morning before a Test match unable to sleep, so worried was he about his form, spoke for us all when he said, 'Please don't let it be the kid'."Atherton added: "The 'kid' in question was Mohammad Aamer, the young, good-looking and prodigiously-talented Pakistan bowler who had blown England away on the second morning at Lord's with a mesmeric spell of left-arm bowling and who now, we had been told, had overstepped the front line twice for a few dollars more.Reports also emerged by Geo News that stated that Scotland Yard might call Amir, Mohammad Asif and Salman Butt back into the UK to complete the spot-fixing investigation Amir's team-mate Butt who was also implicated in the Spot-fixing scandal announced that he wanted a delay in his hearing because he wanted the Scotland Yard investigation to be completed first. However Amir and Asif announced they were to go ahead with their trials as planned because they wanted a decision to be reached quickly so that they could be selected for the World Cup squad.Amir, Butt, and Asif had a tribunal in front of a three-man panel of members of the ICC from 6-11 January 2011. Amir's lawyers requested that the tribunal not announce its findings at the conclusion of the tribunal, wanting the tribunal to have the time necessary to fully review the evidence. The tribunal announced at its conclusion that they would announce their findings and any possible restrictions about a month later (the fifth of February 2011). The tribunal did announce that while additional charges against Salman Butt were filed over statements Majeed had made about the Third Test, that Amir and Asif would not face any charges over that test.
[6]
Spot-fixing controversy- Pakistan Cricket News
Criminal conviction
On 1 November 2011,Salman Butt and Mohammad Asif were convicted at Southwark Crown Court, along with Amir who had previously pleaded guilty, of conspiracy to cheat at gambling and conspiracy to accept corrupt payments.He was sentenced to 6 months in Feltham Young Offenders Institution on 3 November, whilst Butt and Asif were sentenced to 30 months and 12 months in prison respectively. Mazhar Majeed was sentenced to two years and eight months. Amir, along with Butt, appealed against the length of their sentences, however this was dismissed by Lord Judge, the Lord Chief Justice on 23 November. Amir was later transferred to Portland Young Offenders Institute in Dorset, from which he was released on 1 February 2012, having served half of his six-month sentence.
Breach of ban
On 4 June 2011, Amir played an innings of cricket for Addington 1743 Cricket Club in a Surrey Cricket League match against St Luke's Cricket Club in breach of Article 6.5 of the ICC Anti-Corruption Code. Amir stated that he made inquiries in respect of the status of the match, and was informed that it was a friendly match and playing would not be in contravention of his ban. Addington 1743 claimed that they had asked whether or not Amir could play for them, and were told that he could. As of 10 June 2011, the ICC are investigating the incident.
[7]
Amir admits playing- while banned
Comeback to Cricket
Amir made his domestic comeback playing for Omar Associates in the grade II patron's trophy.He took a wicket in his first comeback over. On 19 August 2015, Mohammad Amir was declared completely free to play all forms of cricket from September 2, 2015. On 15 January 2016, he made his return to international cricket in a T20I match against New Zealand. In February 2016, Amir took a hat-trick in a
Pakistan Super League
  match for Karachi Kings.
[8]
Amir takes hat-trick- bbc.co