Doctor Meher Taj Roghani is the Deputy speaker of Khyber Pakhtunkhwa assembly Peshawar .Meher Taj Roghani has been elected deputy speaker on 11 Dec 2015. She is the first woman deputy speaker of the province. He was elected member of KPK provincial assembly Reserved Seats for Women . Politically she is affiliated with Pakistan Tehreek-e-Insaf .She served as Special Assistants of Cheif Minister KPK for Social Welfare Department.
| Title | Description |
| --- | --- |
| Personal | |
| Name: | Meher Taj Roghani |
| In Urdu: | مہر تاج روغانی |
| Famous As: | Politician |
| Nationality: | Pakistani |
| Residence: | Peshawar Pakistan |
| Education: | Degrees of MBBS |
| Religion: | Islam |
| Profession: | Doctor |
| Born | |
| Date: | 14 April 1942 |
| Place: | Mardan, Pakistan |
| Career | |
| Political Party: | Pakistan Tehreek-e-Insaf (PTI) |
| Serve As: | Member |
| In Office | |
| Role: | Member of the Khyber Pakhtunkhwa Assembly |
| Dates: | 31 May 2013 |
| Constituency : | WR-02 |
| In Office 2 | |
| Role: | Deputy Speaker of the Khyber Pakhtunkhwa Assembly |
| Dates: | 11 December 2015 |
| Preceded By: | Khushdil Khan |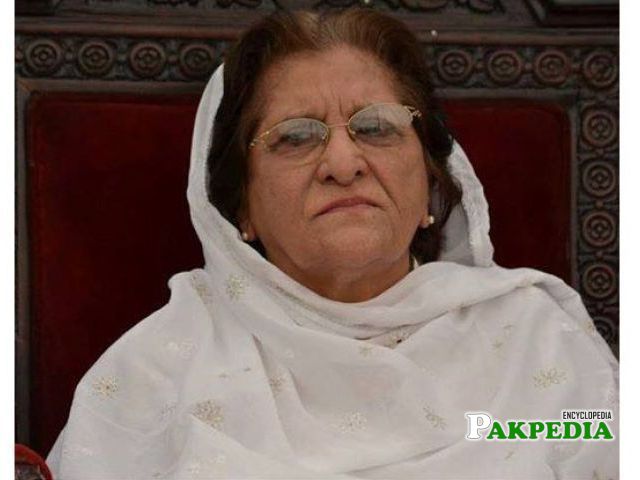 Biography
She was born in a village in Mardan District, Khyber Pakhtunkhwa.They are five brothers and one sister, and she is the eldest and only sister. Sh lived in a very small village but luckily studied in a primary school. When her male cousins, at least one year older to her, were admitted to school, she also wanted to go to school. The moment she saw them with school bags she would start crying and this would go on for hours. She was the first girl ever to be granted admission in my local school, and also the first student accepted under the age of five.After her secondary education she wished to stay at home but it was her father who persuaded her to pursue her medical career.After completing her 'house job' she moved to London with her husband (who with her father continued to be her biggest supporters) and specialized in pediatrics.[1]  Biography 
Motivation to Enter Politics
She told in her interview how she entered in Politics,On returning to Pakistan, she secured jobs at the Lady Reading Teaching Hospital, the Khyber Medical College and the Khyber Teaching Hospital where she established the first pediatrics preventive ward. While working as a Professor at the Khyber Medical College she was appointed Minister for Health, but sh still had no intention of joining main stream politics.Looking back she guess her motivation must have been her ancestral association with politics as well as her own interaction with politicians. From a very early age She saw her elders do things for others; this played a pivotal role for her and instilled a passion to work for the positivity of others.[2]  Motivation to Enter Politics 
Decision
She took the decision to enter politics after her retirement. She joined the Pakistan Tehreek-e-Insaf (commonly known as PTI) as a Provincial Convener back in 2011. She was not allowed to take part in any inter-party elections yet she was nominated as a Member of the Provincial Assembly of Khyber Pakhtunkhwa. Following this she appointed Special Advisor to the Chief Minister of Khyber Pakhtunkhwa on Social Welfare and Women's Empowerment.
Political Career
Appointments
Special Assistant to Chief Minister for Social Welfare, Women Empowerment and Disability ( June,2013 to Dec,2015)
Head of Department of Pediatrics, RMI Peshawar.
Minister for Health, 2002 till Dec,2002
Head of Department of Pediatrics KTH ,KMC from 6-6-1999 till 13-04-2002.
Acting Head Department of Pediatrics KTH from 04-04-1992 till 05-06-1992
Associate Professor of Pediatrics KTH from 10-022-1980 to 12-9-1988
Prof.Incharge Pediatrics "B" Unit KTH from 1988 to 1992.
Assistant Prof. of Pediatrics from 02-02-1977 to 09-02-1980
Senior Registrar Pediatrics, Lady Reading Hospital 1975 to 1977
Served as
Member Executive Committee Pakistan Padiatric Association
Member Editorial Board of Pakistan Pediatric Journal
Member Pakistan Medical Research Society
Member Pakistan Medical Association
Clinical Secretary Pakistan Medical Association
President Pakistan Pediatric Association Center 1998 till April 2000
President Pakistan Pediatric Association Center 1982
Presidential Gold Medal Award(in recognition of services to the children of Pakistan)
Member Executive Committee of APWA
Member National Commission on status of Women
Member National Commission on Status of women
Member Tanzeem Rissail-E-Wal-Mahroom
Chairperson polio eradication committee[3] Political Career
Foreign Tours
Country Iran, Islamic Republic of:Purpose of Visit workshop on micronutients, iron fortification of flour
Country ChinaPurpose of Visit Study of medicinal plants
Country Viet NamPurpose of Visit Asian ENHR task force Regional meeting at Hanoi,Date of Visit 9th Dec 1997Date of Return 14th Aug 1997
Country MalaysiaPurpose of Visit ICDC annual training course on implementing the international code of Marketing for breast milk substitutes Penang,Date of Visit 28th Sep 1998Date of Return 6th Oct 1998
Country TaiwanPurpose of Visit Asian Congress of Pediatrics,Date of Visit 26th Mar 2000Date of Return 30th Mar 2000
Country IraqPurpose of Visit Member of the national goodwill-gesture team
Country EgyptPurpose of Visit 2nd inter regional IMCI case management course of Consultants EL-SHATBY Children Hospital Alexandria
Country JordanPurpose of Visit Member of Delegation of National Commission on Status of Women
Country AfghanistanPurpose of Visit Women division in the capacity of Health Minister
Country United StatesPurpose of Visit Lactation Management Education Program in Sandiago,Date of Visit 26th Aug 1991Date of Return 20th Sep 1991
Country ThailandPurpose of Visit 2nd Western Pacific Congress on Infectious diseases and chemotherapy in Thailand,Date of Visit 11th Dec 1990Date of Return 14th Dec 1990
Country IndiaPurpose of Visit Seminar on Female Child in India
Country JapanPurpose of Visit 6th Asian Congress on Pediatrics,Date of Visit 27th Mar 1988Date of Return 31st Mar 1988
Country United StatesPurpose of Visit Course on Child Survival
Country ThailandPurpose of Visit Primary Health Course
Country United KingdomPurpose of Visit Clinical Course,Date of Visit 1st Jul 1971Date of Return 1st Sep 1971
Country United KingdomPurpose of Visit Course in Internal Medicine,Date of Visit 1st Sep 1969Date of Return 1st Dec 1969
47 Candidates for Senate Election
The Senate's election would be held on March 03.Six political parties including Pakistan People's Party ( PPP), Muttahida Qaumi Movement -Pakistan ( MQM-P), Pak Serzameen Party ( PSP), Pakistan Muslim League Functial (PML-f), Pakistan Muslim League Nawaz ( PML-N) and Pakistan Tehreek-e-Insaf (PTI) have submitted 47 nomination papers for the 12 Senates seats from Sindh province.JI fielded Mushtaq Ahmad Khan and Abdul Wasay for general seats in KP and Muhammad Ghaufran has been nominated by QWP for general seat.As against the two seats reserved for women eight candidates have filed the papers including Mehr Taj Roghani and Noreen Farooq of PTI. PMLN has given ticket to Raeesa Dawood and Sobia Shahid.[4]  47 Candidates for Senate Election 
Senate Election Results 2018
PTI managed to bag five seats on its home turf, with Ayub Afridi, Faisal Javed and Fida Muhammad successfully bagging a general seat each. The PPP's Bahramand Tangi, JUI-F's Talha Mahmood, JI's Mushtaq Ahmed and the PML-N's Sabir Shah also won a general seat each.Pakistan Tehreek-i-Insaf (PTI) candidate Mehar Taj Roghani was elected to one of the women's seats from Khyber Pakhtunkhwa, while the other was taken by PPP's Rubina Khalid.PTI's Azam Swati and PML-N's Dilawar Khan were elected to the two technocrat seats for the province, Dawn News TV reported.PTI-backed cleric Maulana Samiul Haq of Darul Uloom Haqqani notoriety could bag only three votes.[5]  Senate Election Results 2018 
Contact Information
Email:roghani2004@yahoo.com
Permanent Contact:Deputy Speaker's Chamber , Provincial Assembly Khyber Road, Peshawar Khyber Pakhtunkhwa 
Phone #:+92 91 9210489