Sohail Ahmad is a Pakistani writer, producer, comedian, and stage and TV actor. The main reason for his fame is the comedy stage dramas produced in Lahore. Sohail Ahmad Azizi is famous for his eloquent dialogues. He is outspoken critics of women's dance in stage plays. Although fans of stage dramas know Sohail as a comedian, most of his work on TV is of serious nature, especially in Pakistani television, where he has appeared mostly in serious and negative roles. He has experimented with a variety of roles, from a mercenary to a feudal lord. His role as Azizi in the Dunya News program "Hasb e Haal" became very popular. This article has all the information about Sohail, including Sohail Ahmad Biography.
| Title | Description |
| --- | --- |
| Personal | |
| Name: | Sohail Ahmad |
| In Urdu: | سہیل احمد |
| Full Name: | Sohail Ahmad Azizi |
| Famous As: | Comedian |
| Nationality: | Pakistani |
| Residence: | Gujranwala |
| Education: | Graduation |
| Religion: | Islam |
| Profession: | Actor, Producer, Director and Writer |
| Debut Movie: | Punjab Nahi Jaungi Gi |
| Notable Show: | Hasb e Haal |
| Height: | 1.83 m |
| Website: | https://www.facebook.com/SohailAhmadOfficial/ |
| Awards : | Pride of Performance Award |
| Born | |
| Date: | 1st May 1960 |
| Place: | Gujranwala |
| Family | |
| Spouse: | Married |
| Children: | Shahzeb Ahmad, Khadija Ahmad, Hira Ahmad, Shah Rukh Ahmad, Hamza Ahmad and Muhammad Ali |
| Parents: | Mian Muhammad Akram |
| Siblings : | Dr Javaid, Prof Aurangzeb and Prof Junaid Akram |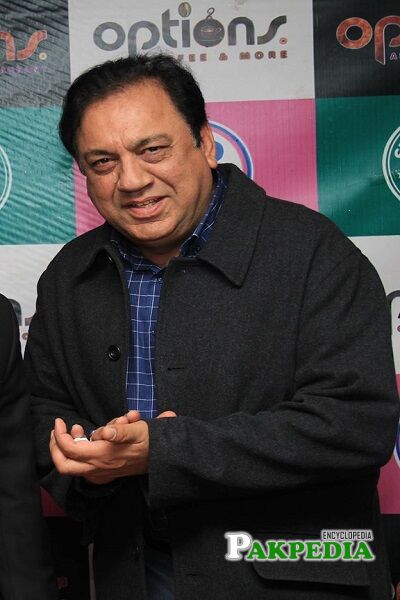 Sohail Ahmad Biography
Sohail Ahmed has been associated with theater for a long time, and he provided a lot of entertainment to the people through his unparalleled art. However, his characteristic feature was that whenever he performed a stage play, there must have been some message in it, and the shows were free from obscenity and could be easily seen by the family members. A great example of this is 'Fiqa in America.' 
About five years ago in 2015, Sohail launched a vigorous campaign to end immorality on stage dramas. Fakhri Ahmed and Ajmal Khan are those artists whose work has always impressed Sohail. He was inspired to become an actor by Ajmal Khan for playing the role of Kedo in the film 'Heer Ranjha'. He is convinced of the laughter in which some bitter truth is hidden. He has so far won the Tamgha E Imtiaz, and the Pride of Performance in addition to these, he has won ten Graduate, six Bolan Awards, a TV Lifetime Achievement Award, and two Best TV Actor awards.
Sohail date of birth
Sohail  was born on May 1, 1963, in Satellite Town Gujranwala to Mian Muhammad Akram.
Education of Sohail
After matriculating from Millat High School and Inter from Government College, Gujranwala, he did his BA in private. During his studies, he was one of the prominent hockey players.
Sohail Ahmad Family
Sohail was most influenced by his father, Mian Muhammad Akram, in his life. He was a very sophisticated, organized, and principled man. Despite being a DSP in the police department, he was not arrogant. Sohail Ahmed's elder brother Dr. Javed is a journalist. He has been doing programs on a TV channel with the title 'Kali Faqir Di' regarding mystical poetry. His other brother Prof. Aurangzeb is teaching in Gujranwala while Prof. Junaid Akram is teaching in a college in Lahore. 
If his grandfather was called Baba E Punjabi, then his father and grandfather also had a deep scientific and literary interest. Sohail is father to Shahzeb, Khadija, Hira, Shah Rukh, Hamza, and nine-year-old Muhammad Ali.
Showbiz Career
Initial Career
In his childhood, he was fascinated when he saw his grandfather in a literary program on TV. This attraction turned into a regular desire when he went to the cinema for the first time during his second year to see a movie. Kefi's film 'Takht Ya Takht' awakened actor in him. A prominent writer and director, Awanji was his neighbor. One day, Sohail Ahmed, who was Sohail Akram in those days, without telling his family, reached the hotel where the rehearsal of Awanji's play 'Dolat Kay Pujari' was taking place. 
In this drama directed by Shahid Ijaz, Sohail got the role of a rogue hotel employee, money recovery from his customers was his responsibility. Renowned artist Mastana was also part of the drama team. When Sohail's acquaintance with him turned into friendship, he brought him to Fakhri Ahmed in Lahore and introduced him. He did his first drama 'Jamala Te Kamala' in Lahore as a student of 'Taya Ji'. 
Since then, he has performed brilliantly in numerous stage and TV dramas. He also had the opportunity to speak on the radio. He played his role brilliantly in ' Khirki Aur Aina', ' Fashaar', Shab Daig', 'Day', 'Haveli', 'Dukh Sukh', 'Ranjish', 'Kiran', 'Chotu Ki Kahani', 'Chotay', 'Ghareeb Shehar', 'Kachay Dhagay', 'Kajal Ghar ', 'Susar-in-law'. 
Lollywood Career
Sohail acted as a hero in Pakistan's first silver screen art movie "Nawein Nakoor". Nisar Hussain made this film for the London Film Festival. When Usman Pirzada made the commercial film "Gori Diyan Jhanjharan", his focus was on Sohail Ahmed. Sohail, who has acted in ten films, has the honor of playing the role of Allama Iqbal in the documentary "Poetry of Iqbal made by the London School of Arts. He once wrote a feature for the daily Jang and was the managing editor of the daily 'Tehelka' for a year and a half.
Popularity
'Hasb E Haal' is a political comedy program aired on Dunya News. It started in 2009. The basic idea of this show was given by Aftab Iqbal. The program humorously discusses economic and social issues. Sohail plays the role of Azizi. The audience is entertained by presenting political issues in a satirical manner. Azizi parodies various political and social figures. He adopts different get-ups like Feeka, Master Majeed, Mr. Michel, Surelay Khan, and Amil Baba. In the form of Feeka, Sohail Ahmed reflects the lower strata of society.
Sohail Ahmad Dramas
Stage Dramas
Mental Hospital
Roti Khool Do 1&2
Aik Tera Sanam Khaana
Kottha
Feeqaa In America
Kali Chadar
Shartiyaa Meethay
Nawaab Zaada
Meethi Biryaani
Jb Daagh Nazar Ayaa 1&2
Baraa Mazaa Ayee Gaa
Nizaam Saqa
Wonderful
Mein BV Aur Chor
Shabaash Beghum
Ashiqoo Gham Naa Karo
Soeey Laal
Baba Daang
Topii Drama
Sawaa Seer
Ketchup
No Tension
Andaaz Apnaa Apnaa
Aik Jhoot Aur Sahe
Love Spot
Baba Cable
Drbaar Lagaoo
Bajay Walon Ke Baraat
Bran Masalay
Titli
Ishq Hwaa Chorii Chorii
Feeka In London
Garam Garam
Kuryaan Mundaay Chaal Baaz
Welaay Masroof
Teray Payaar Mein Jaani
Allah Waaris
Television Dramas
Kiran
Fishaar
Din
Susar In Law
Kajhal Ghar
Judaa
Ulluu Barayee Farokhht Nahein
Shab Daig
Kharidaar
Sham
Andleeb
Malangii
Home Sweet Home
Mashwaraa Muft Hey
Qaasmi Kahaniyaan
Dukh Sukh
Hawelii
Raigzaar
Raiza Raiza
Cchotay
Gaarib E Shehar
Saraay Gaamaay
Sohail Clinic
Chubhan
List of Shows
Hasb E Haal
Do Tok
Documentaries
Poetry of Allama Iqbal
Nawaan Nakoor
List of Movies
Jawani Phir Nahein Anii 2
Punjab Nahein Jaoon Ge
Ghori Diyan Chanjharan
Qanon Apnaa Apnaa
Taizaab
Lakhan
Qismat
Umar Mukhtaar
Social Media Handles
His social media accounts include