Moula Bakhsh Chandio is a Pakistani politician and a senator.He was elected as Senator in 2009 by PPP-P. He is from Hyderabad. In April 2011 he became Federal Minister for Law, Justice, and Parliamentary Affairs, where he contributed 18th Amendment in the Constitution of Pakistan. In April 2012 his portfolio was changed to Federal Minister of Parliamentary and Political Affairs. On 27 July 2012 he became Senior Vice President of PPP-P Sindh. He is considered as the ideological intellects of the party and holds a soft image among both the coalition partners and opposition.[1] He is from Hyderabad – In April 2011
| Title | Description |
| --- | --- |
| Personal | |
| Name: | Maula Bakhsh Chandio |
| Famous As: | Politician |
| Nationality: | Pakistan |
| Citizenship : | Pakistani |
| Residence: | Hyderabad, Sindh |
| Religion: | Islam |
| Profession: | Politician |
| Born | |
| Date: | 16 April 1952 |
| Place: | Hyderabad, Sindh |
| Family | |
| Ethnicity: | Chandio |
| Children: | umair moula baksh, mehran moula baksh |
| Career | |
| Political Party: | Pakistan Peoples Party |
| Serve As: | Senator |
| Succeeded by : | Farooq H. Naek |
| Prime Minister : | Yousaf Raza Gillani |
| In office: | 14 April 2011 – 10 April 2012 |
| Proceeded by: | Babar Awan |
| Time Period : | March 2009 – March 2015 |
| Member of the National Assembly | |
| Assumed office: | April 2012 – 27 July 2012 |
| Ministry : | Minister of Parliamentary Affairs of Pakistan |
| Prime Minister : | Raja Pervaiz Ashraf |
| In Office | |
| Role: | Information adviser to CM Sindh |
| Political Party: | Pakistan Peoples Party |
| In April 2011: | Federal Minister for Law, Justice, and Parliamentary Affairs |
| On 27 July 2012: | Senior Vice President of PPP-P Sindh |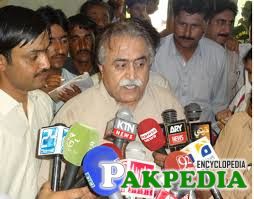 About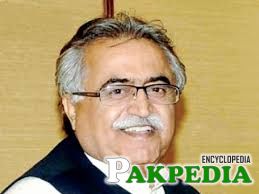 Early Life
He is from Hyderabad, he belongs to Chandio family. Recently he wrote his biography Galiyaan Yad Nagar ki which was launched by Sindh Governor Dr. Ishratul Ibad Khan at Karachi Press Club.[2] autobiography".  — The Express Tribune. Senator Maula Baksh Chandio belongs to Nawabshah district and is due to take oath on Saturday.
Education
Maula Bux started his education from a state-run school in his village. He did his intermediate in 1st division from Muslim College, Hyderabad. Chandio then went to the Hyderabad Law College where he got LLB degree, but since Zulfikar Ali Bhutto was his ideal there he started his student politics at the platform of Sindh Peoples Student Federation (SPSF) and later he was made President SPSF.[3] Education Education
Career
He was elected as Senator in 2009 by PPP-P. In April 2011 he became Federal Minister for Law, Justice, and Parliamentary Affairs, where he contributed 18th Amendment in the Constitution of Pakistan. In April 2012 his portfolio was changed to Federal Minister of Parliamentary and Political Affairs. On 27 July 2012 he became Senior Vice President of PPP-P Sindh. He is considered as the ideological intellects of the party and holds a soft image among both the coalition partners and opposition.He was selected as information adviser to CM Sindh.[4] adviser to CM Sindh".–   Pakistan Today.
Law Minister
ISLAMABAD: Senator Maula Bakhsh Chandio has been deputed Federal Law Ministry position after Babar Awan resigned to plead ZAB reference case in Supreme Court (SC), Geo News reported presidential spokesman Farhatullah Babar as revealing.[5] Chandio has  Federal —   Law Ministry
Wealth Salary
The wealth for Moula is at the moment unknown. Try to find a Biography to get more info about Moula's wealth and complete it here. Moula Bakhsh Chandio salary is not exactly listed yet here. Maybe you find in a CV the salaray of Moula Bakhsh Chandio.[6] Wealth & Salary
Prison Corruption Trust
Moula Bakhsh Chandio has not been to prison yet and no really corrupt things happened. Her trust score is 0 so not many Information if we can trust her speeches are here yet. We are continuously working on updating profiles but you can help eater.[7] Prison, Corruption & Trust
Man of humble origins
Maula Bux Chandio belongs to the lower middle class family. He was born in 1952 in village Kamal Khan Chandio, Tando Muhammad Khan, in Sindh. His father, Muhammad Juman Khan Chandio, was a farmer by profession who had moved to Tando Wali Muhammad, Hyderabad.[8] Man of humble origins
Chandio was arrested
He was arrested during the regimes of General Ziaul Haque, Nawaz Sharif and Mushrraf. During Zia's time he was severely tortured by the armed forces in 1983. In 1988 he was made deputy general secretary of the party and when the government came into being in 1988 he was appointed special assistant in the cabinet of Qaim Ali Shah. In the second tenure of PPP Chandio was given responsibility of Chairman Baitulmal Sindh.[9] Chandio was arrested
Committees
Functional Committee on Government Assurances (Chairman Committee)
Standing Committee on Water and Power
House Committee
Standing Committee on Information Technology and Telecommunications[10] Committee on Government – Assurances
Senate Election Results 2018
The  PPP clinched 10 seats including five general seats, two reserved seats for technocrats and women each and one for non-Muslims to take its total strength to 20 against the expectation of 17. Successful PPP candidates on general seats from Sindh include sitting chairman of Senate  Raza Rabbani, Maula Bux Chandio, Mohammad Ali Shah Jamote,  Mustafa Nawaz Khokhar and Dr Sikander Menghro.  Rukhsana Zuberi and  Dr Sikandar Mandhro won the technocrat seats while  Anwar Lal Dean won the seat for minorities.  Quratulain Marri and  Krishna Kohli won the election for the reserved seat for women. PML- F candidate Muzzafar Hussain Shah's contacts with two  MQM factions and the  Pak Sarzameen Party also worked to save his party's elimination from the upper house as he bagged one seat.[11]  Senate Election Results 2018