Masood Rana was a renowned singer in the Pakistani film industry who sang more than a thousand songs for films from the early 1960s to the late 1980s. Most of his songs became very popular. He also sang many national songs and other songs for television that will always be sung and hummed. He is the only Pakistani Male Singer who has sung for over 500 Urdu and Punjabi language films. Apart from Mehdi Hassan and Masood Rana, there is no other singer in Pakistan who has sung in both Urdu and Punjabi. This article has all the information about Rana, including Masood Rana Biography and Masood Rana Songs.
| Title | Description |
| --- | --- |
| Personal | |
| Name: | Masood Rana |
| In Urdu: | مسعود رانا |
| Famous As: | Singer |
| Nationality: | Pakistani |
| Residence: | Mirpur Khas |
| Religion: | Islam |
| Profession: | Singer |
| Years Active: | 1955-1995 |
| Genres: | Playback Singing |
| Height: | 5 Fit 10 Inch |
| Born | |
| Date: | 7th August 1941 |
| Place: | Mirpur Khas |
| Family | |
| Parents: | Chodhary Ali Ahmad |
| Died | |
| Date: | 4th October 1995 |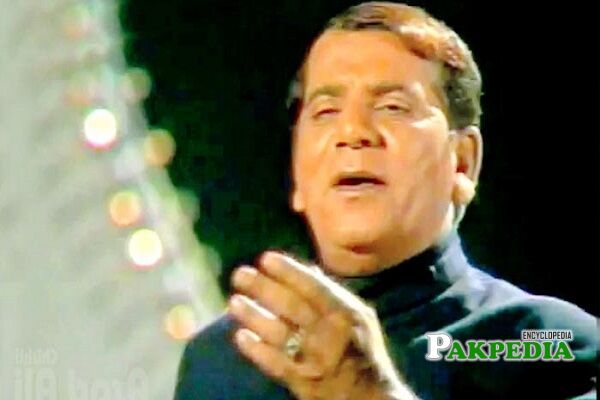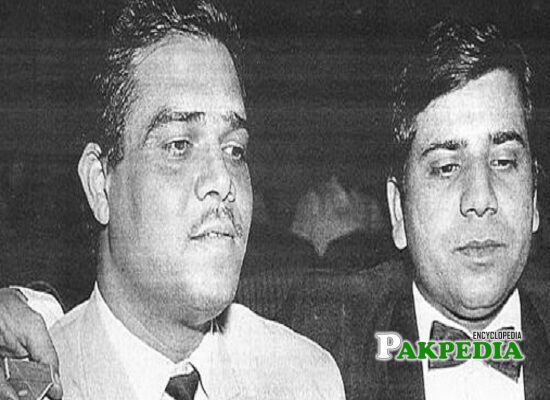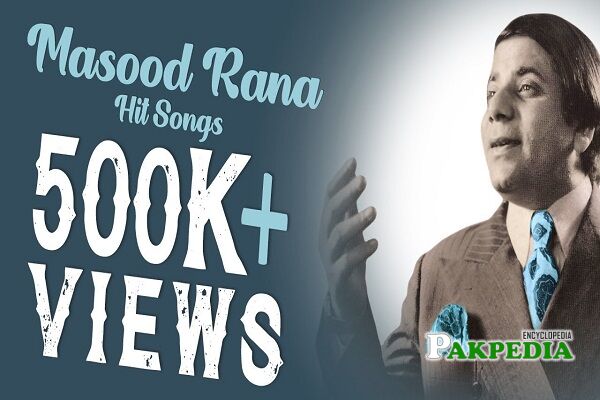 Masood Rana Biography
Many singers have played their role in the success of playback singing in Pakistani films, including Mehdi Hassan, Ahmed Rushdi, Inayat Hussain Bhatti, Mujeeb Alam, A Nayyar, and Akhlaq Ahmed. But this list cannot be complete without Masood Rana, who was called Muhammad Rafi of Pakistan. One of the great virtues of Rana is that he sang in Urdu and Punjabi with equal skill. This singer, with a unique accent, also recorded difficult style songs that still captivate listeners today. He was a very content and devout man. Despite earning massive fame in his musical career, he didn't buy a house for him.
Masood date of Birth
He was born on August 7, 1941, in Mirpur Khas, Sindh.
Masood Rana Family
He belonged to a landlord family of Jalandhar, East Punjab, who migrated to Pakistan.
Showbiz Career
Initial Career
He started singing on the radio and in 1955 formed a music group in Karachi, which included virtuoso singers Akhlaq Ahmed and Nadeem Baig. In the film industry, actor Saqi introduced him to producer and director Shehzad Iqbal, and he sang his 1st song for the film 'Inqilab,' but he got his real fame from the movie 'Banjaran.'
Popular Songs
Masood sang hundreds of lovely and heart-touching evergreen songs. Still, his best Urdu songs in films include, 'Tm He Ho Mehboob Meray Mein Kyun Na Tmhe Payaar Krun '(film Aaina), 'Kia Kahon Aye Dunyaa Walon Kia Hun Mein,' (Hum Rahi), 'Koi Saath Day Kay Na Saath Day, Ye Safar Akelay He Kaat Ley,' (Bad Naam), 'Tere Yaad Aa Gae Gham Khushi Mein Dhal Gae,' (Chaand Aur Chandani), 'Jhum Ae Dil Wo Mera Jaan E Bahaar Aye Ga,'(Dil Mera Dharkan Tere), 'Tera Bina Yun Ghariyaan Beetein Jese Sadiyaan Beet Gain,' (Aanso) and many more.
Punjabi Songs
He immortalized himself forever by singing songs like 'Tange Wala Khair Mangda,' 'Sajnaan Ne Bohe Aage Chick Tan Lei,' 'Yaran Naal Biharan Sajnaan,' 'Soch Ke Yaar Banavin Bandiya,' 'Dil Diyaan Lagyaan Janay Na,' 'Ya Apna Kisay Nun Kar Lay Yaa Aap Kisi Daa Ho Weliya,' 'Sajnoo O Nagri Data Di Aaye He,' and 'Yar Mangya Si Raba Tithon Ro Kehri Ke Khudai Mang Lei.'
National Songs
Masood Rana sang the national anthem on TV, 'Millat Kaa Paasban Hai Muhammad Ali Jinnah,' has become immortal. Apart from this, in the movie 'Mujahid,' 'Jaag Uthaa Hai Sara Watan,' and in 'Aag Kaa Daryaa,' 'Aye Watan Ham Hein Tere Shamaa Kay Parwaano Mein' is also among the top-rated national songs.
Naats
Many naats became very popular in his voice, including 'Karam Ke Ik Nazar Hm Par Khudara Ya Rasool Allah,' (film Hum Rahi), 'Wo Nabiyoon Mein Rehmat Laqab Paanay Wala,' (Tasveer), 'Madinay Walay Say Mera Salam Keh Dena'(film Bhaiyaa).
As An Actor
He was no less than a traditional movie hero in appearance and also played the role of a hero in two films. One of them was an Urdu film called 'Shahi Faqir,' and the other was a Punjabi film 'Doomtiyaran.' He appeared as a guest actor in some films, including 'Sangdil,' 'Khushiyaa,' 'Aj De Gal,' 'Dostana,' 'Nokar Wohtii Daa,' and 'Do Rangelaay.'
Masood Rana Death
Masood Rana passed away on October 4, 1995, due to a heart ailment. 
Masood Rana Songs
List of Urdu Songs
Tm He Hoo Mehboob Mery, Mein kyuun Naa Tmhain Payaar Krun
Koi Sath Dey Kay Naa Sath Dey, Ye Safar Akelay He Kat Ley
Tere Yad Aa Gae, Ghum Khushe Main Dhal Gaey
Jhoom Aey dil Wo Meraa Jaan-e-Bahaar Aey Gaa
Meraa Khyaal Hoo Tm Mere Arzoo Tm Hoo
Mera Mehbob aa Gayaa, Man Mera Lehraa Gya
Tere Biina Yuun Ghariaan Beetein, Jesay Sadiaan Beet gaein
Mere Dil Ke HaiAawaaz Ke Bichraa Yar Milay Gaa
Aag Lagaa Kar Chupney Waalay Sun Meraa Afsaanah
Aey Dil Tjhay Ab Un Say Kesi Ye Shikaayat Hei, Wo Saamnay Bethay Hein Kafi Ye Inaayat Hei
List of Punjabi Songs
Tangay Waala Khaair Mangdaa, Taanga Lahore Daa Howay Tay Phaanwen Jhangh Daa
Sajnaa Ney Buhay Agaay Chik Tan Laye
Yaran Nal Bahaaran Sajnaa
Soch Key Yar Banawin Bandiaa
Dil Diyan Lgian Jaanay Naa, Meraa Payar Pachaanay Naa
Terey Haath Ke Bedardeey Aya Phulaan Jiya Dil Tor Kay
Yaa Apnaa Kisay Nu Kr Ley, Yaa Ap Kisay Da Hoo Beliaa
Tere Maadh Bharey Naain Mil Paain, Tey Chandraa Sharaab Chad Dey
Sajnoo Aey Nagrii Data De Aithey Aandaa Kul Zamaana
Yar Mangiaa Se Rabba Teithun Ro Key, Kehrii Mein Khudae Maang Leyii
Hit Urdu Duets
Sathioo, Mujaahido, Jag Uthaa Hey Saara Watan
Door Veeraaney Mein Aik Shamaa Hei Roshan Kb Sey
De gaa Naa Koii Sahaara, In Bedaard Faazaon Mein
Madeenay Walay Say Meraa Salaam Keh Denaa
Aik Aur Bat Maani, Aik Aur Zakham Khaaya
Tjhe Payar Ke Qasam Hei, Meraa Payar Bn Key Aja
O meray Shokh Sanam, Hwa Deewana Teraa Jb Sey Tmhay
Har Denaa Naa Himat Kahein, Aik Saa Waqat Rehtaa Nahein
Bheegii Bheegii Thandii Hawaa
Ye Wada Karoo Kay Mohabbat Karain Gey  
Hit Punjabi Duets
Saadi Ajab Kaahani Ae, Bhool Key Puranay Dukhraay
Nikkey Hundiaan Daa Payar, Wekhiin Deevin Naa Wisaar
Wey Laakh Tarlay Paawen Mundiaa, Tainu Payyar Neiin Karnaa
Tere Akhh Daa Neiin Jawaab, Tay Bhuliaan Khiriaa Surkh Gulaab
Dil Dey Key Tay Nasiyee Naa, Jee Roo Key Wikhaa Denaa
Laal Mere Patt Rakhioo Balaa Jhooley Laalan Dey
Lang Aajaa Pattan Chanan Daa Yar  
Chup Kar Kay Gaddii Dey Wich Behh Jaa, Jaai Bolaain Gi Chapaair Khaein Gi
Haye Mar gae, Than Mar Gae
Yad Sataeey, Chain Naa Aye, Kaliaan Neiin Jee Saknaa