Mahmood Khan is a politician and is currently serving as CM KPK; he is on this post since 17th August 2018. He has been KPK's Provincial Assembly member since 13th August 2018. This article has all the details about him, including Mahmood Khan Biography.
| Title | Description |
| --- | --- |
| Personal | |
| Name: | Mahmood Khan |
| In Urdu: | محمود خان |
| Full Name: | Mahmood Khan Achakzai |
| Famous As: | Chief Minister of Kpk |
| Nationality: | Pakistani |
| Residence: | Khyber Pakhtunkhwa |
| Education: | Masters |
| Alma Mater: | University of Engineering and Technology Peshawar |
| Religion: | Islam |
| Profession: | Politician |
| Born | |
| Date: | 30th October 1972 |
| Place: | Matta, Swat |
| Family | |
| Ethnicity: | Khan |
| Spouse: | Married |
| Career | |
| Political Party: | Pakistan Tehreek-e-Insaf |
| Serve As: | Sports Minister |
| Time Period : | 2013 – 2018 |
| Old Political Affiliations: | Pakistan peoples Party |

Mahmood Khan Biography
He is a politician and is carrying his political career for a long time. Due to some allegations, his name was excluded from the cabinet but again re-added in 2014. Some claims are made about him that he doesn't hold an administrative and political record, and his appointment is merit-based but is made on political support but he denied all the allegations and is performing his duties efficiently.
Mahmood Date of Birth
He was born in Matta Swat on 30th October 1972.
Education of Khan
He completed his primary education from Matta's Government Primary School. He did his intermediate from 'Peshawar Public School and College.' He holds an M.Sc (Hons) degree in Agriculture from 'Agricultural University Peshawar.'
Political Career
Appointed as UC Nazim
In 2005 he was appointed as Kharerai's UC Nazim. In 2008 he was again selected for the same post and served at this post till 2012.
Joined PTI
In 2012 he left PPP (Pakistan People Party) and, joined Imran Khan's party PTI (Pakistan Tehreek E Insaf).
2013 General Election
In the general election of 2013, he contested for the membership of KPK's Provincial Assembly on the ticket of PTI from PK-84 Swat-V. He got eleven thousand and seventy-one votes and subjugated the candidate of Awami National Party.
Inclusion in Provincial Cabinet
In June 2013 he was included in KPK's provincial cabinet of CM Pervez Khattak and was elected as KPK Provincial Minister for culture, sports, museums, and tourism.
Corruption Allegation
A social worker Shakil Wahidullah registered a petition against Khan in April 2014 in High Court of Peshawar accusing him of Rs. 1,8 million corruption during his ministership for culture, sports, museums, and tourism.
KPK government started the inquiry during which the inquiry officer found that Khan 1.8 million rupees were transferred in his bank account from Directorate of sports.
Khan claimed that this transfer occurred due to a misunderstanding. On Peshawar High Court's order, he was excluded from the cabinet and his ministry was terminated. Three other senior officers from the sports department were also suspended.
Re-Induction in KPK cabinet
On July 2014 he was re-included in CM Pervez Khattak's provincial cabinet and was allotted the KPK ministry of irrigation. He remained at this post until 2014.
In January 2016 he was elected as KPK Provincial Minister for Home & Tribal Affairs CM Pervez's cabinet. In 2016 his ministry was changed to Sports, museum, culture, youth affairs, and archaeology. He remained on this post until the provincial assembly dissolved on 29th May 2018.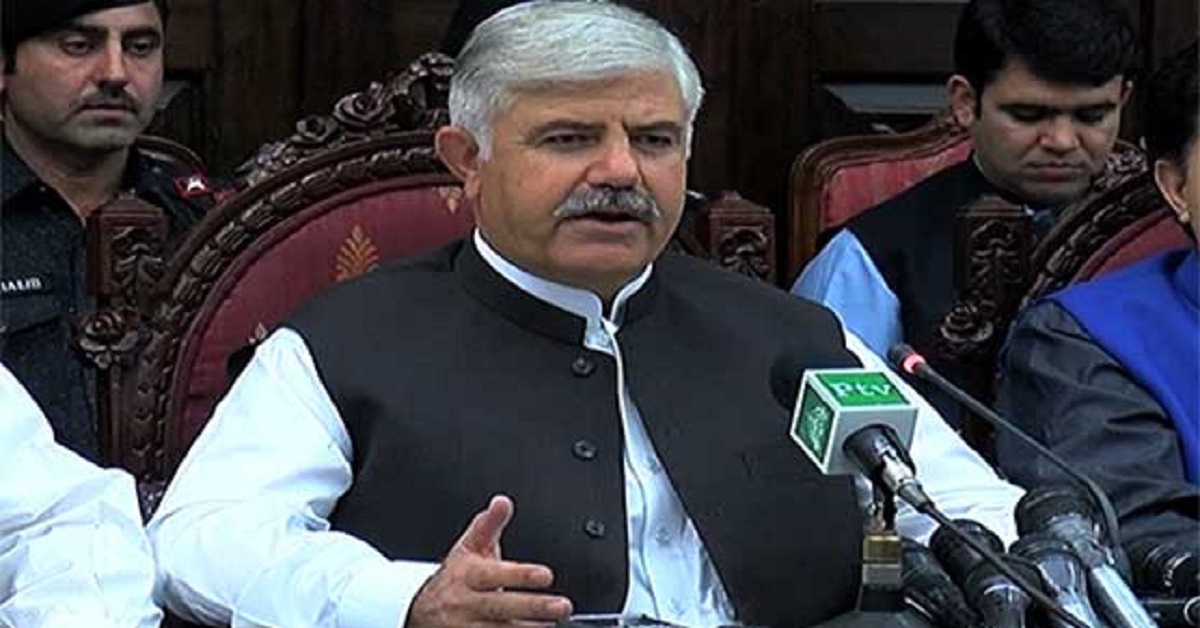 2018 General Election
He was re-added into the KPK Provincial Assembly as a PTI candidate from Constituency PK-9 Swat in general election 2018. He secured twenty-five thousand six hundred and thirty votes and defeated the candidate Muhammad Ayub Khan of ANP (Awami National Party).
Pervez Khattak recommended his name for the post of CM. In 2018 Pakistan Tehreek E Insaf formally approved his name for ministry. Imran Khan was in favour of Atif Khan, but due to strong recommendation of Khattak for Khan, he was appointed as CM and is 1st person from his division to be selected as CM.
Mahmood Khan CM Kpk
On 16th August 2018, he was appointed as CM KPK by getting seventy-seven votes and defeated Mian Nisar Gul who received thirty-three votes. Next day he took oath as CM KPK.
Social Media Handles
His social media accounts include
https://twitter.com/IMMahmoodKhan
https://www.facebook.com/mahmoodkhanofficial/