Learning Alliance is a coeducational, private institute located in Pakistan that provides CAIE board at its three campuses. The academic year beginning in August ends in June. From mid-June to mid-August, students enjoy vacations. Winter and Spring holidays are granted in March and December. This article has all the details about the school, including Learning Alliance History.
| | |
| --- | --- |
| Name: | Learning Alliance |
| Established: | 1996 |
| Type: | Private |
| Founder: | Anjum Ahmad |
| No of Students: | 2500 |
| Website: | https://www.learningalliance.edu.pk/ |
| Campus Size: | 5.2 Acres (DHA Branch) |
| Branches: | DHA, Faisalabad, Aziz Avenue |
| Color: | Green, White and Grey |
| Extra Curricular Activities: | Debates, Movie, Workshops etc |

Learning Alliance History
It was established in 1996 as Lahore pre-school. And then extended its campuses in Lahore and, after popularity in Lahore, opened its campus in Faisalabad also.
Vision
LSA strives to stay advance and provide its students with learning experiences. Their vision is beyond the classroom, and they place significant importance on artistic and social development along with academia.
Mission
The school is devoted to developing the students' intellect and personality by equipping them to be competent and confident for the whole of life. They aim to motivate students to grow into compassionate, dynamic, and responsible citizens of society.
Founder and Owner
Anjum Ahmed is the principal and founder of LAS. He has been the education field since 1975. During the past 26 years, she had mastered leadership and administrative skills.
Number of Students
Currently, 2500 students are enrolled in all the campuses.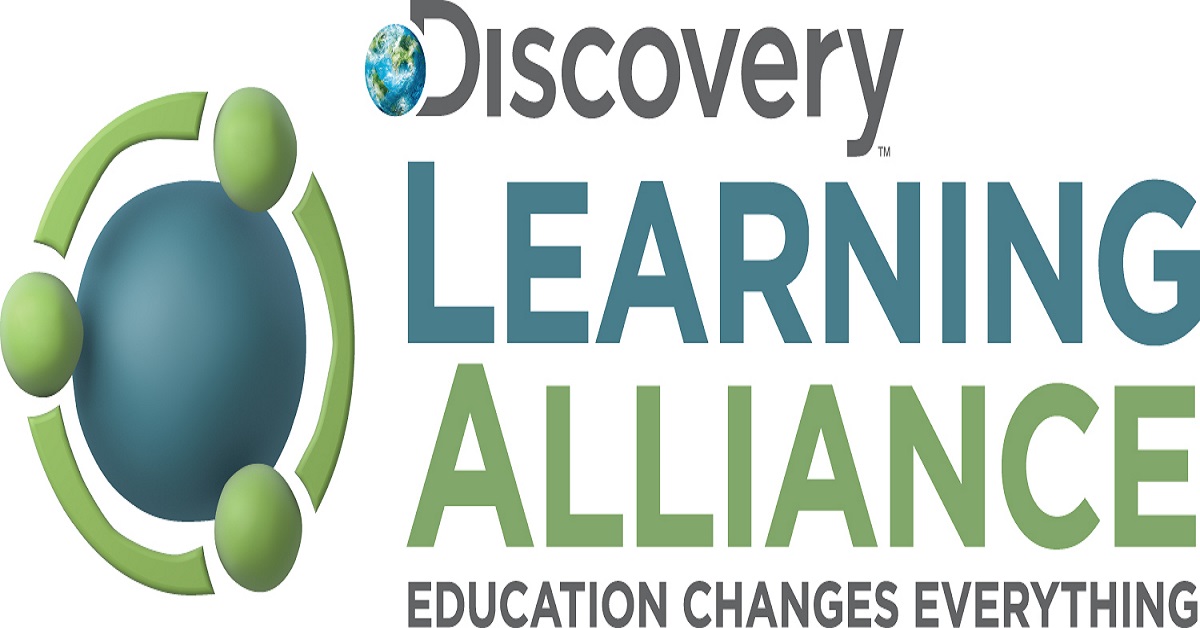 Branches
DHA
The campus situated in phase VIII is serving as headquarter for other campuses. This campus is largest both in curriculum and size. Playgroups to A 11 are offered on this campus, and students can choose subjects from various choices.
Students of class 1-8 study CAIE (Cambridge Assessment International Education) programs and then enrolled in the O/A Level program. Since 2013 this campus bifurcated into 'International Baccalaureate' and 'Primary Years Program.'
Aziz Avenue
This campus located on canal road is an example of colonial architecture that offers CAIE programs from prep class to O1. Its building is a 'historical treasure' where students relish past and future.
Faisalabad Campus
Six years ago, LAS opened its campus in Faisalabad. At the start, only classes from 'playgroup to 3rd' class were offered, but due to students' and parents' demand, classes were expanded to grade five.
And now school is offering class 1 to O11 in the CAIE board. It holds the honor of 1st school in Faisalabad that introduced Smart Boards, Robotics, and Mathletics.
Uniform
Girls wear pinstriped Shalwar Kameez with a green sash, and boys wear pinstriped full sleeve shirts and grey trousers. A level boys wear white dress shirts with khaki dress pants.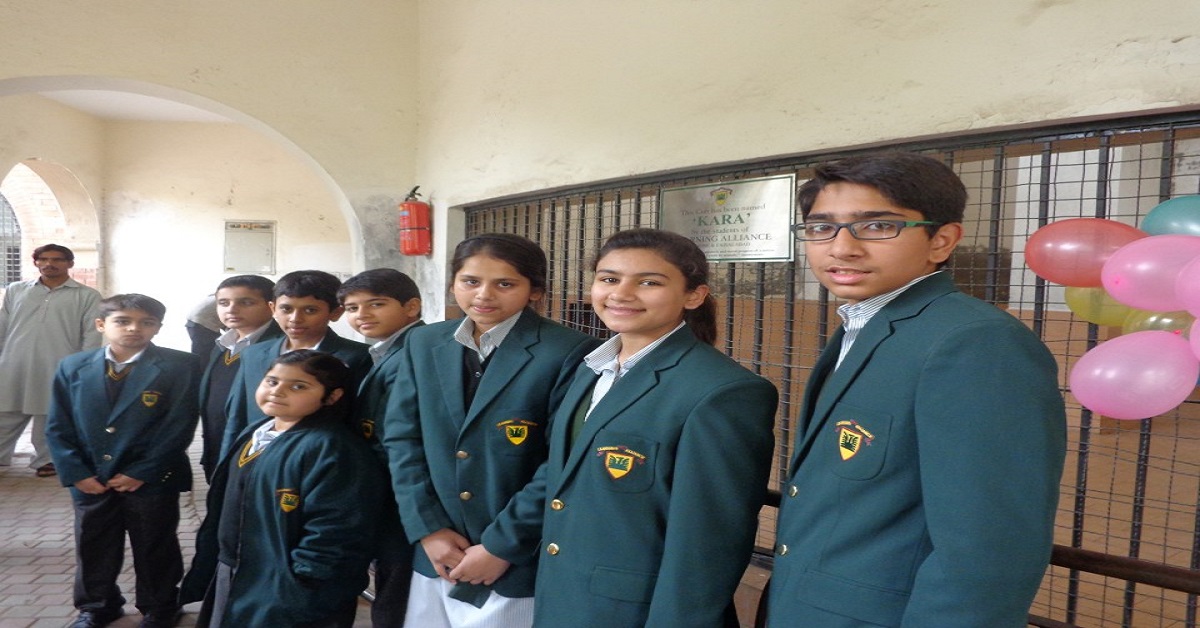 Extra-Curricular Activities
A variety of extra-curricular activities are performed to make students confident and to develop their artistic skills.
LARC
The 'Learning Alliance Robotics Club' is founded to train students about STEM's implementation. Workshops are regularly conducted for the learning process. Robotic contests are arranged that check the action-based learning and student's aptitude.
The primary purpose of LARC is to enable students to execute those variables of Mathematics, Physics, and Computer that they learn in the curriculum.
Theater and Drama
In senior campus via the drama club 'Phoenix Drama Society,' students can showcase their talent and potential on the stage. The society had successfully held plays at school, Al Hamra Arts Council, and Ali Auditorium. The school play 'Kesa Paisa' of the year 2013-2014 was a great success and appraised by staff, parents, and students.
Debates
The school management has never ignored the power of excellent communication skills. Debates and speeches are arranged to develop and hone communication skills.
Students themselves run debating society, showing their debating skills at both the national and international levels. In 2013 school hosted the 'Abdul Salam Mehta Club.' Students are also offered debate scholarships.
Music
At every school event, students give live music performances. Well trained music teachers who have a high command of singing and instruments are hired to teach students in multiple languages and play guitar, piano, and other musical instruments.
Sports
Handball, Basketball, Football, Table Tennis, Badminton, Volleyball, Swimming, Karate, and Baseball are part of the school's physical education program. Evening sports camps are arranged a week thrice for dedicated athletes.
Arts
Apart from the regular curriculum, art classes are arranged on Saturday for students interested in arts in which Sketching, Painting, Drawing, Abstract, and Graffiti are taught.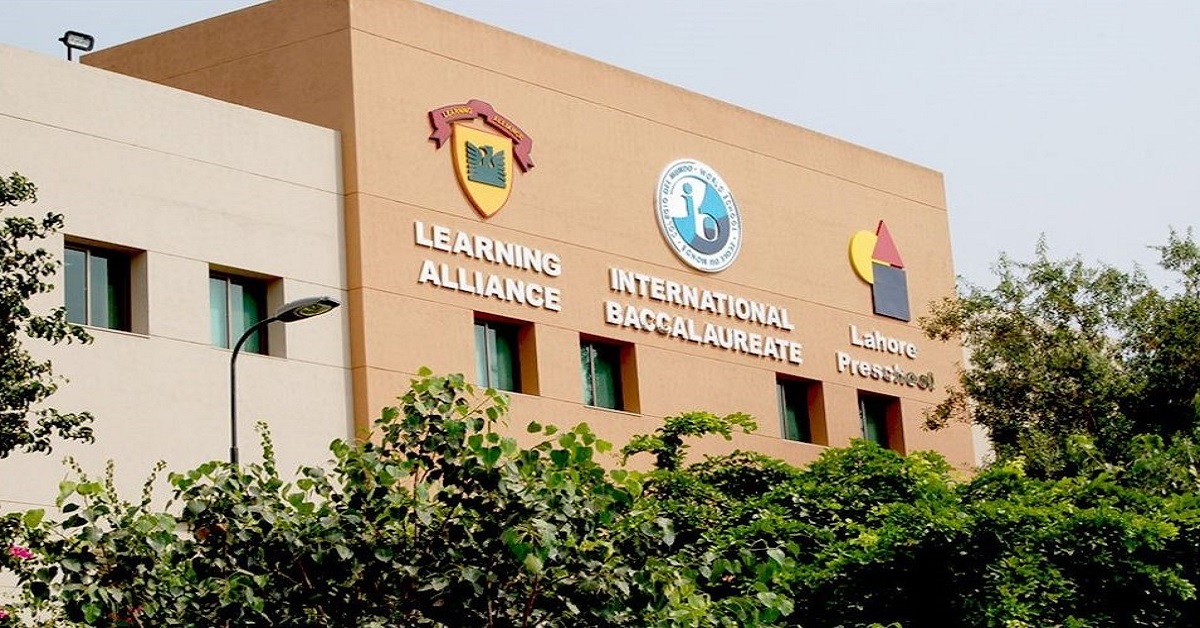 Rules and Regulations
Uniform
Learning Alliance strictly implements rules and regulations to be followed within school premises. Students are directed to be in proper uniform daily.
Any student wearing an inappropriate uniform is sent to the home. Boys are not allowed to keep long hairs or to wear shorts. Girls aren't permitted to wear makeup and jewelry, hair shouldn't be streaked or open.
Attendance
Attendance shortage is not allowed, and A level students have to fulfill the condition on 95% attendance to sit in the Cambridge examination.
Punctuality
Students should come to the classroom five minutes before class time. Students coming five minutes after the class time aren't allowed to enter.
Electronic Devices
Smartphones are not allowed; only small phones are permitted for communication purposes. The use of the internet or cameras for personal purposes is prohibited. Students bringing cell phones can use only in break time in the cafeteria and common rooms. During school time, cell phones should be kept switched off.
Use of Social Networks
In this era of technology, students/teenagers love to use social media. However, students have directions from school management not to post disrespectful pictures, videos and comments about fellows, staff, and school matters.
Lost and Found Things
Students are responsible for their belongings. The school will not take responsibility for the loss of students' articles or items. Students who lose their belongings should inform the admin office to check whether the thing has been returned. Any student finding any lost item would submit it in the admin office.
Contact Information
Email: [email protected]
DHA: +92-42-111-66-66-33
Aziz Avenue: +92-42-111-66-11
Faisalabad: +92-41-111-66-66-33