Kulsoom Nawaz was a Pakistani politician, and president of Pakistan Muslim league N. She was known for being the First lady for 3 terms when Nawaz Sharif made the Prime Minister of Pakistan. She hailed from a Kashmiri origin and was born in a notable family and later married to another notable family.
Kulsoom ran for the National Assembly seat for the first time in 2017 by-elections after the disqualification of his husband, Nawaz Sharif. She died in 2018 after fighting with her illness in London. However, her body was sent to Pakistan, where she was buried. This article has every detail about her, including Kulsoom Nawaz Biography.
| Title | Description |
| --- | --- |
| Personal | |
| Name: | Kulsoom Nawaz |
| Famous As: | First lady of Pakistan |
| Nationality: | Pakistan |
| Residence: | Lahore |
| Education: | Ph.D. in Philosophy |
| Religion: | Islam |
| Profession: | Politician |
| Height: | 5 ft 7 in (1.7 m ) |
| Born | |
| Date: | 29th March 1950 |
| Place: | Lahore Punjab, Pakistan |
| Family | |
| Ethnicity: | Kashmiri |
| Spouse: | Mian Nawaz sharif |
| Children: | Mariam, Asma, Hassan and hussain |
| Parents: | Hafiz Butt |
| Siblings : | Kalsoom has two sisters and a brother. |
| Relatives: | she is the granddaughter of wrestler The Great Gama. |
| Died | |
| Date: | 11th September 2018 |
| Rest Place: | Lahore |
| Career | |
| Political Party: | Pakistan Muslim league N |
| Member of the provincial Assembly | |
| Constituency: | NA- 120 |
| Preceded by: | Dr. Yasmeen Rashid |

Kulsoom Nawaz Biography
Kulsoom was a Pakistani politician who served as the president of her party, Pakistan Muslim League N. She won the 2017 by-elections by giving defeat to Dr. Yasmeen Rashid. Unfortunately, She couldn't take an oath because of her health. She was diagnosed with a disease, Lymphome, that took her life within a year.
Kulsoom was known for being the most graceful lady who always involved herself in politics. She was often seen in various rallies for which the police also detained her. She was the granddaughter of wrestler The Great Gama. Despite political differences, her death made many people sad.
Kulsoom Date of Birth
She was born on 29th March 1950 in Lahore to a notable family.
Education of Kulsoom
She was an educated lady who received her early education from Islamia college. Later, she went to Forman Christian college from where she completed graduation. Afterward, she took admission in the Punjab University from where she did Masters in Urdu. She also holds a Ph.D. degree in Philosophy.
Kulsoom Nawaz Family
She belonged to a notable family. Her grandfather was a known wrestler 'The Great Gama.' She had 2 sisters and 1 brother. Kulsoom got married to Nawaz Sharif, 3 times elected Prime Minister. Her daughter Maryam Nawaz is also in politics and actively participates in different activities along with her father.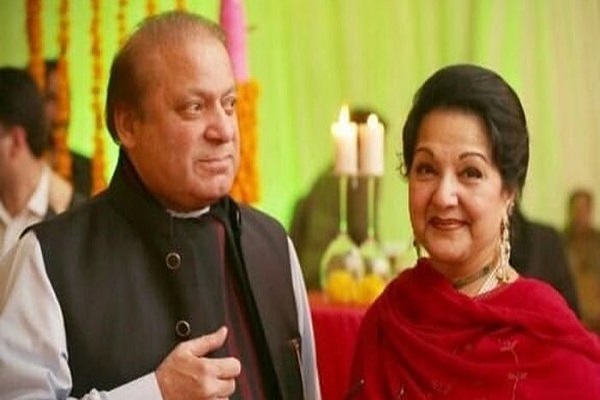 Kulsoom's 2 sons Hassan Nawaz and Hussain Nawaz, are running a business in England while her other daughter is away from politics. Her brother in law Shahbaz Sharif, has served as a Chief Minister of Punjab.
Career
As a First Lady
She became the first lady of Pakistan for the first time in 1990 when Nawaz Sharif was made the Prime Minister of Pakistan. Later, she again became the first lady in 1997 when Nawaz again won the 1977 General elections with the majority of seats. Afterward, she got this honor in 2013 when the PMLN government came into power.
Arrestment
The police detained Kulsoom for the first time in the 1990s when the Army Corps arrested her. This arrestment was held soon after Nawaz Sharif named her as the president of PMLN. Later, in 2000 she was again arrested after doing a rally to gather public support.
As a PMLN President
She became the president of PMLN in 1999. She served on that post till 2002.
2017 By-elections
For the first time, she ran for the seat of the National Assembly in 2017 after the disqualification of her husband. Fortunately, she received the majority votes and gave defeat to PTI's powerful candidate Dr. Yameen Rashid. Unfortunately, despite winning the election, she couldn't take oath due to her health issues.
Kulsoom Nawaz Disease
In August 2017, she was diagnosed with the deadly disease Lymphoma. During her illness, she went through many chemos and went to London for her treatment. Her disease didn't allow her to carry her political activities. In June 2018, she suffered a heart attack, after which Kulsoom was moved to Ventilator.
Kulsoom Nawaz Death
On 11th September 2018, she took her last breath and left the world forever in London hospital. At the time of her death, Nawaz Sharif and Maryam Nawaz were in Adiala Jail in Pakistan. Her body was taken to Pakistan, and Nawaz and Maryam were given timed-parole to attend the funeral. She was buried in Jati Umra on 14th September 2018.