Kamran Tessori is a Politician, Businessman, Campaigner, Social worker and Reformer for better Governance. He was the member of Pakistan Muslim league Functional than in Feb 2017 he left the party and joined Muttahida Qaumi Movement Pakistan. Currently, he has been suspended for 6 months from his post for leaking some personal information of the party.
| Title | Description |
| --- | --- |
| Personal | |
| Name: | Kamran Tessori |
| In Urdu: | کامران تسوری |
| Famous As: | Politician |
| Nationality: | Pakistani |
| Residence: | Karachi |
| Religion: | Islam |
| Profession: | Politician |
| Awards : | 3 |
| Twitter: | https://twitter.com/kktessori?lang=en |
| Career | |
| Political Party: | Muttahida Quami Movement (MQM) |
| Time Period : | Feb 2017 |
| Old Political Affiliations: | Pakistan Muslim League Functional (PML-F) |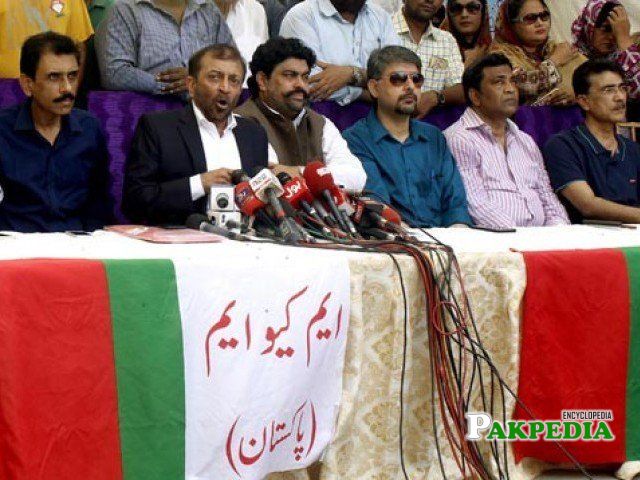 Kamran Tessori Biography

Kamran Tessori is a part of well-known Tessori family. Tessori is an established name in the business community and international gold market for their unique and creative designs with innovative business approach. Kamran Tessori decided to participate towards the political society and start his career by joining Pakistan Muslim League-Functional (PML-F). Currently, he is the member of MQM Raabta Committee. He is an active member of the MQM and believes to fulfill his responsibility towards his nation. He loves to spend time with his family and fond of cricket, Reading and writing books is also his hobby.
Awards
Recipient of 4 FPCCI Export Trophy Awards for Highest Export Performance of Gold Jewelers.
"Businessman of the Year" Award by the President of Pakistan in 2004.
"Gold son of Pakistan" for Highest Gold jewelry export by President of Pakistan 2004.
Joined MQM-P

(PML-F) leaders Kamran Tessori joined Muttahida Quami Movement (MQM) in Feb 2018. he has given a warm welcome in office of MQM in PIB sector. MQM workers showered rose petals upon Kamran Tesoori . He announced decision to join MQM-P said on the occasion that there are many problems exist in Karachi and that's why he has decided to join hands with MQM to solve these problems. As a son of Karachi, I felt that I must serve my community ( Urdu speaking) and youth in this hour of trial. He termed the issue of missing workers as the biggest issue facing by MQM-P and called upon all members of the community to join hands for putting pressure on " establishment " to return our sons, brothers back
Muttahida Quami Movement P
2. Muttahida Quami Movement (Pakistan) is a breakaway faction of the now Muttahida Qaumi Movement, founded by Farooq Sattar who declare disassociation from Muttahida Quami Movement's founder and leader Altaf Hussain, The faction was announced after the release of Farooq Sattar from 8 hours abduction of Pakistan Rangers. on 8th November 2017, MQM Pakistan and Pak Sarzameen Party announced "establishment-sponsored" merger declaring that entity will choose a new name for the party. Inter-Services Intelligence is referred as the establishment in Pakistan. [1] Muttahida quami movement
Demand of Suspension
MQM-Pakistan leaders and wokers  have demanded the Kamran Tessori's party membership cancellation. Party leaders had also accused Tessori for leaking information and news of party's internal meetings to the media. However, their concerns over these issues have continuously pushed aside by Dr. Abdul Sattar. Many politicians of MQM-P said if Farooq Sattar does not take any action against Kamran Tessori, then, we will be free to choose our future course.
Suspension of 6 Months
Muttahida Qaumi Movement-Pakistan (MQM-P) Rabita Committee on Monday 5th Feb 2018 suspended the membership of MQM-P deputy convener Kamran Tessori for six months. Talking to media after Rabita Committee meeting at the Bahadur Abad office, MQM-P leaders Khalid Maqbool Siddiqui announced the decision to suspend Kamran Tessori. He said that after the decision of the Rabita Committee, even MQM-P convener Dr Farooq Sattar cannot award Senate ticket to Kamran Tessori. Khalid Maqbool Siddiqui further said that the members of MQM-P Rabita Committee cannot be removed by the party's convener or deputy convener. He also said that if Farooq Sattar wants to leave the MQM-P then the party cannot do anything about it.
Submit Resignation
On Friday 16th Feb 2018 he reportedly submit resignation to Farooq Sattar, Tessori also announced that he would not participate as a contest in the intra-party elections which are scheduled to be held on 2018. He told he has submitted resignation to Farooq Sattar and any further decision taken by him would be accepted. He also denied having any contact in recent with Farooq Sattar. He said that he has move to Islamabad with his family. He said that he wanted to remove the wrong impression that Dr. Farooq was unable to take any party decision due to him.