Kamran Michael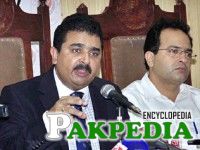 Kamran Michael
Senator Kamran Michael inaugurates a complaint cell at the regional directorate human rights
Kamran Michael
Kamran Michael
Political Career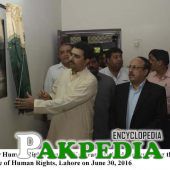 He trended in to arena of politics at gross root level and in 2001 he made his professional stage debut getting elected as Councilor. Same year, he participated in districts' election and elected as Member of Lahore District Council. For next one and half year, he remained Member of District Assembly.
Member of Pakistan Muslim League N
Mr. Kamran Michael was Member of Pakistan Muslim League (N) and it was toughest time for the party as country was facing a dictator, but very gallantly he fought against the dictatorial regime, living at opposition benches of District Assembly. In general elections of 2002, while the leadership of PML-N facing exile, he stood firmly with the party and exploring his emerging talent party selected him member of Provincial Assembly. For next five years he hold the same incumbency. During these five years, he served the masses & worked for upliftment of the folks of the country. Although he sat on opposition benches, but his political dexterity and charisma was loudly being spoken every where. 
Member of Provincial Assembly
In next general elections of country, held in 2008, the leadership not only chosen him as a member of Provincial Assembly, but to extract more benefit from this towering political genius, he was assigned the portfolio of four important Ministries in
Punjab
namely, Ministry of Human Rights, Ministry of Minority Affairs, Ministry of Social Welfare and Ministry of Women Rights. In 2010, party leadership decided to take more benefit from his capabilities and vested upon him the portfolio of the most important Ministry that was Ministry of Finance. He presented next two budgets in the Assembly. During his incumbency, he introduced many new reforms in the society i.e. quota for minorities was raised from 3 to 5 percent.
Senate Elections 2012
In 2012, Senate Elections (upper house) was announced, and Leader of PML-N Mian Muhammad
Nawaz Sharif
decided to introduce this emerging talent in Senate of Pakistan, so he was selected as Senator. He was first ever Christian Senator in the history of Pakistan, as he has been first ever Christian, who was assigned the portfolio & this time, party leadership decided to assign him portfolio of Ministry of Ports and Shipping.
[2]
Kamran Michael political career
Pakistani Human Rights Minister
Pope Francis has applauded the role of Pakistani Minister for Human Rights Kamran Michael. In a statement the Pontiff appreciated Pakistani Minister for his efforts for the betterment of people. Pope Francis expressed admiration for the efforts taken by Senator Kamran Michael in order to refurbish the situation of the human rights in
Pakistan
.In his statement, the Pontiff said that the Pakistani Minister was striving for the rights of the deprived segments of the society regardless of their religion and ethnicity. It was further stated that Senator Kamran Michael will be remembered with great admiration for his efficacious efforts. At the same time, the statement contained praises for Senator Kamran Michael for his pivotal role in promotion of peace and harmony in the crumbled society of Pakistan.
[3]
Human Rights Minister Kamran Michael 
Easter Loan Scheme
On the blessed occasion of Easter, Ministry of Human Rights in collaboration with the Eternal Life Ministries and Idara-e-Akhuwat has initiated a scheme to fork out loans to Christians so that they may be able to set up small-scale businesses of their own. "Easter Loan Scheme" has been initiated to succor destitute Christians.In this regard, a ceremony was organized by the Eternal Life Ministries where cheques were handed out to the penurious Christians. This ceremony was held in Lahore's Bahar Colony on April 5. 
Attended the Ceremony
Federal Minister for Human Rights Kamran Michael attended the ceremony as Chief Guest and also distributed the cheques. At this occasion, Chairman of the Eternal Life Ministries Pastor Anwar Fazal, former MPA Amir Joel Sahotra, MNA Romina Alam and representative of Idara-e-Akhuwat Mr. Atif and other pastors were also presented.
[4]
 Easter Loan Scheme to succor impecunious Pakistani Christians 
Women Empowerment at OIC Moot in Istanbul
Istanbul
The Federal Minister for Human Rights, Senator Kamran Michael, represented Pakistan at the 6th Session of the Ministerial Conference on the Role of Women in the Development of OIC Member States held at Istanbul from 1-3 November 2016. Theme of the conference was  "The Status of Women in the OIC Member States in Light of the Current Challenges."
President of the Republic of Turkey
President of the Republic of Turkey, H.E. Recep Tayyip Erdogan and First Lady, Mrs. Emine Erdogan were present at the inaugural ceremony.The meeting discussed matters concerning women empowerment and women's role in the development of the OIC Member States.Delivering national statement on behalf of Pakistan, Minister Kamran Michael underlined that
Government of Pakistan
was pursuing an integrated policy for women empowerment underpinned by legal, institutional, and administrative measures. He highlighted that long-term national planning framework "Vision 2025" commits to pursue women empowerment as a key priority area across all sectors of planning and development. 
Focuses
It focuses on providing an enabling environment to every woman to develop her full potential and to equally share benefits of economic and social development.Minister Kamran Michael highlighted that, among others, an autonomous Commission on Status of Women,
Benazir
Income Support Programme, 10% quota for women in employment, setting up of Women Development Department at provincial level, and Economic Empowerment of Women through Prime Minister's Youth Programme demonstrated a strong commitment of Pakistan to protect, promote and empower women in Pakistan. He added that Pakistan was implementing Convention on the Elimination of all Forms of Discrimination Against Women that had helped to mainstream women's issues in national policies.The Minister also had interaction with other participating heads of delegations on the sidelines. He met with H.E. Ms. Fatma Betül, Minister for Family and Social Policy of Turkey, and H. E. Dr. Masoumeh Ebtekar, Vice President of the Islamic Republic of Iran and discussed matters of mutual interest.
[5]
 Pakistan highlights initiatives taken for women empowerment at OIC moot in Istanbul 
Senate Election Results 2018
PML-N-backed candidate have gained the majority of seats in Senate polls with at least 15 seats to their name. PML-N won majority of its seats from Punjab while 
PPP
 won largely from 
Sindh
, getting 12 seats in total.20 candidates from 
Punjab
 contested the polls for 12 seats reserved in Senate for the province. Governing PML-N won 11 seats through independent candidates in Senate polls held at Punjab Assembly.
[6]
Senate Election Results 2018
Winning candidates are
Ishaq Dar elected on Technocrat seat
Asif Kirmani elected on General seat
Independent candidate  Haroon Akhtar elected on General seat
Sadia Abbasi elected on Woman seat
Nuzhat Sadiq elected on Woman seat
PML-N-backed Kamran Michael elected on Minority seat
Hafiz Abdul Kareem elected on Technocrat seat
Maqbool Ahmed on General seat
Musadik Malik on General seat
Shaheen Khalid on General seat
PML-N-backed independent candidate  Rana Mehmood-ul-Hassan elected on General seat
Committee Member
Climate Change
National Health Services Regulations and Coordination
To Consider the Islamabad Restriction on Employment of Children Bill, 2017[7]  Committee Member 
Contact Information
Office Number: +92 42 35852725-26 
Mobile Number: +92 321 9441272 
E-mail: kamranminister@yahoo.com 
Local Address: Apartment No.26, Minister's Enclave, Islamabad
Permanent Address: H. No. 21, Dilkusha Garden, Kot Lakhpat, Lahore