Kamran Akmal is a wicket keeping top-order batsman of Pakistan who has been part of Pakistan's team in all three formats for many years. Kamran is recently not part of the national side but has been playing domestic cricket and in T20 leagues. He is working hard to play for Pakistan again. He is one of the most successful wicket-keeper for Pakistan who has performed very well with the bat, and nowadays many people want him to play for Pakistan as a batsman. This article has all the information about Kamran, including Kamran Akmal Biography.
| Title | Description |
| --- | --- |
| Personal | |
| Name: | Kamran Akmal |
| In Urdu: | کامران اکمل |
| Famous As: | Cricketer |
| Nationality: | Pakistan |
| Residence: | Lahore |
| Education: | Matric |
| Alma Mater: | Central model school, Lahore |
| Religion: | Islam |
| Profession: | Cricket |
| Height: | 5 ft 6 in (1.68 m) |
| Website: | https://twitter.com/KamiAkmal23 |
| Born | |
| Date: | 13th January 1982 |
| Place: | Lahore |
| Family | |
| Spouse: | Aaiza Ilyas |
| Children: | Two kids, one daughter and one son |
| Siblings : | Umar Akmal, Adnan Akmal |
| Career | |
| National Side: | Pakistan |
| Team Role: | Wicketkeeper-Batsman |
| Bowling Style: | Right Arm Medium |
| Batting Style: | Right-hand bat |
| Test Debut: | 9 November 2002 v Zimbabwe |
| Test Last: | 26 August 2010 v England |
| ODI Debut: | 23 November 2002 v Zimbabwe |
| ODI Last: | 6 January 2013 v India |
| T20 Debut : | vs England at County Ground, Aug 28, 2006 |
| First-Class Debut: | 1997/98 |
| List A Debut: | 1997/98 |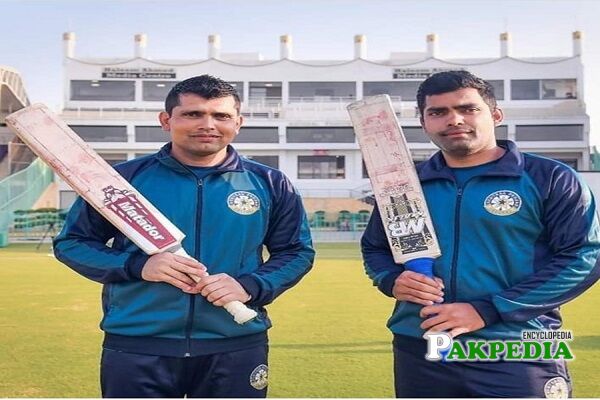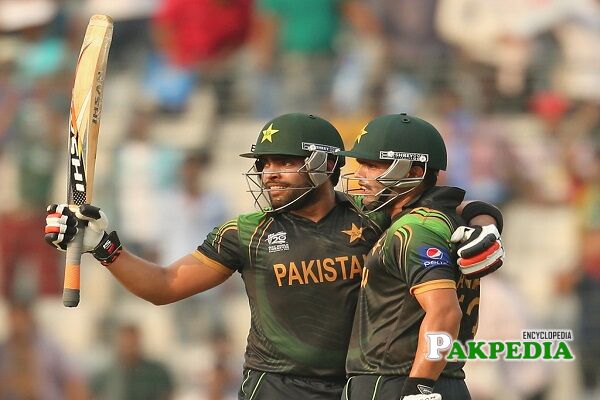 Kamran Akmal Biography
Kamran started his international cricket career for Pakistan in 2002 and made his place on the national side as a Wicket-Keeper. He quickly developed himself into a valuable batsman for the team who used to bat at lower order in his early days at the international level. He has helped Pakistan won many matches with his excellent performances with the bat and gloves. He has played in all three formats for the national team.
In tests, he has played 53 international tests and has scored 2648 runs. His average in 92 test innings is 39.79, which is a good batting average for a wicket-keeping batsman. Kamran has six hundred and 12 fifties in Tests. He has got 22 players stumped out in this format as a wicket-keeper. He has claimed 184 catches behind the wickets. He also represented in 157 One Day Internationals for the national team, where he has made 3236 runs with a 26.09 average score per yearnings.
Akmal has five centuries, and Ten half-centuries as a batsman in ODIs and has 32 Catches and 26 Stumpings as a wicket-keeper in this format. He is an excellent T20 player when it comes to playing aggressive cricket. Akmal has done well as a Wicket-Keeper, he has 28 catches and 32 stumpings to his name. He has also got five fifties in the 20-overs contest.
Kamran date of Birth
Kamran was born on 13 Jan 1982 at Lahore, Punjab. He is still residing there.
Education of Kamran
He got his matriculation from the central model school, Lahore.
Kamran Akmal Family
Kamran is the son of Muhammad Akmal, and he belongs to Lahore. His family has a close connection to cricket as his two brothers Adnan Akmal, and Umar Akmal has also played for Pakistan. Babar Azam, who is the top currently Pakistan's top batsman and captain of limited overs format of the national side, is a cousin of Kamran. Kamran got married in the year 2006, and currently, he lives with his wife and three children at Lahore.
Cricket Career
Initial Career
Kamran started playing domestic cricket when he became part of Lahore in the Quaid e Azam trophy 1997-98. He performed well with the gloves and contributed well as a batsman. At that time Pakistan team needed a wicket-keeper who could bat well; he continued his hard work and improved both batting and wicket-keeping in the first-class. After continuously playing for five years, Kamran made his entrance into international cricket.
Domestic Career
He has played plenty of domestic cricket. He started playing domestic in the year 1997 and still plays till today in 2020. He has played 246 First-Class games so far, in which he has scored a total of 13369 runs. His first-class average is 38.63, with 33 centuries and 62 fifties to his name. In 378 first-class innings, Kamran has taken 860 catches and 65 stumpings overall.
He has also played a lot of List-A cricket and appeared in 340 List-A matches and has made 9101 runs, averaging 32.38 while Kamran has made 21 hundred and 34 fifties in the format.
National T20 Cup
Kamran was the highest run-scorer in Quaid e Azam Trophy 2016-17 Season. In national T20 cup 2017-18, he scored un-beaten 150 playing for Lahore Whites against Islamabad. It was the first time a Pakistani batsman made 150 or more individual runs in a T20 match. In the same tournament, Kamran set a world-record partnership of 209 runs with Salman Butt. He has also made a good impact as a T20 player. He made 5969 runs in 255 T20 matches so far.
Akmal made five T20 hundreds as well as forty half-centuries, which shows his batting skills in this format. He has also claimed 141 catches and 97 stumpings as a wicket-keeper and has played for various teams besides the national side. He has played for Asia XI, Lahore, National Bank of Pakistan, Punjab Stallions, Peshawar Zalmi, Rajasthan Royals, Trinidad & Tobaccos, St Lucia Stars, Red Steels, Toronto Nationals and the rest.
T20 leagues
Kamran has been playing in different T20 leagues and continues to play. He started playing from the IPL 2008. He remained the part of the Rajasthan Royals team as a wicket-keeper and top-order batsman. He played five matches, including the final, and Kamran's team won the tournament in the end. He did not play further cricket in IPL. He has also been playing in Pakistan Super League from 2016 and still plays in the league.
PSL Match
He has always played for Peshawar Zalmi in all PSL seasons. He scored a total of 151 runs in the first edition of the PSL. In the 2017 PSL season, he played few fine knocks for Peshawar, including a brilliant Hundred in a match against Karachi Kings, which helped Peshawar qualify for the final. In this season, Akmal declared the highest tournament score with 353 runs and best wicket-keeper with 12 dismissals. He has also played in other seasons of the PSL.
International Career and Achievements
Kamran has had ups and downs in his international career. He made his Test debut against Zimbabwe on 09 Nov 2002. His debut test did not create any highlights for him. He made his first half-century in his third test innings against Zimbabwe. The brilliant innings of his international career came against India when he scored a match-winning hundred at Mohali. His spectacular innings helped Pakistan in drawing that test against India.
In a test match, Akmal came to bat when Pakistan batting was in deep trouble having six wickets down for just 39 runs. Arriving late in the order, he made a century, and Pakistan reached a competitive score of 245 in their first innings, which helped Pakistan win the match as well as the series. He was not good with gloves after the end of the first six months of 2006 as he dropped many catches against England as well as South Africa.
As a Vice-Captian
He scored another century when Pakistan toured Bangladesh in the year 2008. Akmal made the vice-captain of Pakistan's test team in July 2010 but was soon removed due to spot-fixing allegations. He played his last test on 26 Aug 2010 against England. Kamran made back to back ODI hundreds when England's team toured Pakistan. He was at the peak of his form in those days as he registered seven international centuries in just Six months during 2006. In the year 2008, he hit three consecutive sixes to seal the victory against West Indies.
ODI World Cup
Akmal was part of the ODI world cup 2007 squad for Pakistan. He was also part of the world cup 2011 team and performed averagely with only one half-century to his name. He scored five ODI hundreds, but lack of quality glovework made his exit from the ODIs. He played his last ODI on 11 Aug 2017.  Kamran Akmal has also played for the national team in the T20 format. He has scored five T20 centuries for Pakistan and has done well as a wicket-keeper.
He played in T20 world cup 2009, and as a wicket-keeper, he played his role, and in the end, Pakistan became the champion of the 2009 T20 World Cup title.
Exclusion from the team
Kamran was good with both bat and gloves during his early days in international, but after 2009 his keeping skills went down, and he dropped many catches, including some straightforward ones. In the 2010 series against Australia, he lost too many catches, and many proved so costly for Pakistan. He also faced allegations of Spot-fixing in 2010 when Pakistan toured England.
Kamran is an elegant opening batsman, and he has served well as a batsman and as a wicketkeeper for many years.
Social Media Handles
His social media accounts include