Javed Miandad is a famous former batsman of Pakistan cricket team. He played for Pakistan in Tests and One Day Internationals from 1975-96. His long cricketing career was full of memories and highlights. He is famous for his stylish batting technique and way of captaincy. Miandad has many world records with his name. He was very elegant to watch whenever he batted for his side. His confidence in and out of the cricket ground made him one of the greatest captains of Pakistan. Mohammad Javed Miandad also commented on many cricket matches, and he has also coached Pakistan team. This article has all the information about Javed, including Javed Miandad Biography.
| Title | Description |
| --- | --- |
| Personal | |
| Name: | Javed Miandad |
| In Urdu: | جاوید میانداد |
| Full Name: | Mohammad Javed Miandad |
| Famous As: | Cricketer |
| Nationality: | Pakistan |
| Residence: | Karachi |
| Education: | Not Known |
| Religion: | Islam |
| Profession: | Cricketer |
| Height: | 5 ft 8 in (1.73 m) |
| Website: | https://twitter.com/i_javedmiandad |
| Born | |
| Date: | 12th June 1957 |
| Place: | Karachi |
| Family | |
| Spouse: | Tahira Saigol |
| Children: | Junaid Miandad |
| Parents: | Miandad Noor Mohammad |
| Siblings : | Anwar Miandad, Bashir Miandad, Sohail Miandad |
| Career | |
| National Side: | Pakistan |
| Years Active: | 1975-1996 |
| Team Role: | Batsman, Coach |
| Bowling Style: | Right-arm leg break |
| Batting Style: | Right-hand bat |
| Test Debut: | 9 October 1976 v New Zealand |
| ODI Debut: | 11 June 1975 v West Indies |
| Domestic team: | Glamorgan, Habib Bank Limited, Karachi, Sind, Sussex |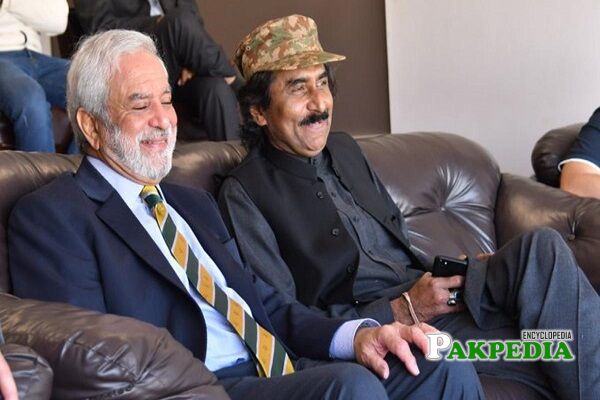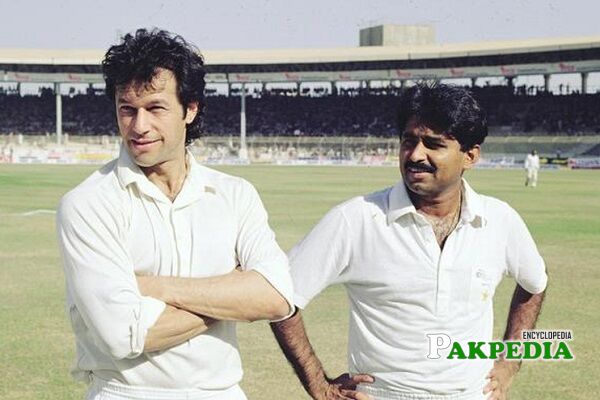 Javed Miandad Biography
Javed is one of the greatest batsmen Pakistan has ever produced. He has played for Pakistan for over two decades. Javed has played in 124 Test matches and has scored 8832 runs with an average of 52.57, which is remarkable. In his 189 Test innings, Javed has made 23 centuries and 43 half-centuries for Pakistan. His highest test score is 280 not out came against archrival Indian team at Hyderabad, Sindh.
Javed was also part of Pakistan's One Day International team. He played in 233 ODIs and scored 7381 runs with 41 Not Outs. His average in ODIs was 41.70. Javed scored eight Hundred and 50 half-centuries in his 218 ODI innings. Javed played a vital role in Pakistan's victory in the 1992 Cricket World Cup. He became popular among the public when he hit Chetan Sharma for a six on the last ball and won the 1986 Austral-Asia Cup for Pakistan.
Javed date of Birth
Mohammad Javed Miandad was born on 12 June 1957, at Karachi, Sindh. Currently, he is a resident of the same city.
Education of Javed
Miandad attended school and college at Karachi.
Javed Miandad Family
Javed's parents migrated from Palanpur, Gujrat, India. His father, Miandad Noor Muhammad Tyagi, used to work in the police department at Palanpur. Besides this, Javed's father used to oversee the sports clubs in the city for the Nawab. Cricket was a famous game in Javed's family. His three brothers, Bashir, Anwar, and Sohail Miandad, played first-class cricket for Pakistan. Faisal Iqbal, who has played international cricket for Pakistan, is Javed's nephew. He got married to Tahira Saigol. They are blessed with a son Junaid Miandad.
Cricket Career
Initial Career
Famous Pakistani former cricketer and captain Abdul Hafeez Kardar said about Javed that "Javed is the find of the decade." It soon proved that Kardar was very right with his words on Javed. At the end of 1974-75 first-class season, Pakistan cricket selectors were forced to select Javed into the national team after Javed scored a phenomenal 947 runs in just 12 matches, an average of 47.35. It also included a brilliant 311 runs innings.
ODI Debut
After an above par excellent performance in a domestic season of 1974-75, Javed was given his maiden international call. Javed selected for the 1975 world cup. He made his ODI debut against West Indies when he was just 17 years old. He performed averagely in the World Cup, but his talent and technique kept him in the team after the world cup.
Javed's test debut was very different from his first match in ODI cricket. He scored a mammoth 163 runs against New Zealand. He became the youngest batsman to score a century in his first Test. He did not stop there and scored a blazing double century in his third match and against the same opposition. This blistering innings also made him the youngest batsman to score a double century.
Domestic Career
Miandad played first-class cricket from the 1973-74 season. He also played in List-A cricket from 1975. He was so interested in cricket that in his early days, Javed used to field in matches for only 50 Rs held at Muslim Gymkhana  to learn about cricket from his senior players. A story is famous for Miandad that when he was a young boy, Karachi's match against their rival club was going on, and the Karachi team was requiring 18 runs off just 3 balls. Someone said Manager to send Javed, a small boy to play those deliveries, so then captain of the team retired, and Javed replaced him who scored the runs and won that match.
Javed played in 402 first-class matches, like all other types of cricket, Javed's first-class track record is also one of the best. In 632 innings, he has scored a total of 28663 runs with an average of 53.37. He had a triple century in a first-class career. He made 80 hundred and 139 fifties, which is a magnificent achievement. In his List-A career, Javed has scored 13973 runs in 439 matches. He has 13 hundred and 101 fifties with his name there. With 407 innings, Javed has an average of 42.60.
He was a right-arm leg spinner, his record with bowling in First-class is also very interesting. He has taken 191 wickets at an average of 34.06. Javed has played domestic cricket in Pakistan as well in England county. He played for Sindh XI, Habib Bank Limited, and Karachi Whites while he played county cricket from 1976-85 for Sussex XI and Glamorgan XI.
International Career
Miandad achieved many records in his international career, which lasted over 21 years. His first Test series, which was against New-Zealand, made his way to a long cricket career. He scored big hundreds, including a double hundred in the series, and proved his selection right. His great-run against the New-Zealand side was not over with his first series as he scored a nail-biting 271 runs against Richard Hadlee led New-Zealand's attack.
Javed was also famous for his confidence level and sledding ways. At Niaz Stadium Hyderabad in Sindh during 1983 Test Series against Pakistan's favorite opposition India, Javed scored his highest Test match score of unbeaten 280 runs. He made Indian bowlers look so tired and stroked them all around the park. His excellent display of play was one of the greatest moments of his career.
Achievements
Javed had a good batting record against all oppositions. His hundred against the Aussies at Adelaide Oval in 1983 was a masterpiece. Then in the 1988-89 Karachi Test match, Javed scored a first double century. Besides this, Miandad was a nightmare for the England team as he scored 1,329 runs at a world-class average of 51.11 against them. In the 1988 Caribbean Test series, Miandad scored two consecutive hundreds in two tests against West Indies, which was then the world's best.
Pakistan won the first match and drew the second one, which was a rare achievement winning against the strongest team. Javed was equally good in ODIs like in tests, his famous six of the last ball of the Austral-Asia final match is still watched and regarded as one of the best moments in cricket and Javed's career.
Cricket World Cup
His part in World Cup 1992 victory for Pakistan is also a non-forgettable one. Javed scored five fifties in that tournament. He played a crucial role in Semi-Final against New-Zealand by staying at the crease with Inzamam ul Haq and made a match-winning partnership. Despite his back pain issues, Miandad played well in the whole tournament. In the final of World Cup against England, when Pakistan lost early wickets, it was Javed Miandad who stood firm at the crease and released the pressure upon other batsmen and helped Pakistan won their first World-Cup title.
Javed scored 437 runs at an average of 62.42 in the tournament. He was also an excellent captain who captained in 34 Test matches for Pakistan and won 14 of them. He lost just six out of 34, which shows how good a captain he was at that time. He also coached the Pakistan team and won many games as a Coach. He holds many records to his name. 
Javed has played in six world cups from 1975-96 and is on 44th of the top fifty cricketers ever played in the world. Javed is a star cricketer and a legend batsman who played with pride and honor for Pakistan. His achievements are many in numbers..
Social Media Handles
His social media accounts include